2013 NFL Draft: Pros and Cons for Each of the Top Pass-Rushers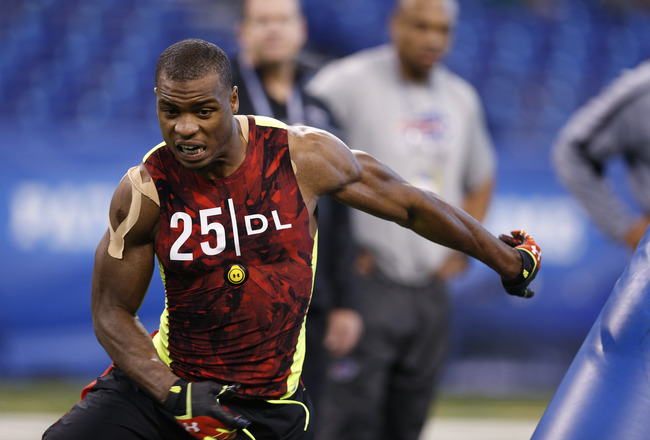 Joe Robbins/Getty Images
Compared to the last few draft classes, the 2013 group has the most diverse collection of pass-rushers of all types of skill sets.
The common misconception is that each of the top outside linebacker/defensive end prospects are great at getting to the passer. Rather, each prospect has his own niche that makes him attractive in his own way.
We aim to give complete scouting notes of the good and bad of each of these prospects, but don't be surprised to see that most of the over-hyped players on this list don't grade out as favorably as many would think.
Bjoern Werner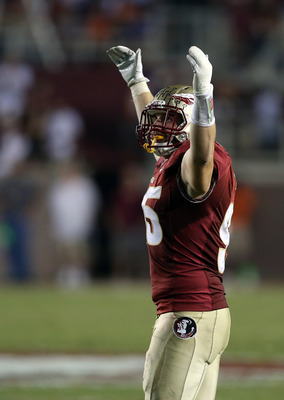 Streeter Lecka/Getty Images
Stock: Falling
Notes: Bjoern Werner is about as unimpressive as they come in terms of defensive ends, relying more on his strength than anything else. Granted, the foreign-import can set the tone at the line of scrimmage, but his lateral agility leaves a lot to be desired.
Werner doesn't have a creative set of moves when it comes to rushing the passer, and the jury is out on his motor. Some evaluators see him as a relentless rusher, while others (myself included) see hot and cold effort on game day, especially at the end of plays.
He'll be a solid, underwhelming defensive end in the NFL, but I can't see him doing too much to justify being taken in the top ten.
Draft grade: Mid-second round
Dion Jordan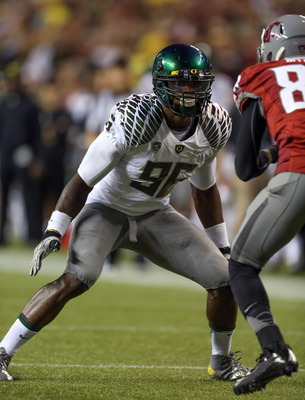 Otto Greule Jr/Getty Images
Stock: Rising
Notes: Dion Jordan is an elite prospect, but not because of the reasons that many people have thus far cited. He is not comparable to Jason Pierre-Paul, nor is he comparable to Jevon Kearse.
Jordan does about everything but rush the passer well. He'll get his sacks here and there, but his real value comes in his ability to cover ground in the pass game and defend the run.
An athletic specimen with an NFL-ready body, Jordan is going to draw inevitable comparisons to players like Pierre-Paul, but his real value comes as the off-linebacker in a 3-4 scheme. He'd be perfect playing opposite a rush-specialist like Aldon Smith or DeMarcus Ware.
Draft grade: Top-three pick
Ezekiel Ansah
George Frey/Getty Images
Stock: Neutral
Notes: Another wrongly graded-out prospect, Ezekiel "Ziggy" Ansah just doesn't rush the passer well enough to be drafted as a Jason Pierre-Paul-type of player.
Ansah may develop rush moves over time, and he could certainly stand to get a lot better; along with Dion Jordan, he may have the highest upside of the defensive ends in the class.
Though his straight-line speed is impressive, Ansah projects out far more favorably as a 3-4 defensive end than he does in a 4-3 scheme. He is the best run-stopping defensive end available and controls his gap better than anyone else on the board. If he puts on some weight, he'll be a real star.
Draft grade: Mid-to-late first round
Barkevious Mingo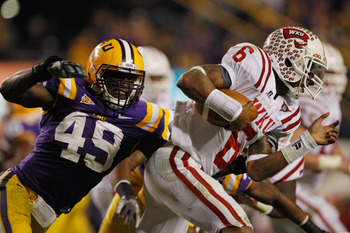 Chris Graythen/Getty Images
Stock: Rising
Notes: The best pass-rusher in the draft, Barkevious Mingo's creativity at the line of scrimmage will predispose him to success at the next level despite his size.
Mingo compares favorably to Bruce Irvin from last year's draft class, more of a pass-rushing specialist defensive end who isn't good enough against the run to be a full-time starter at the onset of his career.
That's fine; pass-rushers like Mingo don't need to be full-time players to have full-time impact. NFL teams will have to game-plan out third downs when playing whatever team has Mingo, because he's a sure bet to find his way to the quarterback.
Draft grade: High-to-mid first round
Jarvis Jones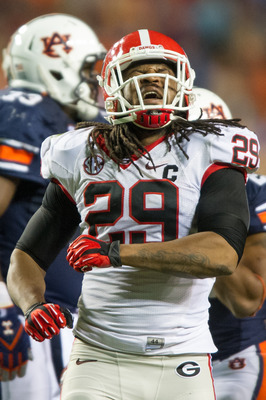 Michael Chang/Getty Images
Stock: Falling hard
Notes: Jarvis Jones is going to end up in the second round if his medical condition continues to get overplayed, but it makes sense that NFL teams don't want to take a risk on a player like Jones with the medical history he has.
On the field, Jones is a decent pass rusher but he's nothing extremely special; he does a lot for a player of his smaller size, and I struggle to see him making much of an impact with his hand in the dirt.
The linebacker could end up having a few nice seasons, but teams would rather get ten years from a lesser prospect than three or four from Jones.
Draft grade: High-to-mid second round
Margus Hunt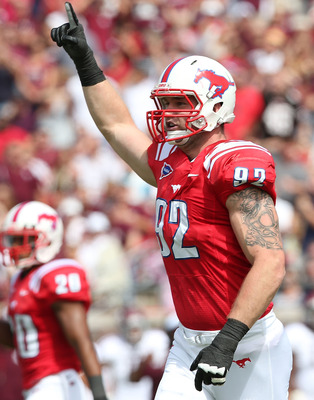 Ronald Martinez/Getty Images
Stock: Rising
Notes: Along with Dion Jordan, Margus Hunt has some of the best measurables in the defensive end class and will be a project wherever he ends up going.
Give him the right coaches, and Hunt could end up being the best player from this positional group; though he gets too far upfield at times, he controls the line of scrimmage and has a creative variety of pass-rushing moves.
One last coaching point; the defensive end tends to get caught inside too often and can be washed down on jet sweeps and reverses. That said, he plays read option well, and that is a valuable trait for prospective NFL defensive ends.
Draft grade: Mid first round
Damontre Moore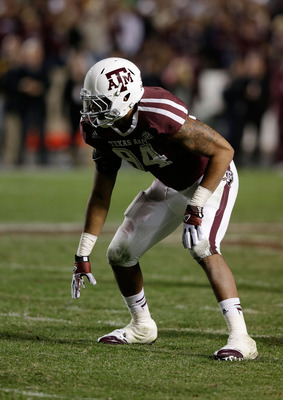 Scott Halleran/Getty Images
Stock: Falling
Notes: NFL teams use the scouting combine to simply confirm things that they saw on tape; in Damontre Moore's case, evaluators have had a very difficult time cross-checking certain attributes after a lackluster day in Indianapolis.
Moore only put up 12 reps on the bench press, which will call the defensive end's upper body strength into question. For those who didn't like him as a run defender, this number only confirms their doubts.
The defensive end has a good arsenal of moves at the point of attack and can push the pile, getting to the quarterback in an efficient manner, but he's slow off the ball, and I can't imagine that NFL teams will be able to coach explosiveness.
Draft grade: Late first round
While you're at it, follow me on Twitter @EliNachmany for NFL news and updates; you won't regret following me if you're a rabid football fan.
Keep Reading