Houston Rockets vs. Orlando Magic: Live Score, Results and Game Highlights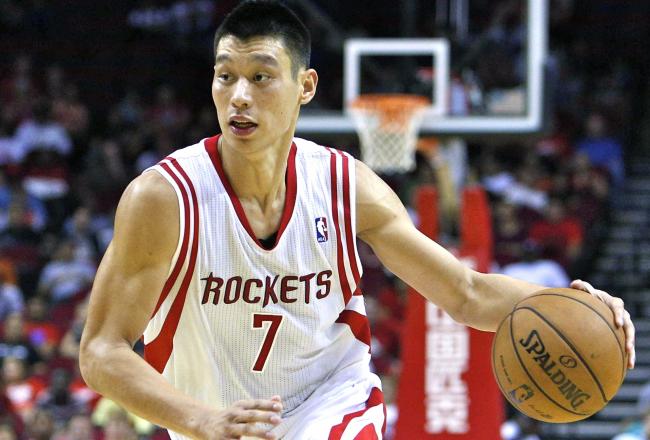 Commentary from the Houston Rockets' 118-110 victory over the Orlando Magic from the Amway Center in Orlando, FL on Mar. 1, 2013.
The Houston Rockets snapped a five game losing streak to the Magic with tonight's victory.
Keys to the win for Houston:
1) Great three point shooting: The Rockets hit 14-of-31 from behind the arc, and the Magic struggled to contest their looks all night
2) Rebounding: The Rockets out-rebounded the Magic 33-27.
3) Great Bench Play: The Rockets bench might not be as depleted as we thought following the departure of four rotation players. They got 30 combined points from Patrick Beverley and Carlos Delfino. Thomas Robinson struggled, but he's still going to take a while to adapt to the new offense—and the NBA.
ROCKETS 118, MAGIC 110 — FINAL
On a crucial possession with just over a minute left and up five, the Houston Rockets ran a high pick and roll with James Harden...and Patrick Beverley? Beverley ran out of options after the pick and ended up forcing a tough jumper in the paint.
The Magic were unable to capitalize on the mistake, despite getting a second chance opportunity. Aaron Afflalo stepped out of bounds to put an end to the improbable comeback effort.
ROCKETS 114, MAGIC 107 — 24 seconds, 4th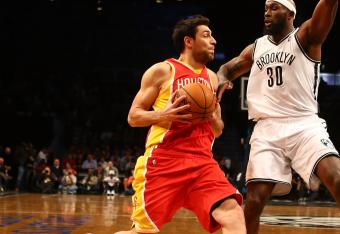 Carlos Delfino's corner three extended the Rocket lead to 10 points with just over two minutes to go.
Delfino has been huge all night, and on a night where James Harden has been struggling, it's fitting that Delfino seals the game with such a shot.
ROCKETS 112, MAGIC 102 — 2:06 4th
The Rockets 11-0 run has given them a nine point lead with just a few minutes to go. The Magic have made a habit of blowing leads and losing close games; you know, things that teams with abysmal records usually do.
Tobias Harris' turnover on the inbounds play was icing on the cake after Jacque Vaughn had taken a 20-second timeout just to draw up the play.
ROCKETS 109, MAGIC 100 — 3:09 4th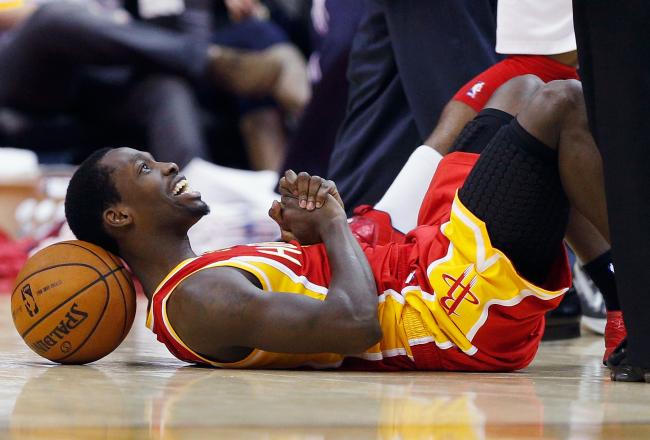 Patrick Beverley is playing so well that Kevin McHale is resting Jeremy Lin some extra time here. Beverley has 13 points, and the Rockets have built a five point lead forcing a Jacque Vaughn timeout.
ROCKETS 105, MAGIC 100 — 4:05 4th
Orlando Magic, everyone is helping out the Lakers so you might as well too. C'mon!

— Sandra--LAKERS & WWE (@KobesGirl_24) March 2, 2013
Lakers fans are finding themselves cheering for Dwight Howard's former team tonight. Every Houston loss gives the Lakers that much more of a chance of making the playoffs.
Patrick Beverley is looking like he could be a very good backup point guard in time. He's applying full court pressure to E'Twaun Moore, and he's hit a three, dished out four assists and only turned the ball over once in 11 minutes of play off the Houston bench.
MAGIC 92, ROCKETS 92 — 9:25 4th
Donatas Motiejunas missed a corner three on a kick out pass from James Harden's penetration. The Magic will take a one point lead into the fourth.
MAGIC 87, ROCKETS 86 — End of 3rd
Carlos Delfino really didn't like the blocking call he picked up trying to draw a charge on Aaron Afflalo. With the Rockets in the penalty, that gives the Magic a chance to enter the fourth quarter with a lead.
MAGIC 87, ROCKETS 86 — 21.2 secs 3rd
Random fact. @houstonrockets Chandler Parsons is a Magic Youth Basketball Camp alumni. Coincidentally it's Magic Youth Basketball Night.

— Orlando Magic (@Orlando_Magic) March 2, 2013
Neat. Maybe he heads to Orlando to play?
James Harden is starting to get it going. He's nursing a sore ankle, but a lot of it has been intense defensive pressure from Aaron Afflalo and Maurice Harkless. Harden has 11 points on 4-of-9 shooting, but has also dished out six assists and grabbed six rebounds.
ROCKETS 86, MAGIC 82 — 2:20 3rd, Magic Timeout
The Magic went on a 9-2 scoring run to take a two point lead at the 3:30 mark of the quarter.
Linsanity did something nifty finally. 11 points for Jeremy after putting Afflalo in the spin cycle.

— Adam Papageorgiou (@adamosgp) March 2, 2013
Jeremy Lin made an awesome 360-degree pivot move to score in the paint on the other end to tie the game. It's questionable as to whether he held his pivot, but if he did, it was very well done. Replay seems to indicate he did switch pivot foot and travelled. Score it anyway.
ROCKETS 84, MAGIC 82 — 2:25 3rd
Donatas Motiejunas grabbed a rebound and dropped it off to Omer Asik beside him. Asik kind of looked at him as if to say "I'm not a guard either," before throwing the ball ahead to Jeremy Lin.
ROCKETS 80, MAGIC 77 — 5:02 3rd
It would seem reasonable to expect the Rockets to slow down on the three-point production, if not for the Magic perimeter rotations being so slow. Donatas Motiejunas knocked down his second of the game as Andrew Nicholson laid back in the paint and Maurice Harkless tried in vain to get a hand up. The Rockets are 12-of-21 from behind the arc.
ROCKETS 77, MAGIC 73 — 6:52 3rd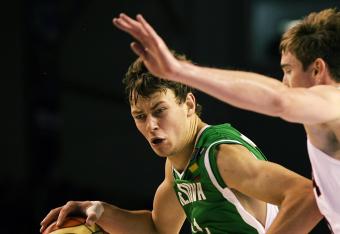 Donatas Motiejunas has a career high of 14 points and it's still early in the third quarter.
MAGIC 73, ROCKETS 71 — 8:22 3rd
The Magic built a three point lead attacking the rim. Maurice Harkless' dunk forced Kevin McHale to call timeout to regroup.
MAGIC 72, ROCKETS 69 — 9:03 3rd
Aaron Afflalo broke the cardinal rule of getting in the air without knowing what you're going to do with it.
Coming off a pick and roll with Nikola Vucevic, Afflalo elevated to pass the ball, then changed his mind and tried to throw it to Maurice Harkless on the baseline. The pass was deflected, and the result a 24-second violation on the Magic.
ROCKETS 67, MAGIC 66 — 10:39 3rd
Aaron Affalo scored the first bucket of the second half as he drew contact on Omer Asik and finished at the hoop to tie the game.
MAGIC 64, ROCKETS 64 — 11:30 3rd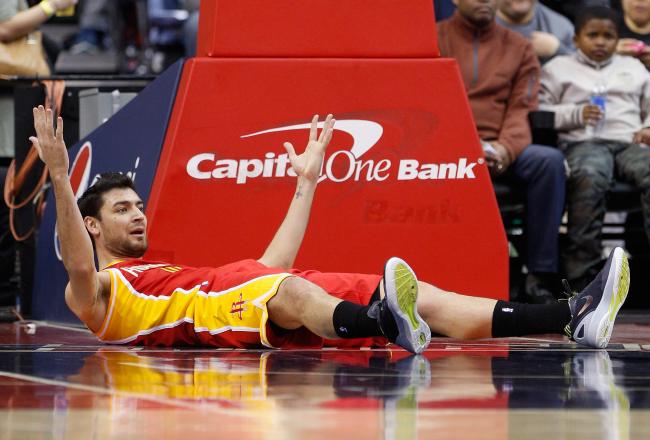 The Magic did a good job of defending James Harden, holding the NBA's fifth leading scorer to just four points. But the Rockets hit 11 threes in 19 attempts, and the Magic have to better defend the three-point line to have a chance of beating a much better Houston team.
Carlos Delfino, in particular, hit four threes off the bench and has 14 points for the Rockets. Four Magic players are in double figures, paced by Tobias Harris and Andrew Nicholson with 13 apiece.
ROCKETS 64, MAGIC 61 — Halftime
Make it 13 for Andrew Nicholson. His career-high is 22 points. 'Drew needs to up his defense though.

— Adam Papageorgiou (@adamosgp) March 2, 2013
Andrew Nicholson is scoring a lot early on, but the Houston Rockets are out-rebounding the Magic 16-12, and Nicholson has not snagged a single rebound yet.
ROCKETS 62, MAGIC 59 — 1:15 2nd
Between the teams, 53 percent of the game's points have come from the Magic and Rockets' starting frontcourts.
ROCKETS 60, MAGIC 57 — 2:33 2nd, Magic Timeout
This article is
What is the duplicate article?
Why is this article offensive?
Where is this article plagiarized from?
Why is this article poorly edited?