New York Knicks vs. Washington Wizards: Live Score, Results and Game Highlights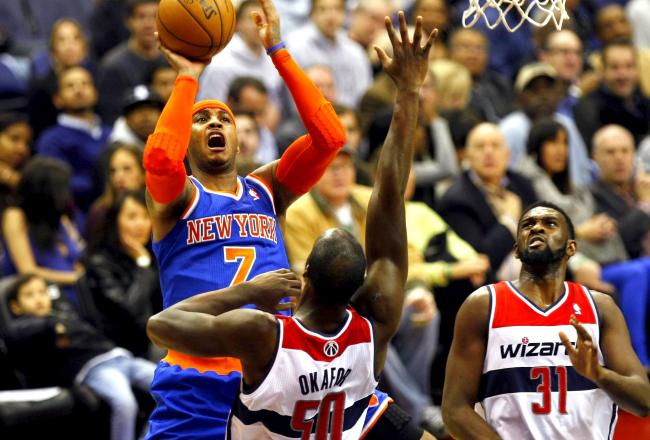 Carmelo Anthony and the New York Knicks (34-20) earned a measure of revenge as they trumped John Wall and the Washington Wizards 96-88 the Verizon Center in Washington, D.C.
A back-and-forth first half ended with the Knicks at a slight advantage, but a brilliant Wizards run put the game back in Washington's favor.
Ultimately, 'Melo's 30 points and Raymond Felton's 23 helped New York overcome Bradley Beal's career-high 29 points.
Stay dialed into our complete post-game coverage, including stats, analysis and twitter reaction.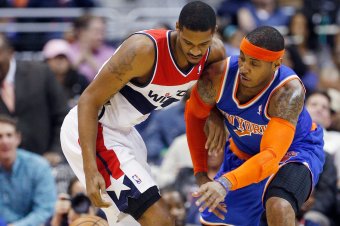 Rob Carr/Getty Images
Up next for each team:
Washington (18-39) hosts Philadelphia Sunday, 6 p.m. ET.
New York (35-20) hosts Miami Sunday, 1 p.m. ET.
Takeaways from this game:
-Bradley Beal's brilliant February carried over into March, as he shot 10-of-21 and 4-of-7 from deep. He showed his all-around skills, though, grabbing 11 boards in the process.
-Meanwhile, John Wall had a so-so night, and his 5 turnovers didn't help Washington's comeback attempt.
-Washington went 19-29 from the free-throw line, and those 10 missed free throws came back to bite them in the final tally.
-Carmelo's 30 points was a relatively unimpressive 30 points. Yes, some of the shots were difficult, but he went 10-of-24. Raymond Felton's 9-of-18 was much more efficient, as he was plus-10 on the night.
-Jason Kidd turned in a mixed bag coming off the bench. His shot was off, and he didn't play his best defense. But he did dish five assists as a reserve. Coach Woodson has confidence in him in any role.
-Amar'e Stoudemire was particularly effective tonight, scoring 12 in 22 minutes off the bench. His moves were decisive, and he was too much to handle in the paint at times for Washington.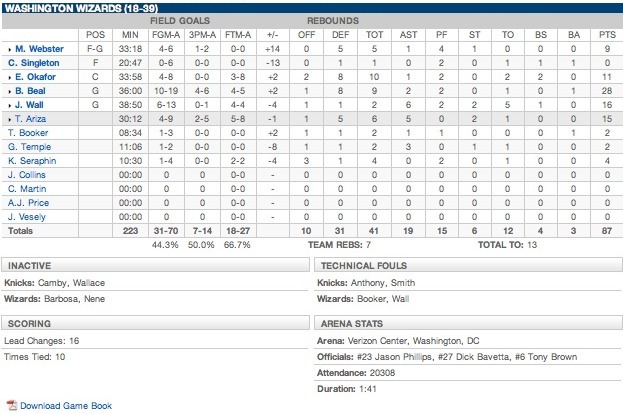 Wizards final box score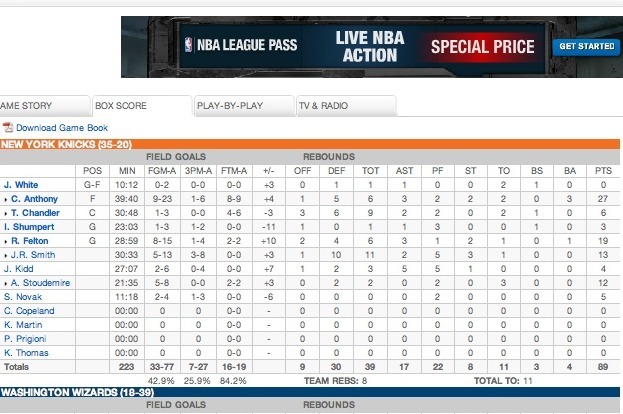 Knicks final box score
Melo scored 30, but Felton was the star tonight. Knicks were better by a mile when he was on the floor. Take the W and run home.

— Alan Hahn (@alanhahn) March 2, 2013
Melo may have tallied the most points, but Felton controlled the complexion of the game
In a losing effort, Bradley Beal scored a career-high 29 points.
Is he making a late run at Rookie of the Year honors?
I suspect @dame_lillard has ROTY wrapped up, unless he gets hurt. But @realdealbeal23 is coming on like a freight train for the Wizards.

— David Aldridge (@daldridgetnt) March 2, 2013
Needless to say, his future is extremely bright.
Key playmakers tonight for Washington:
Bradley Beal: 29 points, 11 rebounds, 2 assists
John Wall: 16 points, 6 assists, 5 turnovers
Trevor Ariza: 15 points, 6 rebounds, 5 assists
Emeka Okafor: 11 points, 10 rebounds, 3 blocks
Key playmakers tonight for New York:
Carmelo Anthony: 30 points, 6 rebounds, 3 assists
Raymond Felton: 23 points, 6 rebounds, 4 assists
J.R. Smith: 13 points, 12 rebounds, 3 steals
Amar'e Stoudemire: 12 points, 2 rebounds
Sweet "payback'' for #Knicks holding Wizards to 11 points in the fourth quarter - 25 less than three weeks ago.

— Marc Berman (@NYPost_Berman) March 2, 2013
New York tightened the screws on defense in crunch time, making life difficult for Wall and company
Missed free throws were costly tonight...

— Roni (@BBallWiz330) March 2, 2013
Multiple Wizards missed free-throws down the stretch.
Free-throws put the game out of reach, and NYK wins 96-88.
Complete post-game coverage coming up!
In emergency situations, Raymond Felton can be used as a flotation device.
His runner in the lane keeps New York in the driver's seat.
Knicks 94, Wizards 88, 0:27 remaining in 4th
Offensive boards keep Washington alive:
HUGE offensive rebound by the Wizards there. Great effort by Okafor to keep it alive, good hustle by Beal.

— Zach Harper (@talkhoops) March 2, 2013
Knicks 92, Wizards 88, 0:53 remaining in 4th
Carmelo Anthony buried a huge triple to give New York some breathing room.
The big question is whether Washington has a player who can go toe-to-toe with him towards the end of the game.
Back-to-back sloppy possessions say "no."
Knicks 92, Wizards 87, 1:04 remaining in 4th
Geoff Burke-USA TODAY Sports
New York has five turnovers in the fourth quarter, which is highly uncharacteristic of them.
As a result, Washington is right in this one. Bradley Beal has tied his career high with 28 points, and that mark leads all scorers in the game.
Knicks 89, Wizards 87, 2:53 remaining in 4th
Wall a little out of control on his last couple trips down the floor:
Someone should tell Wall to stop running that "run into the defender" play, it's not working

— Bullets Forever (@BulletsForever) March 2, 2013
Knicks 90, WIzards 86, 3:20 remaining in 4th
An offensive foul by 'Melo helps keep Washington in the game, as they are well within striking distance.
Beal immediately cashes in with a triple to make it a one-possession game.
Knicks 87, Wizards 86, 3:37 remaining in 4th
As a sidenote, Washington fans showed up in droves to watch this one.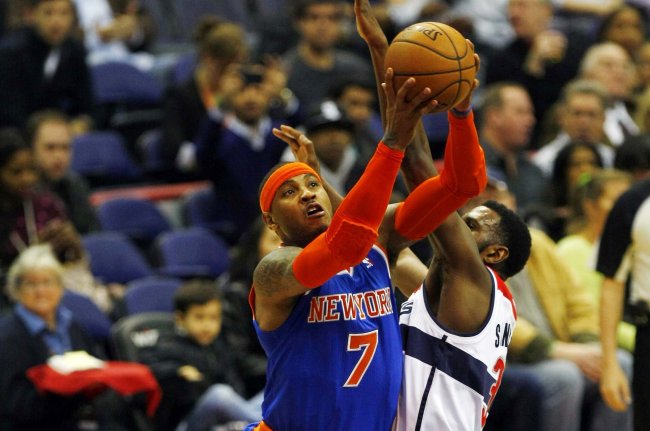 Geoff Burke-USA TODAY Sports
Excessive reaction by 'Melo leads to a technical, let's see if it helps or hurts him in crunch time.
He's in a trash-talking mode as the game enters its last 6 minutes.
Knicks 87, Wizards 82, 6:11 remaining in 4th
A slower pace for New York in the fourth has been a good approach. They're woking to find the open spots on the floor, and grinding out each possession on defense.
Knicks 85, Wizards 79, 6:54 remaining in 4th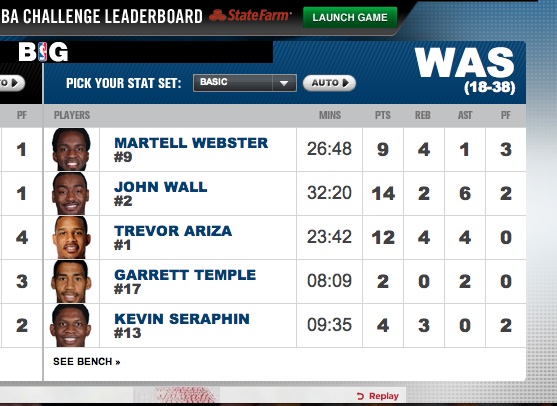 Washington's current lineup: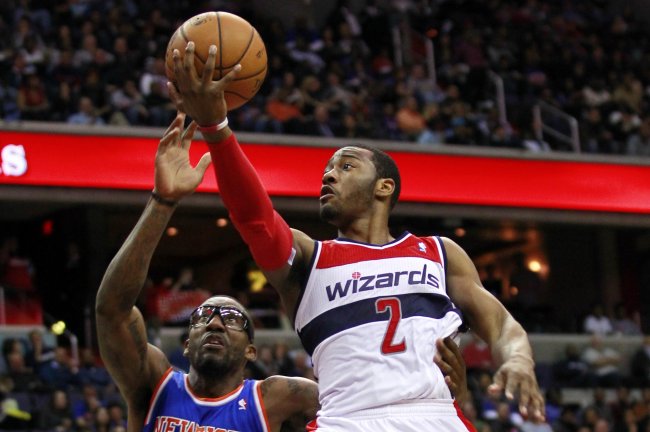 Geoff Burke-USA TODAY Sports
A goaltend call against the Wizards draws the ire of John Wall, and he's immediately T'd up.
Just like that, the Knicks are back on top.
Knicks 78, Wizards 77, 9:51 remaining in 4th
Jason Kidd vs. John Wall is an interesting matchup of two generations and two styles.
It didn't last long, as Felton switched back on Wall.
Wizards 77, Knicks 75, 10:31 remaining in 4th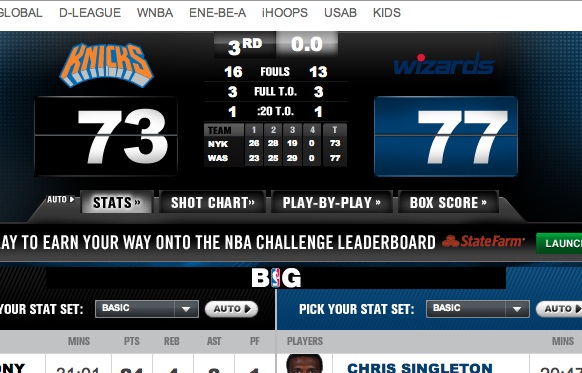 The Wizards went on a 25-10 run to end the third quarter, buoying them past the Knicks heading into the fourth.
Amar'e Stoudemire with a nice post move including a left-handed finish.
I'll be honest, I didn't think his offseason work with Hakeem Olajuwon would amount to much. But he's better than I thought he'd be.
Wizards 77, Knicks 73, 0:11 remaining in 3rd
This article is
What is the duplicate article?
Why is this article offensive?
Where is this article plagiarized from?
Why is this article poorly edited?