Golden State Warriors vs Boston Celtics: Live Score, Results and Game Highlights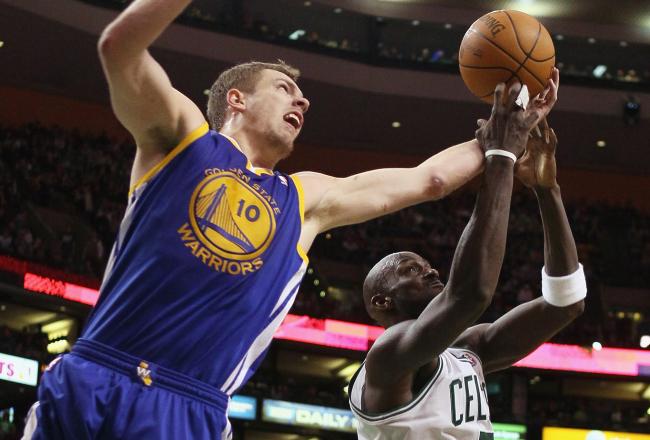 Elsa/Getty Images
After four hard-fought quarters, the Boston Celtics proved to be the better squad, beating the Golden State Warriors 94-86.
The home win marks their eighth straight as they move to 31-27 on the season.
The Warriors made a strong push to start the second half, but the Celtics proved to be too much for their younger competitors. Here's why Boston was able to pull through with the victory.
Paul Pierce
The Celtics may have lost Rajon Rondo for the season, but they still have a proven leader capable of taking over at any given time. Paul Pierce dominated the Warriors from start to finish, totaling 26 points on 9-15 shooting, in addition to eight rebounds. A few glimpses of the Pierce of yesteryear was pleasant treat for viewers, as he lead his squad over the Warriors.
Avery Bradley
Five early fouls may have limited Avery Bradley's playing time, but it certainly didn't prevent him from leaving an impact. His stellar defense was showcased from the start, giving players like Jarrett Jack and Stephen Curry fits early on, as he led a defensive attack that ultimately decided the game.
Jeff Green
Jeff Green took a hard fall in the middle of the third quarter, and while it certainly gave fans quite the scare, he returned short after completely unaffected. Leading the bench with 18 points on 8-13 shooting, Green undoubtedly was one of the Celtics' top performers, coming through in clutch moments while scoring efficiently and often all the while.
Golden State's Shooting Woes
In addition to complete Boston dominance in the latter stage of the game, something has to be said about the Warriors poor shooting night. Sure Avery Bradley and Co. helped to slow them down, but for the most part, their misses came off of open looks. Stephen Curry, hot off a 54-point performance, was ice cold, scoring only 15 points on non-foul shots, making just six of his 22 attempts. As a whole, the Warriors shot just 34 percent, and when compared to the Celtics' 48 percent, it's easy to see why Boston finished on top.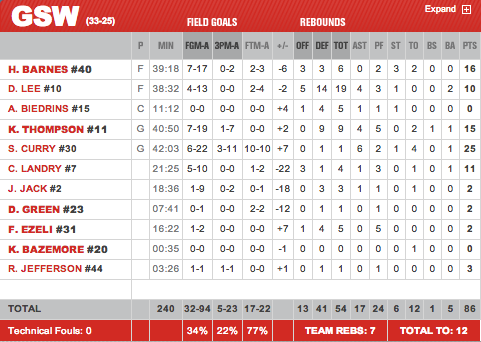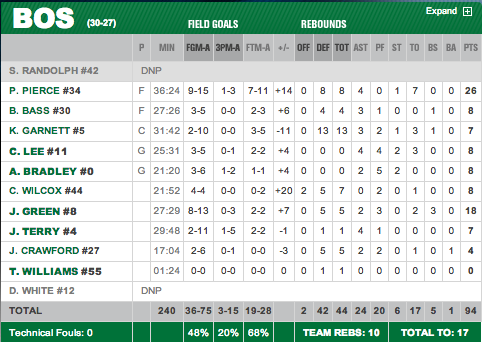 Here are your box scores from tonight's game, courtesy of NBA.com. Your final: Celtics 94, Warriors 86.
Less than 20 seconds left. That should just about do it.
Always entertaining watching KG go against much younger players. Plays so intense, almost saying, "I'm still here."

— Jessica Camerato (@JCameratoNBA) March 2, 2013
His play may say "I'm still here," but his words are a lot dirtier.
Warriors 86, Celtics 93 - 0:51 left in 4Q
Less than a minute to go, and thinks are looking good for the C's. Warriors aren't done yet, but their opportunities are limited.
Warriors can't blame turnovers. Have just 2 in the second half. Shooting 31.8 percent though

— Marcus Thompson (@gswscribe) March 2, 2013
Aside from shooting, the Warriors have looked good. Unfortunately that's the worst category to be down in.
Warriors 78, Celtics 91 - 2:08 left in 4Q
Some shoving going around underneath, as tensions flair.
Here's this again—just 'cause.
Here's that Pierce dunk I was gawking over before.
I don't know about you, but it made me smile.
David Lee angling for Tommy Heinsohn's job. Expresses unhappiness to refs after nearly every call involving him.

— Steve Bulpett (@SteveBHoop) March 2, 2013
And this, ladies and gentleman, is your tweet of the night.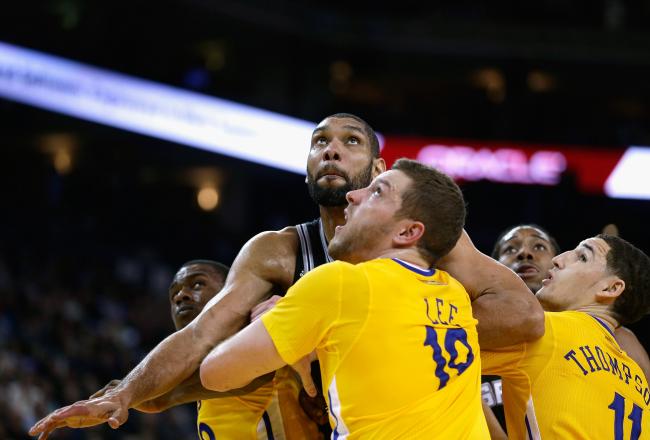 Warriors 74, Celtics 87 - 4:21 left in 4Q
Every time a blue jersey grabs a rebound, it's David Lee. 16 boards and counting.
Curry started the game 2-for-3...since then he has gone 2-for-15. Warriors may need to stop at MSG to pick up Curry's shot after this one.

— celticshub (@CelticsHub) March 2, 2013
Burn.
Warriors 74, Celtics 83 - 5:28 left in 4Q
Garnett called for the offensive foul, and a timeout is called.
Barring a very possible shooting spree by the Warriors, the Celtics are in good shape to win this game.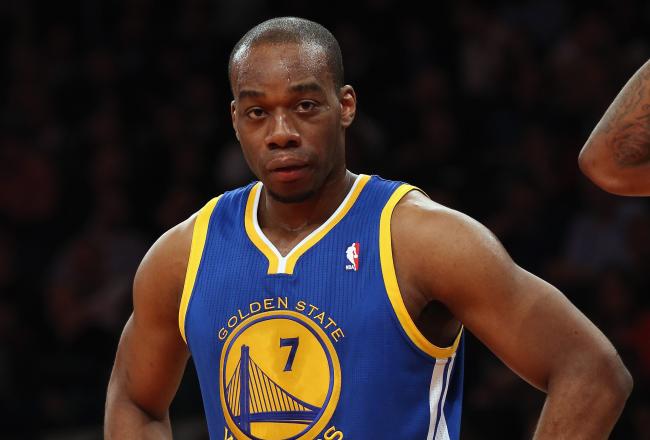 Things I've learned today:
Carl Landry is most effective when it comes to cleaning up others' misses.
Avery Bradley is the best wing defender in the league.
Paul Pierce still has a few more good years left.
Tommy Heinsohn is an extremely biased commentator.
Warriors 68, Celtics 79 - 7:58 left in 4Q
Stephen Curry has missed 11 of his last 12 shots.

— celticshub (@CelticsHub) March 2, 2013
Stephen Curry hits a layup, but that was his first make in a long while.
Warriors 66, Celtics 77 - 10:33 left in 4Q
17-6 run for Boston. Golden State can't get anything to fall.
Curry airballs a wide-open 3 and Crawford gets a layup on the other end. Curry now 3 of 15 ... 2 of 8 from 3.

— Marcus Thompson (@gswscribe) March 2, 2013
Sums up the Warriors night.
Make that another missed three by Curry. Must be having a 54-point hangover.
Warriors 66, Celtics 71 - 10:33 left in 4Q
Steph Curry airballs a three.
Makes sense. Right?
#Celticstalk: #Celtics Kevin Garnett has 9 rebounds tonight, 13,752 for his career. Is now 11th all-time, passing Hakeem Olajuwon (13,748).

— A. Sherrod Blakely (@SherrodbCSN) March 2, 2013
Pierce has also moved up a spot on the all-time made free-throws list.
Pierce with a chance at the triple-double tonight. 26 points, 6 rebounds.....7 turnovers?

— celticshub (@CelticsHub) March 2, 2013
Nice. Nice. Yikes.
Warriors 62, Celtics 69 - End of 3Q
Carl Landry tips in a Jack miss, and then misses a buzzer beater after the Celtics throw the ball away.
As we await the final quarter of action, check out highlights from the first half of tonight's contest.
Warriors 60, Celtics 69 - 0:54 left in 3Q
So much for his being hurt. Green enters and immediately banks a turnaround.
The TD Garden is going crazy.
#Celticstalk: #Celtics Jeff Green on the sideline flexing his left arm, now has a sleeve on it. Looks like he'll be returning to the floor.

— A. Sherrod Blakely (@SherrodbCSN) March 2, 2013
Warriors 60, Celtics 67 - 1:26 left in 3Q
Warriors 60, Celtics 62 - 2:22 left in 3Q
Steph Curry just missed a wide-open three.
The world is ending.
Actually, considering the way he's been shooting, it isn't surprising. He's only made three shots from the floor tonight, with over half of his points coming from his 10-10 foul shooting.
This article is
What is the duplicate article?
Why is this article offensive?
Where is this article plagiarized from?
Why is this article poorly edited?

Boston Celtics: Like this team?