Minnesota Timberwolves: If Only Rubio Could Turn Everyone's Frown Upside Down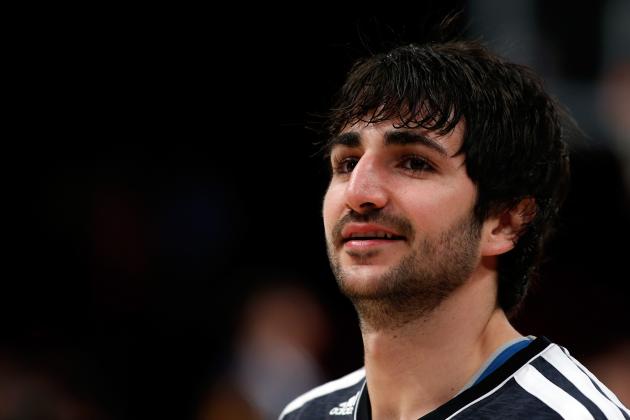 Scott Halleran/Getty Images

Those of you that did not catch Thursday's 116-94 blowout loss to Los Angeles Lakers on TNT, Minnesota Timberwolves point guard Ricky Rubio provided a charming moment for all to see on national television.
During a tough night for Alexey Shved, who went 1-8 with five points, Rubio turned to the Russian guard and told his crestfallen teammate, "Change this face. Be happy. Enjoy!"
It was almost cartoonish in nature; like something out of a movie.
The only thing that would have made this moment more Minnesotan would be if Rubio then turned to Adelman and whispered, "Keep Shved off the court for the rest of the game" shortly afterwards.
This sort of behavior is to be expected from Rubio, who earlier in the season told Ray Richardson of the Pioneer Press, "We are here to win games and have fun, but I don't think we're having fun, and we're going to change it."
During a downer of a season that began with playoff expectations that were quelled with a series of injuries, a moment like this is much needed for the embattled Wolves fan.
If only Radiating Ricky could do more to help everyone on the team out…
Begin Slideshow

»
If only Rubio could have channeled Bill Murray in Space Jam (who's rocking a St. Paul Saints cap, by the way) and offered some coaching assistance when Rick Adelman had to take a leave of absence.
The Timberwolves coach missed 11 games while his wife, Mary Kay, suffered from seizures. The team went 2-9 under assistant coach Terry Porter.
It would require a sex change and IQ reduction, but what if Rubio unleashed his inner Phoebe when Andrei Kirilenko and Nikola Pekovic suffered from leg injuries?
Kirilenko, 32, has been a sensation for the Timberwolves after spending a year in Euroleague. The former Utah Jazz is averaging 13 points per game.
Pekovic, a second round pick from Montenegro, is not only a value pick, but could become a cornerstone player for the Wolves if the team locks him up long term.
Yeah, it would be a little awkward seeing Rubio give the two big men a rub down, but in this league—and especially with this team—you do whatever you can to keep productive players on the floor.
Williams needs a little giddy-up speech in order to reach his potential. Mickey Goldmill's speech in Rocky V? Too dramatic. Peter Griffin's speech in Family Guy? Too obvious.
The late Leslie Nielson's impersonation of Knute Rockne in Airplane!? Just right.
In true Notre Dame fashion, Rubio can tell Williams to fabricate a story about a girlfriend, say she died from leukemia and use it as motivation for the rest of the season.
How could that possibly go wrong?
If only Rubio had removable limbs like Buzz Lightyear: we could have avoided this whole mess. Love breaks his hand doing knuckle pushups and Rubio could just toss him a hand.
Hell, if that one broke, the Spaniard could just toss him the other one mid-game (assuming he has a couple to spare).
Early in the year, Love made it clear that he was not happy with the direction of the team. He called out Kahn, saying that he always saw new faces every year and wondered aloud whether the GM had a plan for the team.
Naturally, Timberwolves fans are waiting for a Troy Williamson-style call out where Love asks Kahn to fight him a la Mortal Kombat at center court of the Target Center.
All this bedlam can be avoided if Rubio does his best impression of Vince Vaughn and Owen Wilson at the beginning of Wedding Crashers.
There had to be a time when these two got along.
I can just picture Rubio saying: "Don't do this for the other person. Do it for yourself. It's about saying yes for yourself. It's about saying yes to your future."
Hey, there's still some time left. Let's just hope TNT records him if it goes down.
Tom Schreier covers the Timberwolves for Bleacher Report and writes a weekly column for TheFanManifesto.com.