Monumental Differences Between Today's Baseball Players and Those of Yesteryear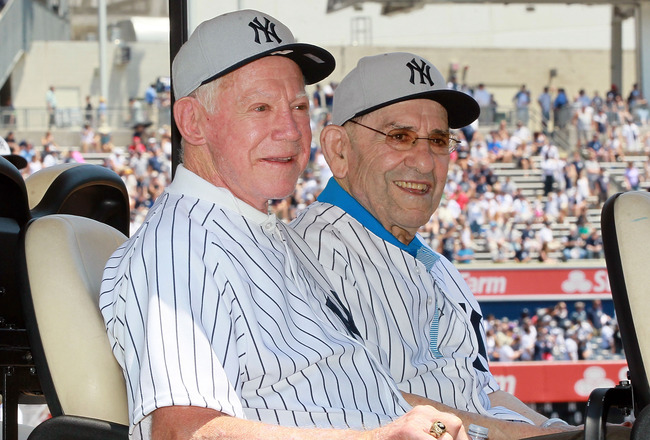 Whitey and Yogi were cut from a different cloth than the players of today.
Jim McIsaac/Getty Images
You've heard the saying, "the more things change, the more they stay the same?"
That doesn't apply here.
While baseball has stood firm on many of its longstanding traditions and the game is played the same way today as it was back in the 1920s—pitcher throws ball, batter hits ball, fielder catches ball—today's MLB would look foreign to some of the legends of the game.
Finances, genetics and technology, to name a few, have changed things.
They have changed the men who play the game.
To quote Pearl Jam's Eddie Vedder, "It's Evolution, Baby!"
Well, sort of.
Performance enhancing drugs, steroids and the like have certainly led to monumental changes in the performance of some players, but they play only a small part when looking at the monumental differences between today's stars and those of yesteryear.
Let's take a look at the biggest differences between then and now.
It's a Year-Round Job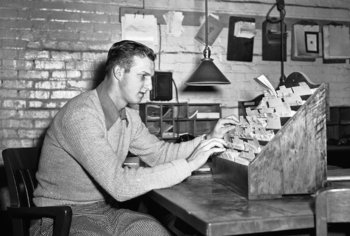 Stan Musial checking paperwork at the Christmas Tree lot in 1943. Photo courtesy of NYTimes.com.
Can you imagine buying a used car from Brandon Phillips?
How about going to buy a Christmas Tree from Miguel Cabrera? Insurance from Derek Jeter?
Need a suit for your buddy's wedding? Your salesman, Clayton Kershaw, would be happy to help you pick out something that's stylish yet tasteful.
For as absurd as the above scenarios sound, it was a way of life for major league players of years past, who weren't making the kind of money that even borderline major league players pull down in a season today.
In 2012, the average major league salary was just over $3.2 million, with the minimum salary sitting at nearly a half-million dollars, $480,000 per season, according to ESPN.
Making that sort of money allows today's player to make baseball a year-round job, training and working out during the offseason.
Without question, the ability to train year-round has something to do with the increased size and strength of today's player as compared to those who came before them—but it demands that some questions be asked that simply can never be answered.
How much better would Stan Musial have been if he didn't need to sell Christmas trees during his time off?
What about Roy Campanella, the Hall of Fame backstop for the Brooklyn Dodgers?
How good could he have been—and how much better would the Dodgers pitching staff have been as a result—if Campanella could have worked with those pitchers during the winter instead of running his liquor store in Harlem?
In 1966, 20-year-old Jim Palmer helped lead the Baltimore Orioles to a World Series victory over the Los Angeles Dodgers. Less than a month later, Palmer was back at work—folding clothes, not firing fastballs, as he told Andrew Keh of the New York Times:
"I was the youngest player to ever throw a shutout in a World Series. Next thing I know, I am selling men's clothes at Hamburgers."
Would Palmer, who went on to win three American League Cy Young Awards and be enshrined in the Baseball Hall of Fame, have been better had he been able to focus on pitching instead of clothing in the offseason?
How would today's major league player handle having to work a "regular job" as well as their high-profile one—and more importantly, how would that impact their production on the field?
Players Have Gotten Bigger, Stronger and Faster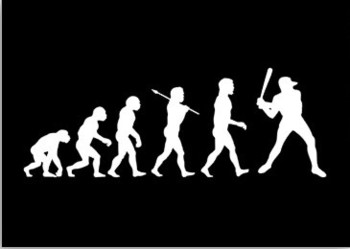 Photo courtesy of Zazzle.com.
This will come as no shock to anyone, but over the past 50 years or so, the average American male between the ages of 20 and 39 has gotten larger, something that the Centers for Disease Control made note of in a study published back in 2004:
| | | |
| --- | --- | --- |
| Years | Height | Weight (lbs) |
| 1960-62 | 5'7" | 167 |
| 1971-74 | 5'8" | 173.5 |
| 1976-80 | 5'8" | 171.5 |
| 1988-94 | 5'8" | 177 |
| 1999-02 | 5'8" | 186 |
Granted, this study is nearly a decade old and only includes male citizens of the United States, but it reaffirms two things: people are getting bigger, and professional athletes—baseball players included—are not your average American male.
According to ESPN, your average major league player on a roster in 2013 stands 6'1" tall and weighs 207 pounds.
Two teams, the Cleveland Indians and Minnesota Twins, have rosters with averages that hit those two numbers exactly.
So I decided to take a look at the average size of players on the Indians over the past 100 years or so to see whether the trend shown in the CDC report translated to baseball as well.
It does.
| | | |
| --- | --- | --- |
| Year | Height | Weight (lbs) |
| 2013 | 6'1" | 207 |
| 2003 | 6'1" | 200.8 |
| 1993 | 6'2" | 194.9 |
| 1983 | 6'1" | 186.6 |
| 1973 | 6' | 186 |
| 1963 | 6' | 185.6 |
| 1953 | 6' | 187.1 |
| 1943 | 5'10" | 185.7 |
| 1933 | 5'10" | 180.1 |
| 1923 | 5'9" | 174.4 |
| 1913 | 5'9" | 176.3 |
| 1903 | 5'9" | 178.5 |
There are, of course, a number of reasons for the increased size.
A more diverse player pool to choose from, improved training techniques, performance enhancing drugs, nutrition and genetic makeup all play a part in explaining the difference in size between the Cleveland teams of yesteryear and the team we see taking the field for exhibition games now.
Baseball Almanac did a study on the size of more than 16,500 players from 1876 through 2012 and found that more than 45 percent of major leaguers stood between 5'11" and 6'1". Weight-wise, more than 58 percent of major leaguers weighed between 170 and 199 pounds.
While today's ballplayer stands about as tall as those who came before them, they are much heavier—and with that weight difference being in the form of muscle mass and not fat, that changes things drastically.
Pitchers Used to Pitch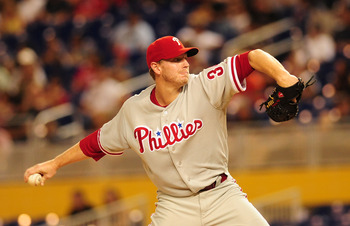 Old time pitchers would laugh at the totals compiled by the active leader in complete games, Roy Halladay.
Jason Arnold/Getty Images
Once upon a time, pitchers used to pitch.
They'd take the mound and never leave, pitch counts be damned en route to finishing what they started.
Today, managers around baseball see a pitcher hit triple digits in their pitch count and within seconds, we see them on the phone to the bullpen, getting relievers warmed up to replace the starter.
No position on the field has seen such drastic changes than pitchers, who are now babied and coddled.
It's understandable, as teams want to protect their multimillion dollar investments.
But that didn't used to be the case.
Since 2000, baseball has seen only two pitchers break double digits in a single season for complete games: CC Sabathia went the distance 10 times in 2008 for the Cleveland Indians and Milwaukee Brewers, while James Shields finished 11 games for Tampa Bay in 2011.
Philadelphia's Roy Halladay, the active leader in complete games with 66, is tied for 644th all time in the statistic with such luminaries as Orval Grove, Ken Heintzelman and Johnny Rigney.
Speaking of the City of Brotherly Love, it was Steve Carlton in 1980, with 304 innings of work, who was the last pitcher to eclipse the 300-inning mark in a season. New York's Andy Pettitte, the active leader in innings pitched with 3,130.2, ranks 113th on the all-time list.
The question isn't so much whether the pitchers of yesteryear could handle today's game—it's whether today's pitchers could handle the rigors of pitching back in the day.
The jury's still out on that one.
Keep Reading