5 Worst Ways to Be Submitted in an MMA Fight
Suhaimi Abdullah/Getty Images

A flashy submission can be just as entertaining as a knockout blow in an MMA fight. Sure it's not as vicious as a knockout finish, but there are times when a hold turns nasty.
That usually includes some obvious damage to an opponent's ligaments or bones, but sometimes the worst damage goes unseen by the audience.
When a fighter enters a bout, these submission moves have to be in their mind as "areas I'd want to avoid." The submission maneuvers are ranked on this list with a number of factors added in like embarrassment of getting caught, the pain they inflict and the simplicity of defending them among others.
While winning an MMA bout by these means is cause for a celebration for the victor, they're without a doubt the worst ways to be tapped out during a fight.
Begin Slideshow

»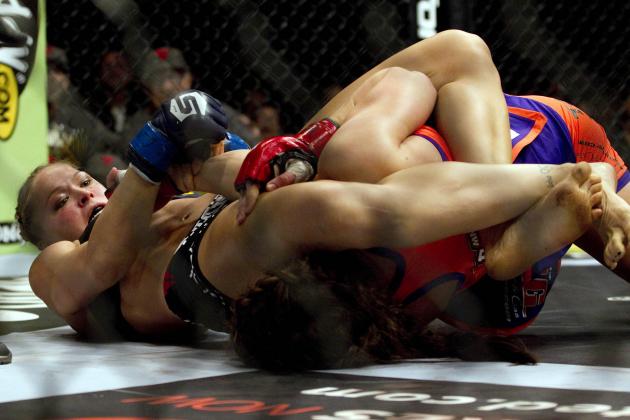 Greg Bartram-USA TODAY Sports

Getting caught in an arm bar can either be a sluggish process or happen within the blink of an eye. If an opponent slaps on an arm bar quickly, there's often little a fighter can do to avoid it's painful effects.
Yet some fighters take their time setting up their grip and positioning their hips, which gives their opponent ample time to wiggle free. It's during these arm-bar attempts that people watching at home are screaming at the TV set because we can all see what's about to go down.
The good thing about an arm bar is that when you're caught, you generally realize it fast enough to tap before permanent damage is done.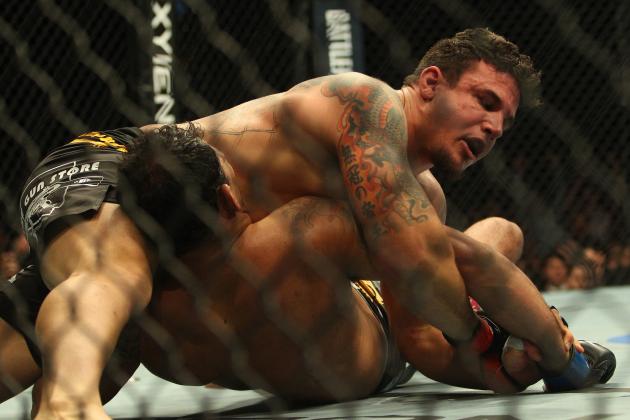 Tom Szczerbowski-USA TODAY Sports

Getting caught in these shoulder locks usually happens as a result of two things: Either the guy applying it is really good or the victim is really bad.
The setup for a kimura or Americana is pretty obvious unless you do a good job of disguising your offense. When an opponent grabs your wrist, it's a good indication of his next move. The Americana especially tends to happen when a fighter is exhausted, as it's pretty hard to catch a good fighter with it while they're fresh.
Like the arm bar, victims can generally feel the pain before anything gets too damaged which allows them to escape unharmed, minus some general soreness.
Joe Camporeale-USA TODAY Sports

Leg and ankle locks are something you won't see a lot of in training camps and for good reason. If improperly (or properly in some cases) applied, the victim can have some serious damage done to their lower extremities.
When a fighter looks for a leg or ankle lock, the move tends to happen as a surprise and catches the victim off guard. That's only half the problem with being forced to tap out due to a leg lock.
Not only are you unaware of the move about to happen (unless you're fighting Rousimar Palhares), by the time you realize you're in actual pain, there could be some serious damage. It is for reasons like this that few coaches will show you a leg lock until you're further along in your training.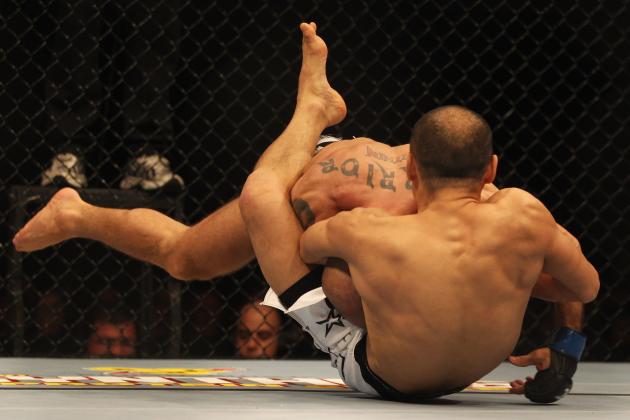 Mark Kolbe/Getty Images

Falling into a guillotine can be a very bad way for a fighter to lose. Having someone crush your windpipe with all their strength tends to hurt quite a bit. There's some extreme discomfort even when a fighter passes out due to a blood choke.
What makes losing by guillotine choke one of the worst ways to lose is that it often comes after a fighter scores a takedown or is looking to implement their takedown. Going from winning a fight to losing in such a quick sequence is never fun.
There's also the feeling of embarrassment for the losing fighter as they realize how they lost. Generally, getting caught in a guillotine is the result of using bad technique and something that can cause a fighter to beat themselves up about for making such a simple mistake.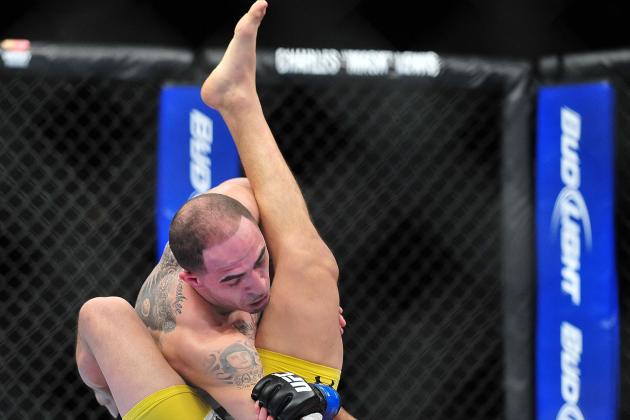 Gary A. Vasquez-USA TODAY Sports

Being caught in a triangle choke has been a running joke in the Internet MMA community. As the joke goes, there's nothing worse than passing out and the last thing you smell is your opponents groin area.
Embarrassing jokes aside, getting caught in a triangle choke is no fun for the victim. There's almost no escape once your opponent has their legs in position. Along with that, the fighter applying the hold could choose to attack the arm, making this a dual-threat submission attempt.
It is easy to tell when an opponent is looking to use a triangle choke as they'll grab your wrist, which should give a fighter plenty of insight to not fall into the trap. Yet fighters continually let their opponents hold on to their wrist, which appears as a "Countdown to Triangle Choke" segment to the MMA fan watching at home.
Also, fighters, please stop attempting to slam your way out of a triangle choke. You're not Quinton Jackson and by now everyone should know that it only makes the choke tighter.