Ravens 2013 Mock Draft: Full 7-Round Predictions After First Week of Free Agency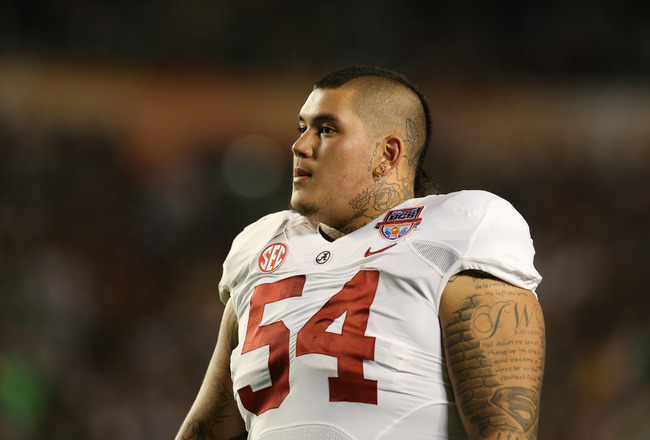 Matthew Emmons-USA TODAY Sports
Let us take a moment to mourn the losses of Anquan Boldin, Bernard Pollard, Paul Kruger and Dannell Ellerbe. After the first week of free agency, Ravens fans are doing plenty of mourning, as the Ravens have lost a lot of talent with only a handful of rotational defensive linemen added.
That means the Ravens are going to have to fill some needs in the draft. The Ravens fortunately have lots of draft picks and lots of available talent on which to use those picks.
The Ravens are lucky that this year features a glut of mid-range talent. In this draft, picking at 15th overall and then picking at 32nd, as the Ravens are, is hardly different at all.
Further, the draft has solid talent at several positions of need, including in the pass rush, defensive line, secondary and linebacker positions. The Ravens should be able to fill all those needs in the draft without having to reach.
With that in mind, the Ravens' biggest need is not any one position, but rather an element that their defense lacked in 2012. The Ravens desperately need a dose of speed, athleticism and strength in their defensive front seven, regardless of position.
They've already let players go who don't fit that mold. Now, they need to find their replacements.
With that in mind, here is a full mock draft for the Ravens, with a special emphasis on making that defense great once again.
Round 1: Jesse Williams, NT, Alabama
Ask any well-versed Ravens follower what position was weakest this past season, and they would almost all say nose tackle. Terrence Cody and Ma'ake Kemoeatu were dominated on nearly every down, resulting in the linebackers getting swarmed with blockers and opponents running the ball at will.
Fortunately for the Ravens, Jesse Williams out of Alabama should be on the board at the end of the first round.
The No. 1 job for a nose tackle is simple: Don't get moved. Watch his tape, and you'll see that Jesse Williams just does not give ground. Even when double-teamed, Williams holds his ground and allows his linebackers to get to the football.
The knock on Williams is that he's a two-down player, meaning he can't rush the passer. While this is true, the value he would bring to this defense outweighs that minor drawback. With Williams and Haloti Ngata occupying blockers, the Ravens linebackers will be free to get to the football, making the position less of a priority.
Williams' value comes down to one stat in my mind. The Ravens gave up 122.8 rushing yards per game on average, 20th in the NFL. In the rushing-dominated SEC, Alabama gave up just 80.6 yards per game, first in the nation.
Williams would be a huge upgrade to a Ravens run defense that was a major liability. If he or another nose tackle is on the board, the Ravens have to take him.
Round 2: Eric Reid, S, LSU
Now that we've added strength, let's add some athleticism to the Ravens' defense in the form of 6'2" LSU safety Eric Reid. The Ravens have failed to lock up Ed Reed so far, so perhaps they can find another Reid to take his place.
Reid has all the skills for the kind of aggressive safety the Ravens covet. He flings his body around with reckless abandon (in a good way), he tackles effectively and he's got speed to make plays in coverage.
He needs to work on keeping plays in front of him, as Reid's biggest weakness is a tendency to give up big pass plays. The physical ability is there for him to fix that, but he needs to improve his field awareness at the next level.
Reid could possibly step in as an immediate starter for the Ravens, who would value his speed and tackling ability. At the very least, he's a high-upside safety who could grow into an excellent player over time.
The Ravens would be very lucky if Reid fell to them in the second round, but if he's on the board he would be a great pick.
Round 3: Jon Bostic, ILB, Florida
I've largely been against the hype that the Ravens need to take an inside linebacker early in the draft, but with Dannell Ellerbe moving on to Miami and no replacements available in free agency, the Ravens' hands are forced.
The Ravens will need to take a linebacker, and Jon Bostic would be a good value at this point with better upside than either Ellerbe or Jameel McClain.
Bostic is excellent in coverage, something that both McClain and Ellerbe struggle with badly. At the very least, Bostic could step in as a nickel linebacker immediately.
He is also a competent pass-rusher, flashing the ability to shed blocks and get to the quarterback.
As a run defender, though, Bostic has a long way to go. His instincts seem off, he's overzealous in taking on blockers and he doesn't shed them well. Most of Bostic's tackles seemed to come at least five yards downfield.
I think those problems can be coached. The Ravens do an excellent job of developing linebackers, so Bostic's tendency to take himself out of running plays would be dealt with over time.
With that in mind, Bostic's athletic upside and innate ability in coverage should lend him well to the Ravens defense immediately as they groom him to take on a starting role.
Round 4: Brandon Jenkins, OLB/DE, Florida State
Once considered a first-round talent, Brandon Jenkins has fallen largely off the radar due to injuries sustained throughout his career. Now, he seems to be a middle-round prospect.
The Ravens can stop his slide here, though, and possibly score the steal of the draft in the process.
Jenkins is a bit one-dimensional, as his pass-rushing prowess far exceeds his run-stopping. Jenkins is one of just a handful of prospects to demonstrate an array of pass-rushing moves, and his on-tape burst is first-round worthy.
From the film I watched, he occasionally struggled to bring down ball-carriers, and he can be blocked in the running game. Jenkins would probably be relegated to situational pass-rushing as a rookie.
There is obvious upside here, though, as Jenkins constantly seems to make big plays and flashes excellent awareness. And that burst off the line! He judges the snap better than any prospect in this draft. I'll be looking forward to seeing his 40-yard dash time at his pro day, and especially his 10-yard split.
He's explosive, smart and plays like his hair is on fire. That sounds like a Ravens defender to me. He's a bargain at this point in the draft.
Round 5: Oday Aboushi, OT, Virginia
Oday Aboushi is a player who has failed to stand out at the combine and Senior Bowl, and his stock is dropping accordingly.
Aboushi is well worth a flier at this point, though, as he has left tackle starting potential that other players drafted this late lack. He excelled in pass protection in college, and with some physical development, Aboushi could possibly develop into a starter.
Supposedly, Aboushi's arm length will relegate him to either the right side or guard, but don't forget that the Tennessee Titans' Michael Roos has arms shorter than Aboushi's. He seems to be doing just fine in Tennessee, so I consider arm length to be slightly overrated.
More important is hand use, and Aboushi excels in that regard. He is quick in mirroring pass-rushers, and he rarely lets them beat him with any kind of move either.
His defining weakness is strength, as he benched just 17 reps of 225 at the combine. That is definitely a concern, but it's one that the Ravens' strength program should be able to overcome.
Aboushi could probably add some muscle to his frame, and he's already pretty polished. He's definitely worth a shot as a potential starter this late in the draft. At the very least, he'd provide quality depth.
Round 6: Michael Williams, TE, Alabama
The Ravens have a firm hierarchy at tight end, with Dennis Pitta and Ed Dickson forming a nice one-two punch. They could use a big-bodied blocker, though, and Michael Williams might be the best blocking tight end in this draft.
At this point in the draft, you can't focus on filling needs, but rather finding players with upside. Williams fits that bill perfectly. Though he lacks big-time receiving ability, Williams could contribute immediately as a blocker.
Williams would immediately become the best blocking tight end on the Ravens roster, and he'd really help in short-yardage situations, where Dickson struggled as a blocker in 2012.
The Ravens would be really lucky to get a likely contributor at this point in the draft. If Williams is available, the Ravens could really boost their running game by taking the big tight end.
Round 6: Conner Vernon, WR, Duke
The Ravens acquired a sixth-round pick for trading Anquan Boldin, so why not use one to draft a potential replacement?
Conner Vernon has the ideal skill set for a possession receiver, with steady hands, crisp routes and surprising athleticism.
On a poor Duke team, Vernon was a star, racking up 3,749 career receiving yards. He ended his career with a bang, going for 119 yards and a touchdown in an entertaining bowl game against the heavily favored Cincinnati Bearcats.
The Ravens have a lot of speed at receiver, with Torrey Smith, Jacoby Jones, Tommy Streeter and Deonte Thompson all being burners. Only Tandon Doss is considered a possession receiver, but he struggled with drops this past season.
Vernon would be competitive for targets with Streeter, Thompson and Doss, and he could surpass them with some development. He's worth a shot in the sixth round.
Round 7: Javon Harris, S, Oklahoma
With their final pick, the Ravens will look for depth, upside and special-teams ability. Javon Harris offers all three.
The Sooner safety excelled in 2012, racking up 86 tackles and six interceptions while keying a Sooner pass defense that ranked 29th in the nation.
Harris tackles well in the open field and has good ball skills. He struggled at times with giving up big plays during his career, but he and the Sooner defense improved greatly this past season. He is a developing prospect with solid potential.
At the very least, Harris looks like an excellent special teamer with upside.
Keep Reading

Baltimore Ravens: Like this team?