How Can Every NFL Team Best Manage Its Cap Space for 2013?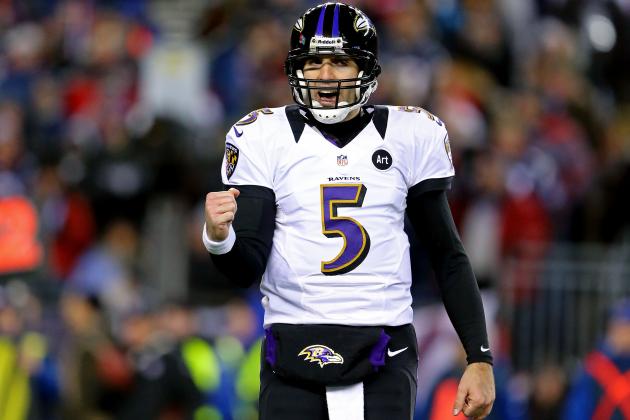 Al Bello/Getty Images

The NFL has set its salary cap for the 2013 season, and the new number is over $3 million higher than the 2012 cap.
According to Ian Rapoport of NFL.com (via Chris Wesseling of NFL.com), the NFL has jumped the 2013 cap to a total of $123.9 million, up from 2012's cap of $120.6 million.
To be clear, Rapoport reported that the cap is actually $123 million, but that each team has a $900,000 minimum salary benefit, which pushes the total potential number to $123.9 million.
In the following slides, we'll present the current cap numbers for each of the 32 teams, along with a plan for using that cap space.
Note: The numbers will be based off a total cap of $123.9 million. All 2013 cap hits taken from Spotrac.com, current through Friday, March 1.
Begin Slideshow

»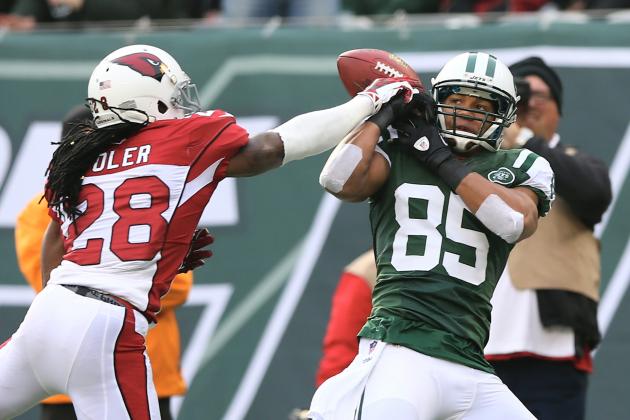 Elsa/Getty Images

2013 Cap Space: $7.2 million
The Cardinals are still tight in space, and new deals are needed for cornerback Greg Toler and running back LaRod Stephens-Howling. Those new contracts would push Arizona ever closer to the 2013 cap.
Add in eventual money needed for 2013 draft picks and the Cardinals don't have much wiggle room. Expect a quiet couple of months in the desert. Restructuring or cutting quarterback Kevin Kolb will likely be needed eventually.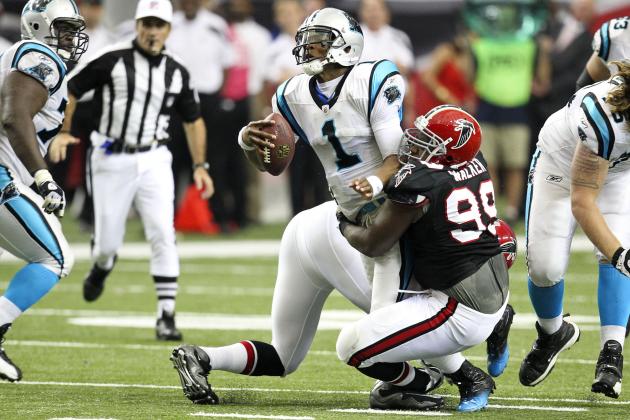 Daniel Shirey-USA TODAY Sports

2013 Cap Space: $24.5 million
The Falcons parted ways with veterans Michael Turner, John Abraham and Dunta Robinson on Friday, according to ESPN's Adam Schefter. The difficult, but necessary, decisions will free up almost $19 million in total cap room.
With almost $24.5 million in current space, the Falcons can now re-sign in-house free agents such as Vance Walker (pictured) and Sam Baker. The moves may also allow the Falcons to get cornerback Brent Grimes under contract, while still pursuing other free agents such as running back Steven Jackson or defensive end Osi Umenyiora.
And don't forget, quarterback Matt Ryan could be looking at a new deal this offseason. Freeing up money was needed to make it all work.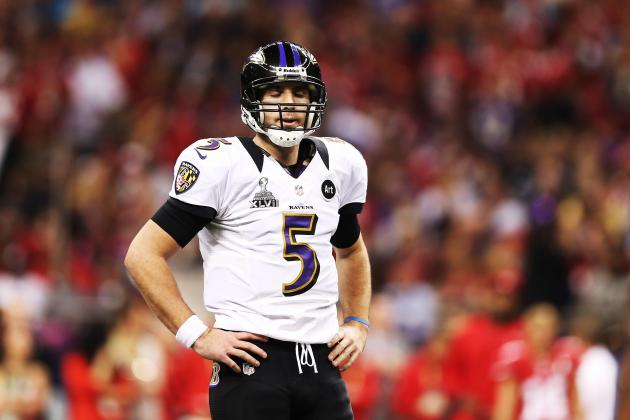 Christian Petersen/Getty Images

2013 Cap Space: $21.8 million
The looming deal for quarterback Joe Flacco remains the elephant in the room. While the Ravens continue to negotiate the Super Bowl MVP's new contract, several other free agents have been put on hold.
Eventually, Baltimore will get Flacco his big deal. That said, how much of the cap it eats in 2013 will be a major factor in whether or not the Ravens can sign its own free agents, who include Ed Reed, Paul Kruger, Dannell Ellerbe and Bryant McKinnie.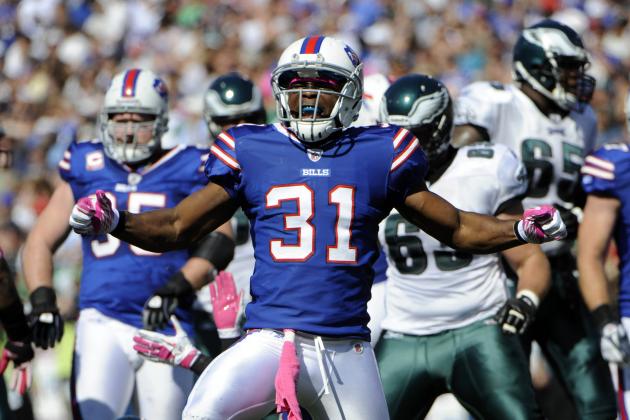 Richard Mackson-USA TODAY Sports

2013 Cap Space: $27.1 million
Priority No. 1 for the Bills is getting safety Jarius Byrd under contract, preferably long-term. He's one of the NFL's most underrated players, but Buffalo was forced to slap him with the franchise tag Friday, according to ESPN's Adam Schefter.
Re-signing guard Andy Levitre should also rank high on the Bills' offseason list.
If both Byrd and Levitre get locked up with long-term deals, anything Buffalo does with the remaining cap space should be considered a bonus.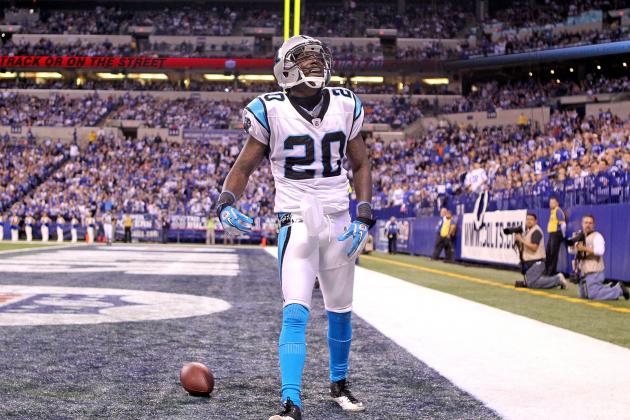 Andy Lyons/Getty Images

2013 Cap Space: $0.9 million
The Panthers have work to do to get their cap in order by March 12, although restructuring the deal of tight end Greg Olsen (per Pro Football Talk) and releasing defensive tackle Ron Edwards has already helped.
Here are some ways Carolina can continue to clear money for the cap:
—Cut cornerback Chris Gamble, who has a cap number of almost $11 million.
—Restructure deals for tackle Jordan Gross or linebacker Jon Beason.
Accomplishing most of that checklist would get the Panthers comfortably under the 2013 cap.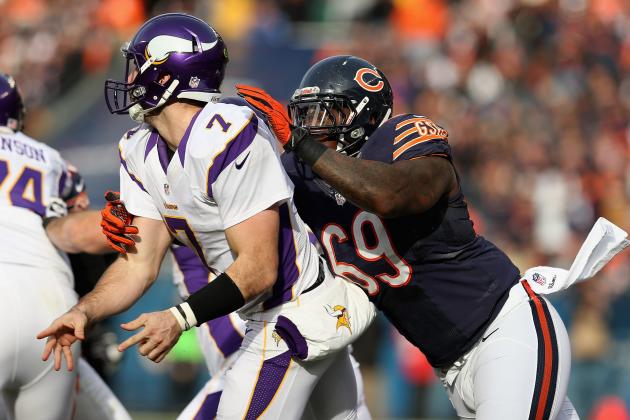 Jonathan Daniel/Getty Images

2013 Cap Space: $13.1 million
The Bears have six free agents who played 500 or more snaps last season, so a chunk of their remaining cap space is likely to go toward getting a few (Henry Melton? Brian Urlacher?) back in Chicago.
Melton will be the most cost-prohibitive, but the Bears could decide to use the franchise tag (just over $8 million) to keep the discussion moving on a long-term deal. The active defensive tackle would be difficult to retain if he got to the open market.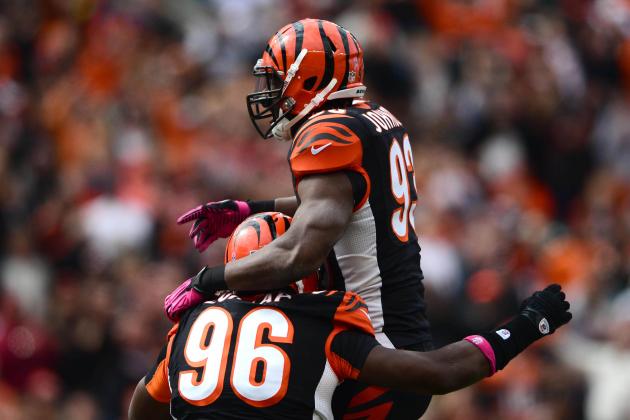 Andrew Weber-USA TODAY Sports

2013 Cap Space: $58.3 million
The Bengals officially placed (per Pro Football Talk) the franchise tag on defensive end Michael Johnson Friday, which will eventually cost the team $11.2 million against the 2013 cap if the two sides can't work out a long-term deal. Even if they don't, keeping Johnson (11.5 sacks in 2012) around for another year is worth the investment.
Taking $11 million from the Bengals' cap space still leaves Cincinnati with plenty of options in free agency.
In-house players such as right tackle Andre Smith, cornerbacks Adam Jones, Terence Newman and Nate Clements and potentially linebacker Rey Maualuga should claim a chunk of the change, but getting to fill a need or two on the open market won't be restricted by the cap. The Bengals currently lead the NFL in cap space.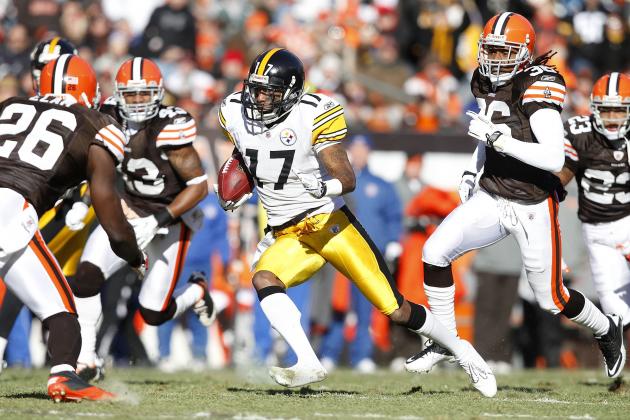 Matt Sullivan/Getty Images

2013 Cap Space: $49.5 million
The Browns lack an expensive in-house free agent to sign, so with almost $50 million in open cap space, Cleveland can afford to be one of the big spenders on the open market.
Receiver figures to be one area the Browns attempt to address, with Mike Wallace, Dwayne Bowe and Greg Jennings as potential options. While Cleveland may not be a contender right now, money talks—and the Browns have plenty to converse with.
Expect the Browns to be movers and shakers once free agency opens on March 12. They could get better in a hurry.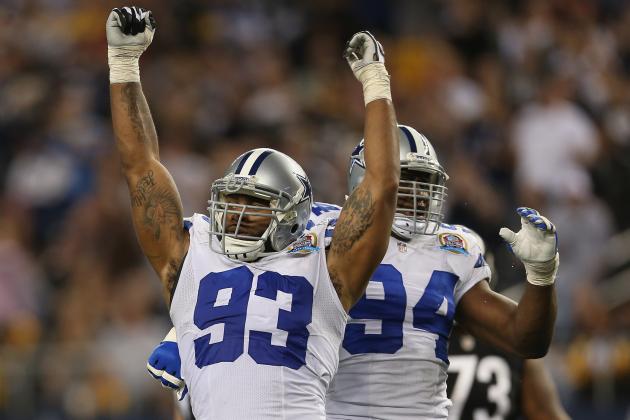 Ronald Martinez/Getty Images

2013 Cap Space: $6.7 million
Credit the Cowboys front office for turning what looked like a messy and difficult cap situation into a more comfortable one. Dallas still doesn't have a lot of flexibility, but pressing the deadline for being under the cap is no longer a worry.
Better yet, the Cowboys can still attempt to re-work Tony Romo's contract to free up more space in 2013. If they clear enough, prized free agent Anthony Spencer might still fit in the Cowboys' long-term plans.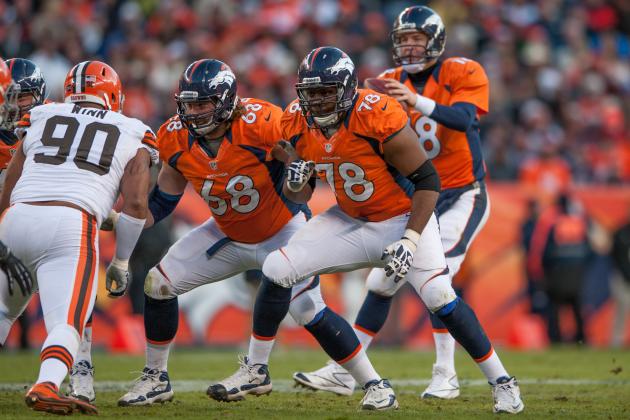 Dustin Bradford/Getty Images

2013 Cap Space: $18.7 million
One way or another, a majority of Denver's cap room will go to left tackle Ryan Clady.
The franchise tag is a very real option, with such a scenario costing the Broncos almost $10 million. A long-term deal, if worked out between the two sides, would likely cost more.
The rest of Denver's in-house free agents are unlikely to eat up big chunks of cap space, so the Broncos could still have some flexibility to add a player on the open market.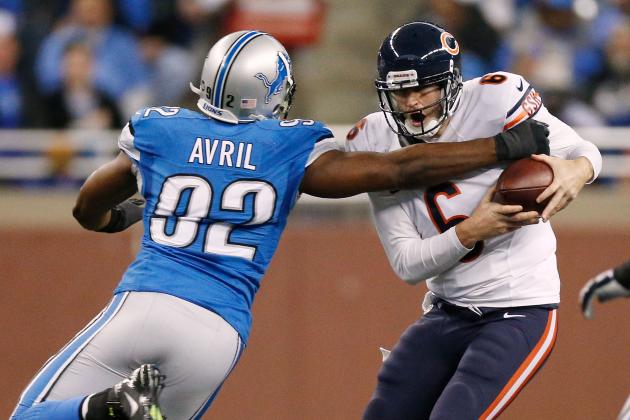 Gregory Shamus/Getty Images

2013 Cap Space: $9.9 million
The Lions have difficult decisions to make regarding their own free agents, but little cap space available to keep those players in Detroit moving forward.
Defensive end Cliff Avril, linebacker Justin Durant, tackle Gosder Cherilus and cornerback Chris Houston highlight the group of free agents Detroit is facing this offseason. Just under $10 million won't be able to get them all under contract, so expect at least one or two departures from the four listed above.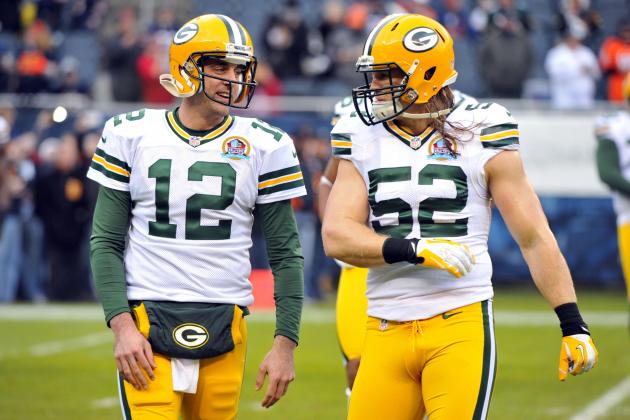 USA TODAY Sports

2013 Cap Space: $21.55 million
The Packers have money available, but most of it is likely to go toward new deals for quarterback Aaron Rodgers and linebacker Clay Matthews.
As pillars on their side of the ball in Green Bay, Rodgers and Matthews are both underpaid and in need of new deals. Rodgers could very easily jump into the $20 million range, while Matthews should get a bump of at least $5-6 million a year.
Add in tenders for restricted free agents such as Sam Shields and Evan Dietrich-Smith and the Packers know that sitting comfortably cap-wise is only a short-term feeling.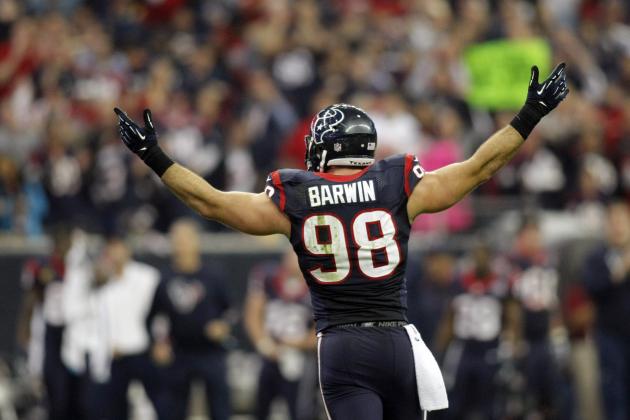 USA TODAY Sports

2013 Cap Space: $9.2 million
Linebacker Connor Barwin represents the Texans' major free agent, but a long-term deal might not happen before he reaches the open market. The franchise tag (right around $9.5 million) is probably not the move Houston wants to make.
With a number of other players needing to get under contract (nine players who played 300 or more snaps last season), the Texans will likely need to use every cent of their cap space on in-house free agents.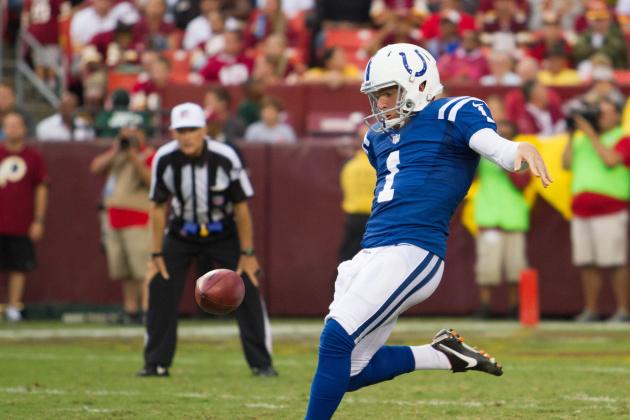 Paul Frederiksen-USA TODAY Sports

2013 Cap Space: $47.7 million
According to Pro Football Talk, the Colts slapped the franchise tag on punter Pat McAfee Friday. The move will only cost Indy roughly $2.7 million, so the massive salary cap space available is far from in trouble.
In fact, the Colts have no major free agents to attend to, which leaves the franchise able to wheel-and-deal on the open market. Could a receiver be a target? Or help along the defensive or offensive line?
The Colts have limitless options to improve a surprise playoff team in 2012. Expect them to dip into free agency to do it, even if it doesn't break the bank.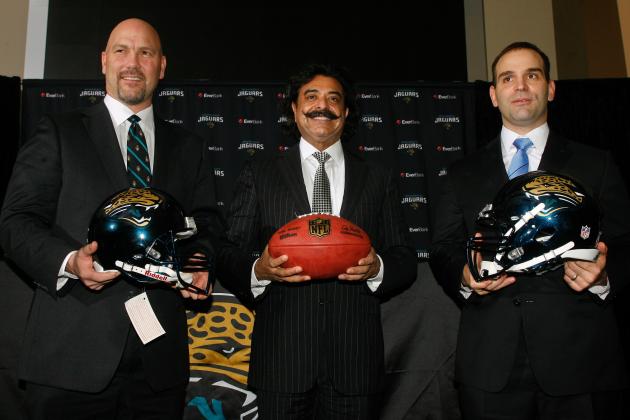 Phil Sears-USA TODAY Sports

2013 Cap Space: $29.5 million
Might the Jaguars be sneaky spenders in free agency?
The team doesn't have a high-priced free agent of their own to deal with, and nearly $30 million is a good chunk of a change for a new general manager and aggressive owner.
Even if this free-agent class isn't packed to the brim with can't-miss players, the Jaguars should be spenders. Sitting on stacks of cap room isn't going to get this team out of the AFC cellar.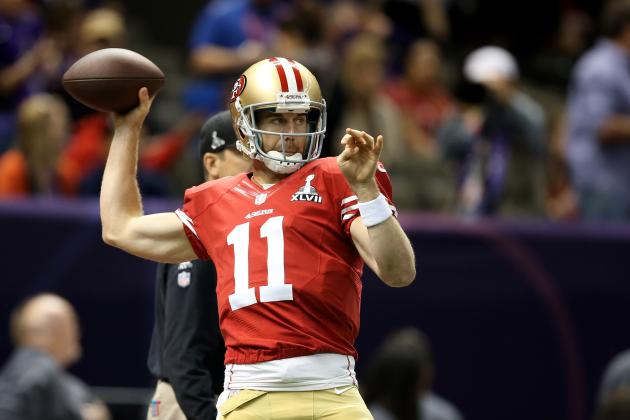 Mark J. Rebilas-USA TODAY Sports

2013 Cap Space: $11.5 million
Our cap space for the Chiefs includes the deal for quarterback Alex Smith, which brought in a cap hit of $8.5 million.
From there, however, things get sticky.
Kansas City has big-name free agents in Dwayne Bowe, Branden Albert and Dustin Colquitt, and $11.5 million is far from enough to get all three back. However, cutting quarterback Matt Cassel will free up considerable space.
The best use of current resources is likely tagging Bowe, signing Colquitt and replacing the other two via the draft. Regardless, the Chiefs will need to be savvy with the cap to make it all work.
Brace Hemmelgarn-USA TODAY Sport

2013 Cap Space: $45.7 million
The Dolphins possess a number of pricey free agents, including receiver Brian Hartline, tackle Jake Long, cornerback Sean Smith and running back Reggie Bush. How aggressively they pursue bringing those players back remains somewhat cloudy.
Here's what we do know: Miami is flush with cap room, and if the front office decides to let any of the aforementioned four walk, the Dolphins will have the opportunity to be big spenders in free agency.
Receiver is an obvious area for improvement, but the Dolphins can be flexible in who they target. To compete in the AFC East, Miami needs to be aggressive with the cap room and improve the roster.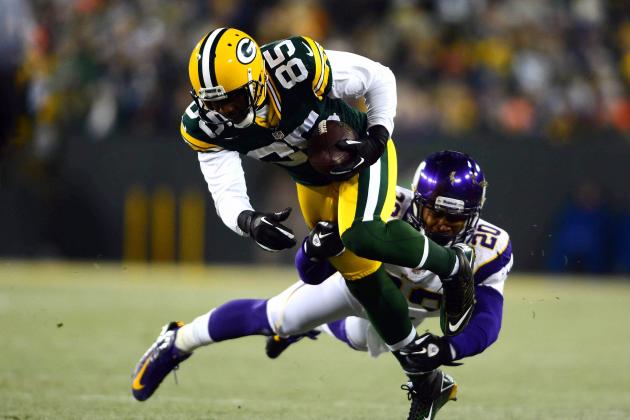 USA TODAY Sports

2013 Cap Space: $15.8 million
Right tackle Phil Loadholt represents Minnesota's one major free agent, but even a long-term deal with him won't handcuff the Vikings in free agency.
Like the Dolphins, Minnesota could use a receiver, and there's no position currently with more available talent on the open market.
Signing Loadholt long-term and using the rest of the available funds to fix problems at receiver would give the much-needed Vikings flexibility in April's NFL draft.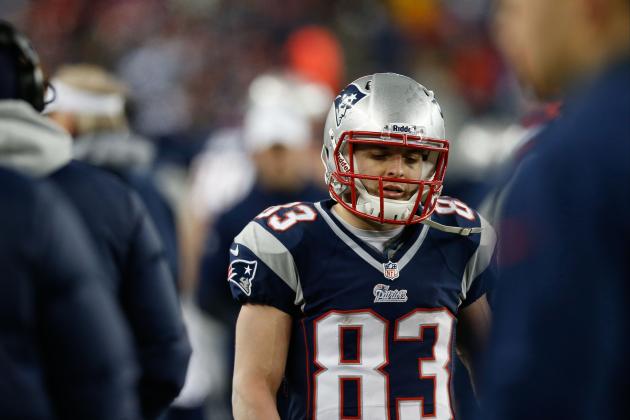 Greg M. Cooper-USA TODAY Sports

2013 Cap Space: $27.7 million
The Patriots have major decisions to make with their own free agents, first and foremost.
Receiver Wes Welker, offensive tackle Sebastian Vollmer and cornerback Aqib Talib are all unrestricted free agents, and it's possible New England won't be able to keep all three of them in town.
Franchise-tagging Welker will eat up over $10 million of that cap, but he's not a player the Patriots can afford to lose. He should be back. Vollmer should too, but both deals together could limit what New England can potentially do with the open market.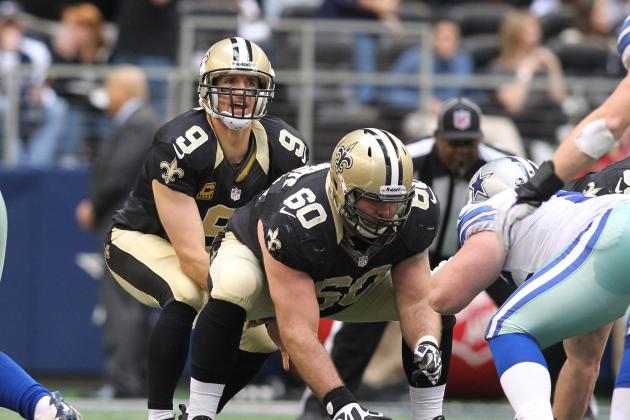 USA TODAY Sports

2013 Cap Space: -$2.3 million
Despite a number of contract restructurings, the Saints remain over the 2013 cap.
Unless a cut or two is made, New Orleans will have to continue trimming the fat off big deals on the roster to get under. Expect a few more players to restructure but the Saints won't have wiggle room to do much more.
Anthony Gruppuso-USA TODAY Sports

2013 Cap Space: $5 million
The Giants have wiggled their way to $5 million under the cap, but that's far from cozy in terms of financial abilities moving forward.
More than likely, New York will continue trying to find ways to get into the $8-10 million range. Remember, the Giants have an expensive restricted free agent in Victor Cruz to consider for 2013.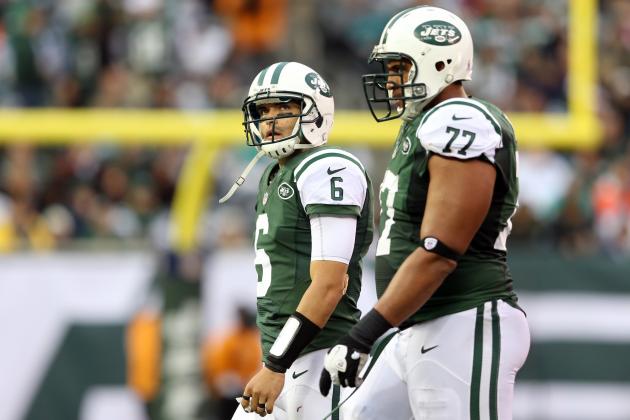 Debby Wong-USA TODAY Sports

2013 Cap Space: $9.1 million
Credit the Jets for giving themselves some breathing room with the cap. It took cuts, but New York is in a much better position today than they were a few weeks back.
However, $9.1 million doesn't allow the Jets to do much. There aren't many expensive in-house free agents to consider, but don't expect New York to be major players in free agency.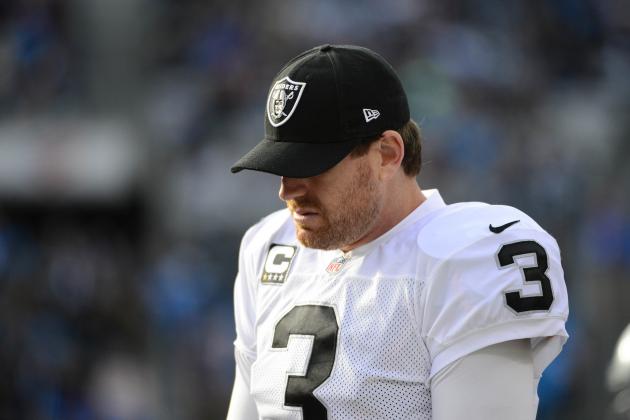 USA TODAY Sports

2013 Cap Space: $1.5 million
General manager Reggie McKenzie is still trying to dig his way out of the salary-cap nightmare he inherited in Oakland.
While under the 2013 cap, the Raiders won't be major players in free agency. Cutting Carson Palmer and his ridiculous 2013 cap hit could open up some breathing room, however.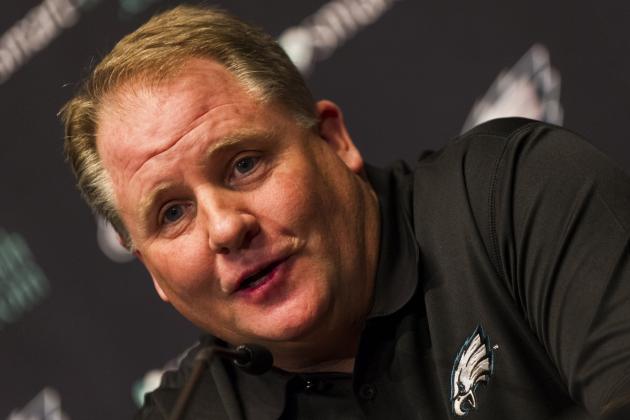 USA TODAY Sports

2013 Cap Space: $29.9 million
The Eagles are in a very favorable situation heading into free agency: A load of cap room and very few in-house free agents who need tending to.
This reality should allow Chip Kelly and the new-look Eagles to revamp the roster with players who fit what Philadelphia plans to do on both sides of the football.
In fact, the Eagles could be big spenders, as transitioning to the 3-4 defense and adding the right pieces to Kelly's offense are likely to be important focal points for the Eagles this spring. Few teams are more flexible.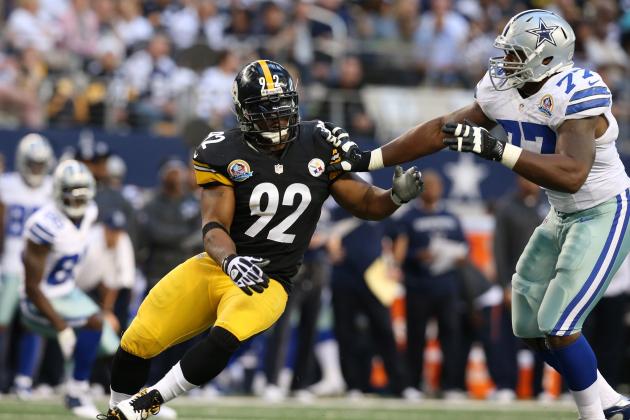 USA TODAY Sports

2013 Cap Space: $4.8 million
The Steelers have done an admirable job of restructuring deals to get under the cap, but this is still a team in need of cap relief.
Under $5 million of space leaves Pittsburgh unable to retain a majority of its free agents or actively pursue an unrestricted free agent after March 12.
When push comes to shove, the Steelers may have to bite the bullet and part ways with James Harrison, who has a restrictive cap number in 2013.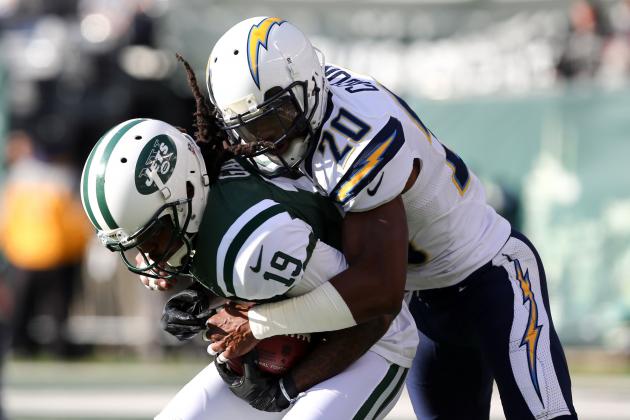 USA TODAY Sports

2013 Cap Space: $8.1 million
The Chargers are under the cap with room to spare, but deals for free agents such as Louis Vasquez and Antoine Cason could eat into that number.
To clear more space and acquire more cap freedom, the Chargers could ask veterans Takeo Spikes and Randy McMichael to restructure their deals or walk. The two are worth more than $5 million in cap hits in 2013.
More than likely, San Diego will be a team creating cap room rather than actively pursuing targets on the open market.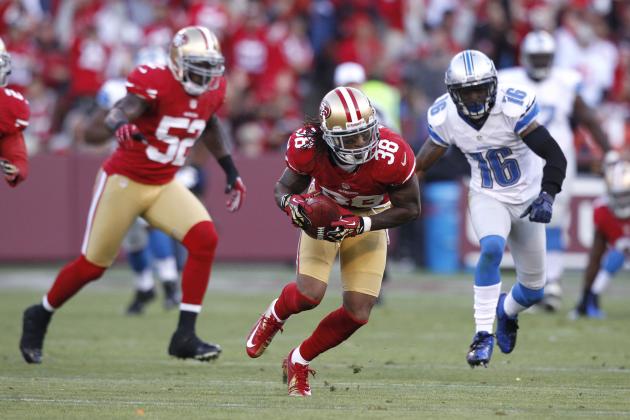 Cary Edmondson-USA TODAY Sports

2013 Cap Space: $9.2 million
The 49ers saved $9.75 million on the 2013 cap by trading away quarterback Alex Smith, and restructures to veteran contracts of Parys Haralson and Jonathan Goodwin could create more valuable room.
San Francisco probably needs more to keep the 2012 roster intact, as safety Dashon Goldson needs to be paid, and Delanie Walker, Randy Moss, Ricky Jean-Francois and Isaac Sopoga are all free agents.
The 49ers could add cheap free agents on the open market, but pricey names probably won't be headed West.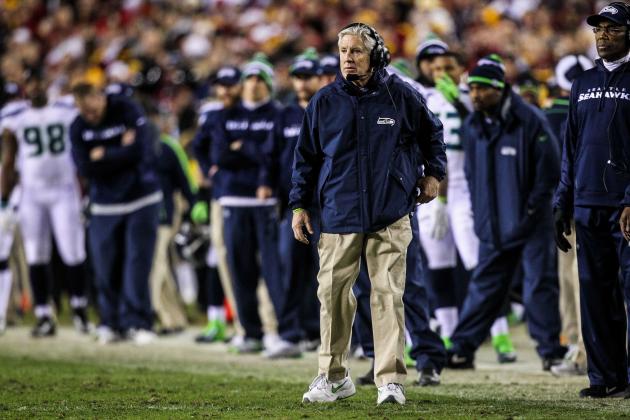 USA TODAY Sports

2013 Cap Space: $17.5 million
The Seahawks have to feel a little giddy heading into this offseason.
A young, talented roster faces very little potential loss in free agency, and the front office has nearly $18 million to play around with.
The Seahawks don't have to break the bank, but general manager John Schneider has the flexibility to fill in the missing pieces on his roster. Don't be surprised if Seattle makes a surprise move or two in free agency.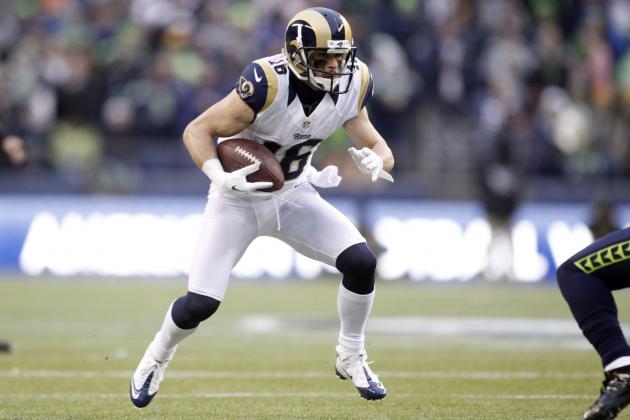 Joe Nicholson-USA TODAY Sports

2013 Cap Space: $8.9 million
The Rams are mostly cash-strapped, and a potential deal with free-agent receiver Danny Amendola could further serve to drain that reserve.
However, St. Louis has options if the cap is currently too tight. Cutting Wayne Hunter and Quinton Mikel would save almost $10 million against next season's cap—which would then allow the Rams to comfortably fit Amendola's potential deal in. Jeff Fisher and Co. might not have much wiggle room otherwise.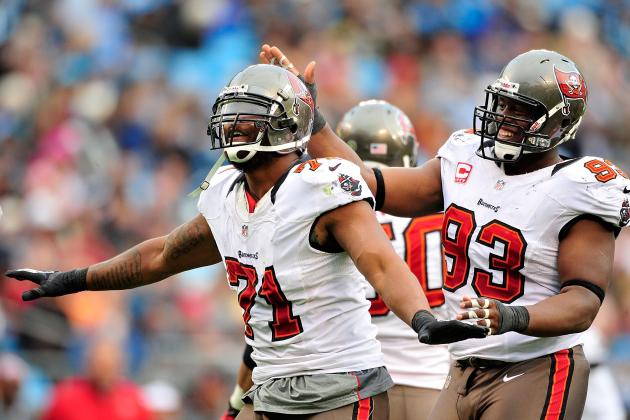 Grant Halverson/Getty Images

2013 Cap Space: $33.5 million
Even after spending bucket-loads of money during last year's free agency, the Buccaneers head into 2013 with cash to burn.
Defensive end Michael Bennett remains the Bucs' biggest free agent, and Tampa Bay certainly doesn't want him getting to March 12 without a deal being close. The money available should ensure that doesn't happen.
From there, general manager Mark Dominik will have freedom to pursue one of two big names to help get his club over the hump in the NFC South.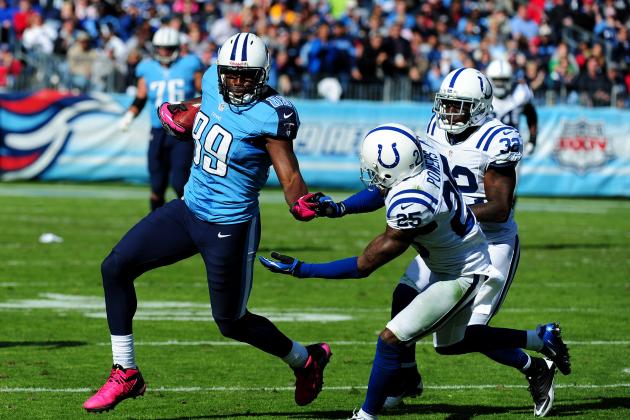 Scott Cunningham/Getty Images

2013 Cap Space: $21.4 million
The Titans are among the AFC's leaders in cap room, and they could still add to that number by restructuring deals for players like Michael Griffin and Eugene Amano.
However, such scenarios are mostly unnecessary. The Titans will want to get tight end Jared Cook under contract, and emerging center Fernando Velasco is a restricted free agent, but neither deal is going to rob Tennessee of its comfortable cap standing.
The Titans don't typically make huge splashes during free agency, but the money is available for the front office to do so this spring.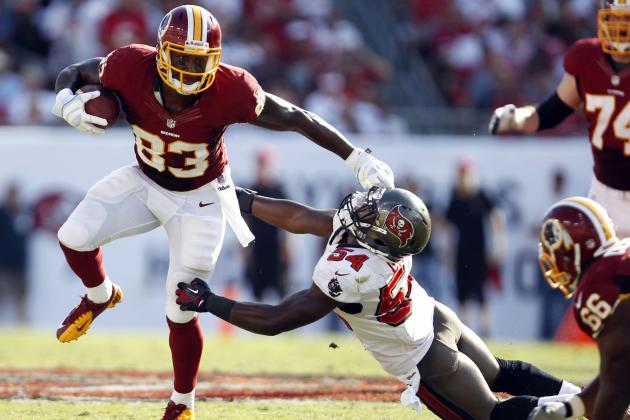 Matt Stamey-USA TODAY Sports

2013 Cap Space: -$1.1 million
The Redskins still have work to do to get under the $123.9 million cap.
Luckily for Washington, there isn't a high-priced or important free agent outside of Fred Davis to get signed before March 12. But there's very little hope for this team to be active on the open market with such a tight cap situation.