UFC on Fuel 8: Keys to Victory for Brian Stann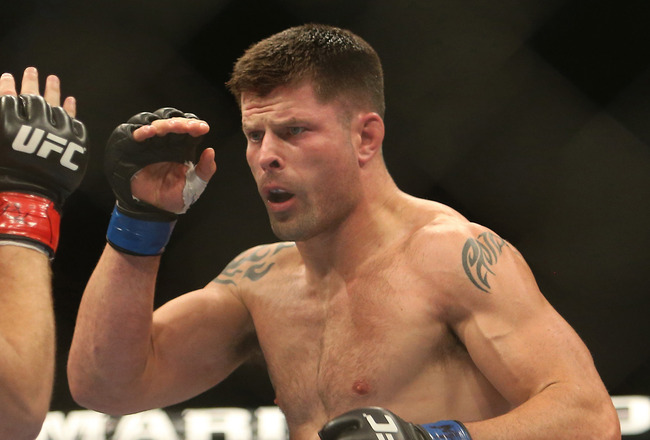 Tom Szczerbowski-USA TODAY Sports
Brian Stann commands respect and admiration inside and outside of the Octagon.
A true "leader of men," as Chael P. Sonnen stated, Stann is the perfect role model for young fighters and leaders everywhere.
Stann exudes this businesslike demeanor at all times, and when he steps into the Octagon to face Wanderlei Silva at UFC on Fuel TV 8, expect "The All-American" to put on a "business as usual" performance.
For Stann, the path to success is clear.
Start the slideshow to check out his keys to victory.
Key No. 1: Avoid the All-out Brawl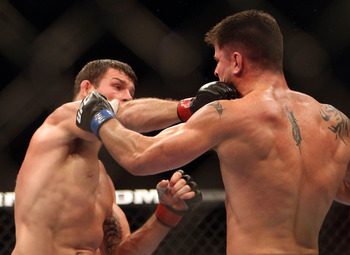 Tom Szczerbowski-USA TODAY Sports
With Stann's resume of nine knockout victories in 17 career fights and Silva's suspect chin at play, a schoolyard-type brawl certainly seems to favor The All-American.
That may very well be the case, but such a tactic could prove fatal for Stann as well.
Silva, despite his aging body, still possesses an explosive burst that could knock out any fighter on the UFC's roster. Stann would be wise to avoid that power at all costs.
To his credit, Stann has been knocked out just once in his professional career despite facing power punchers like Doug Marshall, Chris Leben and Alessio Sakara, but there is no need for him to play to Silva's strengths and give "The Axe Murderer" that chance.
As the younger, crisper fighter with more technical stand-up skills, Stann should avoid the brawl and instead opt for clean footwork and selective shots.
One perfect punch is better than 10 flailing fists in this case, and Stann will emerge victorious if he stays patient and waits for his opening.
Key No. 2: Keep Your Distance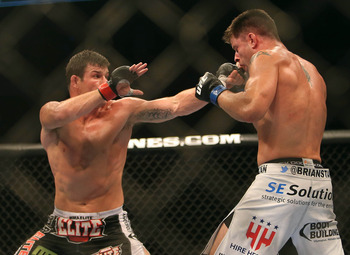 Tom Szczerbowski-USA TODAY Sports
Stann would be wise to imitate his opponent in this picture, Michael Bisping, and constantly measure the distance between himself and Silva at UFC on Fuel 8.
The 32-year-old cannot let Silva close the space and clinch, because—if you weren't aware—Wandy is pretty damn good from this position.
Silva has not utilized this strength much during his run in the UFC, but Stann should still be mindful of the clinch and avoid any sort of entanglement with The Axe Murderer at all costs.
Furthermore, a clinch battle will tire out Stann's arms, weakening his punches upon the break.
There is really no reason for Stann to actively pursue the clinch against Silva, so his focus should be to simply avoid it in the first place.
Key No. 3: Sprawl!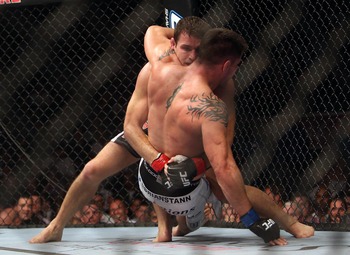 No, not like that!
Tom Szczerbowski-USA TODAY Sports
If Key No. 1 and No. 2 proceed accordingly, the threat of a takedown will be Stann's sole worry in this fight.
Silva is not known as a takedown artist, but he does convert 67 percent of his takedown attempts inside the Octagon, so Stann certainly has something to watch out for in Silva's grappling.
If Silva can take Stann down, The All-American will then have to compete against a Brazilian Jiu-Jitsu black belt on the ground. That's an area where he has faltered against less-accomplished grapplers in the past.
As Key No. 1 already suggested, Stann needs to stay active and keep his feet pedaling throughout the fight. If he becomes stationary, he will be easier to hit or easier to take down, both of which will lead to unappealing results.
If Stann sprawls well and musters up some sort of takedown defense in this matchup, he will win a convincing unanimous decision or he will score the knockout.
Summary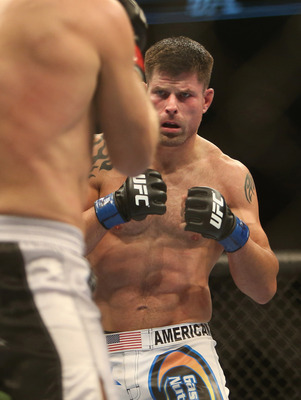 Tom Szczerbowski-USA TODAY Sports
The sport of mixed martial arts is full of surprises, but this matchup is relatively easy to predict.
Each fighter has a recipe for success, and each has a particular advantage (or set of advantages) over his opponent.
For Stann, that advantage lies in his chin and knockout power.
I expect The All-American to be able to take some shots from Silva, whereas The Axe Murderer will likely faceplant after one good shot from Stann.
If Stann is smart (and I think he is), he will avoid the brawl and the clinch like the plague, sprawl on any takedown attempts and pick his shots wisely.
With adequate patience, Stann will find his opening, he will strike and he will throw his name into contention for the coveted Knockout of the Night bonus.
For fans of MMA, heavy metal or general absurdity, Follow @HunterAHomistek
Keep Reading