The 7 Moves the San Francisco 49ers Must Avoid in Offseason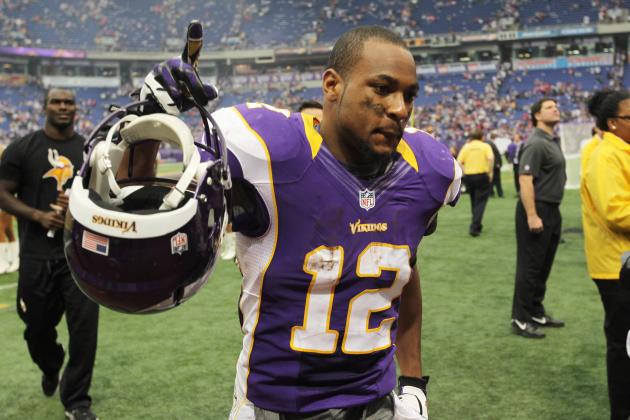 Brace Hemmelgarn-USA TODAY Sports

Alex Smith, a 2005 first overall pick, is not going to be a member of the San Francisco 49ers anymore. If that does not signal other teams that the offseason is underway, I am not sure what will.
Andy Reid and the Kansas City Chiefs made a hard play for the quarterback, equating to a significant step by the Niners in this new direction. They have officially entered the Colin Kaepernick era in San Francisco, and there is no turning back.
With their newfound path, Trent Baalke and this 49ers front office will be looking to build around their quarterback of the future.
And now that they possess a league-high 15 draft picks, the offseason is their oyster. They have virtually no limitations and one of the most savvy personnel departments in the NFL.
But even though they are in the driver's seat, there are plenty of pitfalls to beware of. In the following piece, we'll break down seven things the 49ers should avoid this offseason.
Begin Slideshow

»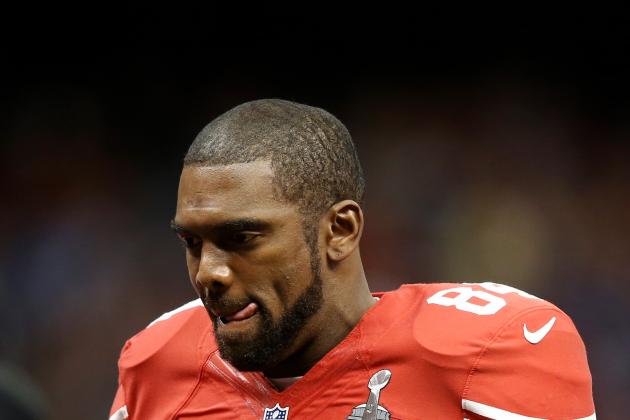 Mark J. Rebilas-USA TODAY Sports

During Super Bowl week, 49ers head coach Jim Harbaugh expressed interest in having veteran wide receiver Randy Moss return in 2013. Given his low regular-season numbers and monotonous performance in New Orleans, this is not an advisable course of action.
The team can see significantly more production out of that roster spot and can explore options in both the draft and free agency.
It was special to have Moss for 2012, and his contributions should not go unmentioned. This past season, Michael Crabtree officially broke through, becoming the player he should be for the next decade.
Moss was great locker-room presence, providing a positive influence for the younger players. He brought knowledge and experience to the game as someone who could offer insight to multiple position groups.
However, Moss, 36, did not have the same impact he once did on the field. The Niners should be grateful for the experience, but refrain from bringing him back because it would be a waste of a roster spot.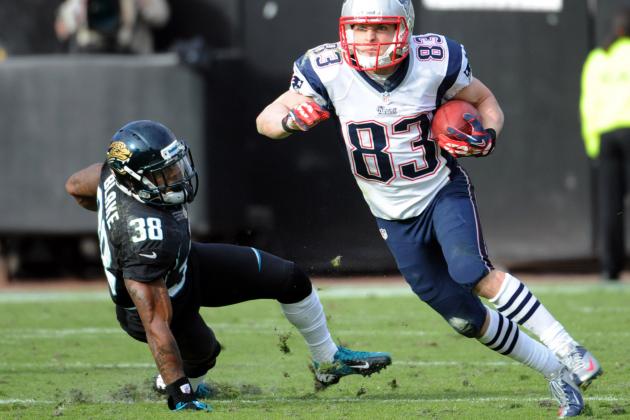 USA TODAY Sports

With the expected departure of Randy Moss, the 49ers will have one of the more undersized receiving corps in the league.
In free agency, there are a number of short-stature wide receivers set to hit the open market, including Greg Jennings and Wes Welker. And with this innovative, timing-based West Coast attack in San Francisco, the Niners have been acquiring quick, shifty pass-catchers.
Jennings (5'11") and Welker (5'9") are examples of polished, high-profile receivers who would not add anything new to this offense.
The 49ers should not spend cap on undersized free agents, as three of their remaining WRs in 2013 are 6'0" or shorter. If the 49ers are going to approach the free agency in search of a pass-catcher, they should look to add size to complement this group.
This year, there will be underrated receivers with length available on the open market.
Ramses Barden and Legedu Naanee are two receivers with size who could be signed for cheap. They are both young, raw players without a lot of mileage. Barden and Naanee are essentially as good as rookies, except they're already acclimated with the speed of the game.
Barden (6'6") and Naanee (6'2") would bring complementary attributes to this WR corps and would be good bodies to have in camp.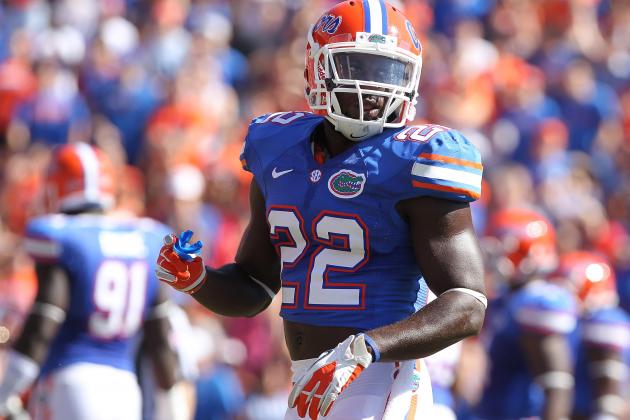 Kim Klement-USA TODAY Sports

According to Matt Barrows of The Sacramento Bee, the 49ers are not going to franchise free safety Dashon Goldson in 2013.
Given that it would be a second year in a row, the rate would increase 120 percent, creating a cap figure around $7.5 million for 2013. This would make Goldson the third-highest earner behind Justin Smith and Vernon Davis.
And outside of the tag, there is a chance the 49ers' perceived value of Goldson does not coincide with his lofty salary demands. Fortunately, the depth and overall talent of the safety class is this year's draft is top-notch.
Still, the 49ers will need someone who can step in as a rookie and be productive. They need a starting-caliber safety who, most of all, will not be a liability in coverage.
Trent Baalke and this front office have done an exceptional job evaluating incoming talent, but they will have to make sure they acquire a defensive back between Rounds 1 and 2.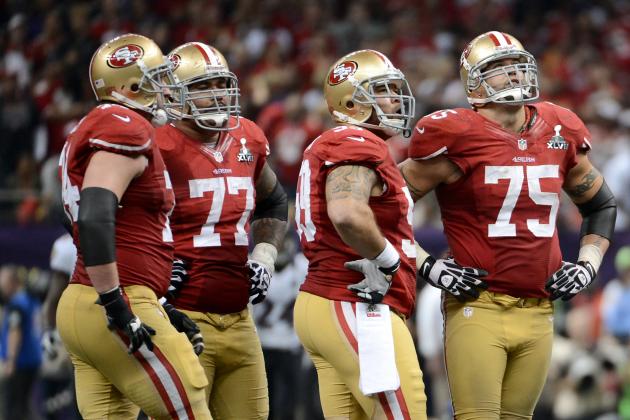 Harry How/Getty Images

San Francisco has a great starting five on the offensive line, led by Pro Bowlers Joe Staley and Mike Iupati.
The team also has plenty of offensive line prospects developing, including Joe Looney, Daniel Kilgore and Al Netter.
They can also explore re-signing Leonard Davis for depth purposes.
The 49ers should not waste picks on more offensive linemen who won't make the team. And the same goes for the running backs, who would also be long shots to make the 53-man roster.
Unless the team releases Jonathan Goodwin for cap reasons, the Niners can endure another season with their current lineup and make it a priority in 2014. This draft is meant to add density to the defense, while adding one or two more pass-catchers on offense.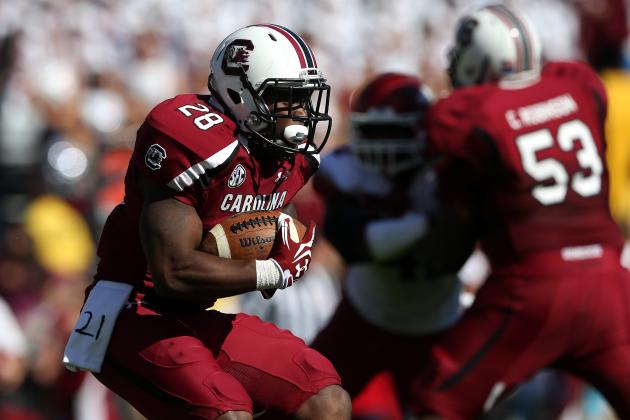 Streeter Lecka/Getty Images

San Francisco expects to have Frank Gore, Kendall Hunter, LaMichael James and Anthony Dixon in 2013.
The team has a very dynamic group of runners in place and will not need to add another player at the position this year. And unless they are prepared to part with Anthony Dixon, they should not draft a running back.
In the past two drafts under Jim Harbaugh, they have focused on rebuilding this running back corps. In a short period of time, Hunter and James have become proven commodities, offering dynamism as relief backs behind Gore.
With Gore, Hunter and James all expected to be ready to rock and roll for 2013, there will not be enough carries to go around. The running back position is near the bottom of the list of needs.
However, there is one exception, as reported by Chris Mortensen on NFL 32 (h/t Rotoworld)in this year's draft.
Just saw the extent of Marcus Lattimore's story, road back. His story reminds me of Frank Gore, NOT Willis McGahee. To do it twice is BIG.

— Omar Kelly (@OmarKelly) February 24, 2013
As someone with first-round talent expected to fall to the mid-to-late rounds, South Carolina running back Marcus Lattimore is an intriguing prospect. Given his late-season injury, Lattimore is still rehabbing and could start the season on the PUP list.
The 49ers could allow him to stay there for the season, simultaneously allowing him to properly heal and absorb this offense. He would be ready to start in 2014, and as a high-ceiling player, could eventually be Gore's successor.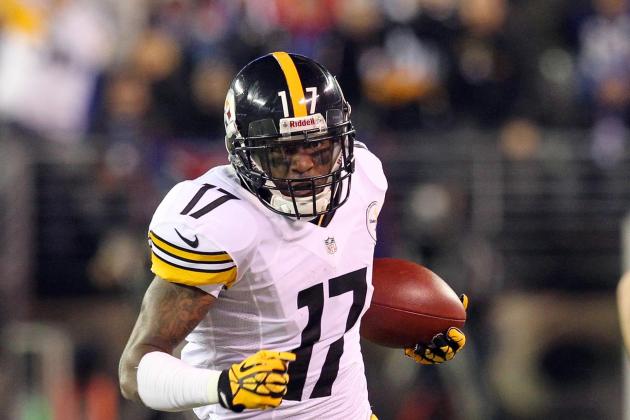 Brad Penner-USA TODAY Sports

There are a number of big-time free agents on both offense and defense, but the 49ers should resist temptation.
San Francisco is not in a position to be acquiring prominent talent outside its roster, which already features numerous league superstars.
From Chris Culliver to Aldon Smith to Colin Kaepernick, all of these players, and more, are going to need new deals in the next couple of years.
A big-name free agent like Mike Wallace or Jairus Byrd may be attractive, but their presence brings a financial and structural pitfall to San Francisco. The presence of one of them may cost another valuable player.
Trent Baalke and the Niners do not fall in line with big spending in free agency and fancy themselves more as bargain shoppers. They should peruse the market for undervalued players who fall through the cracks.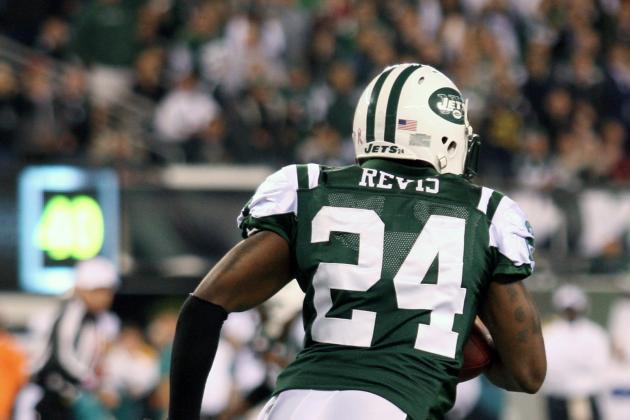 Ed Mulholland-USA TODAY Sports

This is an extension of the prior slide.
With a trade in motion to send Alex Smith to Kansas City, the 49ers will have roughly 15 picks in the 2013 draft. They are rumored, according to Pro Football Talk's Mike Florio (h/t Michael David Smith of Pro Football Talk) to receive a second-rounder (34th overall) this year and a conditional third-rounder in 2014.
Amidst the aftermath, rumors began to heat up that the Niners would use this ammunition to acquire either Percy Harvin from Minnesota or Darrelle Revis from New York.
It did not take long for Jason Cole of Yahoo! Sports to claim the 49ers would indeed pursue Revis, saying they in fact had interest in the All-Pro corner.
And the truth is, both of these players make sense for San Francisco.
They are on the trading block, they fill positions of need and the Niners have more than enough picks to facilitate a trade. However, neither one would come cheap, which creates an obstacle for the 49ers.
Key combine quote from 49ers GM Trent Baalke: "You can't pay everybody, and you certainly can't pay everybody if you're overpaying others."

— Matt Maiocco (@MaioccoCSN) February 27, 2013
The Niners are at risk of losing a two-time Pro Bowler on defense in safety Dashon Goldson. The feeling out there is the 49ers cannot afford to keep Goldson, and may be forced to let him walk in free agency.
While the departure of Smith clears up $9.75 in cap space in 2013, San Francisco can use that money to extend a player like Anthony Davis, Mike Iupati or Michael Crabtree. It would be unwise to bring another high profile earner aboard an already loaded roster.
Even though it is interesting in theory, it is a major risk that should not be explored.