For the third time in as many nights, a top 5 team went down at the hands of an unranked opponent. On Thursday night, it was No. 3 Duke Blue Devils' turn, as they fell to the Virginia Cavaliers 73-68.
Tuesday night, No. 1 Indiana fell at Minnesota. Wednesday, No. 4 Michigan suffered defeat at Penn State. Thursday night, Joe Harris turned Charlottesville into upset city.
Virginia's junior guard was nothing short of outstanding against his ACC counterparts. The Cavaliers' leading scorer put up a career-high 36 points and grabbed seven rebounds for good measure.
He carved up the Blue Devils defense throughout the contest and was virtually unstoppable before fouling out in the final minute.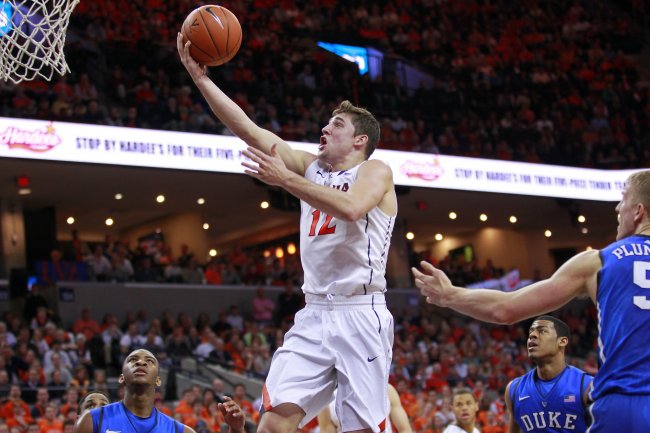 Harris did not do it alone though, as forward Akil Mitchell put up 19 points and 12 rebounds in the win. The rest of the Cavaliers combined to score just 18 points.
Control was the theme of the contest, and Virginia dominated in that regard, as the home team controlled the boards all night long.
From the very opening tip, the Cavaliers made it an emphasis to dictate the game's pace. Tony Bennett's squad has played one of the NCAA's slowest paces all season long, and it worked that strategy to perfection in the first half.
The Blue Devils played right into Virginia's hands, falling into the trap so many teams have throughout the 2012-13 campaign. Emphasizing Harris on slow, controlled possessions offensively, and using stalwart team efforts defensively, the Cavaliers stormed out to a 15-4 lead to start.
Stifling the interior, Virginia was able to force Duke into contested, long-range shots toward the end of the shot clock. Though they are among the most efficient shooting teams in the land, the Blue Devils simply could not find the bottom of the net in the opening half.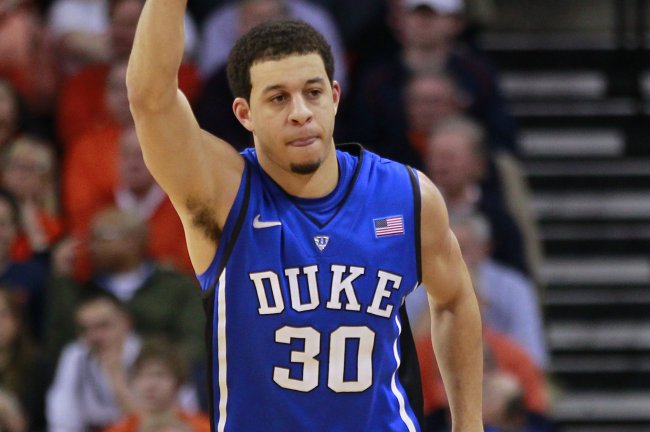 Geoff Burke-USA TODAY Sports
Duke waltzed into halftime down 28-23, but had to feel pretty good. The first 20 minutes had been an absolute nightmare, and yet the Blue Devils seemingly weathered the worst of the storm.
And they were right—things did get better offensively in the second half; it just happened too late. The Blue Devils went down by as many as 13 points in the opening minutes of the second half, rendering Seth Curry and Quinn Cook's late-game barrage meaningless.
The two combined for 50 points and all of Duke's eight three-pointers, but it wasn't enough. Anything Curry or Cook could do, Harris did better on this night.
The result was likely a ticket punched to the Big Dance for Virginia, which is now 10-5 in the ACC. As for Duke, Coach K better hope that the barrage of top-ranked teams losing keeps his team in contention for a No. 1 seed on Selection Sunday.
Twitter Reaction
Top 5 teams aren't faring so well this season. According to ESPN Stats & Info, this is the 19th time an unranked squad has come away victorious against the country's supposed best:
Virginia beats No. 3 Duke -- 19th time an unranked team has beaten a Top-5 team this season.

— ESPN Stats & Info (@ESPNStatsInfo) March 1, 2013
One of Duke's most talented yet frustratingly inconsistent players, Rasheed Sulaimon had just four points on 2-of-10 shooting. He drew a technical foul and was extremely frustrated, notes Laura Keeley of the Raleigh News & Observer:
Rasheed Sulaimon is as frustrated as I've seen him all year. Just drew a technical after being called for a foul on Harris. Wow

— Laura Keeley (@laurakeeley) March 1, 2013
While many were quick to put on their schadenfreude hats and bask in Duke's agony, the ACC Sports Twitter feed noted it would be difficult for any team to beat Harris on this night:
Granted, Duke hasn't played well, but not sure how many teams would beat UVa at home when Joe Harris is on this level.

— ACC Sports (@ACCSports) March 1, 2013
Harris was the star of the game, but his coach is a rising name in his own right. Sports Illustrated's Seth Davis sent out a message crediting Bennett with his ability to swallow up any offense in the lane:
The Cavaliers have built an absolute wall between Duke's dribblers and the rim. Tony Bennett is masterful at that.

— Seth Davis (@SethDavisHoops) March 1, 2013
With all of these upsets happening in rapid succession, ESPN's Dana O'Neil wondered if the postseason may disappoint:
Are we going to use our allotment of madness before March & have chalk postseason? There has to be some karmic logic to this mayhem

— Dana O'Neil (@ESPNDanaOneil) March 1, 2013
Even if O'Neil's theory winds up being the case, Thursday is once again proof why college basketball's regular season is so special.