Full Scouting Report for Each of Boston Red Sox's Prospects at Spring Training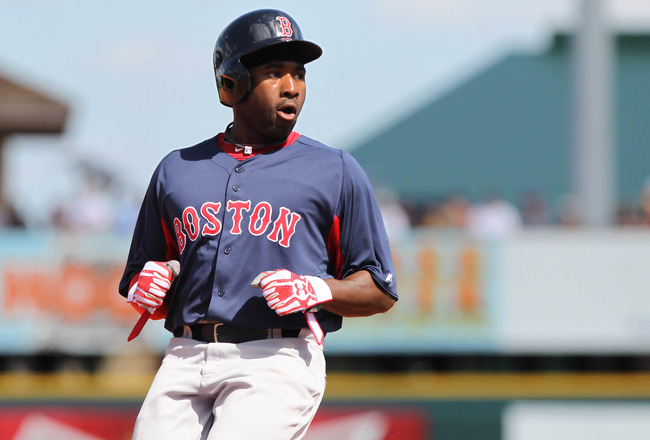 Kim Klement-USA TODAY Sports
Prospects are tough to project at the major league level, especially in MLB. For the Boston Red Sox, the top scouts for the team are sent out to each of the minor league clubs to monitor the progress of these prospects and make sure everything is going as scheduled.
Some of the top-60 prospects are attending spring training as non-roster invitees, but the top prospects will be called up at some point in 2013 or be on the radar for the 2014 season as a full-time part of the staff.
Sure, some of the players are well known on this list, but many fans do not have the full scouting report available for the others.
All stats and scouting reports from soxprospects.com.
Xander Bogaerts, IF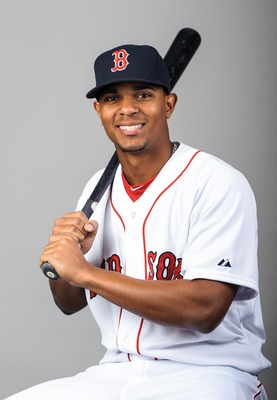 USA TODAY Sports
Xander Bogaerts is right now slotted at shortstop, but will likely be at third of left field down the line. He has an athletic build and can lift the ball with his lofty swing. He swings through the ball, puts it with power to all fields and is an average runner.
The 20-year-old has plenty of potential to grow into his athletic frame and has an above-average baseball IQ. He is a smart base runner and is highly coachable.
Bogaerts may be playing in the World Baseball Classic in 2013, but he will be up to the majors as soon as a spot opens on the roster. That most likely will happen in 2014, however.
Jackie Bradley Jr., CF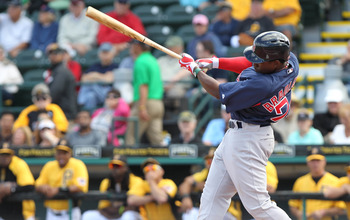 Kim Klement-USA TODAY Sports
Jackie Bradley Jr. may hit from a closed stance, but he opens it up with his swing to become more balanced. He is a great defender with a Gold Glove-type glove in center field. He is able to read balls well off the bat and has terrific fielding instincts.
Though 22 years old, he has the potential to be an above-average hitter for average with the ability to steal bases and beat out ground balls for hits. He needs to hit the ball the other way more, but that can be tweaked as he goes through Triple-A.
Rubby De La Rosa, P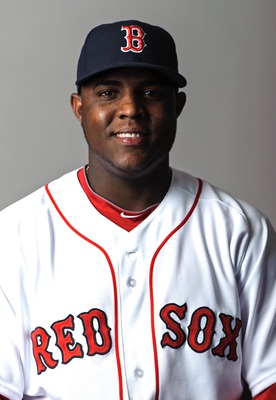 USA TODAY Sports
The young flamethrower will be in the big leagues at some point in 2013, but will probably come out of the bullpen until a starter's sport opens up.
Rubby De La Rosa can max out at 100 miles per hour with his fastball, but sometimes has trouble controlling it. He may need to change his delivery to get better control. His changeup can force weak grounders and has swing-and-miss potential. He is working on a slider that has the potential to be a dominant pitch.
The 23-year-old is projected to be a No. 3 in a rotation, but, if nothing changes, then he will be just a reliever.
Allen Webster, P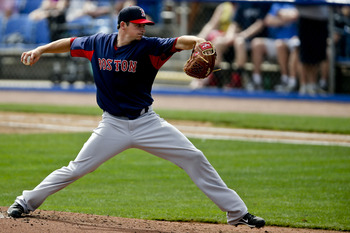 Derick Hingle-USA TODAY Sports
Allen Webster is another hard throwing right-handed pitcher in the Red Sox farm system who can reach in the upper-90s. He is a ground ball pitcher and averages 92-94 on the fastball. He touched 100 this spring training.
The right-handed pitcher has a deceptive slider along with his fastball that breaks late and has a tight rotation.
The 23-year-old is either going to be a back of the rotation type starter or a middle relief guy if his fastball command stays the same.
Jose Iglesias, IF
Kim Klement-USA TODAY Sports
Jose Iglesias has shown some signs of life on the offensive end with several big hits during spring training, including a two-run bomb over the Green Monster in Jet Blue Park.
The shortstop's glove is his real bread and butter though. He makes routine plays look easy and makes difficult plays look like a routine play.
The 23-year-old failed to make much contact at the plate and has trouble even bunting the ball to get on base with his speed. If he can be more patient at the plate and at least hit .250, then he will be on this Red Sox team for many years to come.
Devin Marrero, IF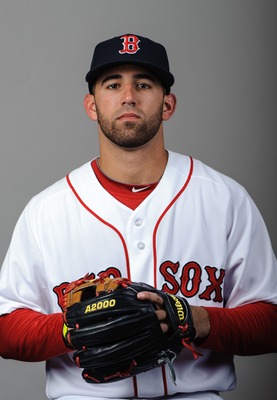 USA TODAY Sports
Another shortstop who could see some time with the Red Sox over the next couple seasons is Devin Marrero.
Marrero does not have much power in his bat, but he is a gap-to-gap type hitter who can hit for average.
The best thing about the 22-year-old has to be his great glove in the infield. He has a quick first step to the ball and can quickly gobble a ball up the middle and still has time throw out the runner at first base without any trouble.
Drake Britton, P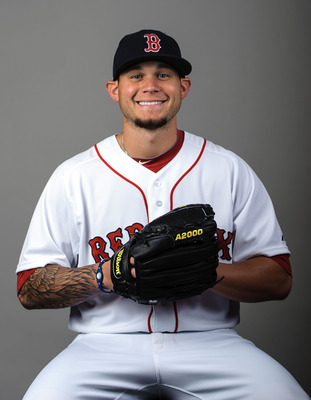 USA TODAY Sports
Drake Britton is going to be a lefty specialist in a few seasons, but first he has to work out some kinks in his delivery. He has struggled to consistently keep the same arm slot with his fastball and his curveball, which has led to some challenges throwing them for strikes.
The 23-year-old will likely be used in short outings and his ceiling will probably be a long relief pitcher or even a setup role for a MLB squad in the future.
Alex Wilson, P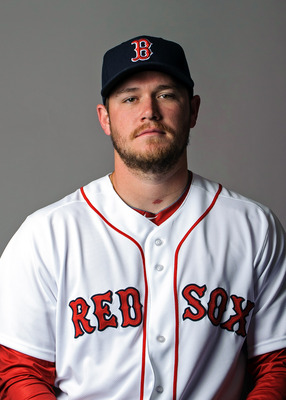 USA TODAY Sports
Alex Wilson has been a reliever since late 2012 and that is where he will stay for the long-term vision of the Boston Red Sox. He will probably be a seventh inning guy with potential for more innings when the matchup is right.
The right-handed pitcher throws from 3/4 slot and has a fastball that is clocked in the mid-90s. His command of this pitch is average. He also has a slider that he utilizes later in counts and doesn't throw for strikes as often as he should. Also, sometimes he throws in a curveball, but needs to work on consistently getting it over the plate for strikes.
Brock Holt, IF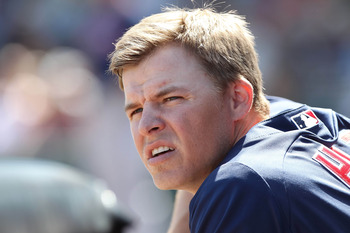 Kim Klement-USA TODAY Sports
A throw-in in the Joel Hanrahan deal, Brock Holt brings a much-needed depth behind Will Middlebrooks at 3B and Dustin Pedroia at 2B.
Holt is a solid contact hitter, but does not have much speed or pop when it comes to running or hitting the ball out of the ball park. He will make a great utility player with a decent average and a manageable glove in the field.
Christian Vazquez, C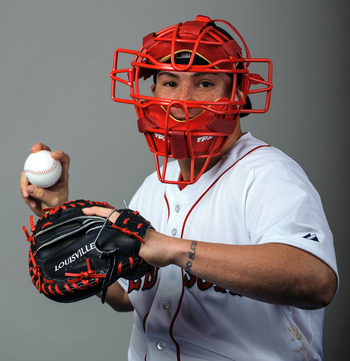 USA TODAY Sports
Christian Vazquez is not much of a talent, but he will likely earn a role as a backup catcher in the future for the Red Sox with his above-average defensive abilities and his ability to drive balls into the gaps.
The 22-year-old had trouble blocking balls, but has made improvements with this flaw over the years. He has quick feet and a powerful arm to throw out base runners. The Sox need someone who can do this in the later innings and he could have the job in a couple years.
Mauro Gomez, IF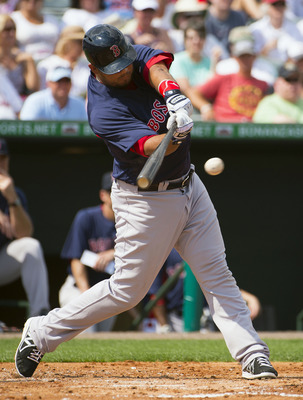 USA TODAY Sports
A first baseman with power, but also strikes out a lot—that is what Mauro Gomez is for the Sox.
The 28-year-old has shown flashes of power, but has failed to have a consistent average over his career. He strikes out over 100 times each season. He can play first base, but does not have a lot of range or speed.
Chris Carpenter, P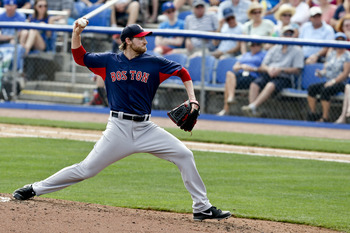 Derick Hingle-USA TODAY Sports
Chris Carpenter is a strong relief option, if he can control all of his pitches and avoid bouts of wildness.
The compensation for Theo Epstein has a fastball clocking almost triple digits and a decent changeup and slider, if he can throw them consistently for strikes. He will likely be a mid-to-late-inning reliever in the future.
Chris Hernandez, P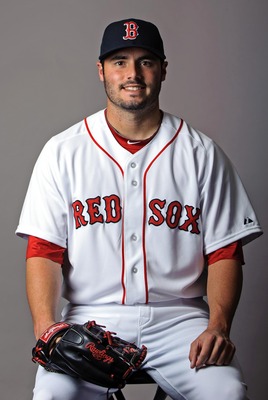 USA TODAY Sports
Chris Hernandez has quickly worked his way up to Pawtucket in just four seasons in the Red Sox organization.
The 24-year-old needs to work on his command of his curveball and will likely be a situational reliever, even though he has started most of his games in the minors. His fastball tops out at 865, but he also uses a cut fastball that is 82-84.
In order to make it on to the Red Sox squad, he needs to sharpen his curveball and make sure to hit his target with every pitch.
Jeremy Hazelbaker, LF
USA TODAY Sports
Jeremy Hazlebaker has shown some skills with a .600 batting average in only six at-bats in four games during spring training. His ceiling is likely to be a fourth outfielder, but that could change if he can keep up the hitting.
The 25-year-old can play left and center, but has trouble reading the ball off the bat and getting a good jump. He can make consistent contact and has solid power to hit home runs every once in a while.
Steven Wright, P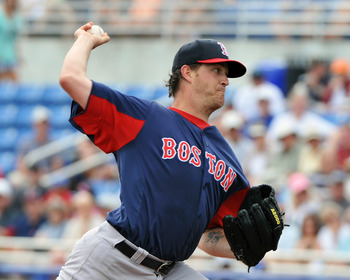 Al Messerschmidt/Getty Images
Steven Wright converted to a knuckleballer in 2011 and throws that pitch about 70 percent of the time. He also throws a slider and a fastball.
The 28-year-old is likely going to be a long reliever unless a spot opens up in the rotation. He will be starting in the minors.
Alex Hassan, RF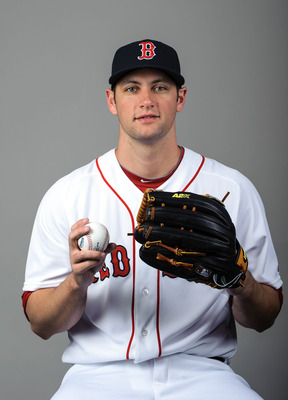 USA TODAY Sports
Alex Hassan is really on the fringe of making it up to the big leagues due to his inconsistent offensive production. He has only one year with double digit home runs, but he was drafted as a pitched and then turned into an outfielder to better suit the Red Sox' and his needs.
The 24-year-old does not have much range in the field and is an average runner at best.
Dan Butler, C
Dan Butler has shown his power over the last couple spring trainings with multiple home runs in limited playing time.
The young catcher has the potential to be a backup catcher with the Red Sox, but needs to work on consistent grip when throwing to second base.He can work counts and hit the ball out of the yard.
Jose De La Torre, P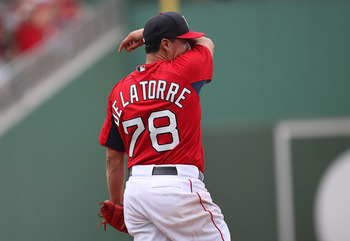 Leon Halip/Getty Images
Jose De La Torre will also likely be a reliever in the future. He has a four-seam fastball in the low-90s with an above-average slider.
He also featues a two-seam fastball and a changeup that are pretty good when he throws them for strikes.
Keep Reading

Boston Red Sox: Like this team?