Seattle Mariners: Latest Predictions for the Winner of Key Position Battles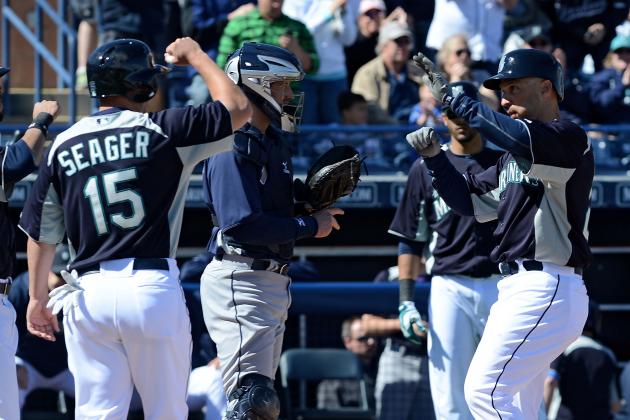 Jennifer Stewart/Getty Images

I know Spring Training win-loss records don't matter, but the Mariners have looked good through seven games. They won their sixth straight on Thursday as they beat the defending champion Giants, 4-3, and are 6-1 on the young spring season.
Twenty-six pitchers and 24 hitters have made appearances thus far, giving everyone a chance to prove themselves worthy of playing in the majors.
Before I get into discussing the position battles of the spring, let's go over the projected roster for Opening Day. Projections are based on last year's performances and experience. Players who are "in the hunt" are those who either have prior major-league experience or are on Seattle's 40-man roster.
Rotation
Felix Hernandez
Hisashi Iwakuma
Joe Saunders
Erasmo Ramirez
Blake Beavan
In The Hunt
Jon Garland
Jeremy Bonderman
Hector Noesi
Danny Hultzen
Bullpen
Charlie Furbush
Oliver Perez
Stephen Pryor
Lucas Luetge
Josh Kinney
Carter Capps
Tom Wilhelmsen
In The Hunt
Chance Ruffin
Yoervis Medina
Kameron Loe
Bobby LaFromboise
D.J. Mitchell
Starting Lineup
1B Justin Smoak
2B Dustin Ackley
3B Kyle Seager
SS Brendan Ryan
LF Mike Morse
CF Franklin Gutierrez
RF Michael Saunders
C Jesus Montero
DH Kendrys Morales
Bench
OF/DH Raul Ibanez
INF Robert Andino
C Kelly Shoppach
OF Casper Wells
That completes the projected 25-man roster. A few of these players have potential to make or break their roster spot based on spring performances. Based on the stats from spring this far, here's who's ahead in each position battle.
Begin Slideshow

»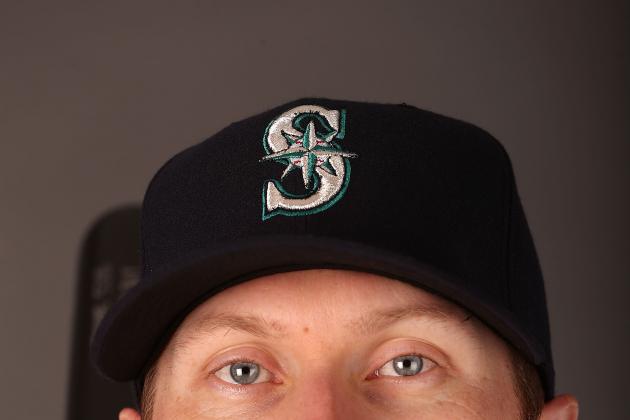 Christian Petersen/Getty Images

In all likelihood, only one of these guys will make the Opening Day roster as a fifth outfielder. Normally Jason Bay would be a no-brainer, but his struggles over the last few seasons have been well documented.
The Mariners signed him to a one-year contract worth $1 million, so either sending him to the minors or cutting him wouldn't be a big loss.
Casper Wells and Eric Thames were both granted considerable playing time last season, but with a healthy Franklin Gutierrez and the additions of Raul Ibanez and Mike Morse, both are expendable unless they impress this spring.
So far, Bay has the highest batting average (.250 in four at-bats), his lone hit being a home run. Wells is 2-for-16 with a home run and five strikeouts. Thames is hitless in eight at-bats with three walks.
Bay appears to be the frontrunner for that spot right now, as his risk/reward potential is the highest based on what he is, or used to be, capable of.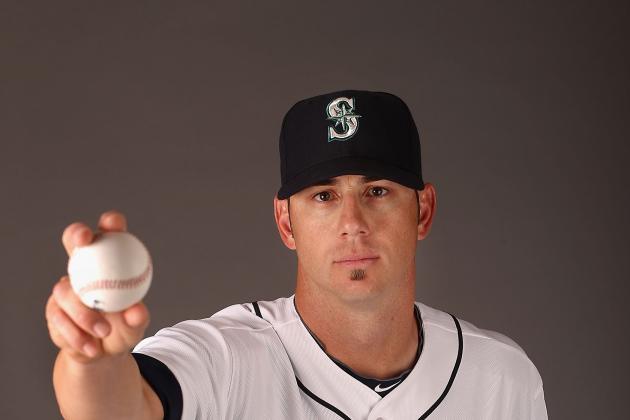 Christian Petersen/Getty Images
RHP Jon Garland
With the first three spots in the rotation all but locked down (Hernandez, Iwakuma, Saunders), a handful of hurlers are competing for two spots.
Veterans Jon Garland and Jeremy Bonderman haven't pitched at the major-league level since 2011 and 2010, respectively, but they both have at least eight years of big league experience under their belt.
Erasmo Ramirez, Blake Beavan and Hector Noesi all pitched last year for the Mariners and are all contenders to make the rotation again this year.
Danny Hultzen hasn't been called up yet, but he appears the most major-league ready and has the best shot among unproven rookies to make the rotation to start the season.
Garland's worked an inning so far, giving up one hit and one walk over the scoreless frame.
Bonderman struggled in his lone inning of work, giving up three runs on two hits and a base on balls. As far as that battle goes, Garland has the clear edge based on his performance thus far as well as his career major-league numbers.
Ramirez was impressive at the end of 2012, Noesi was awful and Beaven was solid yet inconsistent. Based on last season, Ramirez has the best shot at returning to the starting rotation.
Ramirez has worked in two ballgames this spring, scattering three hits over three scoreless innings with a pair of strikeouts and zero walks.
Beavan has pitched well in five innings, giving up two runs on four hits while striking out four with a WHIP of 0.80.
Noesi's struggles have carried over to the spring. In his only start, he failed to get out of the first inning. In total he's allowed six runs (four earned) on six hits with four walks and three strikeouts in 1.2 innings. Opponents are hitting .500 off of him. Needless to say he's pitched his way out of the starting rotation.
Hultzen is very much a wild card heading into March. In three innings he's put up zeros in the runs column while allowing only one hit, striking out six and walking two. His lack of experience is the only thing holding him back at this point.
Based on spring performances thus far and prior big-league experience, I'll give the last two rotation slots to Garland and Ramirez, with Beavan and Hultzen anxiously awaiting their opportunities.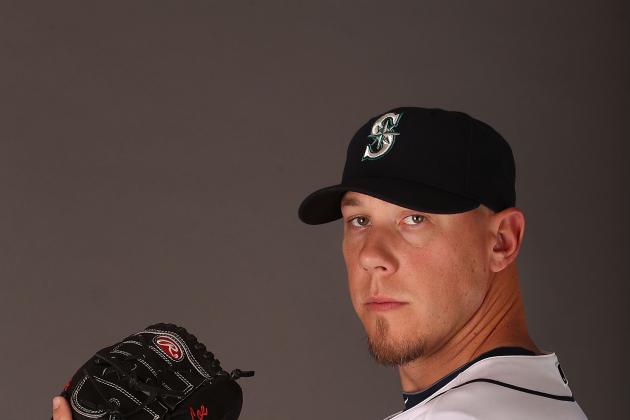 Christian Petersen/Getty Images
RHP Kameron Loe
Eric Wedge will probably play it safe and stick with who he's got in the bullpen from last year, but nobody really pitched well enough to be a sure thing, other than Tom Wilhelmsen.
Of the aforementioned relievers who are in the hunt for a roster spot, Kameron Loe has the most big-league experience, and he's pitched extremely well this spring.
In three innings he's allowed one unearned run on two hits, allowed no walks and struck out four batters, earning a WHIP of 0.67.
Based on inexperience and some shaky outings last year, young fireballers Stephen Pryor and Carter Capps are the most vulnerable to losing their bullpen role come Opening Day.
Other relievers I mentioned to be in the hunt have performed poorly thus far. Yeorvis Medina and Bobby LaFromboise both have ERAs of 9.00. Additionally, Chance Ruffin and D.J. Mitchell haven't pitched well enough and don't have the credentials to make the roster.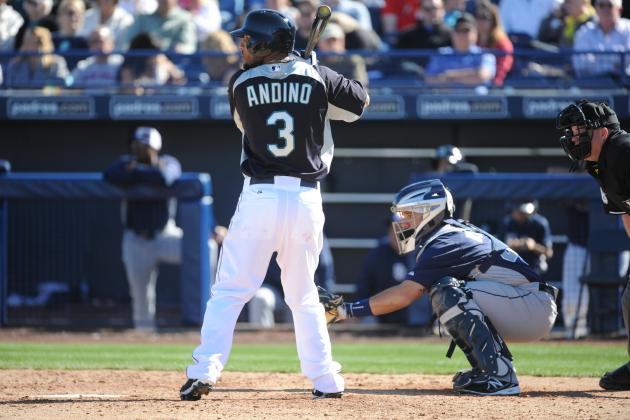 Rich Pilling/Getty Images

While veteran Robert Andino is projected to make the roster as a backup utility infielder, several other players have earned a look or two this spring.
Vinnie Catricala has hit the ball consistently, driving in two runs with a .300 average.
Veteran Mike Jacobs has been surprising as a non-roster invitee, hitting .364 with a home run this spring.
The problem with these two players is that there's nowhere to put them.
First base is crowded with Smoak, Morales and Morse all likely sharing time.
Catricala would be a great backup third baseman, but he's limited to the hot corner as far as infield positions go.
Seattle needs someone who can play the middle infield as well as some third.
Stefen Romero has never played above double-A ball, but he's one of the Mariners' top prospects and is 3-for-4 this spring.
Andino is a serviceable veteran who can play almost anywhere on the field; he's hitting .375.
Nick Franklin has been hyped and highly touted, but he might have to wait another year, as he's tallied just two hits in 14 at bats.
Andino seems like the most logical choice here, given his experience and versatility.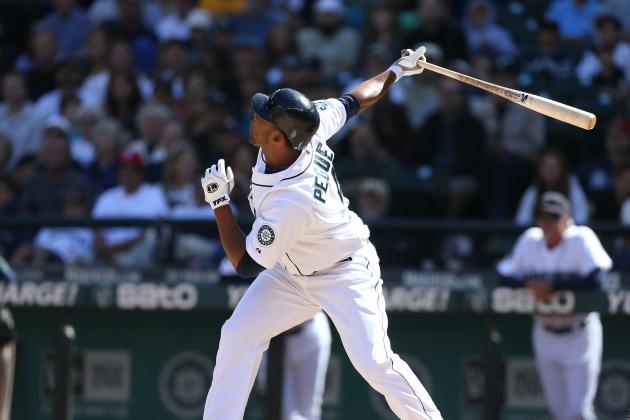 Otto Greule Jr/Getty Images

The spring is yet to reach full bloom, and any projections made here today could end up being completely irrelevant in a few weeks' time. With that in mind, here are two players to keep an eye on for the remainder of spring training and into the season.
Carlos Peguero
Peguero's had some stints in Seattle. We know he has a ton of power, but he strikes out a lot. With a crowded outfield, his chances of making the Opening Day roster seem slim, but he's mashing the ball in Peoria.
He's hit two long balls and has four hits in eight at bats with two strikeouts. If his good hitting continues, Wedge will have a tough decision to make in a few weeks. Either way, Peguero will surely make a trip up to Seattle at some point during the season.
John Hicks
I had never heard of this guy until recently, but he's one of a handful of talented young catchers in the Mariners' organization.
He's had limited opportunities in spring training, but in seven at-bats he has five hits with one home run.
In 159 career minor-league games (all single-A), Hicks has the following slash line:
.312/.347/.467, 17 HR, 105 RBI, 24 SBs.
It's an extremely small sample size but the 23-year-old is definitely a prospect to watch.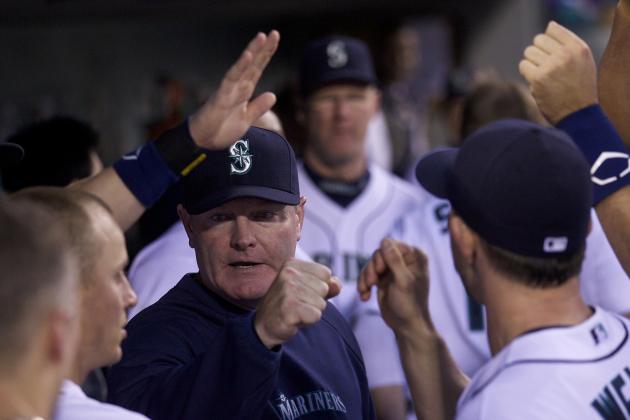 Stephen Brashear/Getty Images

With all the information I've just presented, here's my adjusted Opening Day 25-man roster.
Rotation
Felix Hernandez
Hisashi Iwakuma
Joe Saunders
Jon Garland
Erasmo Ramirez
Bullpen
Oliver Perez
Charlie Furbush
Lucas Luetge
Stephen Pryor
Kameron Loe
Josh Kinney
Tom Wilhelmsen
Starting Lineup
1B Justin Smoak
2B Dustin Ackley
3B Kyle Seager
SS Brendan Ryan
LF Mike Morse
CF Franklin Gutierrez
RF Michael Saunders
C Jesus Montero
DH Kendrys Morales
Bench
OF/DH Raul Ibanez
INF Robert Andino
OF/DH Jason Bay
C Kelly Shoppach
Who do you think will make the cut? Feel free to share your thoughts with me in the comments section below and on twitter.