The 10 Best 1-2 Scoring Punches Currently in the NHL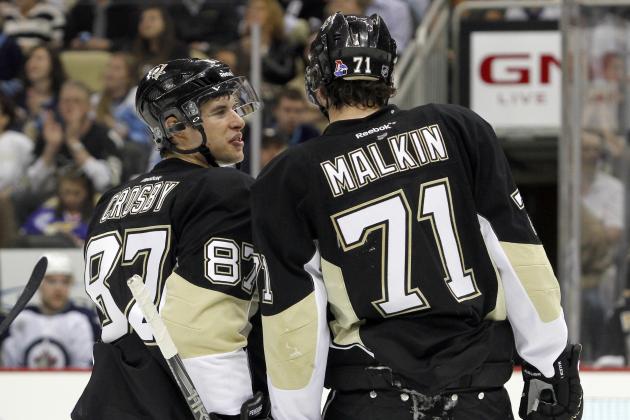 Justin K. Aller/Getty Images

What's better than one superstar? Two superstars.
While having a premier NHL player is great, rarely do teams succeed with just one big name on the roster. Having two players with great chemistry and creativity practically pays for itself.
So who are the best combos in hockey? Which pair of players is improved by the presence of each other?
Looking at stats from this season and the tenure of players playing together, this list explores the best duos in hockey. Not all play on the same line night-in and night-out, but they have spent enough time on the ice together to clearly establish themselves as a dynamic scoring pair.
Here are hockey's top one-two punches in the 2013 season.
Begin Slideshow

»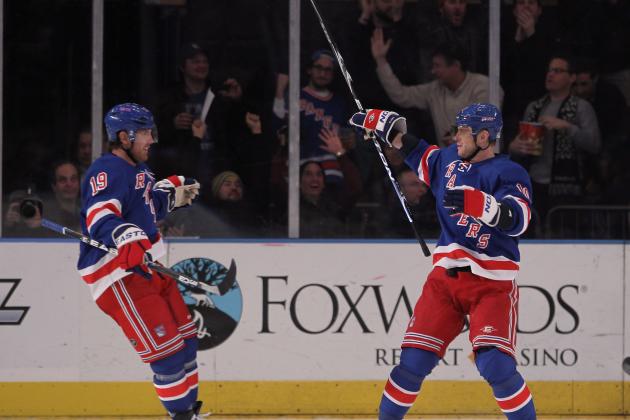 Bruce Bennett/Getty Images

In reality, the whole line of Brad Richards, Marian Gaborik and Rick Nash could qualify as a trio of talent, but Richards and Gaborik have spent the most time together, making them the ideal duo.
Unfortunately, point production has not come easily for these Blueshirts and the Rangers have struggled as a result.
Still, Gaborik and Richards are a dangerous combo. Gaborik is the goal-scorer of the set, racking up seven already this season and finishing 2011-12 with 41. Not surprisingly, Richards ended last season with 41 assists to match Marian's scoring, and he has contributed 11 more in 2013.
If the Rangers find their footing and get back in the playoff race, Richards and Gaborik will be leading the way with Nash following close behind.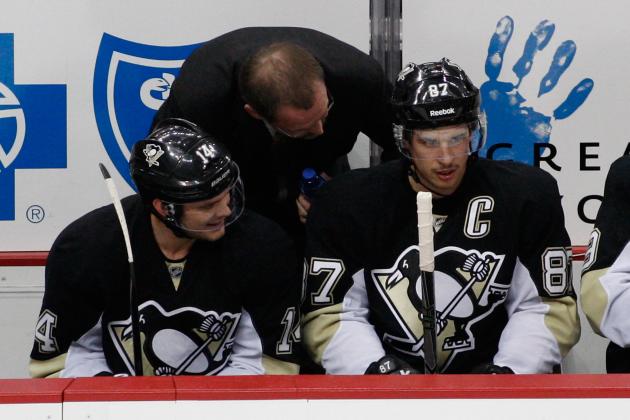 Jared Wickerham/Getty Images

Sidney Crosby is hockey's best active player, and he is so good that he practically carries his linemates.
The Penguins are a stacked team, and Crosby's full potential is almost wasted on linemates like Pascal Dupuis and Chris Kunitz.
Sid's offensive talent has clearly made Kunitz into the player he is today, as his 22 assists easily cover Kunitz's nine goals, good for a tie for 15th in the league.
On the scoresheet, this is a one-sided relationship, with Crosby bringing Kunitz to a higher level, but let's not forget that Sid requires physical linemates to protect him and get into the dirty areas. Make no mistake, Kunitz is aligned with Crosby for a good reason, and both are benefiting as a result.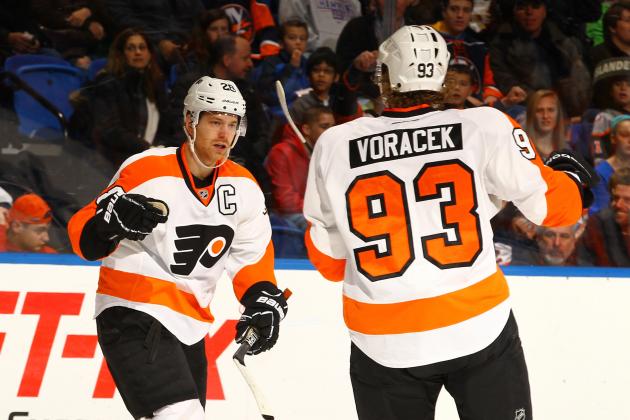 Al Bello/Getty Images

Two-thirds of Philadelphia's Orange Line are men on fire right now.
Jakub Voracek has cracked the top 10 in scoring with 24 points this season, getting hot after a slow start for the Orange and Black. Surprisingly, it has been Voracek who had to carry Giroux, though Giroux has since found his scoring touch after a dismal start to the season.
The two found major chemistry in the absence of gritty winger Scott Hartnell, who was out with a broken foot. Both Giroux and Voracek are quick puck-handlers who think "pass first," but now that they are more open to firing the puck, they find the scoreboard lighting up.
If Philadelphia wants to be in the playoff picture, these gingers are going to have to carry much of the load.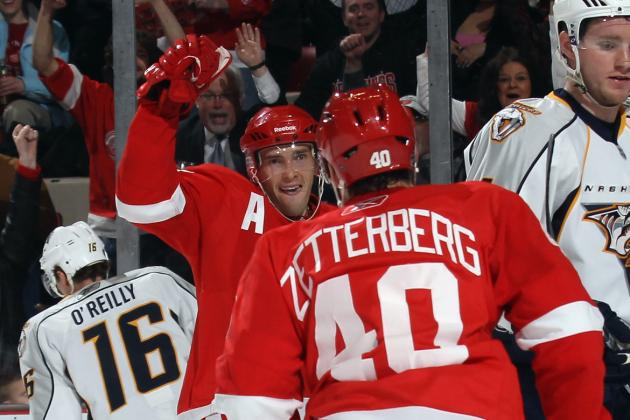 Bruce Bennett/Getty Images

It took years, but the names "Yzerman and Fedorov" have slowly but surely been replaced with "Datsyuk and Zetterberg."
The duo makes up perhaps hockey's most lethal two-way, two-man threat, as you would be hard-pressed to find a pair of forwards more defensively reliable or offensively consistent than this Swede-Rus combo.
Detroit doesn't always keep the pair together as both can play center and both can make lesser players better, but when they do get time together, opposing teams find themselves in a whole new league. In just 20 Red Wings games entering Thursday night, Datsyuk and Zetterberg have already combined for 47 points.
Imagine how high that number would be if they always played together.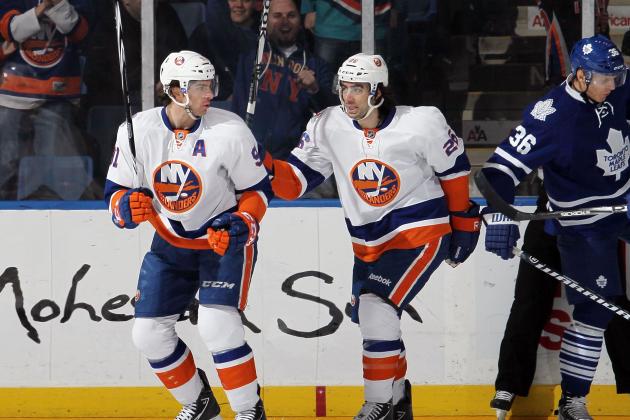 Jim McIsaac/Getty Images

Really, this combo could probably be John Tavares and a bottle of Molson.
He flies under the radar playing on The Island, but very few players make their linemates look as good as John Tavares does.
Just ask the Colorado Avalanche, who are paying P.A. Parenteau $4 million per season to tally assists at half the pace he did as a linemate of Tavares.
Moulson and Tavares are near perfect complements, as neither is the true scorer and neither is the true setup man. Tavares has 13 goals and 12 assists this year, while Moulson is hot on his heels with 10 goals and 13 assists.
Sometimes it seems that they are the only ones scoring for the struggling Islanders, but there is no doubt that this pair has a bright future between Long Island and Brooklyn in the years to come. There will come a day, perhaps very soon, when the hockey world is fixated on the redheaded stepchild of New York hockey.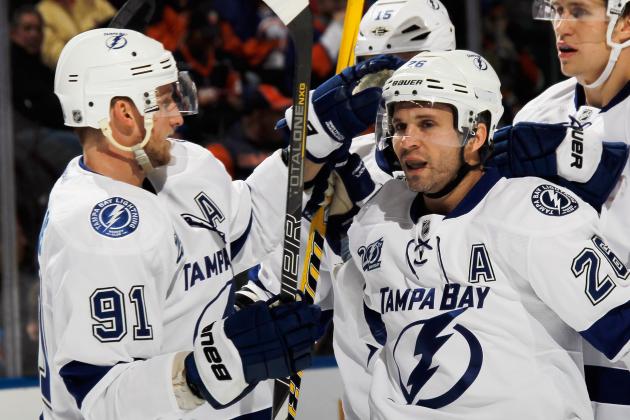 Bruce Bennett/Getty Images

No duo of players has combined for more points this season than Martin St. Louis and Steven Stamkos.
Stamkos leads all scorers with 31 points in only 20 games, making him the most lethal player in the league. St. Louis is not far behind, sitting tied with Henrik Zetterberg for fifth in the league.
Stamkos is the definition of a pure scorer, but he has make himself into a bit of a playmaker so far this season, racking up 17 assists already. St. Louis remains a perfect setup man for Stamkos' laser of a one-timer, as he trails only Sidney Crosby in assists this season with 20.
One may be a spotlight-grabbing superstar while the other is an undersized workhorse, but the combination of the two has made hockey a highlight in the deep South.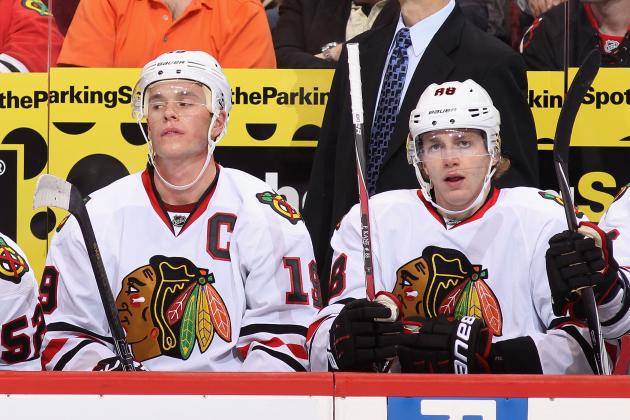 Christian Petersen/Getty Images

Put together a No. 1 overall pick and a former youngest captain in NHL history and you've got a combination worthy of a record-setting hockey team.
Mix in a Stanley Cup and a 17-0-3 start to the 2013 season and you've got yourself a Chicago duo that will likely be the face of the NHL by the end of this season.
The two looked poised to take the league by storm after the Blackhawks' 2010 championship, but Toews' stone-cold demeanor and Kane's party antics made it a little hard to market the players based on their personalities.
Off the ice, they might be a publicist's biggest challenge, but in 2013, Kane and Toews have done all their talking on the ice. Coach Joel Quenneville doesn't always keep the two on the same line, but there is no denying that this pair makes Chicago's top six one of the most dangerous in the league.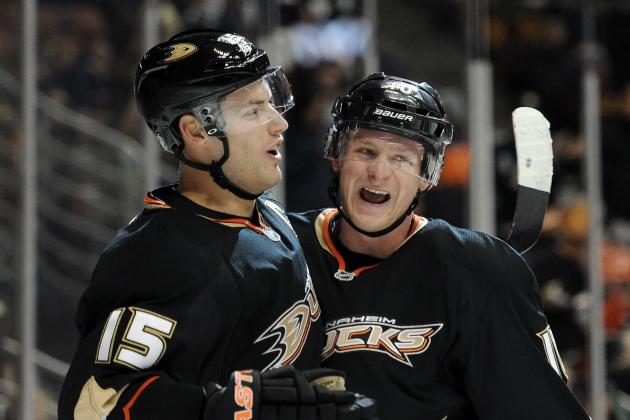 Harry How/Getty Images

Like Toews and Kane, this duo has a Stanley Cup to its name and features a captain and one of the league's best scorers.
Ryan Getzlaf and Corey Perry occasionally make up two-thirds of one of hockey's best lines, also featuring winger Bobby Ryan. While Getzlaf and Perry aren't scoring at a clip equal to some other duos in the league, they remain a top pair in hockey and are presented with a unique situation as the season rolls along.
Both will be highly-coveted unrestricted free agents if the Ducks do not re-sign them, and both will carry an expensive price tag for Anaheim if the team is serious about keeping them around. This duo is not only looking to raise the Cup in Anaheim this year, but they're looking to raise the price tag on free agents across the board in the summer.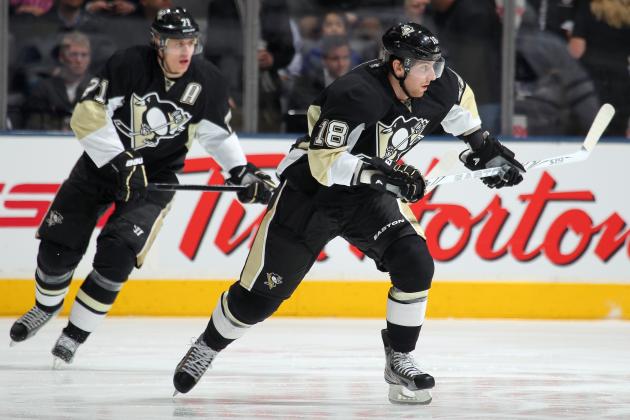 Claus Andersen/Getty Images

When it comes to scoring, Pittsburgh's most dangerous line is not the one that normally features Sidney Crosby.
James Neal has turned out to be a steal for the Pens, who acquired him and Matt Niskanen from Dallas in exchange for Alex Goligoski in 2011. Paired with superstar Evgeni Malkin, Neal has managed to thrive in the Steel City.
Last year Neal put up 81 points, including 40 goals, a number that would have been far out of reach without his chemistry with Malkin. Malkin would score 50 of his own and lead the league with 109 points.
The two carried the Penguins for much of the season while Sidney Crosby dealt with an injury, and they were looking to take their connection to the next level when Malkin went down with an injury last week.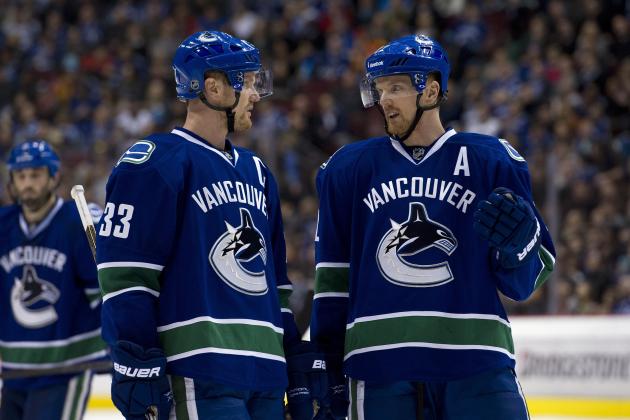 Rich Lam/Getty Images

Malkin and Neal built chemistry in Crosby's absence. Kane and Toews won a Cup together as youngsters. Datsyuk and Zetterberg have grown up together in a highly effective Detroit system.
That's nothing compared to these two; has anyone else on this list shared a womb?
Henrik and Daniel Sedin, Sweden's most famous twins, are a dynamic duo like no other. Born minutes apart, drafted in succession, signing identical contracts...this is what being a twin is all about.
Daniel is the shooter and Henrik is the setup man. Henrik serves as captain and has a Hart Trophy under his belt while Daniel is fast approaching the 300 goal mark for his career.
In fact, the two have such chemistry that the media exploded when the two were picked for different All-Star teams in 2011, supposedly the first time in their lives that the twins had played against one another.
Despite that one hiccup, Daniel and Henrik remain the gold standard of one-two punches in the NHL.