Virginia, Joe Harris Upend Duke in ACC Battle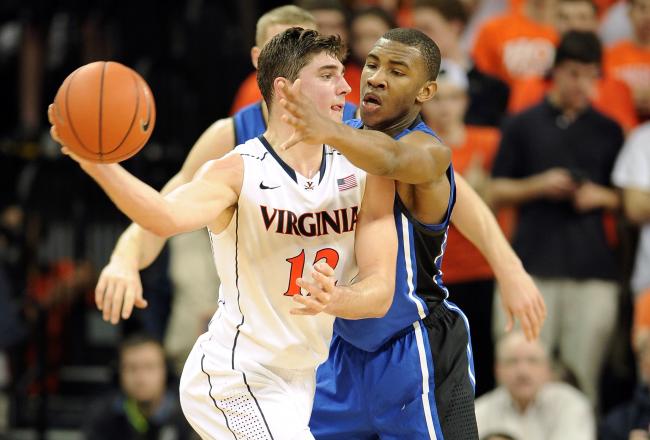 Lance King/Getty Images
Bracketologists, please remove Virginia from the bubble.
Nation, if you don't know already, introduce yourself to Joe Harris.
The Wahoos should be in after Thursday night's statement 73-68 win over Duke. Harris, who was averaging 20.9 in his last nine, upped that average. The junior dropped 36 on the Blue Devils, a new career high.
The game really wasn't as close as the final score indicated.
Virginia led from start to finish and Ryan Kelly wasn't saving the Devils. Harris took advantage of Duke's undersized guards and kept his team undefeated at home in ACC play.
The Wahoos are also tied for third place in the ACC with North Carolina, both only one game behind Duke in second place.
Virginia 73, Duke 68 - Final
We've got a court storm.
The Wahoos dominated from start to finish. Joe Harris dropped 36. Celebrate away, Wahoos.
Duke beat writer Laura Keeley on what is about to come:
Crazy amount of security for the impending court rush

— Laura Keeley (@laurakeeley) March 1, 2013
Virginia beat writer Michael Phillips on Joe Harris, who now has 34 points.
If #UVa is able to put this away, the ovation Joe Harris gets when he leaves is going to blow the roof off this place.

— michael phillips (@michaelpRTD) March 1, 2013
Virginia 64, Duke 53 - 4:20 2nd Half
This is turning into Seth Curry vs. Joe Harris. Curry has caught fire and has 24 points; Harris now has a career high with 32 points.
Horse match after?
Former Wake Forest coach Dino Gaudio, who is doing the color for ESPN tonight, on Coach K: "I've never seen him as animated as I've seen him tonight. Really upset."
Virginia 49, Duke 37 - 7:59 2nd Half
Virginia is already in the bonus. Duke guard Tyler Thornton has fouled out, which will make it tough for Coach K to go small. And Joe Harris has 23 points. Yeaaaaaah, it's not looking so good for the Devils.
Virginia 46, Duke 33 - 9:42 2nd Half
Duke is 5-of-18 from deep. Unless the Blue Devils start raining threes, it's really tough to see them coming back in this one. A 13-point lead for Virginia is like a 20-point lead for most teams.
Duke looks incredibly average tonight, which led Sports Illustrated's Andy Glockner to tweet this:
It's pretty much time to say that Duke is "just another team" at this point. And their 1-seed shouldn't be a given.

— Andy Glockner (@AndyGlockner) March 1, 2013
Virginia 40, Duke 31 - 13:52 2nd Half
One key to Virginia's defense thus far has been holding Duke to one shot. The Blue Devils didn't get their first offensive rebound until the 14:15 mark of the second half. Result? A Seth Curry three.
Virginia 38, Duke 26 - 2nd Half 15:10
Getting testy.
Duke's Rasheed Sulaimon after getting called for a foul on a Joe Harris drive objected to the foul and picked up a technical for his objection.
Dick Vitale is already talking upset.
Who leads the nation in fans rushing the court vs them &in being a gr8 resume win?If u said DUKE u r right! Will Virginia add to that total?

— Dick Vitale (@DickieV) March 1, 2013
Virginia 34, Duke 26 - 16:47 2nd Half
Virginia is the best three-point shooting team but is only off to a 1-of-8 start. Obviously, that hasn't mattered much.
Duke looked out of rhythm for most of the first half, and here's Yahoo! Sports' Jeff Eisenberg marveling at the Virginia defense thus far.
Virginia's defense is a purist's delight. Hard hedges on ball screens, good recovery and rotations and trap the post on every touch.

— Jeff Eisenberg (@JeffEisenberg) March 1, 2013
Virginia 28, Duke 23 - Half
The score isn't too bad at half, or at least as bad it looked like it was going to get, but Duke seems to be searching for answers.
The Devils went with a four-guard lineup near the end of the first half, playing with Mason Plumlee. Plumlee struggled to get going, scoring his first field goal with 2:48 left in the half.
Virginia's star has had no such troubles, as Joe Harris leads all scorers with 15 at half.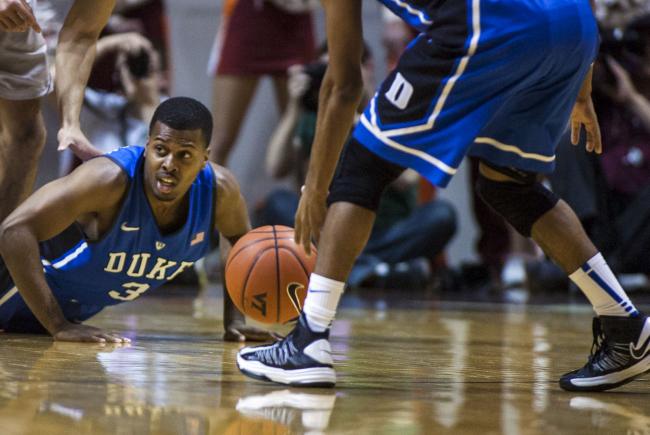 Virginia 22, Duke 21 - 3:44 1st Half
Duke is now on a 15-4 run that has been all about the guards. Quinn Cook has eight early points and Seth Curry's three cut the lead to one.
Virginia's Joe Harris is doing his usual thing with 13 points. Harris is using his size to shoot over Duke's smaller guards.
Virginia 20, Duke 16 - 6:50 1st Half
No panic for Duke. The Blue Devils went into the under-eight minute timeout on a 10-2 run. Surprisingly, what has worked is getting Virginia to slow to its usual pace.
Virginia 20, Duke 11 - 9:19 1st Half
The recipe to beat Duke this year has been to spread the floor and let your guards attack. Tony Bennett has his guards looking to attack off the catch.
Sports Illustrated's Andy Staples bringing the funny.
If UVa can hold this lead against Duke, the amount of chardonnay consumed in C-Ville tonight will be epic.

— Andy Staples (@Andy_Staples) March 1, 2013
Virginia 11, Duke 2 - 15:22 1st Half
Looking ahead? Blue Devils might be a little too eager to get to Saturday and a rematch with Miami.
Duke missed its first six shots and may have been taken aback by a quicker-than-usual Virginia attack early on.
With North Carolina winning at Clemson tonight, Virginia needs a win to keep pace with the Heels for third place in the ACC.
Virginia beat writer Michael Phillips of the Richmond Times-Dispatch reports that the Cavs return two players to their rotation tonight.
Today's game will represent the first time #UVa's Darion Akins and Mike Tobey have both seen extended action since Jan. 12 (at Clemson).

— michael phillips (@michaelpRTD) March 1, 2013
We finally we have a Ryan Kelly sighting—shooting and in basketball shoes, oh my!
Check out Kelly, in the flesh, via Laura Keeley, Duke beat writer for the Raleigh News & Observer.
Look who it is...#Duke's Ryan Kelly is warming up instagr.am/p/WS5C1yuNLy/

— Laura Keeley (@laurakeeley) March 1, 2013
This article is
What is the duplicate article?
Why is this article offensive?
Where is this article plagiarized from?
Why is this article poorly edited?

Duke Basketball: Like this team?