Oregon Football: 7 Players Set to Break out in 2013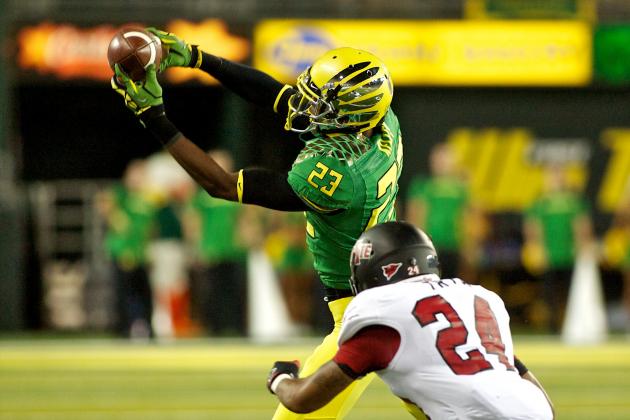 Craig Mitchelldyer/Getty Images
Oregon WR B.J. Kelley
The 2013 Oregon Ducks return most of the talent that helped lead the 2012 squad to a Fiesta Bowl victory.
But certain positions, like linebacker and running back, will rely on new faces to emerge next season.
Whenever a player like Dion Jordan or Kenjon Barner leaves, a certain dread is often accompanied with their departure, because it's not easy to replace two of the all-time Oregon greats.
But inevitably young guys step up, fill the void and begin to carve out their own legacy. If the 2013 Ducks are to equal or surpass last year's team, the time is now for several young players hoping to contribute on the field next fall.
While spring practice is still in front of us, let's take an early look at seven players set to break out in 2013.
Note: Yes, Thomas Tyner along with other incoming recruits were left off this list. While he's likely going to have a noteworthy season, part of the criteria in coming up with these seven players was looking at their previous production at the college level and seeing a potential breakout season in 2013.
Begin Slideshow

»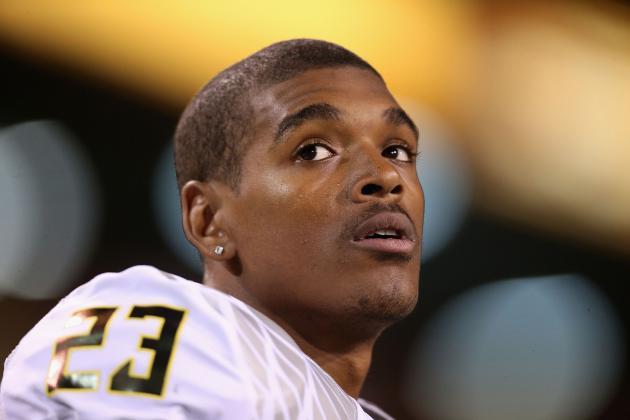 Christian Petersen/Getty Images
B.J. Kelley
B.J. Kelley, Tacoi Sumler and Devon Blackmon were once heralded as the next great receiving trio in Oregon's fast-paced offense. All three possessed speed and the ability to make plays in space.
Yet it's now just Kelley who remains a Duck, and 2013 could be the year that he finally begins to realize some of his vast potential.
After redshirting in 2011, Kelley caught six passes for 103 yards and two touchdowns this past season. Most of that came in garbage time, but Kelley's average reception went for over 17 yards, signaling his potential as a downfield threat.
With another year under Mariota's belt and perhaps an improved touch on the deep ball, Kelley could become a major factor in this offense. Oregon has speed to spare, but it's rarely used on long passes down the field.
Despite the depth ahead of him, Kelley can earn more playing time by continuing to develop in the offseason. If that happens, Kelley should find himself in the end zone more than a couple times in 2013.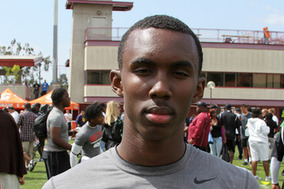 Reggie Daniels via 247sports.com
Reggie Daniels is a mystery man to the casual Duck fan—perhaps even a name they haven't heard before.
But it won't stay that way, as the redshirt freshman safety looks to burst onto the college football scene in 2013.
He's got the size at 6'1" and 200 pounds to hang with bigger wide receivers and his athleticism should allow him to cover most of the field.
The real question is: Can he hit?
That would make him the latest in a long line of hard-hitting Oregon safeties. I suspect going from all-everything in high school to the sidelines in college has him yearning to lay that first hit, and I wouldn't want to be the player that receives it.
Daniels has an excellent chance to crack the two-deep behind Brian Jackson and Avery Patterson. But with the way Oregon rotates on defense, Daniels should see plenty of playing time. And as we saw this past season, injuries are too often a major part of the game, and a significant one in the secondary could have Daniels on the field in big moments.
The highly-touted 2011 recruit has waited his turn, and in 2013, he'll show everyone what he can bring to the table.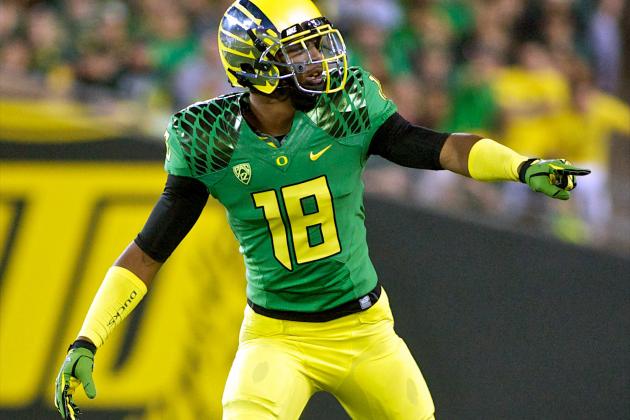 Craig Mitchelldyer/Getty Images
Dwayne Stanford
Dwayne Stanford arrived last summer as a true freshman with enormous potential.
That potential became apparent after Stanford tallied 11 grabs for 106 yards in his first four games, including a team-high five catches against Arizona.
But he failed to make another catch during the rest of the season and saw less playing time as the year went on.
Yet I believe Stanford, now with a year of experience, will show up big time when the season begins. His height at 6'5" gives him an advantage over most players in the secondary, and he showed great hands when the ball was thrown his way.
The depth chart at receiver is so loaded it's silly, but I think fans know what they're getting out of Keanon Lowe and Daryle Hawkins. Both are solid receivers and excellent blockers, but neither are likely to bust out many 10-catch, 150-yard games.They'll start and play throughout the year, but I think more talented receivers behind them will push for playing time.
Because of his athleticism and ability to make one-on-one catches, I think Stanford will be one of those receivers that gets on the field and stays there.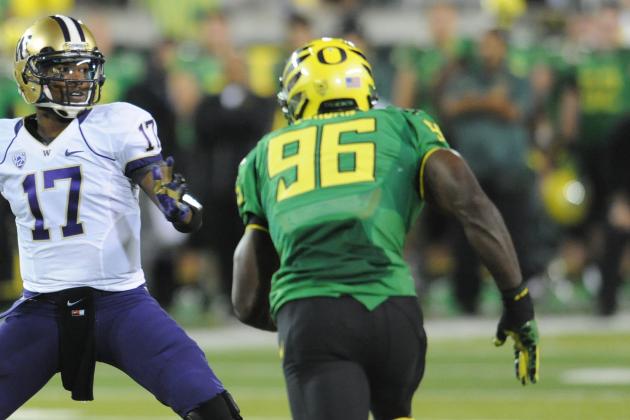 Steve Dykes/Getty Images
DE Dion Jordan, whom the Ducks hope Tony Washington turns into.
As you may have noticed, the photo is not of Tony Washington. It's of a guy that the Ducks hope Tony Washington can become as a hybrid DE/OLB.
Washington brings that same Dion Jordan-type athleticism to the Ducks' D, and there's a good chance he'll earn himself a starting spot when the season begins.
He doesn't quite have the height of Jordan at 6'3", but he may have even more ability to cover the field when he drops back into the linebacker spot. And then, when the Ducks need to put the pressure on, Washington can use his speed to blow past opposing tackles and get to the quarterback.
The skill set that Washington has is becoming more useful each day in an era that is being defined by speed and the ability to make plays in the open field.
The loss of Jordan could be offset by Tony Washington, who has a great chance to become a star on defense in 2013.
Craig Mitchelldyer/Getty Images
RB Byron Marshall
Byron Marshall is the most obvious choice to become a breakout star in 2013, due mainly to the fact that Kenjon Barner is off to the NFL and the depth chart is ready for Marshall to take over.
Being the starting running back for the Ducks has become sort of a holy grail spot over the past few years. From Jonathan Stewart and Jeremiah Johnson to LaMichael James and Kenjon Barner, leading the Ducks' ground attack will assuredly earn a player hype and attention from the NFL.
Plus, Marshall has heard fans gushing over the incoming Thomas Tyner all offseason. Tyner will get his carries and probably be an incredible asset to Oregon's offense right away. But Marshall was the one slugging away with late-game carries when the defense knew exactly what was coming.
It's Marshall that has the power to run over people and the speed to take it the distance when he finds a lane. And it'll be Marshall who's out to prove that he can carry the torch as the next great Duck running back.
Just based on the fact that he's now Oregon's starting running back, Marshall will naturally be considered a breakout player in 2013. But I think he'll surprise quite a few fans and become one of the league's best backs.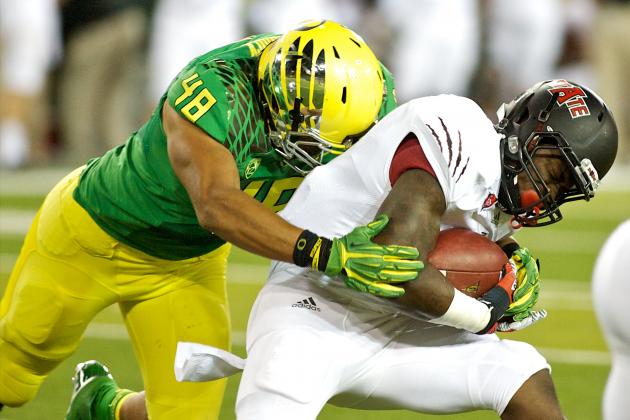 Craig Mitchelldyer/Getty Images
Rodney Hardrick
Rodney Hardrick is likely the next in line to crack the starting lineup on Oregon's defense.
The 6'1" 230-pound junior out of Colton, CA played in four games as a true freshman before getting injured.
His productivity decreased this past season, but with the graduation of Kiko Alonso and the departure of Anthony Wallace, it may be Hardrick's turn to head up the linebacker corps.
His frame at 230 pounds gives him the kind of muscle it takes to battle with offensive linemen and stuff any runs that may reach the second level. But he also has two years of learning behind cerebral studs like Michael Clay.
Linebacker is arguably the biggest question mark heading into next season, with only Boseko Lokombo returning as a proven starter.
Rodney Hardrick can allay any concerns the coaching staff may have by winning the starting job and setting the tone during the Ducks' non-conference slate.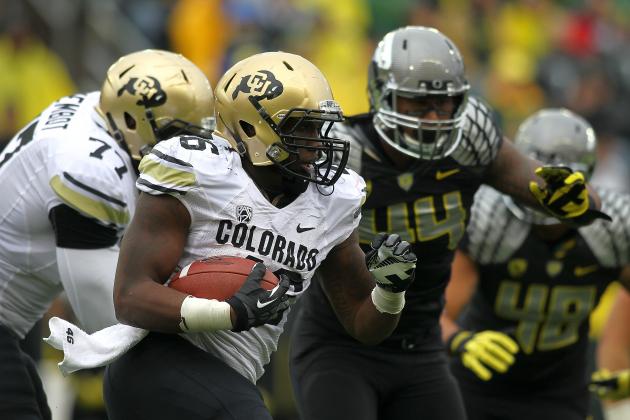 Jonathan Ferrey/Getty Images
DeForest Buckner chases down a RB
I don't know what it is about Buckner that screams "elite" when watching him play.
It could be his size, which at 6'7" and nearly 270 pounds, gives him one of the most versatile frames in the game. It could be his speed, which allows him to chase down running backs in the backfield despite lugging around all that weight. Or it may simply be the fact that as a true freshman, Buckner played in all 13 games and really began to make an impact toward the end of the season.
Whatever it is, Buckner is a budding young star that should become a (Duck) household name by the time 2013 is over with.
If you're sick of the Dion Jordan comparisons stop here. If you're still with me, picture Buckner as a bigger version of Jordan who will soon have an edge in experience after starting his college career on defense, whereas Jordan began as a tight end.
He may not have Jordan's speed, but his bigger frame should allow him to utilize multiple pass-rushing techniques instead of just speed-rushing off the edge.
Buckner will likely begin the season behind Taylor Hart, but the buzz around him will build as the 2013 season gets underway, and Buckner could end up as one of the year's brightest breakout stars.