Potential Draft Replacements for 7 Washington Redskins on the Hot Seat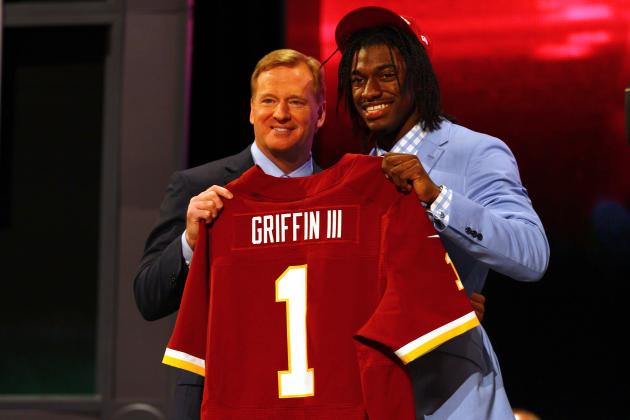 Al Bello/Getty Images

For the first time in what seems like an eternity, the Washington Redskins aren't in search of a franchise quarterback in this year's NFL draft. With Robert Griffin III as the face of the franchise, now the team can focus on improving the roster and trimming the fat, so to speak.
This year's draft could bring a lot of young blood to the 'Skins, and put some players who were on the bubble for next season out of the starting slot or out of a roster spot.
Though they lack a first-round pick by virtue of the draft trade that landed RGIII, the Redskins have a solid collection of picks to bolster their roster, while upgrading wherever they can.
Here are some of the draft prospects who could supplant a few current members of the Redskins roster.
Begin Slideshow

»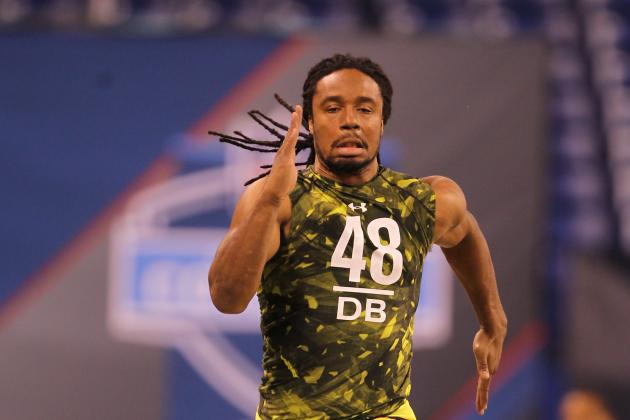 Brian Spurlock-USA TODAY Sports

Tanard Jackson isn't set to be cleared to play until August 31 of this year, making his spot on the Redskins roster tenuous at best. Madieu Williams was frustratingly inadequate in his stead, proving incapable of providing even average help down the field.
Without question, the Redskins will be drafting a free safety come April, though it remains to be seen which player, Jackson or Williams, remains a part of the roster.
John Cyprien may be the sexier pick at free safety, he did not run at the combine, though he did turn in a 38.5-inch vertical leap, fifth best at the combine this year. Phillip Thomas, however, turned in a sold 4.65 40, 35-inch vertical, 10'2" broad jump and 14 reps.
With no first-round pick, after a solid combine performance, Thomas remains the favorite for the Redskins second-round pick.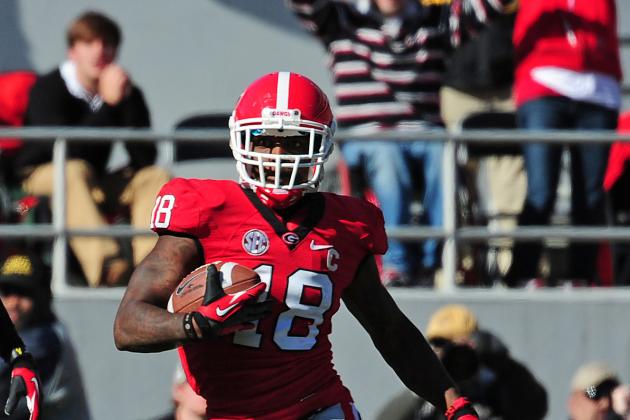 Scott Cunningham/Getty Images

Brandon Meriweather was healthy for less than one half of football in his first season with the Redskins. Granted, he turned in seven tackles, two pass deflections and an interception in that half of football, but he cannot be relied on to last an entire season.
Behind Meriweather is Reed Doughty who, while a solid contributor, is not the best man for the starting strong safety position.
For a defense always in need of playmakers, Bacarri Rambo would fit right in at strong safety, and could be one half of a revamped safety duo. Rambo only participated in the bench press, finishing with a respectable 17 reps, but his potential as a ball hawk and big-hitter makes him a great sleeper pick for Washington.
Rambo incurred a four-game suspension for marijuana heading into his senior season, but later attributed the failed drug test to unknowingly consuming a marijuana-laced brownie.
The Redskins dealt with Fred Davis and Trent Williams regarding drug use, and considered that Rambo's case may be a legitimate accident, it should not deter them from drafting him.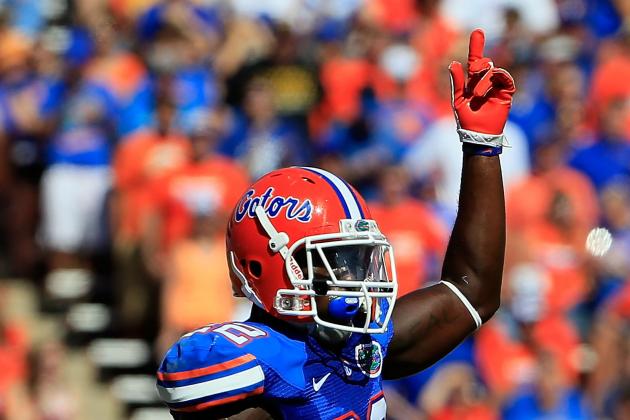 Sam Greenwood/Getty Images

Jackson and Williams are not the answer at free safety, and one or both could be on their way out of Washington given the latter's mediocrity and the former's inability to stay clean. No matter the case, the Redskins are going to upgrade, and there may be no better chance to do so than with this draft class.
Though the Redskins may be out of reach of the top safety prospects Eric Reid and Kenny Vaccaro, they can still nab an electric SEC safety in Florida's Matt Elam.
Elam may not be the biggest, standing just 5'10" at the combine, but he is capable of being a human highlight reel in the secondary. He hits like a ton of bricks, has good range and plays instinctively.
Elam's 4.54 40-yard dash may move him up draft boards, and his talent gives him first-round potential. If the Redskins could somehow land him in Round 2, he'd be an instant boost for the secondary.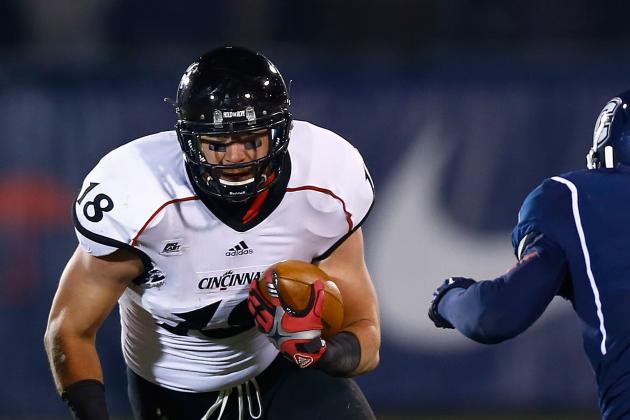 Jared Wickerham/Getty Images

Chris Cooley isn't likely to factor into Washington's future plans, Logan Paulsen is a better blocker than receiver, and Fred Davis remains a great talent with a ton of potential who can't quite break through to the upper echelon of tight ends.
There is no guarantee that Davis is allowed to walk in free agency, but the Redskins could stand to draft a contingency prospect.
Enter Travis Kelce. Though not the same impressive athlete that Davis has shown himself to be, Kelce does the little things right, and puts himself in position to excel as a blocker, and make plays in the passing game.
He only had one season of production, and didn't workout at the combine due to an abdominal injury, but for a mid- to late-round pick, Kelce could prove a great asset, both as an underrated receiver and tremendous blocker for the run-happy Redskins offense.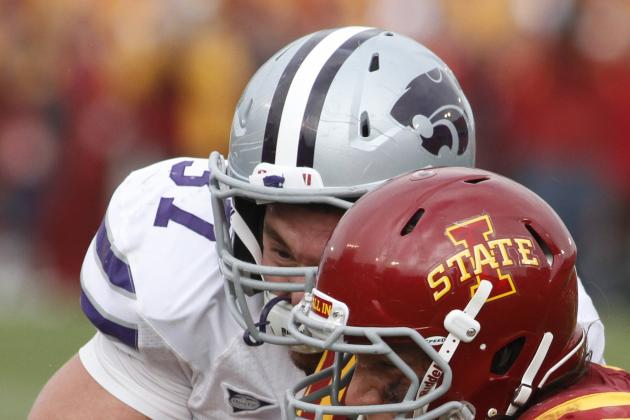 Matthew Holst/Getty Images

London Fletcher's future status has yet to be determined, which means the Redskins should start coming up with contingency plans or start finding a replacement for one of the NFL's best linebackers and leaders.
Perhaps it is personal infatuation, but A.J. Klein could be the player to fill the void Fletcher would leave with his retirement.
Klein is a smart, productive and instinctual linebacker, who ran an unexpected 4.66 40 at the combine. He may not come into the NFL as an All-Pro, or even break into the starting lineup in his first few seasons. However, much like current Redskins linebacker Lorenzo Alexander, Klein could carve out a niche for himself on special teams, currying favor and flashing enough skill to earn a starting job.
Fletcher isn't on the hot seat, but the depth behind him, the players who might have to fill the aforementioned void, leaves a bit to be desired.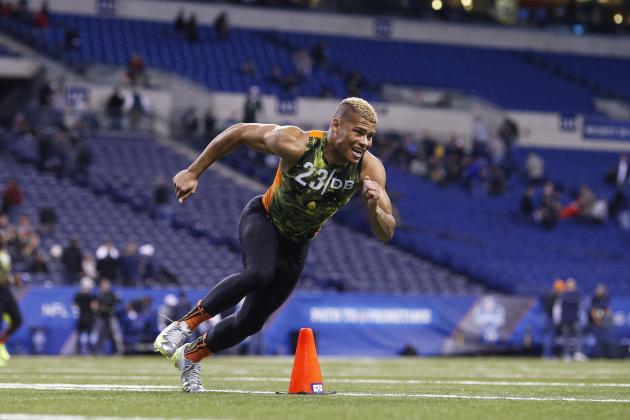 Joe Robbins/Getty Images

Behind DeAngelo Hall, Josh Wilson and the young Richard Crawford, there isn't a whole lot to get excited for in Washington's secondary. Though neither Hall nor Wilson is in any real danger of losing their job, the Redskins could upgrade their nickel coverage with one risky playmaker.
Tyrann Mathieu, as much of a character concern as he may be, can flat out play football and get to the ball.
The Redskins 3-4 defense lacked playmakers in the secondary, with many of their turnovers created by passes tipped by linebackers or balls thrown into crowds. Mathieu, who ran a smooth 4.5 40, but mustered just four reps, is a boom or bust prospect if there ever was one.
Mathieu's ability to make plays is at odds with his inability to stay clean, but if he can keep away from the substance abuse issues in the NFL, he'd be a welcome prize for any defense.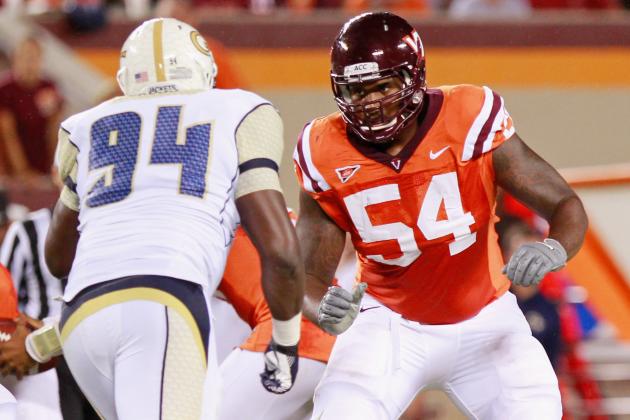 Geoff Burke/Getty Images

The Redskins are done with Jammal Brown, and have to figure out if Tyler Polumbus is worth retaining, or if Tom Compton is worth working into the mix at right tackle. Or, they can spend a late on a right tackle they might feel comfortable through out there to protect RGIII on the right side and paving the way for him and Alfred Morris.
Nick Becton is an athletic tackle with the potential to be a solid left tackle, or excel as a right tackle protecting one of the most dynamic young quarterbacks in the NFL.
Becton has the physical tools to be the kind of tackle the Redskins need, but issues with his technique hold him back. Considering the Redskins got great things from Will Montgomery and a hobbled Kory Lichtensteiger, Becton could land on a worse team, and the Redskins could select a player with less potential to fill a pressing need along the offensive line.