7 Teams That May Trade Up in the 2013 NFL Draft and Who Could They Target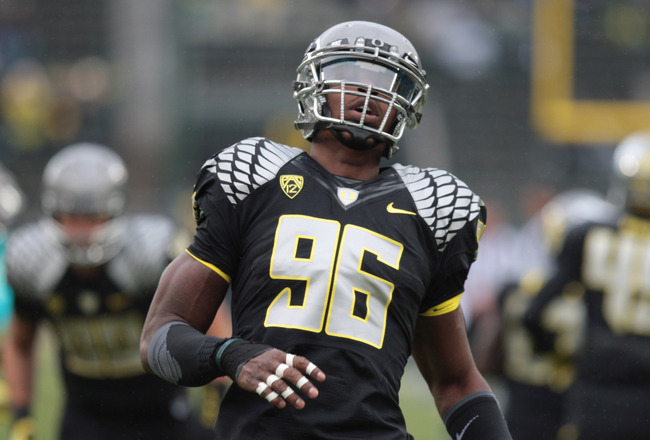 Scott Olmos-USA TODAY Sports
The 2013 NFL draft player pool is filled with value, but without an established top tier of players, we might see more trade movement then we normally see as teams conduct targeted trades to go up and get their "guy". Teams should be more active in this draft if they see a player that fits what they are looking for, instead of waiting to see what falls to them.
Teams like the Arizona Cardinals, San Diego Chargers and St. Louis Rams have a very clear need, but they might have to move to get the right player. Without moving, they could lose out and miss on the player they really want, or miss on the position entirely.
Right now the player pool for the 2013 is very muddy, and there will be a lot of uncertainty with the picks that are made. The muddy player pool makes this draft different, and teams will have the opportunity to make their picks count if they can find a way to move up to get them.
Let's look at the teams that could move up in the 2013 NFL draft and the players they may be targeting.
Arizona Cardinals and Texas A&M Tackle Luke Joeckel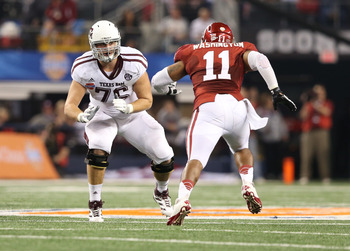 USA TODAY Sports
The Arizona Cardinals are desperate for better play out of two positions, left tackle and quarterback. However, the reality is that no matter who the quarterback is, he will struggle because of the lack of protection and throwing a rookie to the wolves behind their current offensive line would not be a reasonable fix to their problems.
It would be smart to find a left tackle that can fill the role and address the quarterback situation later in the draft. Texas A&M's Luke Joeckel is the natural for the Cardinals as he is this draft's best pass protector, and what he does well fits what new head coach Bruce Arians likes to do on offense.
Arians likes to challenge defenses vertically, and if the Cardinals are going to do that, they will need to give whoever is playing quarterback more time to allow routes to develop. The fit between the Cardinals and Joeckel is natural as he is ready to come in, play right away and anchor the left side of the line for years.
The Cardinals could stay put and wait to see if Central Michigan's Eric Fisher or Oklahoma's Lane Johnson naturally falls to them at pick No. 7. However, by doing that they will miss on the left tackle who is the best player in this draft and the player who best fits what they are going to do going forward.
San Diego Chargers and Central Michigan Tackle Eric Fisher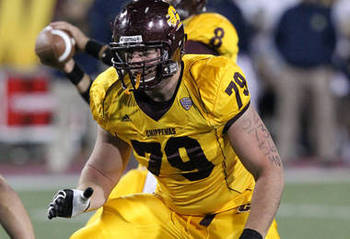 Photo via mlive.com, courtesy of CMU Athletics
The San Diego Chargers are another team that needs much better play out of the left tackle position. They tried Marcus McNeill to start the 2012 season, but injuries have taken their toll on him and he was unable to finish the season. Their offense suffered tremendously without a viable left tackle, and it will continue to struggle until the issue gets fixed.
They need to address the position in the draft, but they can't wait as teams could trade in front of them to grab one of the three premier left tackles in this draft. By waiting, they could miss out altogether and that would be a disaster.
The Chargers would have a tough time getting all the way up to the top of this draft to grab a left tackle, but the cost to move up around five spots to select Central Michigan left tackle wouldn't be as harsh as the cost to go all the way up to the No. 1 pick.
While they would pay a price, it makes sense to guarantee that they are getting a player they can plug in and play right away. Fisher is definitely that player, and he could anchor the left side of their offensive line for years.
St. Louis Rams and Oklahoma Tackle Lane Johnson
R. Yeatts/Getty Images
When the St. Louis Rams selected tackle Jason Smith with the second overall pick in the 2009 NFL draft, they thought they had the long-term solution to their left tackle position. Four years later, Smith is gone and the Rams are again looking to fix the position.
The Rams have invested a ton of financial resources into quarterback Sam Bradford, selecting him first overall in 2010. They have failed to protect him adequately, and it is time to give him a chance to have success in the NFL.
Oklahoma tackle Lane Johnson is a smooth, fluid athlete with an incredible upside. He is a rising prospect and a player who will bring size and athleticism to the offensive line. The problem is that Johnson will be long gone if the Rams wait until the No. 16 pick, and they would need to move up in order to get him in the draft.
The Rams have two first-round picks in the 2013 NFL draft and they have the resources to go get the player they really need. They should use one of those first-round picks, in concert with other later round picks to ensure that they get one of the three elite tackle prospects in this draft.
Cleveland Browns and BYU Defensive End Ezekiel Ansah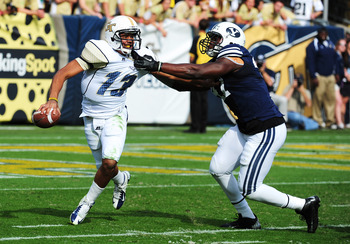 Scott Cunningham/Getty Images
The Cleveland Browns hold the No. 6 pick in the 2013 NFL draft. New defensive coordinator Ray Horton employs a 3-4 defense and they need to add talent and playmaking to the defensive side of the ball. The Browns are going to add a premium player at No. 6, but are they going to add the right player?
To properly run the 3-4 defense, the Browns need players that fit the scheme, and there is one player in this draft that both fits the scheme and has an incredible upside. That player is BYU defensive end Ezekiel Ansah. He is a big player at 6'5" and 271 pounds, but his agility and athleticism is off the charts.
Ansah has rare physical tools and would be the perfect player to bring in to play at either defensive end or at outside linebacker in their 3-4. He has incredibly long arms and rare closing speed, and would be a threat to make plays for the defense immediately.
The Browns could wait until pick No. 6, but there might not be a better fit for the Browns than Ansah. They may have to leap over a team like the Detroit Lions to get him.
New Orleans Saints and Oregon Outside Linebacker Dion Jordan
Steve Dykes/Getty Images
The New Orleans Saints are moving to a 3-4 defense, and they have to bring in talent to match the scheme. The Saints have played a 4-3 defense for years, but the switch is happening as they are bringing in Rob Ryan to run their defense.
The Saints are going to need players that can run on the perimeter of their defense, and there is a natural fit in the draft with Oregon's outside linebacker Dion Jordan. Jordan has rare movement skills and would be a monster on the turf in New Orleans.
Jordan is one of the most dangerous perimeter rushers in the entire draft class, but he isn't just an edge rusher as the Ducks lined him up all over the defensive line. He also covered the slot receiver at times and would be an incredible asset to the Saints defense.
The Saints hold the No. 15 pick in the 2013 NFL draft, but Jordan is most assuredly going to get drafted before they pick and they would have to leap over a few teams to get him. The fit between Jordan and the Saints is a natural one, and it would be exciting to see him play in Ryan's 3-4 defense.
Tampa Bay Buccaneers and Alabama Cornerback Dee Milliner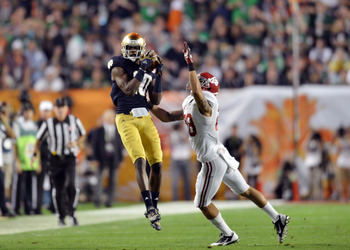 Steve Mitchell-USA TODAY Sports
The Tampa Bay Buccaneers traded cornerback Aqib Talib to the New England Patriots and when they executed the trade, they ensured that the position is their biggest need in free agency and the draft. The Buccaneers need a cornerback as much as any team needs any position in this entire draft.
The Buccaneers have made a some strides and they are a much better team now than they were when head coach Greg Schiano took over the team last year. They have talent on offense with quarterback Josh Freeman, running back Doug Martin and wide receiver Vincent Jackson and they are a team on the rise.
To continue trending upwards, they have to find a playmaker or two to play cornerback for them. When we look at the NFC South, we see teams that are loaded with elite wide receivers, and that means that they have to get a high quality cornerback in the draft.
Alabama cornerback Dee Milliner is the drafts' best cornerback, and he should be the player the Buccaneers target as they need his play-making ability. They might have to jump a few spots to get him, but it would be a great move and it would keep the forward momentum going.
Pittsburgh Steelers and Georgia Outside Linebacker Jarvis Jones
Dale Zanine-USA TODAY Sports
The Pittsburgh Steelers' defense has lost some if its luster recently and they need to find a way to get more pressure on the quarterback. There will be some roster turnover and the Steelers will need to replace some of what they will lose to free agency or salary cap cuts.
The Steelers hold the No. 17 pick in the 2013 NFL draft, and they need to find talent to add to their defense. The Steelers are better when they are feared on defense, and there is one pass rusher in the draft that could bring a little bit of that swagger back.
Georgia outside linebacker Jarvis Jones is that player, and he fits the scheme perfectly. The Steelers play a 3-4 defense and they need to add a pass rusher to the perimeter of the defense. That pass rusher needs to be able to make plays over large areas while covering lots of space and that describes Jones' strengths to a tee.
Jones is a player who needs to play in space and the Steelers' scheme will give him what he needs to make plays in the NFL. He is a scary pass-rusher and would be a great addition to the Steelers' defense. They might have to jump a bunch of teams to get him, but it would be a great move to grab this draft's best pure pass rusher.
Keep Reading