Ranking the Best Triple-Doubles in the NBA This Season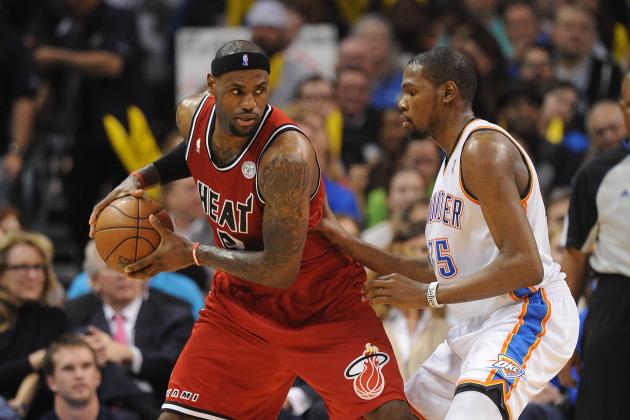 USA TODAY Sports

Kevin Durant needed fewer than 27 minutes to shred an undermanned New Orleans Hornets team for 18 points, 11 rebounds and 10 assists in the Oklahoma City Thunder's 119-74 runaway win on Feb. 27.
It was Durant's third triple-double of the season and the 33rd recorded in the NBA this season. One-third of those 33 have come from either Durant, LeBron James or Rajon Rondo. Paul Pierce, Nicolas Batum and Jose Calderon are the only other repeat performers on the list.
A triple-double is a testament to both sustained production and versatility. Players just don't accidentally stumble into one.
But all of them aren't created equally.
Some players eke out 10 points, 10 rebounds and 10 assists in their triple dip. Others blow past 10 in one (or more) of those categories. Some have even swapped out assists for blocks, in one of the most devastating defensive efforts seen in recent history.
So which ones have separated themselves from the pack this season? Keep reading to find out.
Begin Slideshow

»
By the numbers: 10 points (5-of-7 FG), 12 rebounds, 10 blocks, 1 steal, 1 assist, 32 minutes
The Minnesota Timberwolves are still having nightmares about this game...and they won.
Sanders tied Kareem Abdul-Jabbar for Milwaukee's franchise record for the most blocks in a game, using his length (6'11"), athleticism and timing to stymie a seemingly endless line of Timberwovles' drivers.
Frankly, this stat line is never possible without his teammates. Players should be rewarded for this type of defensive effort with more than seven field-goal attempts. But that number represents a fairly active night considering Sanders shared the floor with the shot-happy backcourt combo of Monta Ellis and Brandon Jennings.
But the diminutive backcourt deserves a lot of credit for making this possible. If they weren't constantly getting broken down on the perimeter, Sanders would have never had the chance to tie Indiana Pacers' center Roy Hibbert for the best single-game shot-blocking performance this season.
By the numbers: 21 points (8-of-15 from the field), 12 rebounds, 11 assists, one steal, 40 minutes
If you're still studying up on the impact of Greg Monroe, just find the nearest Golden State Warriors fan to fill you in. For reasons still unknown, the Warriors passed on the polished Monroe in favor of the raw, athletic Ekpe Udoh with the sixth overall pick in the 2010 draft.
And Warriors fans have been lamenting the decision ever since.
Monroe is one of the most talented passing bigs in the business and carved up the Kings defense, finding cutting teammates, open shooters on the perimeter and post players with strong position. He packed his greatest scoring punch near the basket, dropping in hook shots, stuffing down dunks and cleaning up errant Pistons' looks.
By the numbers: 17 points (6-of-16 FG), 13 rebounds, 10 assists, 1 steal, 1 block, 49 minutes
From a statistical standpoint, this game probably doesn't deserve a spot in the top 10. Pierce had a brutal shooting night (37.5 percent from the field) and matched his season high with six turnovers.
But in terms of the moment itself, this might be grossly underrated.
The Celtics had every reason to fold up in this game. They entered the contest mired in a six-game losing streak and welcomed the defending champs minus their All-Star point guard Rajon Rondo (torn ACL).
But rather than waving the white flag, Pierce instead spilled ink all over the stat sheet. He initiated coach Doc Rivers' offensive sets, either scoring on his own or drawing defensive attention and finding an open teammate.
When he wrapped up the night with a masterful, game-winning step-back jumper over LeBron James in double-overtime, this was clearly one of the most impactful efforts the league had seen this season.
By the numbers: 17 points (8-of-11 FG), 12 assists, 10 rebounds, 37 minutes
It's easy to discredit anyone's dominance against the Bobcats.
But this game highlighted the fact that there may be no ceiling for the ailing Celtics star.
Perhaps spurred by his competition, an aggressive Rondo looked for his own offense early and often. He dazzled on his drives to the basket, and made us all question his true limitations as a shooter with a number of nothing-but-net results on his mid-range attempts.
Once the defense finally adjusted to slow down Rondo the scorer, his distributing took over. He may have a better understanding of his teammate's strengths than any other point guard in the league. He knows where his players want the ball and where they're most effective with it.
For anyone suggesting Boston's actually better off without him, there are a number of highlight reels just like this one.
By the numbers: 20 points (7-of-15 FG), 12 assists, 10 rebounds, 1 steal, 1 block, 41 minutes
When he's active, Batum is one of the most dangerous weapons in the NBA.
He's got deceptive quickness and hops, a deadly shooting rhythm and the length (6'8") to bother his opponent.
His effort in this game had a bit of everything. He was active on the glass under the basket, and aggressively chasing down loose balls. He found open shooters and took his passing game over the top of "Lob City".
In terms of his own scoring, he did most of his damage from the perimeter (4-of-9 from three). But that doesn't mean he was an easy cover. He moved well without the basketball, converting a few catch-and-shoot looks along the way. He even flashed his ability to shoot off the dribble, following a dizzying display of his handles with a deep three over Clippers center DeAndre Jordan.
By the numbers: 26 points (12-of-24 FG), 13 rebounds, 11 assists, 3 steals, 2 blocks, 42 minutes
If not for a pair of misfired perimeter attempts in the final minute, this could have been tops on the list.
At this point, it's unforgivable to overlook a Miami player lingering near the basket. There's just no way that James is going to miss him, and it's essentially spotting the Heat with two points.
Rarely does James look this dialed in and not come out victorious. Five combined steals and blocks in 42 minutes shows what kind of havoc he brought defensively.
And it's hard to say a player connecting on 50 percent of his field-goal attempts is not feeling it offensively, even by his own lofty standards.
But again, those two late misses loom large over the performance. The first would have given the Heat a lead with less than 20 seconds to play. The second would have tied the score with less than five seconds left.
After both drew iron, though, his performance seemed like a tremendous effort wasted.
By the numbers: 22 points (9-of-18 FG), 11 rebounds, 11 assists, three steals, 35 minutes
Bryant used the Houston Rockets as his drawing board, orchestrating an intricate knowledge of his teammates worlds beyond that comprehended by his coach Mike D'Antoni.
And this was long before his decision to embrace the role of a distributor.
He found point-blank dunks for Dwight Howard. He spotted a roaming Pau Gasol for a number of silky smooth mid-range jumpers. Chris Duhon received a couple wide-open looks from deep courtesy of Bryant's court vision.
His determination to increase L.A.'s tempo offered a glimpse of what could have been under D'Antoni. While that vision never materialized, it did make for quite an enjoyable 35 minutes of "Mamba".
By the numbers: 16 points (8-of-14 FG), 14 assists, 13 rebounds, 3 steals, 3 blocks, 42 minutes
Philly fans are sick of seeing Rondo. Less than seven months after his Game 7 triple-double sent the Sixers packing in the 2012 Eastern Conference semifinals, he sliced the Sixers with a stat sheet stuffing performance that only a handful of players are even capable of producing.
Rondo had his mid-range jumper working early, which is always a troubling sign for the defense. As Philly defenders met him further away from the basket, he raced around them for layups and timely passes.
But his steady offensive hand didn't mean he was going to slack in terms of his effort. If anything, it seemed to only increase his motor.
He followed his teammates' shot, sacrificed his body for extra offensive possessions and didn't quit on plays. Defensively, he was a constant source of harassment, challenging shots and plugging the passing lanes.
But Sixers fans didn't mind his teammates as much, as Philadelphia withstood Rondo's brilliance and held on for a victory.
By the numbers: 31 points (12-of-23 FG), 11 assists, 10 rebounds, 44 minutes
While he's only had three on the season, James has triple-double potential whenever he takes the floor.
His court vision ranks among the best in the business, a frightening package of smarts bundled in a chiseled 6'8", 250-lb. frame.
He doesn't miss a cutting teammate. Whether that's Dwyane Wade or a Miami big rolling to the basket or sharpshooter Ray Allen sliding on the perimeter, if they're open James finds them.
And he's just as effective off the ball. He's battling for post touches, then bullying his way to buckets when they come his way. If there's a gap in the defense, he's either going through or over it.
James got the added bonus of an additional five minutes of basketball in the Miami's overtime win. But it's hard to hold that against his performance considering his no-hesitation three-pointer knotted the score at 108 with 1:20 left in regulation, helping the Heat buy those extra five minutes needed for the win.
By the numbers: 25 points (8-of-16 FG), 13 rebounds, 10 assists, 2 steals, 38 minutes
Numbers used to be tough to judge when playing against the Warriors. Heck, they're looking closer to being skewed once again.
But back in November, coach Mark Jackson guided one of the stingiest defenses in the league.
And that didn't stop the league's reigning three-time scoring champ from putting forth the strongest triple-double of the season.
His 50 percent success rate from the field was his worst shooting statistic of the night. He went 60 percent from deep (3-of-5) and 85.7 percent from the free-throw line (6-of-7).
As with any triple dip, though, this game was about more than just his scoring.
He was too long to be bothered by any Warriors defenders, and he knew it. When he wasn't scoring at will, he'd wait for the double teams to come and carve up the defense with the open pass.
It was Durant's first career triple-double, and surely just a sign of things to come.