Updated Point Guard Rankings, Post-Steph Curry Outburst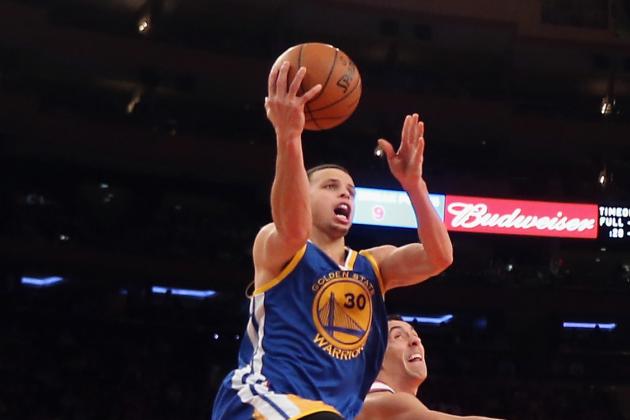 Bruce Bennett/Getty Images

Following Stephen Curry's ridiculous 54-point outburst at Madison Square Garden, now seems like as good a time as any to update the NBA point guard rankings.
The ground rules are simple: these rankings consider a player's offensive capabilities right alongside his defensive skills. There are two ends to the court, so before everyone gets all up in arms about the exclusion of Damian Lillard from the top 10, consider the fact that he is—by all accounts—a horrible defender.
And it won't be all about the numbers. Statistics matter, but intangibles will count too. If a player has the ability to control things like the pace of the game or the skill to thrive in bad situations, he'll be rewarded here.
Injured players don't qualify either, so Rajon Rondo and Derrick Rose won't feature on this list.
Finally, these rankings consider each point guard's entire body of work for the 2012-13 season, but they do weigh recent weeks more heavily. If a good player has kicked his game up a notch or two of late, expect that to help his ranking.
With the season winding down, it's time to see how the league's top 10 points guards stack up.
*All stats accurate through games played Feb. 27, 2013
Begin Slideshow

»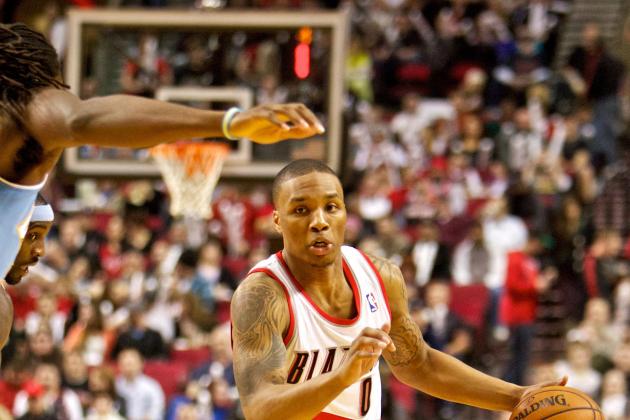 Craig Mitchelldyer-USA TODAY Sports

Goran Dragic, Phoenix Suns
Poor Goran Dragic. Brought back to the Phoenix Suns after a year with the Houston Rockets, Dragic took assumed control of a team in turmoil.
Ownership was cutting costs, Steve Nash was gone, the roster was in disarray and a coaching change would shake things up even more severely at the halfway point of the season. Those certainly aren't conditions in which a point guard would figure to thrive, but Dragic has made the most of his first chance to be a full-time starter.
With averages of 14.1 points and 6.9 assists, the fifth-year point guard has shown that he's capable of being a legitimate starter with plenty of upside.
Now, if only the Suns could get their act together and surround him with some talent.
Damian Lillard, Portland Trail Blazers
It may surprise a few people that Lillard, easily the league's best rookie point guard, isn't among the top 10 at his position.
Well, it shouldn't.
Lillard has put up impressive averages of 18.4 points and 6.4 rebounds per game while being asked to shoulder an unreasonably heavy load in his first year. Predictably, he has run into the proverbial rookie wall in recent weeks, shooting just a hair over 40 percent from the field over his last 10 games.
Offensively, Lillard could easily rank in the NBA's top 10 point guards right now. But the numbers show that on D, he's a liability. Per 82games.com, the Blazers allow about four-and-a-half fewer points per 100 possessions when he sits.
Eventually, Lillard will crack these rankings. But until he manages to get his field-goal percentage up around 45 percent and learns the nuances of NBA defense, he'll have to settle for honorable mention.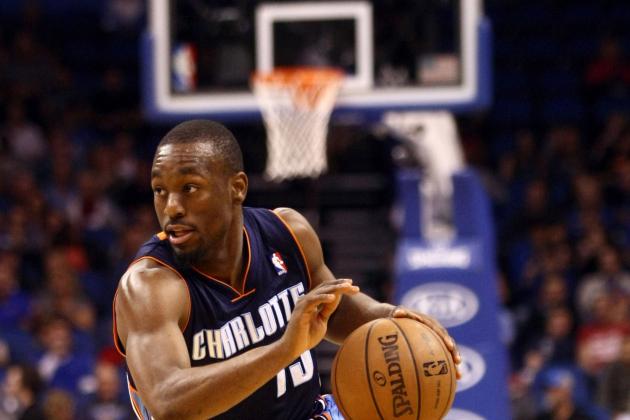 Douglas Jones-USA TODAY Sports

It's always difficult to rank a player on a team as bad as the Bobcats so highly, but it really doesn't feel like Kemba Walker's production has come about this year because he's been piling up stats on a go-nowhere team.
Charlotte's lone bright spot has managed to put up 17.6 points, 5.5 assists and 3.5 rebounds per game this year, despite being the sole focus of opposing defenses on a nightly basis. More impressive than that are the improvements he's made as a shooter. His field-goal and three-point percentages are both way up over last year's marks, and February was his best long-range shooting month ever.
His 42 percent accuracy rate from beyond the arc over the past month blows away his career average of 33 percent.
The Bobcats are miles away from being a respectable team, but Walker might be the guy to help get them there eventually.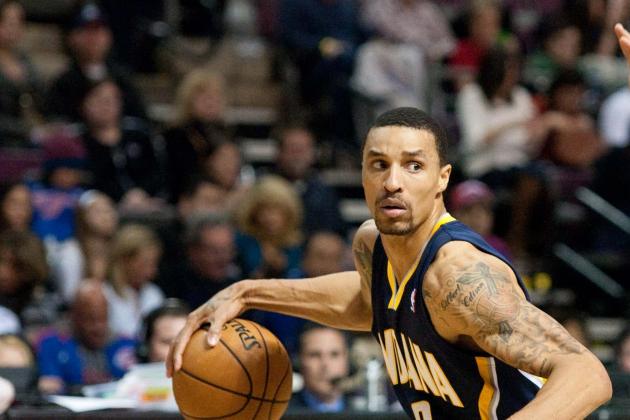 Tim Fuller-USA TODAY Sports

It'd be easy to start the case for George Hill by mentioning that he has been putting up career-high averages in scoring (14.9), assists (4.9) and rebounds (4.0) in his second year with the Indiana Pacers. But those numbers don't really paint the whole picture.
Hill is a smart guard who plays under control, while still using his speed and athleticism to attack in the open floor. His combination of discretion and aggression are hard to find anyplace else in the league.
But the best way to judge George's talents is to look at what happens to the Pacers when he's not on the court. Look, everyone knows Indy is a great defensive team that struggles to score. What most people don't realize, though, is that the Pacers are great at everything when Hill is on the court.
Defensively, the difference between the Pacers' lineups with and without Hill is negligible. In either situation, Indiana is the league's most dominant club on D.
On offense, lineups that feature Hill score a whopping 107.7 points per 100 possessions. For context, that number would rank fourth in the NBA behind only the Miami Heat, Oklahoma City Thunder and New York Knicks in terms of offensive efficiency.
When Hill doesn't play, Indiana simply can't score; its offensive efficiency drops to 97.9 points per 100 possessions, which puts it right on par with the Charlotte Bobcats for the second worst mark in the league.
If anything, the fact that the Pacers are a truly elite team on both ends when Hill plays should cause him to rate even higher than he does.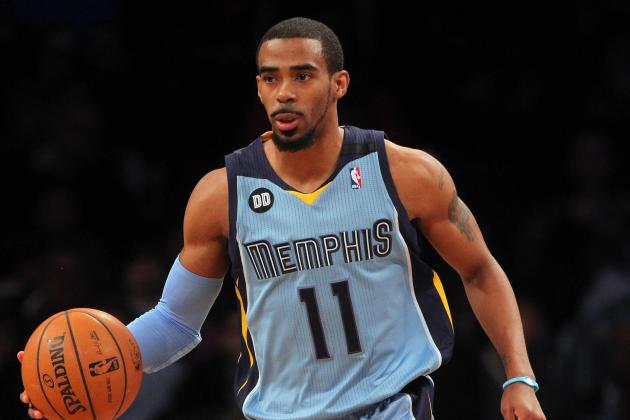 Brad Penner-USA TODAY Sports

Rarely flashy and statistically unimpressive, Memphis Grizzlies point guard Mike Conley is still easily one of the 10 best point guards in the NBA.
Conley doesn't put up huge stats. In fact, his 42 percent shooting this year is actually a career low. But the things he does well—like setting up the offense, captaining Memphis' fantastic perimeter defense and generally playing mistake-free ball—help make the Grizzlies go.
When Conley is on the court, Memphis scores about eight more points per 100 possessions while allowing about five-and-a-half fewer. Put those figures together, and Conley's plus-13.5 net rating shows just how good he really is.
Plus, without him to push the tempo, the Grizzlies are one of the league's slowest teams. The dimension he adds in that regard only augments his already considerable value.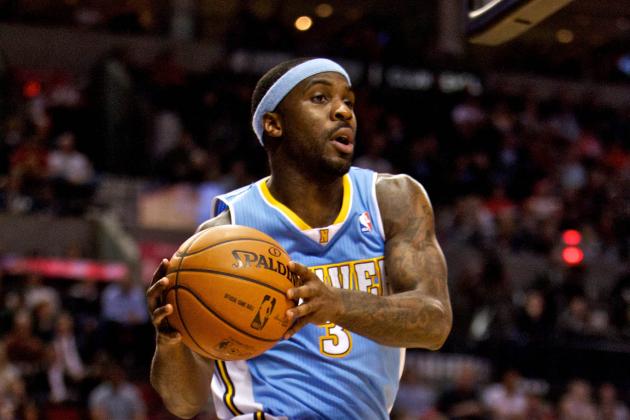 Craig Mitchelldyer-USA TODAY Sports

The Denver Nuggets are built like a track team, and Ty Lawson is the man with the starter's pistol.
A slow shooting start has still kept the North Carolina product's field-goal percentage well below his career rate of 48 percent this season, but with a bundle of layups and fast break points in recent weeks, that number is steadily creeping up.
Over his last five games, four of which Denver won, Lawson has averaged 25 points, 7.4 assists and 4.2 rebounds on 47 percent shooting. Clearly, the Nuggets' recent surge in the Western Conference standings has had a whole lot to do with the elevated play of their point guard.
If he keeps up his current pace, Lawson might just sprint into top-five territory in this list's next edition.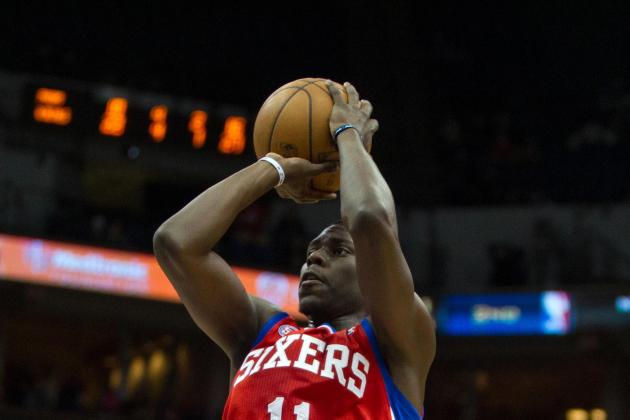 Brace Hemmelgarn-USA TODAY Sports

Maybe the added responsibility of playing without another star has done it. Or perhaps it's just been a natural spike in his development.
Whatever the case, Jrue Holiday has taken a quantum leap this year.
The Philadelphia 76ers' only bright spot in a season darkening by the minute, Holiday has crushed his previous career bests in every major statistical category. He's averaging 19 points, 8.7 assists and 4.2 rebounds on 45 percent shooting despite having virtually no offensive help this year.
Sure, Thaddeus Young has some game and Dorrell Wright is an underrated role player, but who do you think gets them the ball?
The truth is that Holiday makes everything happen for the Sixers, and been remarkably steady all year in the face of mounting losses and cranky coaching.
With terrific size and an emerging all-around game, the sky's the limit for Holiday. At the moment, he'll have to settle for No. 6, though.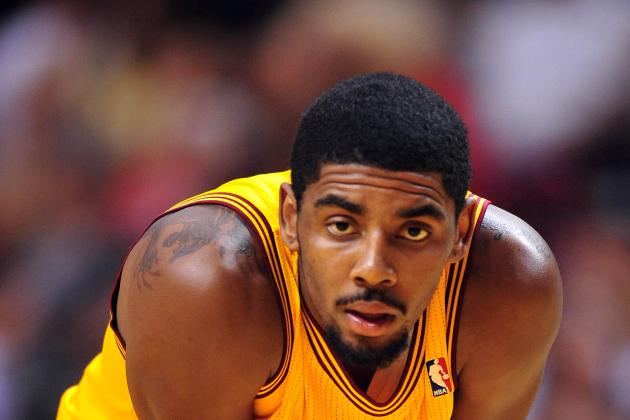 Steve Mitchell-USA TODAY Sports

If Kyrie Irving could avoid missing a handful of games every month or so, there's a good chance he'd rank higher than he currently does. And if potential were all that mattered, Irving would probably be No. 1 here.
But because it's impossible to help one's team from the bench, Irving gets a slight downgrade. And besides, the four players ahead of him are all playing at ridiculously high levels.
Anyway, everyone knows (or should know) by now what makes Irving a great player. The guy has an insane handle, gets to the basket whenever he wants and has added a three-point shot this year that makes him dangerous from the moment he crosses halfcourt.
His 23.3 points and 5.6 assists per game on 47 percent shooting are great numbers. It'd just be nice if he'd stay healthy enough to put them up for a full season at some point.
And calm down, Cavs fans. He'll be No. 1 at some point. It's just not his time yet.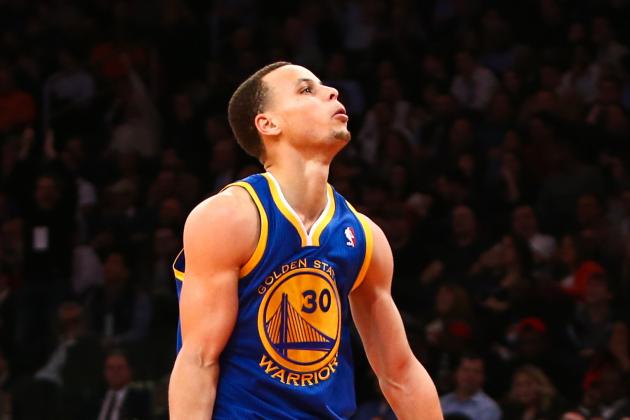 USA TODAY Sports

Maybe you've heard: Stephen Curry can shoot a little bit.
By following up a 38-point barrage in Indiana with 54 against the New York Knicks, Curry shot his way into the national consciousness.
Curry's recent scoring exploits look completely fabricated. Over his last five games, he has averaged nearly nine three-point field-goal attempts per game. That's a ton of triple tries. More incredible than his willingness to shoot those shots, though, has been his ability to make them.
He has hit almost 56 percent since Feb. 20.
Thanks to his red-hot stroke, including making 18 of his last 23 long-range attempts, Curry now sits just a hair's breadth behind Steve Kerr for the best three-point shooting percentage of all time. Toss in an arsenal of floaters and enough of a handle to keep defenders off balance, and you've got one seriously threatening player.
No one's ever going to accuse Curry of being even an average defender, but he competes and has improved over past seasons. Offensively, though, he's a monster.
And based on his post-shot dancing in New York, it's fair to say that monster is actually a cross between Grover and Elmo from Sesame Street.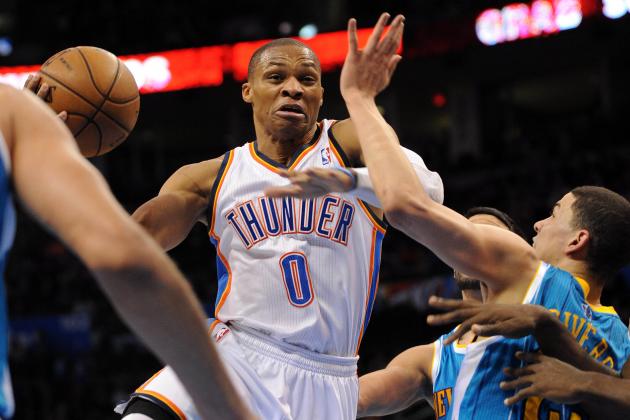 Mark D. Smith-USA TODAY Sports

Russell Westbrook is erratic, often undisciplined and prone to forcing bad shots that have a tendency to seriously hurt his team.
But who cares?
Along with the occasional head-scratching decision, the Oklahoma City Thunder point guard provides the best athleticism of any guard in the league, relentless effort and a competitive will few can match. Oh, and statistically, he's a beast.
Westbrook averages 23.1 points, 7.9 assists and 5.1 rebounds per game as a second fiddle to the league's best scorer in Kevin Durant. Yet those numbers don't come close to conveying the immense pressure Westbrook puts on defenses, or his value as his club's emotional spark plug.
Finally, remember how Irving took a hit for his lack of durability? Well, Westbrook hasn't missed a game in his entire career. That has to count for something.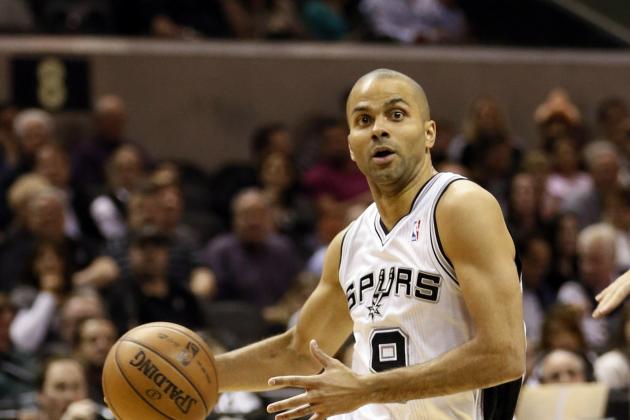 USA TODAY Sports

When the San Antonio Spurs returned home on Feb. 27 after their annual rodeo trip, Tony Parker was greeted by more than a few "MVP" chants.
Now, before anyone gets carried away, the MVP is a two-horse race this season, and one of them (LeBron James) is pulling away from the other (Durant). But Spurs fans aren't being completely facetious in their vocal analysis, either.
At 30, Parker is having his best season ever.
His PER is fourth in the league at 25.4 and he's averaging a career-high in scoring at 21.1 points per game. And lately, he's been even better, averaging 25.3 points, 7.3 assists and four rebounds on 51 percent shooting over his last five contests.
Look, Parker is the best player on the team with the NBA's best record. Combined with the individual numbers and his obvious anecdotal importance to the way the Spurs dissect teams on offense, there's really no argument for moving Parker down the list.
The only reason he's not one notch higher is because the guy at No. 1 is playing the point guard position on another level.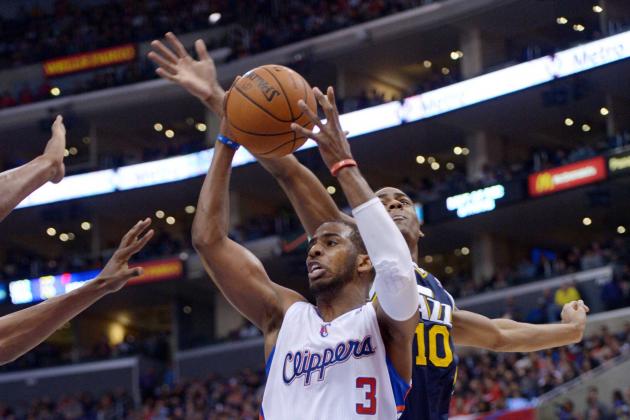 USA TODAY Sports

When running down the list of things points guards are supposed to do, it becomes clear that Chris Paul does them better than anyone else does.
Point guards are supposed to set up their teammates. Well, CP3 averages 9.5 assists per game in just 32.5 minutes. Only the injured Rajon Rondo has dished out more dimes, but by season's end he won't qualify for the assist title. Paul's the man in this area.
In addition to setting up teammates, point guards are also supposed to score when necessary. Just pull up a clip of Paul's MVP performance in the 2013 All-Star game for proof that he can put up points with anyone when he has to.
Finally, point guards must be able to control the game. And nobody has ever manipulated every aspect of an NBA contest like Paul does. He dictates the tempo, captains the defense and totally shapes everything the Clippers do on offense.
Vinny Del Negro wears the suit, but Paul is very clearly the Clips' coach.
His work at the 1 is unparalleled in this era and it stacks up against the best from any other. CP3's position as the league's best point guard is set in stone.