Big Ten Basketball: Ranking the 10 Most Underrated B1G Players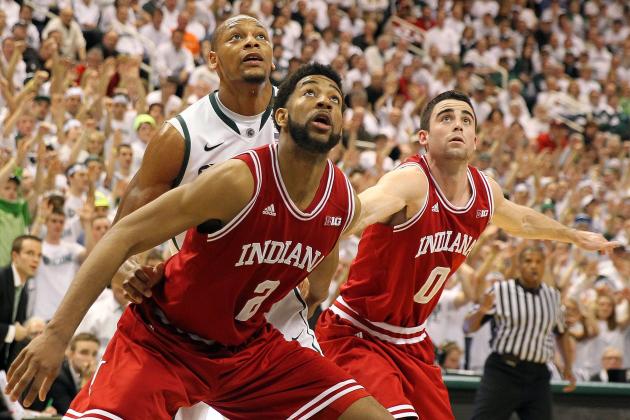 Mike Carter-USA TODAY Sports
Christian Watford doesn't get nearly enough credit for the Hoosiers.
There are four to five potential lottery picks within the Big Ten this season who've been hoarding all the headlines and stealing all the photo opportunities.
This list isn't for them (Sorry, Mr. and Mrs. Zeller).
A handful of other players have quietly flown beneath the radar, but are equally as essential to their team's success. Here's to those players who don't get the headlines, buzz or recognition for one reason or another.
Some on this list aren't great scorers, some don't play great defense and some you may never have even heard of simply because they don't play many nationally televised games.
But they all contribute to their team's success, all while conceding the spotlight to others.
This list isn't for the others. This time, the spotlight is on those that aren't used to it.
Here you go: The Big Ten's 10 most underrated players.
Begin Slideshow

»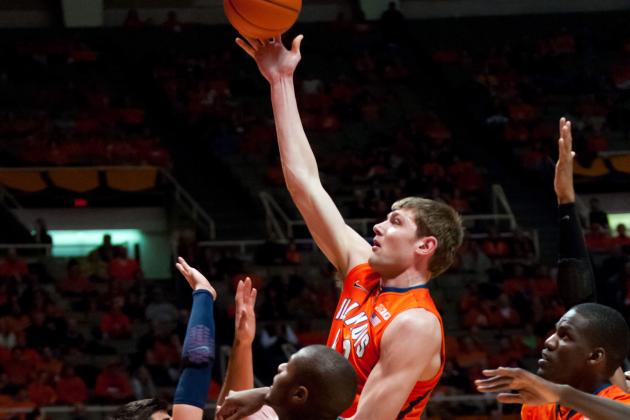 Bradley Leeb-USA TODAY Sports

Griffey isn't as well known as the Illini's more prolific scorers, but as a senior, he's been instrumental in stabilizing Illinois during their up-and-down season.
His 7.4 points and 3.4 rebounds per game are reasonably modest numbers, but it's his clutch play that distinguishes the 6'9'' stretch forward. In the second half against No. 1 Indiana, aside from hitting the game-winning layup (which wasn't all that impressive given that he was wide open), Griffey had 10 total points, five rebounds and two assists to help spring the upset.
One game later, Griffey dropped 16 points, including four three-pointers to help upend then-No. 18 Minnesota on the road. The win showed the Indiana game was no fluke and improves a postseason resume that was already strong enough for an at-large bid.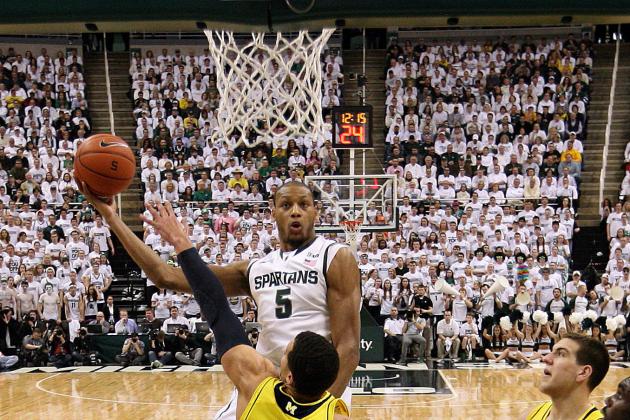 Mike Carter-USA TODAY Sports

Morgan is almost the forgotten man in the Wolverines' rotation.
He sustained a gruesome right ankle injury in late January against the Illini and has been hampered ever since. Consequently, the Wolverines' defensive rotation has been thrown out of whack.
Excluding a terrible Northwestern team which managed just 46 points, Michigan has yielded an average of 71 points per game in the six games he's either missed or played sparingly. That's a six-point difference to what the Wolverines typically concede.
Morgan is an underrated, heady defender who represents Coach Beilein's response to Michigan's two weaknesses: size and interior defense. The 6'8'' junior will rarely put up gaudy numbers (5.4 points, 4.6 rebounds per game), but he's an essential cog on a team filled with underclassmen.
Not to mention, when freshman banger Mitch McGary inevitably gets into foul trouble, Morgan is the safety net in the post.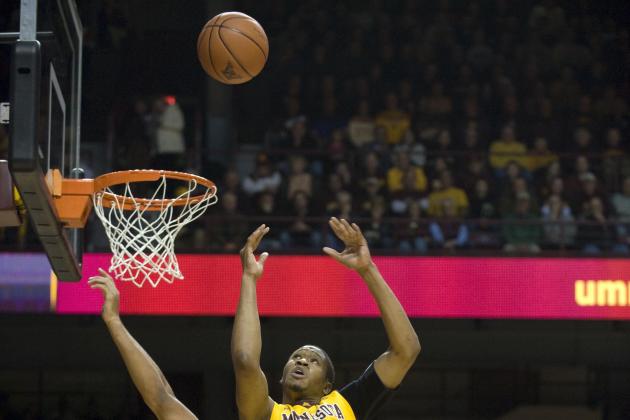 USA TODAY Sports

Williams gets overshadowed by more heralded Gopher players like Trevor Mbakwe and Andre Hollins, but make no mistake, the senior is much more than a high-flying highlight reel.
You may know Williams for his unbelievable leaping ability and his impressive breakaway 360 dunks, but Williams does a bit of everything for the Gophers, fresh off their upset of No. 1 Indiana. Just check his stat line against the Hoosiers.
Even though he struggled from the field (3-of-11), Williams finished with seven points, five rebounds, four assists, two blocks and a steal as Minnesota won 77-73 on Tuesday night. Arguably, no play was bigger than when Williams tipped Victor Oladipo's three-pointer from the corner to preserve the Gophers' six-point lead with just :18 seconds remaining.
One game doesn't make a season, though. Williams is the third-leading scorer for Minnesota and his 5.1 rebounds per game rank second to Mbakwe.
The senior hasn't been to the NCAA tournament since his freshman season when the Gophers were bounced in the first round by Xavier. (He didn't play in the game.) Thanks to his production this year, Minnesota will very likely be dancing.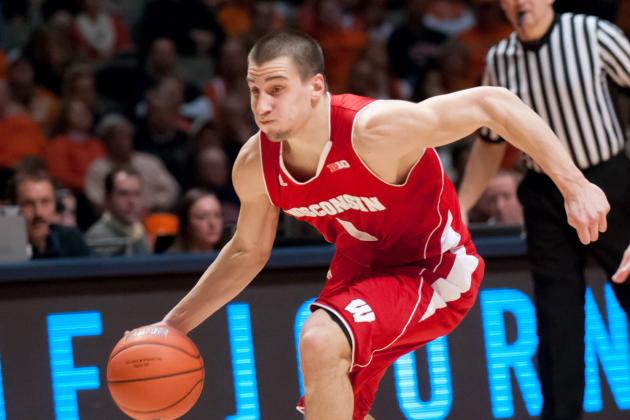 Bradley Leeb-USA TODAY Sports

Were it not for Brust's famous half-court heave that spurred Wisconsin to an eventual overtime win against Michigan, the junior's name wouldn't have much notoriety.
But Brust has been much more than just a wish and a prayer for the Badgers this season. His 11.4 points per game are a close second to leading scorer Jared Berggren's total and he's thrived for Wisconsin despite its injury-riddled backcourt.
Brust has been on a tear throughout the last seven games, averaging 14.7 points as the Badgers have won six during the streak. He's a fearless deep-range shooter who's averaged three three-pointers a game over the last eight games. In fact, he's hit at least one trey in all but two games this season.
The Badgers' shooting guard ranks seventh in the Big Ten with a 38.5 percent clip from beyond the arc. At 6'1'', Brust also averages 5.5 rebounds per game, which makes him the shortest player of the conference's top-20 rebounders.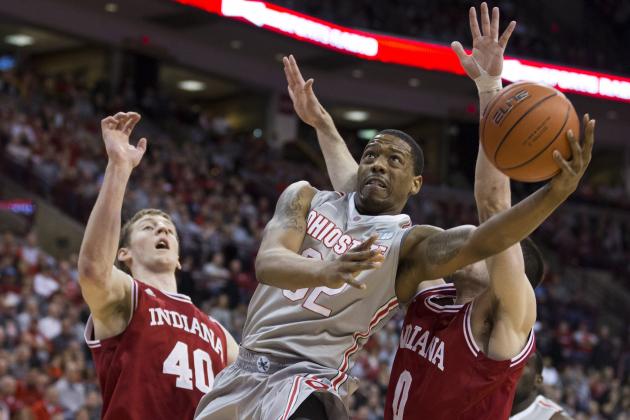 Greg Bartram-USA TODAY Sports

On Ohio State, it's Deshaun Thomas' scoring and Aaron Craft's defense, but you know who's the second-best Buckeye at both ends of the court? Lenzelle Smith Jr.
Smith, the second-most heralded lefty on the Buckeyes, gives Ohio State another scoring option besides Thomas. He's capable of creating his own shot off the bounce and finishing through traffic in the lane. Smith's also comfortable along the perimeter.
On defense, Craft gets all the headlines. But at 6'4'', Smith is a gritty, more in-your-face defender who's strong enough to fight through screens and quick enough to stick with shifty dribblers.
His 9.7 points per game are a bit low, but Ohio State doesn't exactly play at a break-neck pace and Smith's 4.9 rebounds per game are second on the team. It's an added bonus for the Buckeyes, who sorely lack a dominant post presence.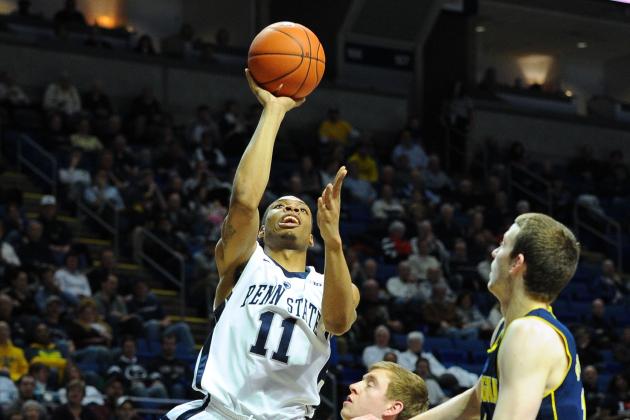 Rich Barnes-USA TODAY Sports

If you didn't know about Jermaine Marshall before Wednesday night's shocking upset win over Michigan, you do now.
Marshall led the Nittany Lions with 25 points, including six three-pointers as they charged back from a 15-point deficit to take down the No. 4 Wolverines. The win helped Penn State avoid becoming the first 0-18 team in Big Ten history and marked their first conference victory since a win over Iowa last Feb. 16.
The junior was stellar on Wednesday, but he's been doing that all season despite playing out of position because of a devastating injury to guard Tim Frazier. Marshall and D.J. Newbill (also considered for this list) have each averaged over 15 points and four rebounds while handling the lion's share of the backcourt responsibilities.
Marshall, a 6'4'' slasher, has held his own against the league's best backcourts, dropping a season-high 29 against Michigan State along with 20 last Thursday against Illinois.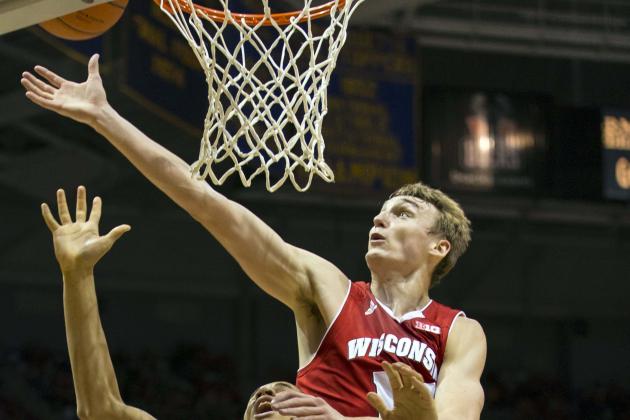 USA TODAY Sports

The Wisconsin freshman doesn't have audacious numbers and he isn't a devastating dribbler. Those sorts of players aren't typically found in Bo Ryan's offense.
But Dekker's 9.5 points and 3.4 rebounds per game are a lot considering they are products of the Badgers' drawn-out offense. Dekker's numbers are even more impressive given that he's coming off the bench. The majority of his points come from behind the three-point line where he's knocking down 45 percent of his shots, the fourth-best rate in the Big Ten.
He hit two three-pointers in each of Wisconsin's victories over Indiana and Michigan and then drained 3-of-5 in the crushing win over Ohio State.
The 6'7'' swingman is deceptively athletic and has no trouble throwing down impressive dunks in transition. He's still a bit raw and prone to unnecessary turnovers, but for the second-place Badgers, he's exactly the type of player who doesn't generate headlines, but deserves them nonetheless.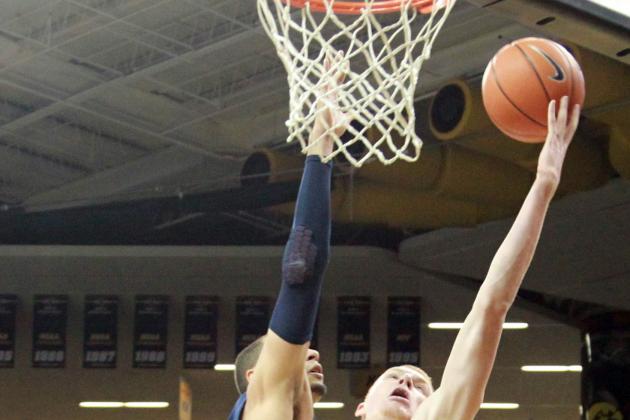 Reese Strickland-USA TODAY Sports

Iowa's 6'8'' forward has been everything to the Hawkeyes this season. As the focal point of the fourth-highest scoring offense in the conference, he's been way more consistent than Roy Devyn Marble, Iowa's leading and more publicized scorer. The scary thing is White's only a sophomore.
He has notched 13.6 points this season on 50 percent shooting, while Devyn Marble, at an even 14 points, is shooting just 40 percent from the field. White has also corralled nearly six rebounds a game throughout conference play, good for 13th in the league.
White's offensive game is so balanced that he draws seven fouls per 40 minutes, according to KenPom.com, which is the 10th-best rate in all of college basketball. That wouldn't mean anything if he didn't also knock down 73 percent of his free throws.
The Hawkeyes have had a few near misses against Indiana and Michigan State this season. If they can manage to spring the upset in Bloomington on Saturday, it will force the selection committee to consider their overall profile, of which White has had a massive impact, albeit minus the fanfare.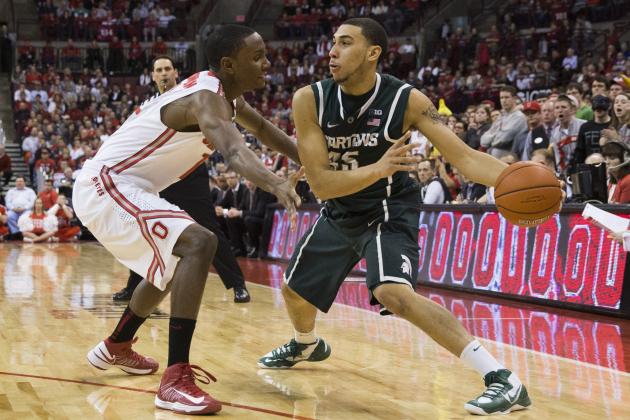 USA TODAY Sports

It doesn't matter that Valentine plays for one of the most high-profile programs in the country, let alone the Big Ten.
He's been overshadowed by Spartan guards Keith Appling and Gary Harris and relegated to sixth-man status. But that hasn't diminished his impact whatsoever and only makes him more underrated.
In 21 minutes a game, Valentine has been a stopgap for a struggling Appling as well as a depleted backcourt. He routinely comes in with energy, bounds for 4.3 boards a game and connects on no-look passes that Appling wouldn't even risk for fear of the Izzo glare.
Valentine doesn't need to score, leaving that to the Spartans' massive frontcourt, but he makes plays with his excellent basketball IQ. His minutes have gone up over the past five games as Appling has struggled with his confidence, but there hasn't been much drop off in production. Over that span Valentine, has posted three games of seven points, averaged over six rebounds a game and dished out three assists per game.
In short, Valentine may be underappreciated by fans, but there's no way Tom Izzo takes for granted his second-most heralded freshman, and it's doubtful that the Spartans would be tied for second-place in the conference without him.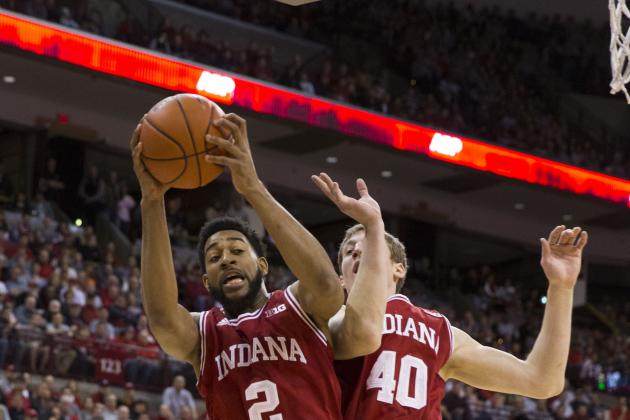 Greg Bartram-USA TODAY Sports

Watford gets a bad rep because of his seemingly passive attitude and because of the careless fouls he commits at the end of games, but he's fundamental to what Indiana is doing this year. Overlooked because of the Hoosiers' other stars, Watford is the most underrated player in the Big Ten.
The 6'9'' stretch-forward is hitting three-pointers at a prolific rate (53 percent), has scored at least 10 points in all but one Big Ten game (vs. Minnesota) and despite being a perimeter player, has hauled in 6.5 rebounds per game. By playing his game, it inherently opens everything up for the rest of the Hoosiers.
He's such a unique threat as a three-point shooting big man that it opens up the paint for Cody Zeller to post his man up or for slashers like Victor Oladipo to attack the paint. Given the latter two names, both Player of the Year candidates, it's easy to see why he's undervalued.
He's not the most talented, but Indiana isn't in the national championship picture without Watford's play this season.