Napoli vs. Juventus: Keys to Victory for Both Teams
Claudio Villa/Getty Images

Napoli have played Juventus twice so far this season, and both times Napoli have looked overmatched.
On second thought, overmatched might be too generous a description.
If Napoli want to have any chance of contending for the Scudetto this season, truly contending, they must win at home against Juventus. For Juventus, a draw will do the trick. Sharing a point with Napoli keeps the six point gap between the two sides Juventus have going into their clash Friday.
It would not be surprising to see Juventus attempt to dominate possession in this match. A scoreless tie would be a wonderful result for the Bianconeri, and Napoli haven't scored a goal in their last two matches.
Napoli must start playing inspired calcio again if they are to have any chance of winning. Here are a few things each team must do to come out on top.
Begin Slideshow

»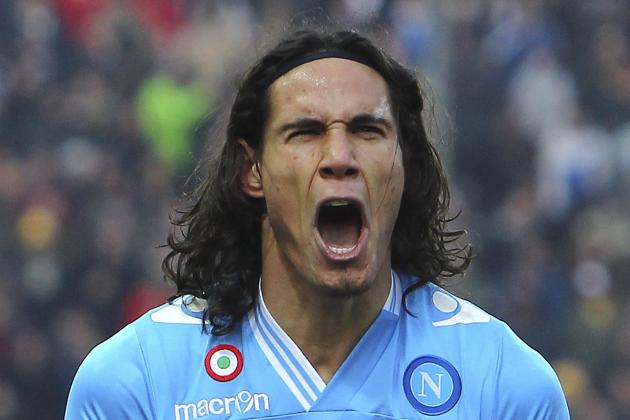 Marco Luzzani/Getty Images

El Matador didn't score a single goal in February. Napoli only had one win in February.
Coincidence? Not likely.
Cavani is the man at Napoli. He must produce Friday if the Partenopei are to have any chance to win. He's still the goal scoring leader in Serie A with 18.
All things considered though, it's unlikely the drought will continue. But Juventus' Giorgio Chiellini is relatively healthy again and that's only going to make things harder for the Uruguayan who has enough pressure on his shoulders as it is.
The whole thing must certainly be weighing on his mind. If he's interested in heading to Madrid or to another high-profile club in the near future, this would be a great stage to put on a great show.
Regardless of his state of mind, he looked lost against Udinese Monday; he has before kickoff to figure it out.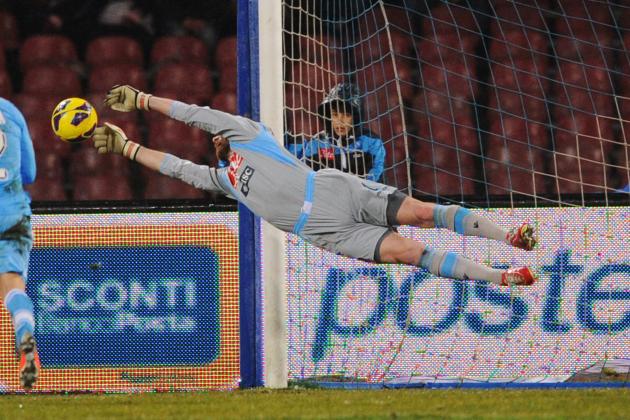 Giuseppe Bellini/Getty Images

Morgan De Sanctis has been up and down this season. That may be putting it lightly, but regardless, it's time for De Sanctis to have his game of the year.
Otherwise this one could be over early.
Juventus will have plenty of chances against Napoli. He'll be tested early and often as the Juventus midfield will likely control the pace of the game and will send plenty of balls forward to test the aging Italian and that sometimes shaky back line.
And God forbid Andrea Pirlo get a free kick near the box.
De Sanctis' starting days are winding down for the Partenopei, but in front of the home fans at the San Paolo he's got a wonderful opportunity to help his team stay alive in the scudetto race.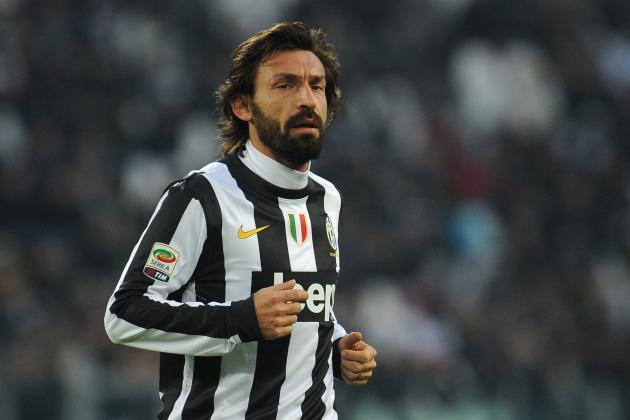 Valerio Pennicino/Getty Images

Andrea Pirlo, Paul Pogba, Claudio Marchisio and Arturo Vidal. It's an embarrassment of riches for the Old Lady.
Napoli's midfield isn't nearly as gifted as Juve's, but they have an incredible work rate.
They're going to need it.
Juventus will do their best to work the ball around methodically and try to force the likes of Marek Hamsik, Gokhan Inler, Valon Behrami and others to run themselves ragged trying to challenge Juventus for possession.
A big key will be for Behrami to stay out of the book early. He has one of the best motors on defense you'll see, but often times is just too reckless.
If he's able to be smart in how he challenges his man, the Azzurri might have a chance in this phase of the game.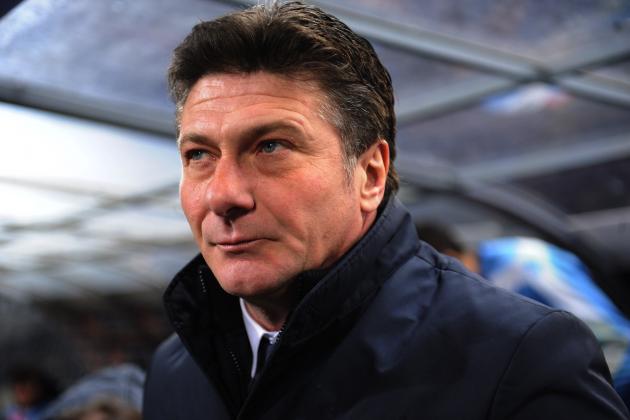 Dino Panato/Getty Images

Ideally, Napoli's starting 3-4-1-2 would look this:
Morgan De Sanctis
Hugo Campagnaro, Paolo Cannavaro, Gamberini
Pablo Armero, Christian Maggio, Valon Behrami, Juan Zuniga
Marek Hamsik
Edinson Cavani, Lorenzo Insigne
Walter Mazzarri probably won't do the above, but he should. Goran Pandev will almost certainly start up front instead of Insigne.
Armero and Zuniga provide unbelievable speed on the wings that would give Napoli tons of great opportunities to counter.
Insigne's speed and creativity up front would command attention from Juve's back line and give Cavani a little bit of room to breathe.
Mazzarri should keep Gokhan Inler at the ready should someone start to falter in the middle.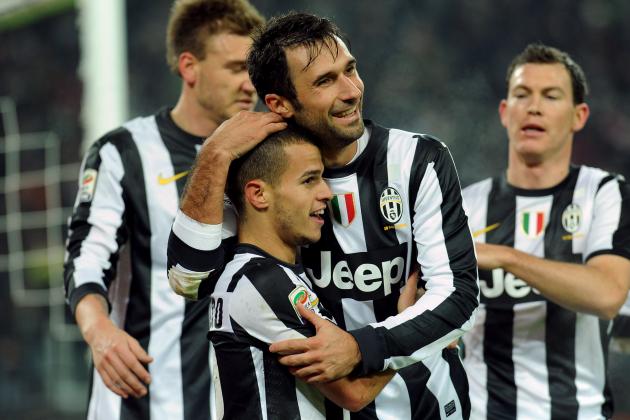 Valerio Pennicino/Getty Images

More than likely they'll get more than a handful of opportunities, but Juventus better make the most them.
There's a reason the bianconeri faithful were clamoring for a striker in January.
All too often Juve's forwards seem to squander beautiful chance after beautiful chance. Whether it's Mirko Vucinic trying to do too much, Alessandro Matri missing the target, or Sebastian Giovinco and his struggles with consistency, Juve's front must be at their best at the Stadio San Paolo.
A close game toward the end of the match would leave the door wide open for a late goal by the Partenopei, which they're so prone to produce, and would leave Juve wishing they'd made more of their scoring chances earlier on.
You've been warned.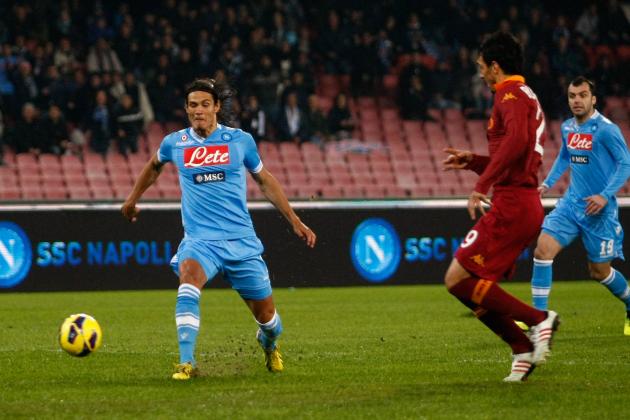 Maurizio Lagana/Getty Images

Napoli counterattack as well as any team out there. It's really something to see.
The reason for the slide before this one is that simple fact.
If Juventus are tied with Napoli down the stretch, they could find themselves heartbroken when the final whistle blows.
For that reason Juve must consider playing a patient, methodical game. The must collapse when Napoli counter and must not be caught outnumbered at the back.
Their back line's recent health improvement is huge, but leaving three men to contain Edinson Cavani and company could result in disaster.
Udinese did a remarkable job stifling Napoli's attack at every turn. They did that by keeping their midfielders back to clog space making Udinese's defense impossible to break down, and they walked away with a clean sheet.
Juve's good enough to walk away with more than a draw if they can remain patient and not allow Napoli to break down their defense.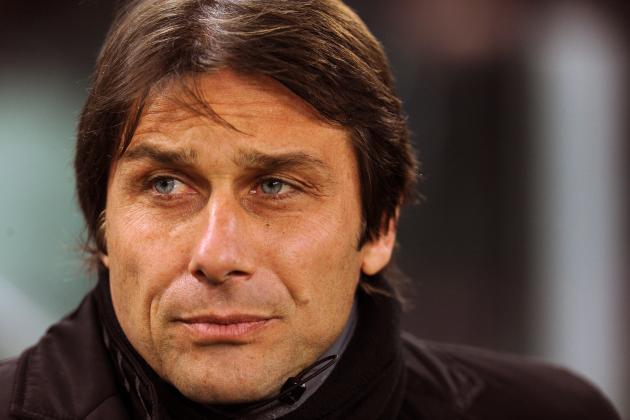 Valerio Pennicino/Getty Images

Antonio Conte is receiving high praise for good reason. He's worked wonders with Juventus and has them well on their way to all sorts of silverware at the season's end.
For Juventus, their starting 3-5-2 should look like this:
Gianluigi Buffon
Andrea Barzagli, Leonardo Bonucci, Giorgio Chiellini
Stephan Lichtsteiner, Arturo Vidal, Andrea Pirlo, Paul Pogba, Claudio Marchisio
Mirko Vucinic, Sebastian Giovinco
More than likely Conte will use Kwadwo Asamoah on the wing, to bring extra speed to run with Napoli. Asamoah's seemed out of sorts lately though, and there could be some merit to sacrificing a bit of speed for quality.
If Juve get sucked in to playing Napoli's game, it could be their undoing.
What do you think is the key to victory for these teams? Who do you think will win and why? Comment below!
Follow me on Twitter at @caseydemarco