Stock Up, Stock Down for Top 20 NBA Prospects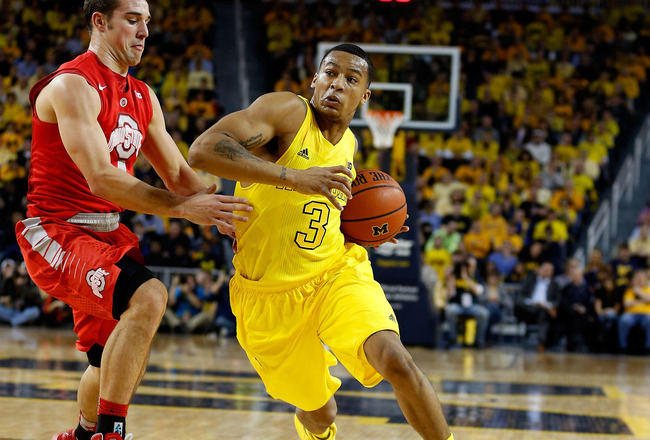 Gregory Shamus/Getty Images
As March approaches, we still don't have a firm grip on who the No. 1 pick will be in the 2013 draft.
That's why every game—even every possession—will be put under the microscope, particularly at this juncture in the season.
The lottery is likely to decide who goes when and where, but now is the time for players to help themselves and make sure their names are in the conversation.
Michigan's Trey Burke and Otto Porter made the biggest jumps up the rankings, while Cody Zeller and Michael Carter-Williams have seen their stock take a hit.
Stats current as of February 27, 2013
1. Nerlens Noel, Kentucky, 6'11'', C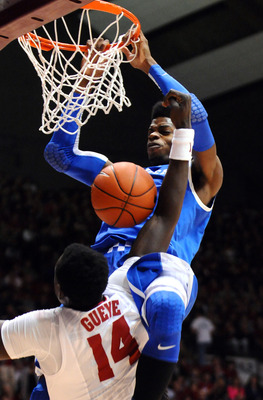 USA TODAY Sports
Stock Report: ↔
Unless Ben McLemore, Shabazz Muhammad or Anthony Bennett start taking over games, I just don't see Nerlens Noel moving from this spot.
He was the top prospect before tearing his ACL, and assuming all goes to plan with surgery and rehab, there's no reason to downgrade him as a prospect after the injury.
Noel is the only one in the field to illustrate game-changing potential, which is what No. 1 overall picks should typically be used on.
2. Ben McLemore, Kansas, 6'5'', SG
Reese Strickland-USA TODAY Sports
Stock Report: ↔
After failing to show up in a tight game against Marcus Smart and Oklahoma State, McLemore pulled another disappearing act in a lucky win over Iowa State.
He took six shots in 38 minutes. That's really all you need to know.
McLemore tightens up at the end of games and looks all too passive for someone looking to go No. 1.
It doesn't change his NBA outlook, but does make him less appealing for whomever wins the lottery.
3. Shabazz Muhammad, UCLA, 6'6'', SG/SF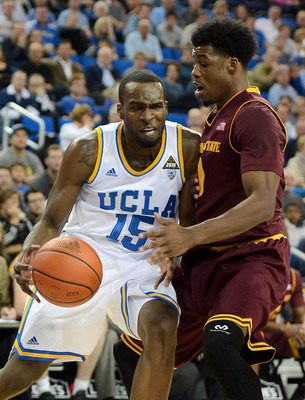 Jayne Kamin-Oncea-USA TODAY Sports
Stock Report: ↔
Shabazz Muhammad had a cool 21 points in an overtime win over Arizona State, finishing 8-of-14 from the floor including 3-of-4 from downtown.
There's no doubting the guy can put the ball in the hoop. It's just the avenue he takes to get there that worries some scouts.
Personally, I operate under the belief that at 6'6'' and 223 pounds, if you can consistently put the ball in the hole, then how you get there is irrelevant.
Muhammad can score from every spot on the floor, even if it's in unconventional fashion. He's as good of a pure scoring wing as there is in the field.
4. Otto Porter, Georgetown, 6'8'', SF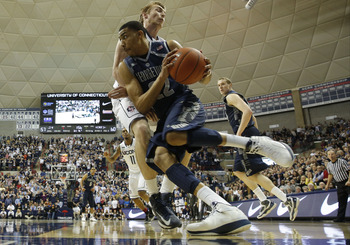 USA TODAY Sports
Stock Report: ↑
Though scoring isn't his forte, Otto Porter showed off his shot-making skills when he dropped 33 points on Syracuse's suffocating zone defense.
He followed with a game-winning bucket in overtime against Connecticut, making a smooth drive to the hole and finishing comfortably.
Whether it's finishing, playmaking, rebounding or defending, Porter's fingerprints are on every Georgetown possession.
Porter has a funny-looking jump shot, but he's converting it with consistency. He's made eight total threes over the past two games and is complementing his perimeter touch with a strong finishing hand in traffic at the rim.
He's on the "sure bet" list for teams looking to add some reliability in the middle of their lineups.
5. Marcus Smart, Oklahoma State, 6'4'', PG/SG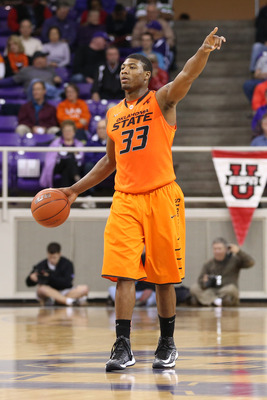 Jim Cowsert-USA TODAY Sports
Stock Report: ↑
Marcus Smart wasn't needed much in Oklahoma State's two easy wins over TCU and West Virginia, so nothing new to report here.
Right now, Smart's stock is in a position to rise with his competing prospects raising some uncertainty as the season progresses.
Smart's character, effort level and winning track record could go a long way in June's draft.
6. Anthony Bennett, UNLV, 6'7'', SF/PF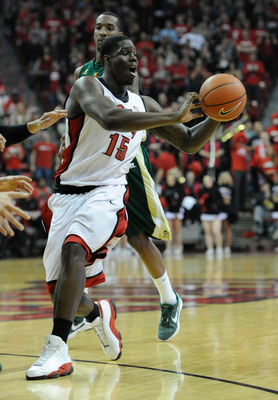 Josh H. Holmberg-USA TODAY Sports
Stock Report: ↔
Anthony Bennett left early against Wyoming after feeling discomfort in his shoulder, but there hasn't been much concern about it.
Bennett had a quiet game earlier in the week, when he finished with eight points and seven boards, but to his credit, the ball just never made its way to him.
The good news for Bennett is that practically every team drafting at the top of the lottery could use a frontcourt athlete.
Look for Bennett to be a sleeper for that No. 1 pick come June.
7. Cody Zeller, Indiana, 6'11'', PF/C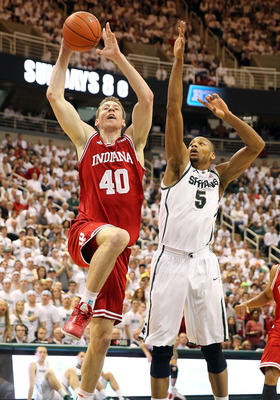 Mike Carter-USA TODAY Sports
Stock Report: ↓
I've been a supporter of Cody Zeller through thick and thin, but his performance against Minnesota just ate at my core.
He got bullied by smaller, stronger athletes like Trevor Mbakwe and Rodney Williams throughout the night.
That's just not supposed to happen to a potential top pick.
I have no doubts about his skill set—it's NBA quality. But I'm more worried about the physical post defense that's played in the pros.
Zeller's stock would benefit from strong individual play and team success in March to help neutralize the potential concerns over his transition.
8. Alex Len, Maryland, 7'1'', C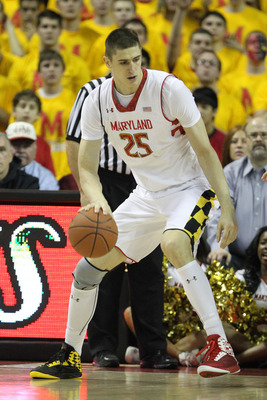 Mitch Stringer-USA TODAY Sports
Stock Report: ↓
Alex Len got bit by the same bug that's held him back from earning elite status all year long.
After a strong showing against Mason Plumlee and Duke, he followed with four points in a loss to Boston College and nine points against Clemson.
In another disappointing loss, Len scored 13 against Georgia Tech but just didn't command the attention that he should for a talented 7'1'' scorer.
Len needs to assert himself on the offensive end to give off the vibe that he's worth a top pick.
9. Victor Oladipo, Indiana, 6'5'', SG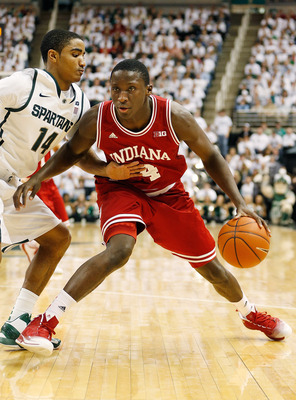 Gregory Shamus/Getty Images
Stock Report: ↔
The expectations for Victor Oladipo have been raised to a new level, and he now has to perform like the star and not the underdog. He sure wasn't the reason Indiana lost to Minnesota, finishing with 16 points and five boards.
Although we've seen him perform magic, we can't let it cloud our judgment of him; he's not a perimeter scorer who's going to create his own shot in the half court. Oladipo recognizes the best opportunities to attack and seizes them, which is why he's shooting 63.3 percent from the floor.
He's averaging 14.1 points per game on only 8.2 shot attempts. He's not a shot-creator, Oladipo is simply great at seeking out easy scoring opportunities and having the instincts and particular skills needed to finish them with efficiency.
10. Trey Burke, Michigan, 6'0'', PG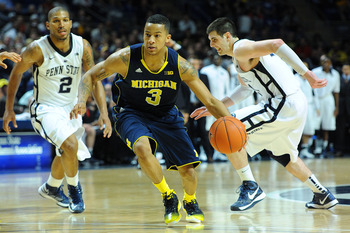 Rich Barnes-USA TODAY Sports
Stock Report: ↑
Michigan's loss to Penn State should not reflect on Trey Burke's draft stock, which has risen over the past few weeks thanks to his flawless play at the point guard position.
Burke currently leads the country in assist-to-turnover ratio and is second in the ACC in scoring at just under 19 a game.
He was brilliant against Illinois, carving it up for 26 points, eight assists and zero turnovers.
The only things weighing on his stock are his defense against stronger guards and his lack of athleticism as a finisher in traffic. But I wouldn't bet against him.
He's leapfrogged Michael Carter-Williams as the No. 2 point guard prospect in the projected field.
11. Michael Carter-Williams, Syracuse, 6'6'', PG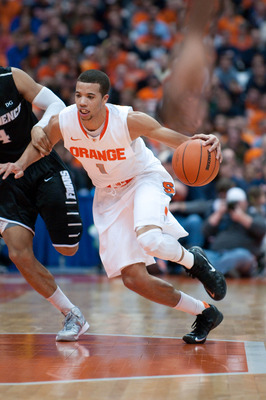 Mark Konezny-USA TODAY Sports
Stock Report: ↓
Michael Carter-Williams has guided Syracuse to three losses in its last five games. During those losses, Carter-Williams racked up 11 turnovers to go with just 11 assists—not the ratio the team is looking for from its lead guard.
Defenses are now taking away driving lanes, and Carter-Williams is struggling to adjust.
The two things he needs to work on moving forward are his decision-making and developing a reliable pull-up jumper so he has a counter when the lane is clogged. Runners off one foot are just too tough to rely on with consistency.
12. Mason Plumlee, Duke, 7'0'', PF/C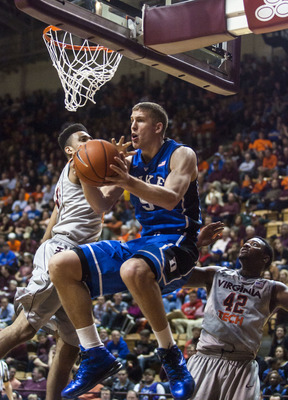 USA TODAY Sports
Stock Report: ↔
Mason Plumlee rebounded from getting outplayed by Alex Len by double-doubling back to form against Virginia Tech and Boston College.
The needle won't budge again until he goes head-to-head with a worthy opponent. The microscope will intensify once postseason play gets under way.
13. Willie Cauley-Stein, Kentucky, 7'0'', C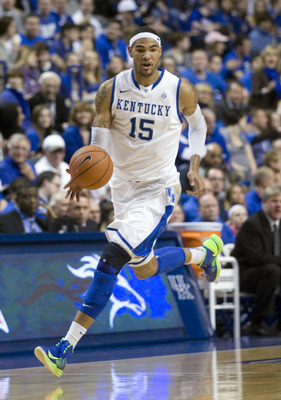 Mark Zerof-USA TODAY Sports
Stock Report: ↑
If Willie Cauley-Stein ever develops a hint of post skills, he'll be a likely steal at whichever position he's drafted.
Kentucky has won three straight, with Cauley-Stein averaging 13 points, 8.3 rebounds and 4.3 blocks per game during the streak.
He's a great athlete, which leads us to believe he'll improve his offense with more reps and experience.
Like Andre Drummond at Connecticut, Cauley-Stein is relegated to catching, finishing and defending. At 7'0'' with top-shelf explosiveness, he can make a similar impact at the next level.
14. Isaiah Austin, Baylor, 7'1'', PF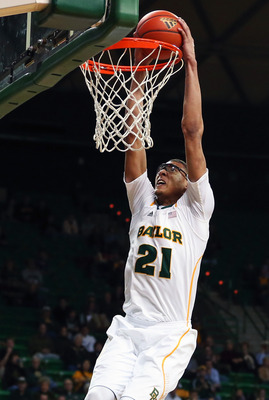 Kevin Jairaj-USA TODAY Sports
Stock Report: ↑
Isaiah Austin had one of his best games in recent memory against West Virginia, finishing with 21 points, six boards, three assists and three blocks.
He was scoring from every spot on the floor, which is a good sign for those like me who question his position at the next level.
Austin was scoring with his back to the basket in the post, on the move around the rim, and as a spot-up shooter behind the arc.
At 7'1'' with his type of mobility and skill set, he's going to get looks even if his shots aren't falling.
15. C.J. McCollum, Lehigh, 6'3'', PG/SG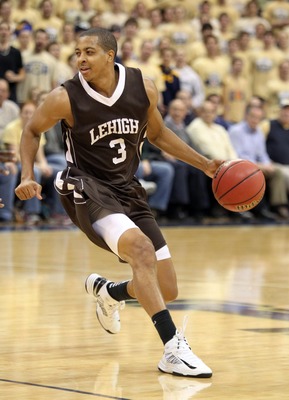 Charles LeClaire-USA TODAY Sports
Stock Report: ↔
Word out of Lehigh Valley is that C.J. McCollum is off crutches and is healing right on schedule, which should make him available during athletic testing and pre-draft workouts.
This is all McCollum can ask for, after going down with a broken foot in January after averaging 23.9 points per game.
Evaluators will be questioning whether he can run the point full time. If he can find a way to prove he can before the draft, McCollum's value would go way up.
16. James McAdoo, North Carolina, 6'9'', SF/PF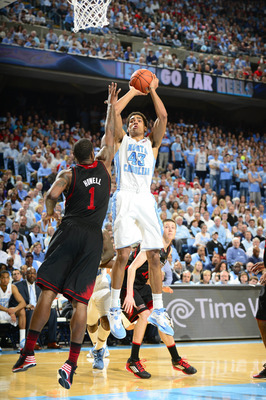 Bob Donnan-USA TODAY Sports
Stock Report: ↓
James McAdoo scored 14 points in the win over NC State, but he turned the ball over six times and missed 10 shots from the field.
That's a total of 16 wasted scoring opportunities on/from one guy. McAdoo has to realize he'll never last in the pros if he can't control his own damage.
He played well in the previous game, going for 22 points and 11 boards against Georgia Tech, but we've come too far to get excited over games like this.
McAdoo's stock won't go any higher until the NBA combine, where he has a chance to show up his competitors during the athletic testing and physical measurements.
17. Rudy Gobert, Cholet, 7'2'', PF
Stock Report: ↔
At this point, Rudy Gobert's draft stock is going to depend on what those around him do. Until pre-draft workouts, we can only base our projection on his legendary measurements for a mobile forward—he is 7'2'' with a 7'9'' wingspan.
For those unfamiliar with wingspan measurements, Anthony Davis is the face of the long-armed movement, and his is four inches shorter.
Length is significant at every level, and Gobert has a whole lot of it.
18. Glenn Robinson III, Michigan, 6'6'', SF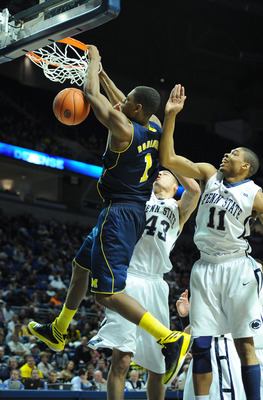 Rich Barnes-USA TODAY Sports
Stock Report: ↔
It's more important for Glenn Robinson to finish his limited scoring opportunities than it is for him to fill the box score. He's shooting 56.7 percent, so it appears he's doing his job.
He's fourth in Michigan's pecking order, and without the freedom or refined skill set to create offense on his own, he's going to be relegated to catching and shooting and catching and dunking.
I hope that Robinson returns for his sophomore year. He'll have a better chance to showcase the goods and develop the parts of his game that need polish.
19. Jamaal Franklin, San Diego State, 6'5'', SF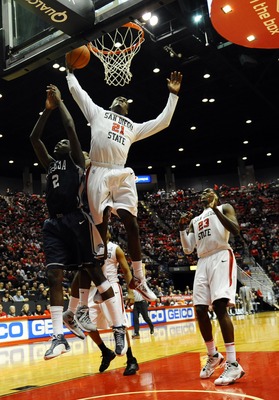 USA TODAY Sports
Stock Report: ↔
Jamaal Franklin did his thing against Nevada, totaling 23 points, 12 rebounds and five assists—a very Jamaal Franklin-like stat line.
His next game was a little messier; he shot just 3-of-10 from the floor in a tough road loss to New Mexico. But he still got to the line 11 times and grabbed nine rebounds as well, finishing a rough shooting day with 16 points.
Through his athleticism and physical tools, Franklin is able to contribute, even if it's not by getting buckets.
Like James McAdoo, though, he should be salivating at the thought of the NBA combine, where he can light up the athletic testing.
20. Alex Poythress, Kentucky, 6'8'', SF/PF
Mark Zerof-USA TODAY Sports
Stock Report: ↑
Alex Poythress has been much more aggressive lately. Against Mississippi State and Missouri, he took a combined 21 shots and nailed 15 of them. Granted, most of them came from within five feet of the rim, but that's Poythress' style.
He's going to clean up misses, finish off cuts and beat his man off line drives to the rack. He's not NBA ready, but Poythress has the NBA physical tools and the potential talent to make a lasting impact once the game eventually clicks for the young forward.

Keep Reading