Free Agents & Draft Prospects Who Can Most Help RGIII in QB's Second Season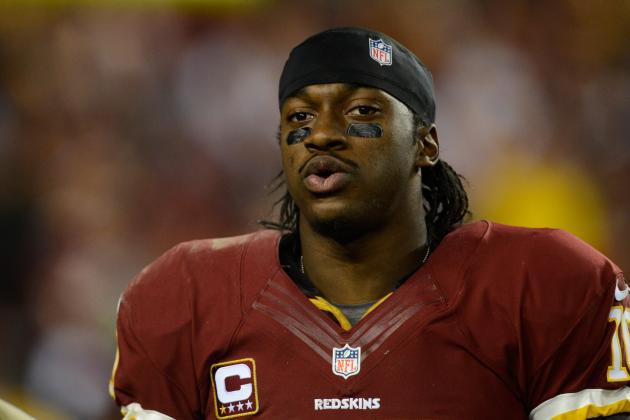 Patrick McDermott/Getty Images

Building on an Offensive Rookie of the Year season is going to be hard enough for Robert Griffin III. The serious knee injury he suffered in the NFC Wild Card Round guaranteed that.
If the Washington Redskins hope Griffin even comes close to replicating 2012, they must boost the talent around him. The main areas of focus for Mike Shanahan and Bruce Allen should be offensive line, an extra wide receiver and a pass-catching running back.
Both free agency and the draft offer intriguing options for the Redskins. Among them are a pair of Houston Texans familiar with the zone-running scheme Shanahan loves.
Given the state of the Redskins' salary cap, this list is naturally skewed toward draft prospects who fill obvious needs.
Here are 10 draft and free-agent prospects who can most help RG3 continue his success in year two.
Begin Slideshow

»
Frederick Breedon/Getty Images

If he can prove his durability, Ryan Harris might be the perfect solution to the Redskins' issues at right tackle. He played in a zone-blocking scheme under Shanahan with the Denver Broncos in 2007 and 2008.
Last season Harris saw action in the same system for the Houston Texans under Shanahan disciple Gary Kubiak. At 6'5" and 300 pounds, Harris is a nimble-footed blocker, mobile enough to quickly get to the second level of a defense.
His problem is staying healthy. The 27-year-old has made 62 appearances in five pro seasons. However, only 36 of those have been starts.
His only full season came with the Broncos in '08. So Shanahan knows Harris well and may have finally had enough of the equally brittle and less scheme-suitable Jammal Brown.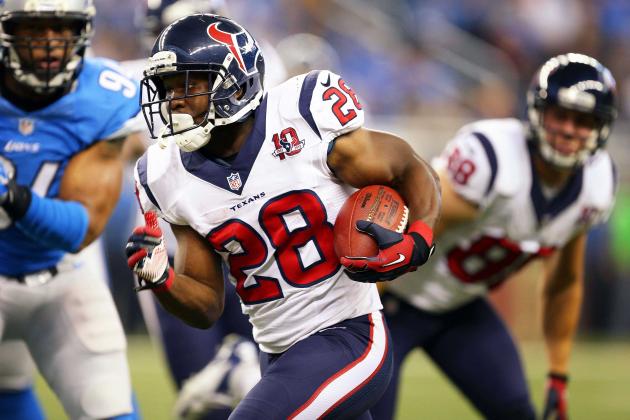 Mike Carter-USA TODAY Sports

The Redskins could use a reliable zone-runner to back up Alfred Morris. Justin Forsett fits the bill. The four-year-veteran gained 5.9 yards per carry in the Texans' zone scheme last season.
He possesses good initial quickness and is decisive in the backfield. Those are key attributes for the Redskins' ground game.
Forsett is also a better receiver than Evan Royster and the injury-prone Roy Helu Jr. He could offer more range as Morris's deputy.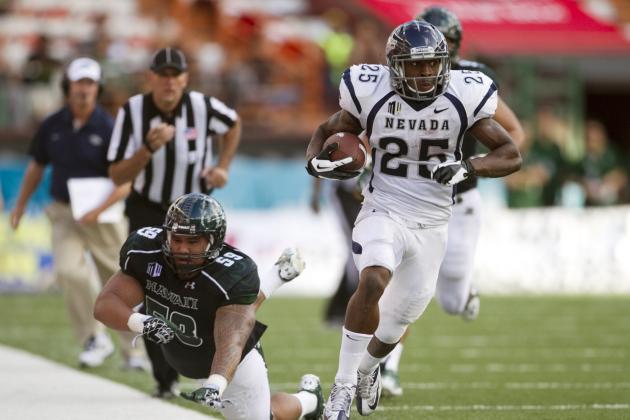 MARCO GARCIA-USA TODAY Sports

With Griffin under center, the Redskins would always be wise to retain some elements of the "pistol" offense. That could make Nevada speedster Stefphon Jefferson an intriguing prospect on draft day.
The cat-quick runner thrived in Nevada's version of the pistol system. He posted some monster numbers, including 24 touchdowns.
Despite how fast he plays, Jefferson is built with a solid, pro-ready frame at 5'11" and 210 pounds. He's also shown a knack for identifying and quickly exploiting the right hole.
Jefferson has the patience and vision Shanahan craves in his runners. He could form a destructive one-two punch with the more bruising Morris.
That combination would ease the pressure on Griffin to use his dual-threat skills as the team's primary game-winner.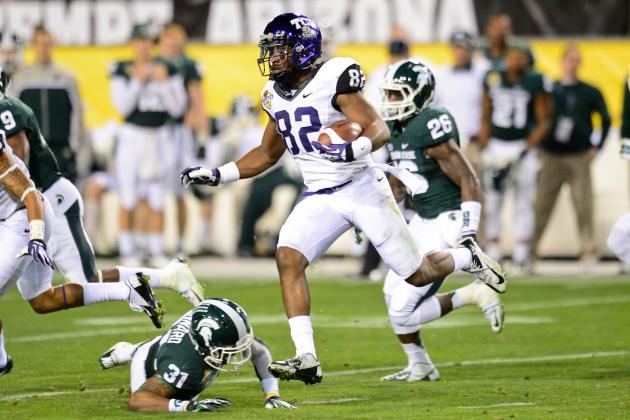 Matt Kartozian-USA TODAY Sports

Josh Boyce could be the perfect lightning in a bottle wide receiver for the Redskins' speedy, vertical-based passing game. The TCU ace compensates for his lack of prototype size with deceptive speed and versatility.
Equally adept in the slot or on the outside, Boyce could be a dynamic weapon in Shanahan's play-action schemes. He attacks angles in coverage and few defensive backs can get near him on deep crossing patterns.
Boyce is also a reliable catcher and could prove to be a real mid-round gem for Griffin and his offense.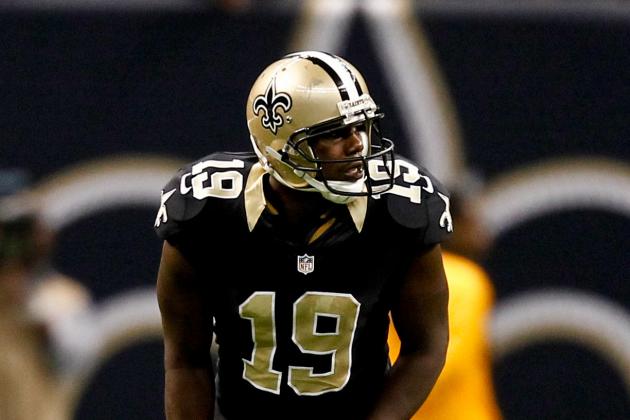 Derick E. Hingle-USA TODAY Sports

Adding Devery Henderson to Griffin's receiving corps would be a smart move from Shanahan and Allen. The 30-year-old is a potent deep threat who has averaged over 14 yards a catch in each of his nine NFL seasons.
Griffin's phenomenal arm strength is arguably his best quality. Thanks to his play-faking skill and Shanahan's play design, the Redskins can create huge vertical gains against any defense.
That means Griffin needs plenty of weapons capable of stretching the field. Henderson has proved he can do exactly that. Santana Moss is aging and Leonard Hankerson is too inconsistent.
Griffin needs a dependable option behind starting pair Pierre Garcon and Josh Morgan. Henderson could be the perfect fit.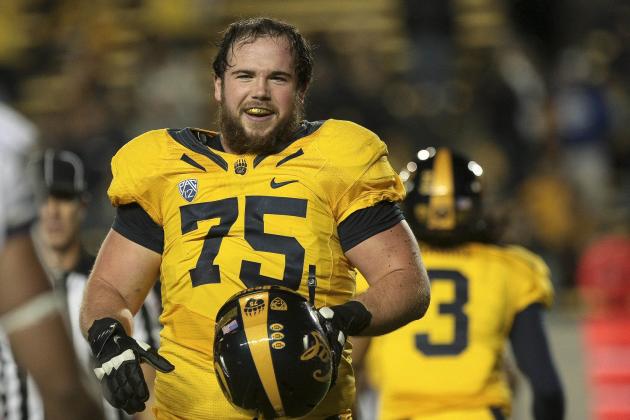 Kelley L Cox-USA TODAY Sports

Matt Summers-Gavin is a superb scheme fit for the Redskins' blocking schemes. The California standout is a natural zone-blocker along the interior of an offensive line.
Shanahan has always valued mobility and initial quickness over size across his offensive front. Summers-Gavin fits that criteria.
Although he is slight for a guard, the 6'4", 293-pounder moves extremely well. He displays the sudden burst to fire into defenders and quickly nudge open holes along the line of scrimmage. Once he does, Summers-Gavin isn't shy about moving forward and becoming a mobile shield for a runner.
His comparatively small frame will put many teams off. However, it certainly won't bother the Redskins. He has started at both tackle and guard and operated effectively on the left and the right.
Left guard Kory Lichtensteiger is a free agent and prone to his share of injuries. Snapping up Summers-Gavin would give Shanahan a potential ready-made replacement.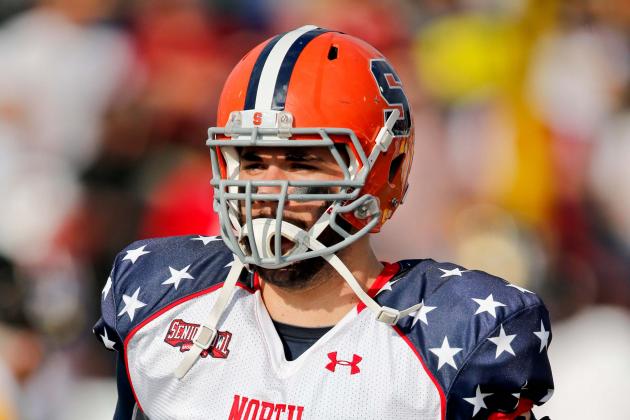 Derick E. Hingle-USA TODAY Sports

Syracuse tackle Justin Pugh is another lineman lacking an ideal pro frame, but boasting the quickness the Redskins like. He is a short-armed blocker, at his best when shifting his feet along the line and moving out into space.
Pugh is one of the more technically sound linemen in this draft class. He plays with flawless fundamentals and is the smart and mobile blocker the Redskins offense needs.
He is flexible enough to stay outside at tackle or slide down to guard. Pugh's best fit with the Redskins might be as a more polished alternative to Tyler Polumbus on the right side.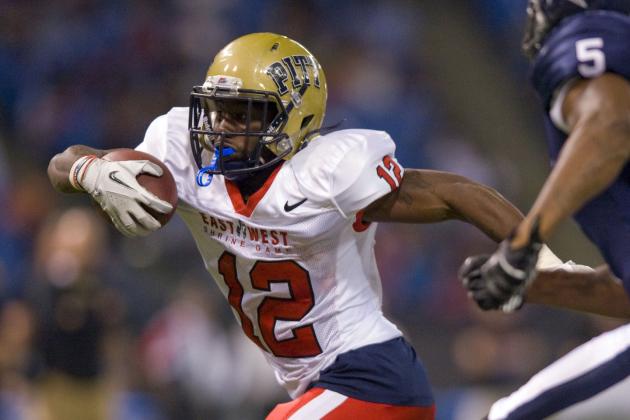 Jeff Griffith-USA TODAY Sports

A true third-down back is one of the few things missing from the Redskins offense. That makes Pittsburgh's Ray Graham an enticing prospect in the draft.
A diminutive, quick-cutting runner, Graham has the instincts and acceleration to thrive in a zone-based scheme. Just as important to the Redskins, Graham is a dangerous and versatile receiver from the backfield.
He is a threat from the slot or even split wide. Graham's receiving skills would add some new looks to the Redskins' third-down schemes. That could prevent Griffin from having to run too often, following his injury and recovery.
Derick E. Hingle-USA TODAY Sports

Despite the recent "medical clearance" given to Fred Davis, the Redskins still have a decision to make regarding their starter. Davis is a free agent with some baggage. If the team lets him walk, Rice star Vance McDonald could be a good alternative.
Like Davis, McDonald is more of a receiver than a blocker at tight end. He is the kind of "joker-type" who attacks defenses either as an in-line weapon, or from the slot or out wide.
However, McDonald is also a high-effort cut-back blocker from the slot, an invaluable skill in the Redskins' running game. He can seal the cutback by crashing down to block defensive ends and linebackers away from the play side.
McDonald is a smart route-runner with good hands. After Davis, Griffin doesn't really have a viable receiver at tight end, despite the valiant efforts of Logan Paulsen in 2012. McDonald would give Griffin a useful target at the position.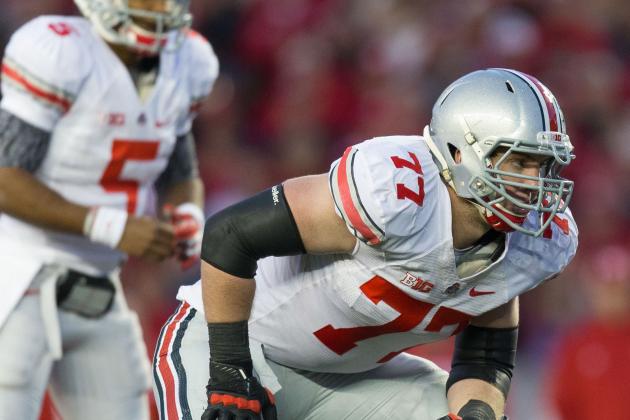 Jeff Hanisch-USA TODAY Sports

The Redskins could easily justify using one of their earliest picks on Reid Fragel. The Ohio State tackle is loaded with the potential to dominate in Shanahan's zone-blocking system.
As a former tight end, Fragel naturally offers high levels of athleticism and agility at the position. That flexibility is supplemented by a mighty 6'8", 308-pound frame.
Fragel plays with aggression in pass protection, something the Redskins are sorely lacking. The misdirection and play fakes of the pistol and read-option created a false reading of the strength of Griffin's O-line.
However, when the Redskins found themselves in 3rd-and-long, their old weakness in pass protection was evident. When Griffin had to stay in the pocket and look downfield, he was soon enveloped by a swarm of pass-rushers.
The home defeats to the Carolina Panthers and Cincinnati Bengals perfectly revealed this problem. If they want to keep Griffin healthy in 2013, the Redskins should add a savvy and skilled right tackle like Fragel.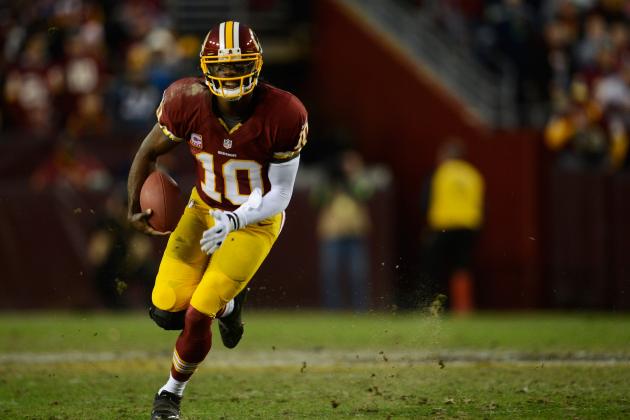 Patrick McDermott/Getty Images

Even though they ranked fourth in points and fifth in yards, the Redskins should still target offense in free agency and the draft. Griffin's injury and protracted recovery mean the Redskins can't rely on their offense remaining as prolific as 2012's version.
There's also the possibility that defenses will have found counters to the nuances of the pistol. Whichever direction they choose in free agency, Shanahan and Allen will have to execute a delicate balancing act.
Drafting to their strength would ensure that even a below-par Griffin has the support to take the Redskins back to the playoffs.