NBA Rookies Blowing Away Expectations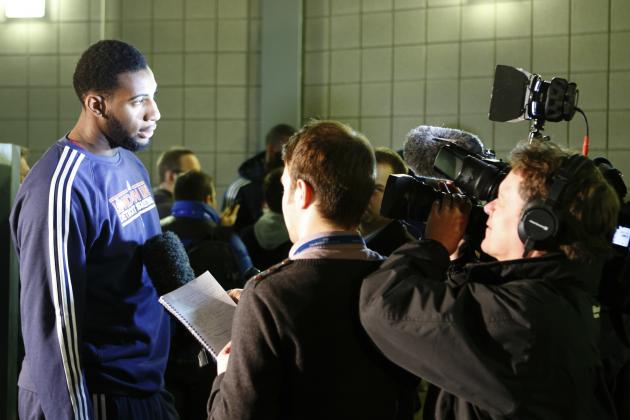 Paul Cunningham-USA TODAY Sports

As we enter the final stretch of the 2012-13 NBA regular season, the time for annual evaluations has begun. While leniency was granted to young players early, the rookies are now being held to the same standards as veterans.
The question is, which first-year players have actually exceeded expectations?
For some, merely starting a game is greater than what the basketball world had projected. For others, a slow start has led to a furious late-season rally.
In rare cases, we've even witnessed showings of brilliance all season long. Once again, we return to a fundamental question:
Which rookies are making our original scouting reports look silly?
Begin Slideshow

»
Geoff Burke-USA TODAY Sports

Position: Shooting Guard
Age: 19
Games Started: 44
2012-13 Season Averages: 13.53 PER, 31.7 MPG, 13.9 PPG, 3.6 RPG, 2.5 APG, 1.0 SPG
The fact that the third overall draft choice is averaging 13.9 points per game shouldn't surprise a single person. In fact, Bradley Beal has underachieved on a full-season spectrum.
With that being said, the return of John Wall has Beal silencing the critics and blowing away our expectations.
Wall continues to be one of the most underrated players in the NBA. Every time he's on the floor, the players around him are better—the sign of a true leader.
No player has embodied that more than Beal.
During the opening month of the season, Beal averaged 11.0 points with a slash line of .336/.339/.857. The following month, he put up 13.4 points with a slash line of .368/.184/.865.
Then Wall returned.
Beal saw his numbers jump to 15.1 points with a slash line of .447/.508/.632 in January. During the month of February, Beal has finally begun to exceed expectations.
Beal finished February with averages of 17.5 points, 5.1 rebounds and 2.3 assists with a slash line of .481/.424/.828.
Wall's return has Beal playing at an All-Star-caliber level—a level few expected him to reach so soon.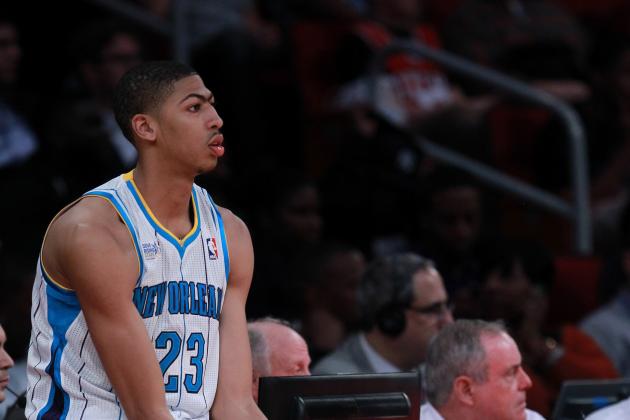 Ronald Martinez/Getty Images

Position: Power Forward
Age: 19
Games Started: 41
2012-13 Season Averages: 20.73 PER, 27.7 MPG, 12.5 PPG, 7.4 RPG, 1.8 BPG, 1.2 SPG
No one in their right mind agreed with the senseless critics who suggested that Anthony Davis had anything close to bust potential.
With that being said, very few expected Davis to be a force on offense during his rookie season.
About that.
Davis is averaging 12.5 points on 50.8 percent shooting from the floor. He also leads all rookies in double-doubles, blocks and is second in rebounds.
I'll wait on your latest argument for his being a potential bust.
For what it's worth, Davis is one of four NBA players averaging at least 1.5 blocks and a steal simultaneously—the others are Dwight Howard, Joakim Noah and Josh Smith.
Keep trying, detractors. Davis is a legitimate rising star.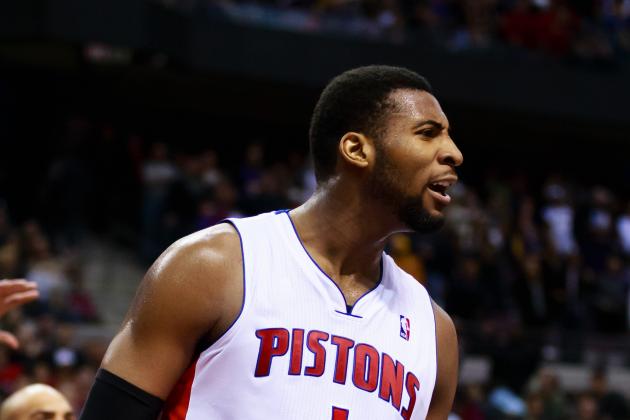 Rick Osentoski-USA TODAY Sports

Position: Center
Age: 19
Games Started: 0
2012-13 Season Averages: 22.38 PER, 19.7 MPG, 7.3 PPG, 7.5 RPG, 1.7 BPG
Prior to going down with a back injury, Andre Drummond was putting up monster numbers despite playing just 19.7 minutes per game, and his contributions were generally going unnoticed.
Drummond tallied eight double-doubles and posted averages of 7.3 points, 7.5 rebounds and 1.7 blocks.
All while coming off of the bench.
At the time of his injury, Drummond led all rookies in Player Efficiency Rating, Value Added and Estimated Wins Added—ahead of Damian Lillard, Anthony Davis and any other star rookie you can think of.
For a prospect that was supposed to be a "project," Drummond has ripped that label right off. Instead, he may be the most complete big man in this draft class.
As long as Drummond can fully recover from his back issues, the future is bright in Detroit.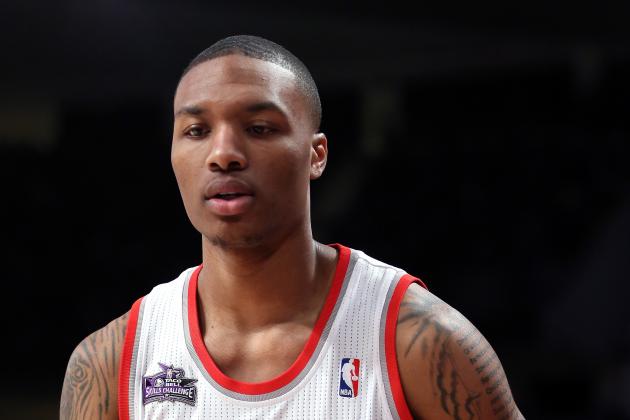 Ronald Martinez/Getty Images

Position: Point Guard
Age: 22
Games Started: 57
2012-13 Season Averages: 15.84 PER, 38.5 MPG, 18.4 PPG, 6.4 APG, 3.2 RPG, 1.0 SPG
We all expected Damian Lillard to be good. No one expected him to be this good so soon.
Thus far in 2012-13, Lillard is averaging 18.4 points and 6.4 assists per game. Both of those numbers lead all rookies.
Lillard also leads rookies in three-point field goals made—another area where no one predicted him to be so proficient.
Most importantly, Lillard is a leader on a borderline playoff team with no bench. The word "poise" doesn't do Lillard justice considering how he's handled adversity.
No matter how big of a stage he's performing on, Lillard has been superb. Whether scoring or facilitating, he displays the mentality of a veteran with every passing game.
Barring a case of unforeseen circumstances, Lillard has the Rookie of the Year award all but locked up. No one thought it would be this much of a runaway race, though.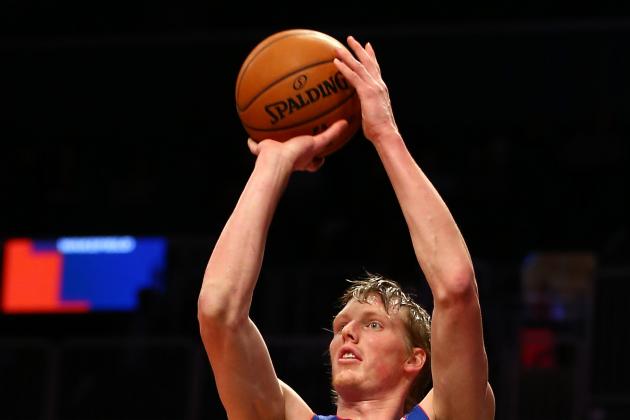 Elsa/Getty Images

Position: Small Forward
Age: 24
Games Started: 52
2012-13 Season Averages: 10.48 PER, 28.0 MPG, 8.8 PPG, 3.9 RPG, 37.0% 3PT
When the Detroit Pistons selected Kyle Singler with the 33rd overall selection in the 2011 NBA draft, many expected him to fill in as a role player coming off of the bench.
Unfortunately, Singler didn't play a single NBA game in 2011-12. Instead, he signed with two teams in the Spanish League during the lockout.
Once the lockout was lifted, Singler remained overseas.
In 2012-13, Singler is finally in the process of completing his rookie season. Surprisingly, Singler has started 52 out of 60 games.
A second-round draft choice becoming a starter during his first year in the league? Now that's what you call exceeding expectations.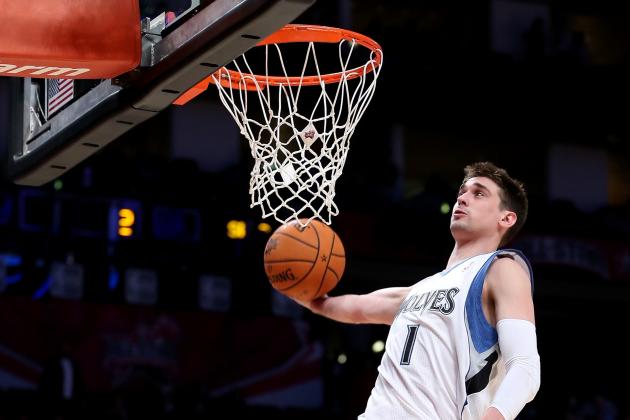 Ronald Martinez/Getty Images

Position: Point Guard
Age: 24
Games Started: 16
2012-13 Season Averages: 11.32 PER, 27.1 MPG, 10.2 PPG, 4.1 APG, 2.4 RPG
When Alexey Shved signed with the Minnesota Timberwolves this past offseason, very few within the NBA community knew what to expect.
Shved lit up the London Olympics for the Russian national team, but the NBA is a different game. Whether due to the rules or the pace, there was no telling how Shved would fare with the T-Wolves.
It hasn't taken long for Shved to adjust.
Shved may not be posting quality shooting percentages, but he's performed adequately in a role unfamiliar to him. In fact, Shved has played more as a spot-up shooter this season than ever before during his European career.
Fortunately for Minnesota fans, when Shved has the ball in his hands, the results have been phenomenal.
For the season, Shved has made 16 starts. He's averaging 10.2 points and 4.1 assists, thus carving out his niche in a crowded backcourt.
Once the T-Wolves commit to a backcourt with more opportunity for individual development, Shved and Ricky Rubio could become one of the top tandems in the league.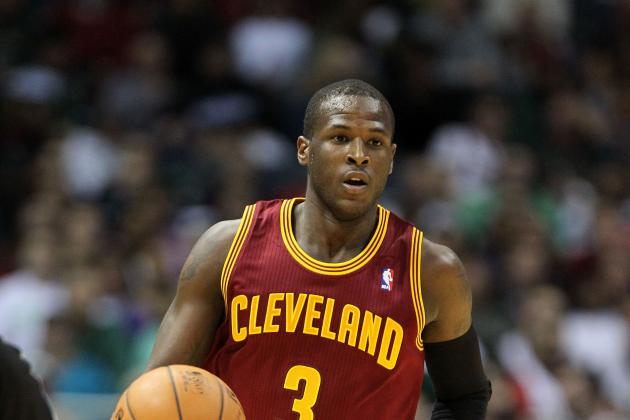 Mike McGinnis/Getty Images

Position: Shooting Guard
Age: 21
Games Started: 42
2012-13 Season Averages
14.00 PER, 14.8 PPG, 3.2 APG, 2.4 RPG, 1.0 SPG
For some outrageous reason, fans and analysts were quick to label Dion Waiters as a potential bust entering his rookie season.
A major factor in this label is the sixth man factor—some view a sixth man as being "a player not talented enough to start."
Naive and quite the contrary.
Waiters is playing the same way at the NBA level as he did at Syracuse. He's attacking the basket off of the dribble, performs well with his spot-up three and is tough on defense.
With that being said, he's also weak shooting off of the dribble and gambles on the passing lanes.
For those who expected him to bust, Waiters is exceeding expectations. For those who were aware of his abilities, he isn't doing anything that's surprising given he's the fourth overall draft choice.
By popular demand, he garners mention—even if there was no reason for such nonsensically low expectations.