WWE WrestleMania 29: Power Ranking Each of CM Punk's 'Mania Matches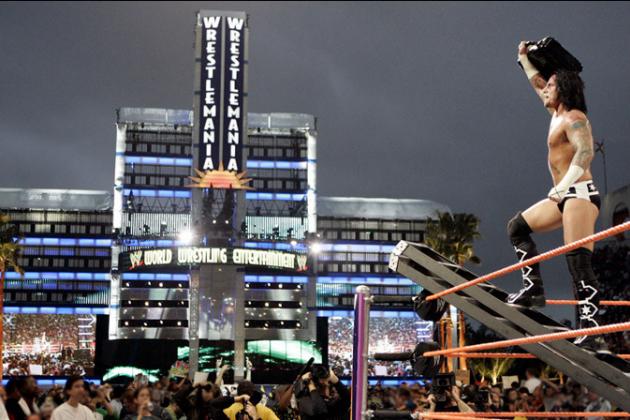 Photo courtesy of WWE.com
Although nothing is official yet, the writing certainly seems to be on the wall with regards to a match between CM Punk and The Undertaker at WrestleMania 29.
Punk is now outside the WWE Championship picture and Taker returned at a house show last week, so they could very well engage in one of the greatest 'Mania battles of all time.
Until that happens, however, Punk's WrestleMania resume contains just six matches.
Punk has developed into a major star thanks to his 434-day WWE Championship reign, as well as the fact that he may be the most well-rounded wrestler in the business. In a lot of ways, though, he is still searching for the defining WrestleMania moment that fans will remember forever.
Even so, Punk has certainly turned in some high-quality performances on the big stage over the course of his career.
From Money in the Bank ladder matches to singles matches low on the card to a WWE Championship encounter, Punk has run the gamut in terms of his 'Mania bouts. Knowing how important he has become to the company, I'm sure he'll add many more to the list in the coming years.
With WrestleMania 29 approaching, here are Punk's previous six 'Mania matches ranked from best to worst in terms of overall entertainment value.
Begin Slideshow

»
It wouldn't be a stretch to call CM Punk the king of the WrestleMania Money in the Bank ladder match, as he competed in three such bouts on the grandest stage of them all.
His final MITB match at 'Mania took place at WrestleMania XXV. In addition to Punk, the match included Kane, Mark Henry, MVP, Shelton Benjamin, Kofi Kingston, Christian and Finlay. It was an exciting match—as all Money in the Bank ladder matches seem to be—and it ended with Punk securing the briefcase.
As big of a win as it was for Punk, it checks in at No. 6 on this list.
In terms of entertainment, this match didn't quite measure up to the ladder matches that he competed in the previous two years.
There was some decent talent involved, but there weren't as many high-impact spots as usual due to the presence of plodding individuals like Kane, Henry and Finlay. If nothing else, Punk winning was a surprise since not many expected him to come out on top after winning the previous year.
Punk made the most of his victory, too, as he cashed in on Jeff Hardy to win the World Heavyweight Championship at Extreme Rules.
This set Punk's heel turn in motion and ultimately launched him to a new level. The WrestleMania XXV Money in the Bank is certainly important in that regard, but the quality wasn't good enough to warrant a higher ranking.
Punk, Christian, Kingston and Benjamin provided the majority of the match's best spots and kept things interesting for the most part; however, there wasn't a ton of star power in terms of main-event-level guys.
Punk has become one and Kane is a legendary figure, but when you compare it to some of the other Money in the Bank ladder matches, it doesn't pop.
CM Punk's first WrestleMania victory came at WrestleMania XXIV in the Money in the Bank ladder match.
That match involved Punk, Chris Jericho, Carlito, Mr. Kennedy, John Morrison, MVP and Shelton Benjamin—and there was plenty of action from start to finish.
Punk was still fairly early in his WWE tenure at this point, and the WWE was trying to figure out the best way to use him. Ultimately, Punk got the Money in the Bank briefcase, so he took the ball and ran with it.
There was a ton of athleticism in this match, which made it really entertaining to watch, and I also loved the interactions between Punk and Jericho throughout the contest.
Y2J was already a huge star by that point, but Punk was still trying to gain his footing.
I'm not sure how many people predicted they would do battle for the WWE Championship at WrestleMania four years later, but that's exactly what happened.
Punk and Jericho were the final two guys vying for the briefcase in the match, but Jericho got his leg caught in between rungs of the ladder and Punk capitalized by seizing it and winning the bout.
Punk's celebration was an awesome scene, especially in the outdoor setting in Orlando, Fla. Punk didn't really start to become a star until he turned heel and formed the Straight Edge Society, but this win sent him in the right direction.
It didn't take long for Punk to cash in his Money in the Bank opportunity, as he was drafted to Raw a couple months later and took advantage of Batista attacking World Heavyweight Champion Edge.
Punk won the World Heavyweight Championship, but was forced to relinquish it a few months later due to a storyline injury. I wouldn't call the WrestleMania XXIV MITB ladder match the best ever, but it was definitely an important bout in Punk's career.
One of CM Punk's most memorable rivalries prior to his recent main-event run was against Rey Mysterio while Punk was the leader of the Straight Edge Society.
This feud led to a blow-off match at WrestleMania XXVI with the stipulation that Mysterio would have to join the SES if Punk beat him.
He tortured Mysterio for weeks leading up to the event, and even brought his family into it as he interrupted Mysterio when he was trying to celebrate his daughter's birthday.
Mysterio had enough of Punk's antics and wanted to put an end to it once and for all.
The match went on in the middle part of the card and wasn't one of the main matches by any means. Even so, most fans knew they were in for a treat as Punk and Mysterio had some great in-ring chemistry.
The one downside to this match is that it lasted less than seven minutes, but that probably had something to do with the fact that Mysterio's entrance didn't work correctly.
He was supposed to pop out from under the stage, however, there was a malfunction and it probably led to the combatants having to shorten their match a bit.
But the fans did get to see entertaining, back-and-forth action. There was a really good pace to the match and it was a see-saw affair. Luke Gallows and Serena constantly tried to interfere on Punk's behalf, but Mysterio foiled them each and every time.
Punk had Mysterio in position for a GTS late in the bout, but Mysterio was able to squirm away and execute a 619. Mysterio then dropped the dime to pick up the victory.
Punk vs. Mysterio could have easily been placed higher on the card and given more attention, but they did the best that they could with what they had to work with. Punk didn't come away with the win, but facing a guy like Mysterio in his first WrestleMania singles match was good for him.
CM Punk may not have reigned supreme in the WrestleMania 23 Money in the Bank ladder match, but it was his first career 'Mania match and helped put him on the map while he was transitioning from indy darling to WWE superstar.
It was certainly one of the most star-studded Money in the Bank matches of all time, as Mr. Kennedy, Edge, Booker T, Jeff Hardy, Matt Hardy, Randy Orton and Finlay participated.
Punk wasn't the focus of the match as he was at WrestleMania XXIV and XXV, but the overall quality was much better since there were so many potential candidates to win. Edge and Orton dominated much of the match; there were separate points where Edge speared everyone in the match and Orton delivered an RKO to everyone in the match.
Since there were a lot of main-event guys, Punk did stand out to some degree as he was called upon to do some of the riskier spots along with the Hardys.
There was a ton of action throughout the match as Jeff Hardy and Edge were carried off by paramedics, Matt Hardy nearly attacked Booker T's wife and Hornswoggle emerged from under the ring, nearly nabbing the briefcase for Finlay.
Ultimately, Kennedy won the match, although he would soon cede control of the contract to Edge since he beat him in a match with the briefcase on the line.
It wouldn't be accurate to say that fans expected Punk to become an all-time great after his first 'Mania match, but he did enough to impress and prove that he belonged against the big boys like Edge, Orton, Hardy and others.
When it's all said and done, Punk could potentially be the biggest star who took part in this match, and that is truly amazing to think about.
CM Punk's final WrestleMania match before firmly establishing himself as a main-event talent came at WrestleMania XXVII against Randy Orton.
Punk was involved in an ill-fated storyline at the time as he was the leader of Nexus. Luckily for Punk and wrestling fans everywhere, the angle essentially came to an end at WrestleMania XXVII.
He had been torturing Orton for weeks leading up to WrestleMania, though, and he entered the match with an advantage as he had injured Orton's knee.
But the Viper evened the odds to some degree, as he defeated each of Punk's Nexus stablemates in the weeks leading up to WrestleMania, which meant that none of them could accompany Punk to the ring.
The match took place in the middle of the card, but it delivered in a big way and was easily one of the best matches of the night. That was to be expected since Punk has always been lauded for his in-ring work and Orton is also underrated in that regard.
The fans were treated to a great, old-school wrestling match that saw Punk focusing on Orton's knee.
Punk seemed to control the pace for the most part and did much of the heavy lifting, but Orton definitely did his job as well. Orton gained control late in the bout and began to line up Punk for a punt, which he used to take out the other Nexus members.
Just as Orton was about to kick Punk, though, his knee gave out and Punk seemed poised to win.
A smile came over Punk's face, but he was too confident for his own good.
Despite being in the driver's seat, Punk went for a risky springboard clothesline. Punk's maneuver never connected as Orton intercepted him in midair and delivered a thunderous RKO.
Orton went on to win the match and Punk fans were left disappointed to some degree. A couple months later, however, Punk delivered his famous pipebomb promo and soon became one of the WWE's top stars.
CM Punk is now viewed as the No. 2 guy in the WWE behind John Cena, but it certainly wasn't always that way.
In fact, until last year, Punk hadn't really been placed in a main-event-caliber match at WrestleMania.
Punk entered WrestleMania XXVIII as WWE Champion, however, so it was inevitable that he would be featured more prominently. When Chris Jericho won a battle royal to become No. 1 contender for the title, wrestling fans everywhere were excited to see what they could do in the ring together.
In a lot of ways, Punk and Jericho had unrealistic expectations to live up to.
Although it was the WWE Championship match, The Rock vs. John Cena and The Undertaker vs. Triple H overshadowed their bout. Despite that, so fans figured Punk and Jericho would go out and deliver a five-star match on the big stage.
While I wouldn't categorize their match as "five star," I enjoyed it immensely and rated it as one of the best of 2012.
It is nearly impossible for either Punk or Jericho to disappoint in a big-match setting; they're both experienced and are among the greatest in-ring workers of the past 20 years in my estimation.
I was ecstatic that Punk and Jericho were given a good amount of time to put on a show because Punk had always been ripped off in that regard at WrestleMania. Punk and Jericho both gave it their all last year and engaged in a back-and-forth battle that truly could have gone either way.
The slight majority of fans seemed to think Punk would retain, but there was also a large contingent that figured Jericho would win as he fell short at Elimination Chamber.
After several reversals of the GTS, Codebreaker, Walls of Jericho and Anaconda Vice, Punk was able to lock in the Anaconda Vice one last time, forcing Y2J to submit.
With that, Punk finally picked up the huge singles win he was lacking at WrestleMania and he ensured that his legacy would endure for years to come.
Follow @MikeChiari on Twitter and listen to him on Ring Rust Radio.