The Cowboys Who Are Missing from the Ring of Honor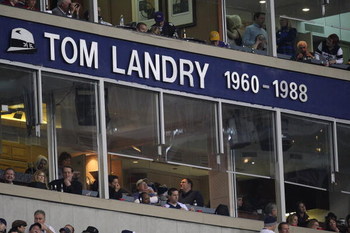 With the NFL season just months away, the Dallas Cowboys will soon be playing home games in what I'm going to go ahead and have to call the Eighth Wonder of the World.
Even though the stadium is new and is located in a different city that yet again is not Dallas, some old franchise traditions with be upheld.
There's still going to be a hole in the roof, albeit a retractable one. So God will still be able to watch His favorite team play. Just as long as The Almighty provides the Metroplex with sunshine minus the life sucking heat, and no chance of precipitation.
Think of it as The Jetsons meets Texas Stadium and Steroids all at once. The new digs have the same basic shape, with a noticed increase in size, and a much needed technological update.
Of course, the new stadium would not be complete, or feel like home, without the Cowboys' trademark Ring of Honor.The Ring currently has 17 members including 15 former players, long time head coach Tom Landry, and the teams' first general manager ,Tex Schramm.
As hallowed as the Ring of Honor has become since Bob Lilly was the first to be inducted in 1975, it has not been without its controversies.
For example, it is a bit embarrassing when the Hall of Fame inducts former Cowboys before we can find the time to honor them as a franchise. Tom Landry, Tony Dorsett, Randy White, and Tex Schramm, all made it to Canton before Jerry Jones found it fit give them their due.
On the other hand, Jerry has honored other Cowboys from the franchise's storied past who weren't already in the Ring when he took ownership. Bob Hayes, Rayfield Wright, and Cliff Harris are all players from the 60's and 70's that Jerry Jones has decided to add to the club.
In the cases of Bob Hayes and Rayfield Wright, who were inducted into the Ring in 2001 and 2004 respectively, it put them back into the spotlight enough to lead to their eventual trips to the Hall of Fame a few years later.
How could Cowboy fans justify pressing the Hall of Fame Committee for more players in Canton if the franchise doesn't even have them in their own version of the Hall. With that being the case, there are some ex-Cowboy greats that are overdue for some Ring of Honor induction ceremonies.
The last time there was a Ring of Honor ceremony in Texas Stadium was 2005. Maybe it was appropriate that the "triplets" were the last ones to go in at the old house. But we all know that dynasty was built on much more than Emmitt, Aikman, and Irvin.
There are other Hall of Fame players that were a part of that 90's team, as well teams of the past ,that must be added to our Ring of Honor to make it complete.
But first, we must set some criteria. To do so we will look at the Ring of Honor's current members.
The Ring is made up 15 players with an average of 12 years as a Cowboy. In fact, only Tony Dorsett and Emmitt Smith spent any time with another franchise in the NFL.
All of the Ring of Honor inductees were Pro Bowlers on multiple occasions. The average amount of Pro Bowls for these players was just above six in their career.
Being an NFL First Team All Pro doesn't hurt a player's cause, but is not a prequisite for Ring of Honor induction. For example, no Cowboy quarterback has ever recieved First Team All-Pro honors, but Meredith, Staubach, and Aikman are all in the Ring despite this omission.
However, every other former player in the Ring of Honor was a First Team All-Pro selection atleast once. Bob Lilly and Randy White share the franchise record for receiving this honor seven times each.
Only the two Dons, Meredith and Perkins, were inducted into the Ring without winning a Superbowl. On average, these members have one and a half championships a piece.
So with some guidelines to work from, we are set to determine who belongs in the next generation of the Ring of Honor.
Jimmy Johnson - Head Coach (1989-1993)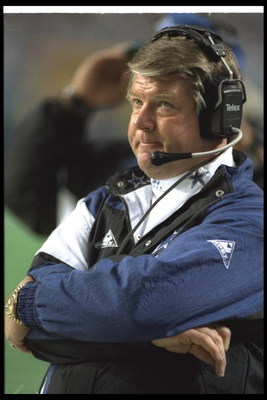 Let's just go ahead and get this out of the way right now. Like grown men have to do sometimes, it is time to swallow some pride and make amends. At least long enough for Jimmy Johnson to get his just desserts.
Jerry, you couldn't have got that team to three Super Bowls without this great coach's football knowledge.
Jimmy, like it or not Jerry Jones is the man that gave you your chance, cut the checks, and got you what you needed.
Detractors will say that Jimmy Johnson wasn't here long enough to be in The Ring. He was only our coach for five seasons.
But it was Jimmy Johnson, and only Jimmy Johnson that could have provided the discipline and fear needed to run that bunch of personalities that made up the '90s Cowboys.
There would be no better way to open up the new stadium than to honor the man that, whether Jerry wants to admit it or not, helped to build it.
Drew Pearson - Wide Receiver (1973-1983)
Why Drew Pearson is not in the Ring of Honor is beyond me. The classic case of not in the ring... no bust in the Hall. I don't know why Cowboy fans haven't sent Jerry a loud and clear message that this is a grave omission.
Drew Pearson became Hall eligible in 1988. Since then Fred Biletnikoff, Charlie Joiner, Lynn Swann, John Stallworth, and now Bob Hayes have all made it to Canton.
Drew Pearson averaged more catches and yards per season than all of these current Hall of Fame wide receivers of his same era, and was in the middle of this pack when it comes to touchdowns and yards per catch.
Pearson played in three Super Bowls, helping the Cowboys to their second championship in Super Bowl XII over Denver. He was named to the NFL's All Decade Team for the '70s, went to three Pro Bowls, and three times was a First Team All Pro selection.
Drew Pearson finished his 11 year Cowboy career with 489 catches for 7,822 yards and 48 touchdowns. These are in no way impressive numbers for todays time, but were definately competitive if not better than Hall of Fame inductees of Pearson's playing days.
Drew is still a local media personality who has done various Cowboys and football shows in the Dallas area. He is still beloved for his role in the Hail Mary playoff miracle against the Minnesota Vikings in 1975, and has become a prominent local businessman.
With that being said, I wonder how it is humanly possible that we have forgotten this guy when it comes to the Ring of Honor. It's not like Drew disappeared.
If we expect Drew Pearson to get his bust in the Hall of Fame, we must first show that we appreciate him as an organization. This is a travesty and should get under the skin of any true Cowboy fan.
Jay Novacek - Tight End (1990-1995)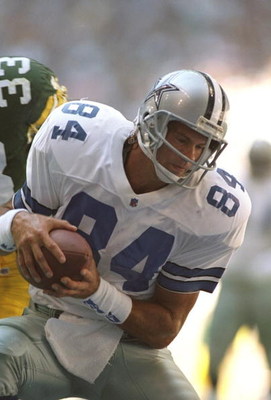 Jay Novacek - TE - (1990-1995)
The current Ring of Honor has 15 players with an average of 12 years tenure with the franchise. In fact, Don Perkins had the shortest run with the team of any member with eight seasons.
Maybe Jay Novacek doesn't have that same amount of time spent as a Cowboy, but while he wasn't here long, he made a huge impact on the franchise.
The fact that he was such a threat at the tight end position made life easier on Michael Irvin, Alvin Harper, and the other wideouts looking to get open in the Cowboys' passing game. Novacek was also an often used check down option for Troy Aikman.
I'm not trying to make a case for Novacek as far as the Hall of Fame goes. He was no Sterling Sharpe, Ozzie Newsome, or Ben Coates. But he was a key piece of a very powerful offense.
Jay Novacek played only six seasons with the Cowboys, but he made five Pro Bowls in that span.
He was on the team for all three Super Bowl wins in the '90s, and Novacek racked up 339 catches, 3,576 yards, and 23 total touchdowns as a Cowboy.
Darren Woodson - Safety (1992-2003)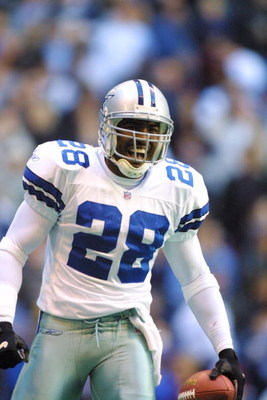 Darren Woodson arrived in Dallas just in time for a Super Bowl season in 1992.
When a career spent entirely with the Cowboys was over 12 seasons and a franchise record 1,350 tackles later, "Woody" retired as a three time Super Bowl champ.
The three time NFL All Pro was a force in the Cowboys defensive backfield that never shied away from delivering a bone jarring hit.
In addition to those hits and tackles, Woodson collected 23 career interceptions, and appeared in five Pro Bowls.
Larry Allen - OL - (1994-2005)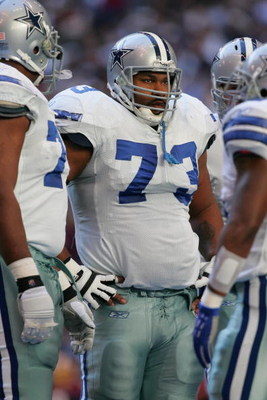 I'm seems like every year a new rumor would start floating around Dallas that Larry Allen bench pressed 600, 700, 1500 pounds.
I never found out for sure if this was merely urban legend, but after a long look at this Cowboys' lineman, one could start to believe anything.
Larry Allen is without question the greatest and most decorated offensive lineman in the history of the the Cowboys, if not the entire NFL. If Larry doesn't make the Hall of Fame on ballot number one, there is definitely a Cowboy conspiracy out there.
Allen's resume is jaw dropping. In 14 NFL seasons, twelve spent with the Cowboys, Larry Allen made the Pro Bowl 11 times. Allen came to the Cowboys at the tail end of the dynasty years, but was able to contribute to a victory in Super Bowl XXX.
Larry Allen was an NFL First Team All Pro for six consecutive years from 1996-2001.
He is eligible for the Hall of Fame in 2012, so Jerry needs to get on top of Larry's Ring of Honor induction to avoid another embarrassing episode.
Mark Stepnoski - Center (1989-1994, 1999-2001)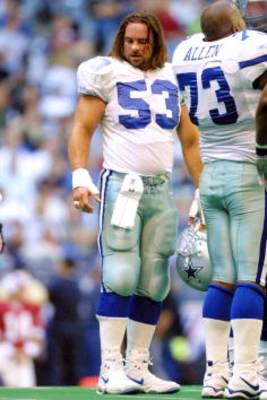 The Cowboys had one of the most dominant offensive lines in the history of the NFL during the 1990's.
They punched open holes for the eventual all-time leading rusher in NFL history, and provided pass protection for future Hall of Fame quarterback, Troy Aikman.
One of those valuable linemen was Cowboys' center Mark Stepnoski. The laid back, long haired loner served two tours with the Cowboys in his 13 year NFL career. He was drafted in 1989 and started 121 games at center for Dallas.
Stepnoski made the Pro Bowl for five straight years from 1992-1996, and he got three Super Bowl rings in his nine seasons with the franchise. He is the best center in the history of the team, and needs to be in the Ring of Honor.
Nate Newton - Guard (1986-1998)
What I can say with some bit of certainty is that Nate Newton was six-foot-three inches tall. His weight, on the other hand, well his weight varied.
Let's just say Nate was a big dude. But don't let Newton's bubbly build, likable personality, and the fact that he has been busted twice with van loads of marijuana distract you from the fact that Nate was an incredible football player.
Nate played 13 seasons with Dallas where he was a Pro Bowler six times. Five consecutive years from 1992 to 1996, and again in '98.
Newton was an NFL First Team All-Pro in '94 and '95, he started 180 games for the Cowboys, and retired with three Super Bowl rings.
The always comical Newton is still a fixture in the Dallas area by playing part in a local radio show. He was the reason God gave John Madden a telistrator, and is a fan favorite to this day.
Put this man in the ring of honor...And do it with a buy one get one free wing and beer promotion!
Erik Williams - Offensive Tackle (1991-2000)
Erik Williams was a brutal and violent offensive tackle. He made a career of flat out mauling defensive linemen into submission.
The 6'6", 324 pounder's random club shot to a defensive lineman's face or head was the reason I focused in on Erik more than your average tackle.
As it seems to do with so many Cowboys, the NFL made an "Erik Williams Rule" which outlawed illegal hands to the face was implemented because of the Dallas lineman's tactic.
Despite this, and a career threatening car accident that cost him his 1994 season, Williams appeared in four Pro Bowls and was an NFL First Team All-Pro in 1993 and 1996.
Williams started 133 games over ten seasons all spent with the Cowboys. He played on all three Super Bowl teams in the 1990's, and retired with three rings.
Williams retired from the NFL in 2000 and became Hall eligible in 2005.
It seems the he could take a giant step towards Canton with an induction into the Ring of Honor during a nationally televised Cowboy game in the new stadium.
Deion Sanders - Cornerback (1995-1999)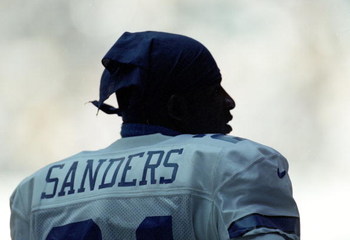 Another Cowboy lacking in years spent with the franchise while leaving a permanent mark on the team is Deion Sanders.
Deion was recruited by the Cowboys to do one thing. Help them get to, and win, a third Super Bowl in four years. "Primetime" was paid big bucks by Jerry Jones and was expected to deliver.
And deliver is just what Deion did.
In his first season with the Cowboys Deion helped his new team beat his old team (The 49ers), on their way to Super Bowl XXX.
In his five years as a Dallas Cowboy, Deion was a Pro Bowler four times, an NFL First Team All-Pro three times, and hands down the best lockdown corner of his time.
Sanders had 14 interceptions, two of which he returned for touchdowns, along with four TD's on punt returns in his Dallas days. Primetime also put in some overtime for the Cowboys in 1996 snagging 36 balls for 475 yards and a touchdown.
I know it was short lived, but Deion Sanders' Cowboy career was pure greatness. He was with a doubt one of the best athletes to ever wear a star on his helmet.
"Primrtime" contributed so much in such a small amount of time, and remains a die-hard Cowboy fan to this day. He is still part of, and loved by the Dallas metroplex, and belongs in our new Ring of Honor.
Keep Reading

Dallas Cowboys: Like this team?