Highlighting the Most Versatile Prospects in the 2013 Draft Class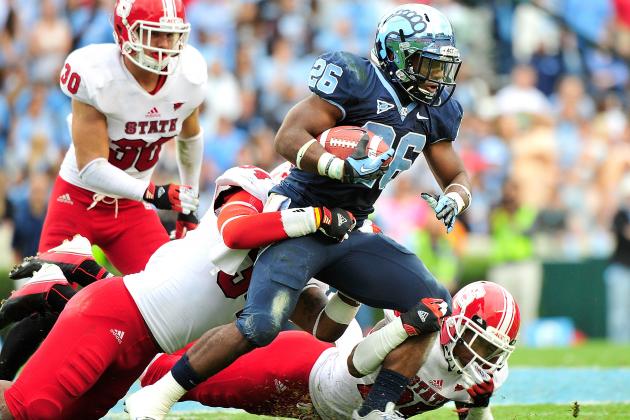 Grant Halverson/Getty Images

In today's NFL, scheme and positional versatility is more important than ever. Games are won by creating mismatches and confusion for the opponent by lining up players in unconventional positions. Versatile players can even save roster spots by playing multiple positions.
Safeties need to be able to play both positions. Receivers and tight ends must line up in the slot at some point. Linebackers must be able to rush the passer and defend against the pass.
One-dimensional players have much more limited value.
Here are the most versatile players in the 2013 draft.
Begin Slideshow

»
Pro Comparison: Mathias Kiwanuka
Any team that owns a top-10 selection and is in the market for a do-it-all outside linebacker should look no further than Oregon's Dion Jordan.
Originally recruited to Oregon as a tight end, Jordan has been able to make a seamless transition to defense. While he lacks ideal bulk, weighing 248 pounds, at 6'6", he has a tremendous frame.
As a pass-rusher, he has the explosion and flexibility that translates to the next level. He needs to be a bit more versatile with his pass-rushing moves, but he has the tools to succeed in the most important area of his game.
However, what separates Jordan from other players is his ability to play in space and in coverage. His sack numbers took a small dip his senior season in part because coaches elected to play him more often in coverage.
In fact, he was even assigned to cover slot receivers at times.
Jordan will likely never win any sacks titles in the NFL, but he is going to be a tremendous asset to any team that needs a do-it-all outside linebacker to start right away.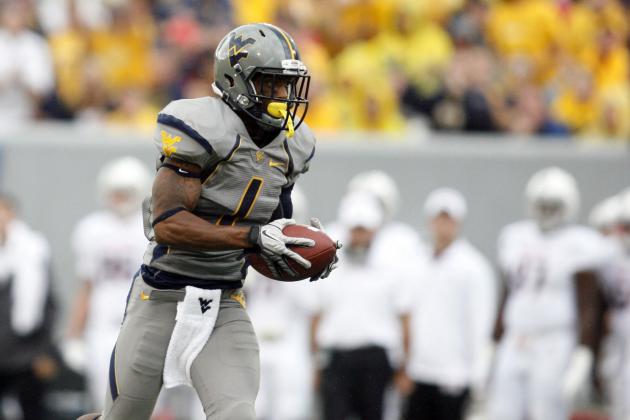 Charles LeClaire-USA TODAY Sports

Pro Comparison: Percy Harvin
It is hard to keep the Paul Hornung Award winner for the most versatile player in college football off this list.
Austin made his bones as a receiver, but he also has plenty of experience lining up in the backfield and returning punts—a similar role to the oft-compared Percy Harvin.
His 4.34 40-yard dash all but confirms that Austin is the most explosive offensive player in the draft. He has unmatched agility and balance that makes him deadly after the catch. However, his limited size at 5'8" limits him to being a slot receiver in the NFL.
Most mock drafts have Austin projected to go somewhere in the 20-to-30 range in the first round. But expect his stock to slowly rise as teams realize how much of an impact a quality slot receiver can make. After all, with the growing use of spread offenses in the NFL, slot receivers (and nickel cornerbacks) are virtual starters.
His value as a slot receiver and kick returner should allow him to make an immediate impact on a contending team picking in the latter part of the first round.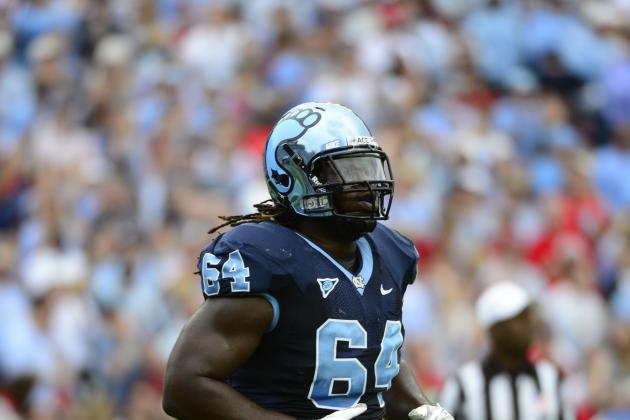 USA TODAY Sports

Pro Comparison: Jon Asamoah
Alabama's Barrett Jones is the lineman most well-known for his versatility, having played all three offensive line positions on one of the best units in the country at Alabama. But it is Cooper, not Jones, who will be the more versatile player in the professional ranks.
What separates Cooper from the average guard prospect is his quick feet and athleticism. He specializes in pulling and making blocks in space.
He has the football intelligence and balance to make a conversion to center, and with his quick feet, he could play tackle in an emergency situation.
While Cooper has been the consensus No. 2 guard in this class behind Chance Warmack, he is starting to gain ground after an impressive combine showing:
There's a strong possibility that Chance Warmack won't be the first guard selected in this draft.

— Daniel Jeremiah (@MoveTheSticks) March 1, 2013
Don't be surprised if Cooper winds up being a top-15 pick.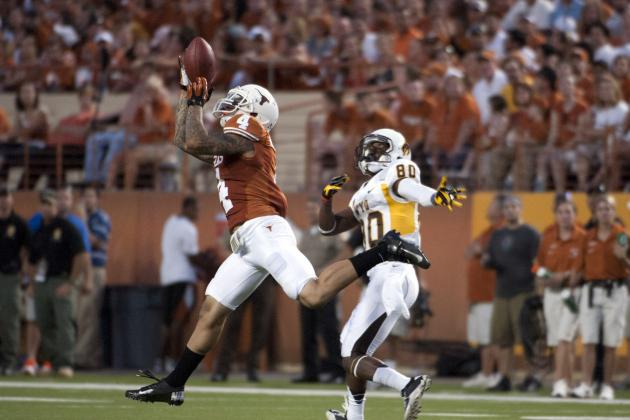 Brendan Maloney-USA TODAY Sports

Pro Comparison: Antrel Rolle
As offensive formations become more diversified and the tight end becomes more of a prominent option in the passing game, safeties need to be able to do everything in coverage and run support.
Outside of an arrest last summer, there are few holes in Vaccaro as a prospect.
In deep zone coverage, he has tremendous play recognition and closes quickly on the ball. He was used in man coverage against slot receivers and tight ends, showing the ability to jam at the line.
He is most known for his big hits in the run game. While he does miss a few tackles because of his aggressiveness, his LaRon Landry-like physicality can change the complexion of games with one well-timed blow. His physicality has made him a leader on the Longhorns' defense.
Vaccaro is precisely the kind of safety prospect NFL teams are looking for to combat teams like the Patriots and Saints, who repeatedly target their tight ends.
Pro Comparison: Haloti Ngata
While his draft stock has taken a major hit after he was forced to sit out the combine with a heart condition, Lotulelei remains a rare, scheme-transcendent player worthy of the first pick in the draft.
Lotulelei can fill just about any need on the defensive line. Whether it's the nose, one gap, two gap or five technique, he can do it all, and on an elite level. Both 3-4 and 4-3 teams would find a way to use him.
His tremendous combination of size, strength and technique gives him as much versatility as any player in this draft.
Unfortunately, recent news about his heart condition will likely cause him to fall on draft day. But if he can overcome this recent news, he has a chance to be the best and most versatile player in this year's draft class.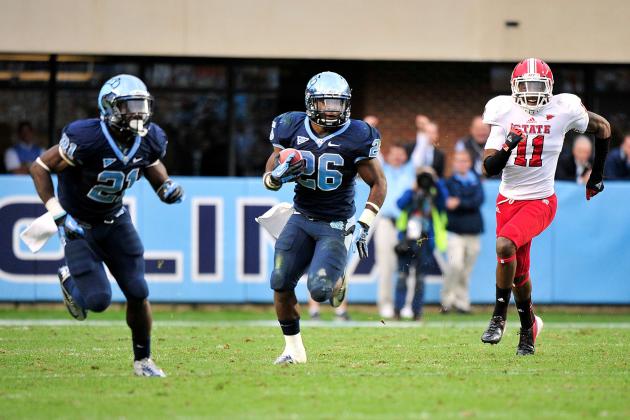 Grant Halverson/Getty Images

Pro Comparison: Fred Jackson
This running-back class may lack first-round talent, but there are a handful of do-it-all backs who can make an immediate impact, highlighted by Giovanni Bernard.
A short-strider as a runner, Bernard has the quickness and speed to play in any scheme. He falls forward to get yards after contact and is more than adept in pass protection, although he has a habit of almost always going for the cut block.
He had a solid showing at the combine, clocking a 4.53 40 time and a stellar 4.12 20-yard shuttle, which demonstrates his lateral explosion and quickness.
Bernard is certainly not the prospect Trent Richardson was coming out of Alabama last year, as he lacks the ideal bulk to carry an NFL offense on his shoulders, but he has a lot to offer as a rookie who can make an immediate impact on a running back-needy team.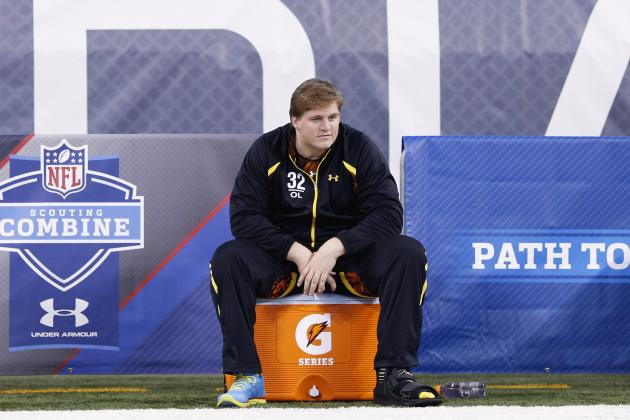 Joe Robbins/Getty Images

Pro Comparison: Daryn Colledge
Jones is most well known by casual fans for his in-game spat with A.J. McCarron at the end of the national championship game. But college football fans know that Jones was perhaps the most versatile lineman in the country last year.
Jones has experience playing tackle, guard and center (most recently at center for his senior season) on the country's best offensive line at Alabama.
Jones projects best as a center or right guard, as he does not have the quickness to play outside at tackle.
More reliant on his intelligence and technique than sheer talent, Jones projects as a second-to-third-round selection with limited upside.He also played through a Lisfranc injury (for comparison, the same injury that ended Santonio Holmes' season), which is a testament to his incredible toughness.
However, despite his limited upside, he can be an immediate starter and hole-filler for a team that has immediate needs at a multitude of positions along its offensive line.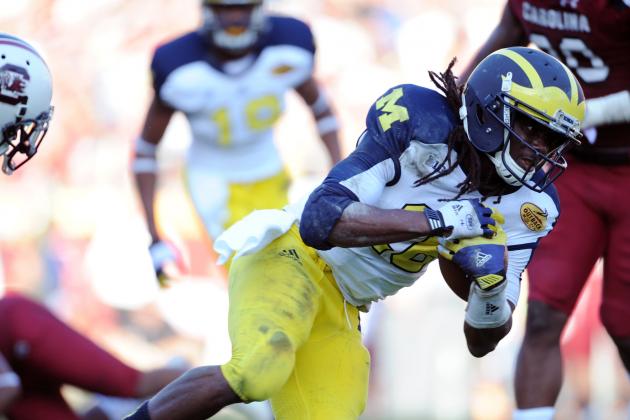 Al Messerschmidt/Getty Images

Pro Comparison: Brad Smith
The former Heisman candidate does not have the passing ability to make it as an NFL quarterback, but he has been open about a move to just about any other position.
Later in his Michigan career, he played extensively at receiver and running back. His 4.43 40 time will certainly further entice teams to take a chance on such an explosive payer with the ball in his hands.
However, there has been speculation that Robinson's talents are not limited to offense. He's not opposed to a move to cornerback.
Denard Robinson says he would be OK moving to cornerback.

— Matt Miller (@nfldraftscout) February 23, 2013
Usually, former college quarterbacks are too prideful to accept that they will need to make a position change to find a job in the NFL. But Robinson has been open to it, and his open-mindedness should only help his draft stock.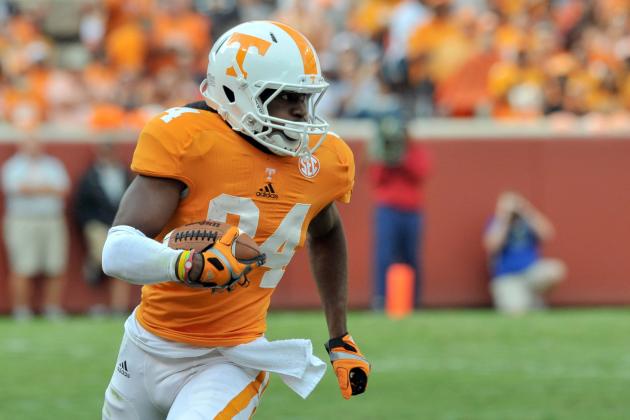 Jim Brown-USA TODAY Sports

Pro Comparison: Antonio Brown
While his inconsistent hands can be maddening at times, there is no one in this draft who is more dangerous with the ball in his hands than Cordarrelle Patterson.
His primarily position is wide receiver, but he is also a dangerous kick returner and has experience lining up in the backfield. He rushed for 208 yards on 25 carries for the Vols.
While he has the size to line up as an outside receiver, he has the quickness and speed to play in the slot as well.
Patterson's stock has taken a steady climb since the start of the draft process. He could win up being a top-10 selection. While he is a bit of a body-catcher and has had his share of drops, his ability to make big plays every time he touches the ball will be too enticing to pass up for teams in the top 15 of the draft.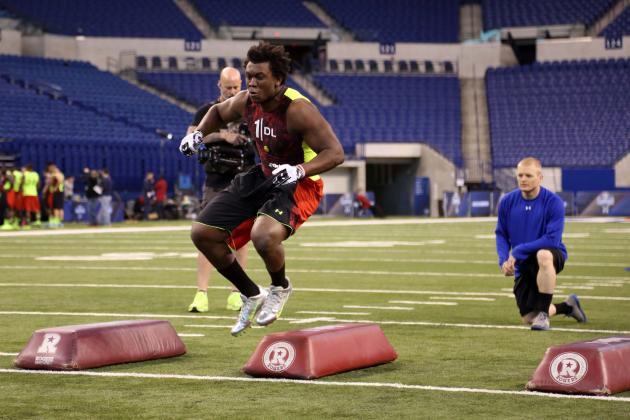 Brian Spurlock-USA TODAY Sports

Pro Comparison: Quinton Coples
It is a well-known fact that Ansah is raw, especially from a technical standpoint. Compared to Ansah, Jason Pierre-Paul was a well-versed technician when he entered the 2010 draft.
Was told this by someone at the Senior Bowl: Someone asked Ansah if he preferred a 2, 3, or 4 point stance. He didn't know what they were.

— Josh Norris (@JoshNorris) January 26, 2013
However, this is not necessarily a bad thing for "Ziggy's" draft stock. That all of his production in college came from pure athleticism only increases his potential in the NFL. Just learning the basics of the position could make him a dominant player at the next level.
At BYU, Ansah was used all over the defensive line, from a base 4-3 end all the way to nose tackle. He projects best as a 4-3 end, but he could stand up in a 3-4 outside linebacker spot or even keep his hand in the dirt as a 5-technique.
After a very strong combine performance, it is starting to look like Ansah will not make it out of the top 15 picks. His versatility and untapped potential make him an option for any team in any defensive scheme.