2013 NFL Draft: Tavon Austin and 7 Best Prospects Under 5'10"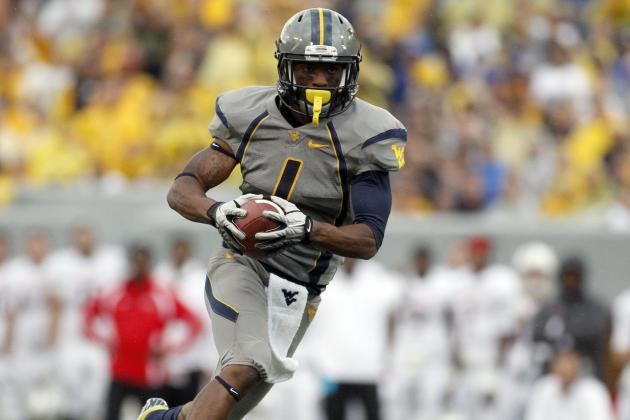 Justin K. Aller/Getty Images

Bigger. Faster. Stronger.
Those three words describe today's NFL athlete, and a prospect that enters the league without good size, speed, or strength is likely to struggle with the transition from college to the professional ranks.
But every rule has an exception, right?
While some prospects can make it to the NFL without ideal speed or strength, trying to make the league as a player under 5'10" can be a "tall order."
This year's draft has quite a few prospects listed under 5'10" that not only have a chance to be selected, but also to make an impact in the NFL.
Generally speaking, and this list is no exception, the "smaller" NFL Draft prospects tend to come from the skill positions on offense. The 2013 NFL Draft will have several "short" running backs who will hear their names called as well as a handful of small wide receivers.
By now, everyone knows the name "Tavon Austin." He is a first-round player who blazed the playing field and turned heads at the scouting combine. He could be an instant star in the NFL.
But for this article, let's take a closer look at some other intriguing prospects under the 5'10" mark.
Begin Slideshow

»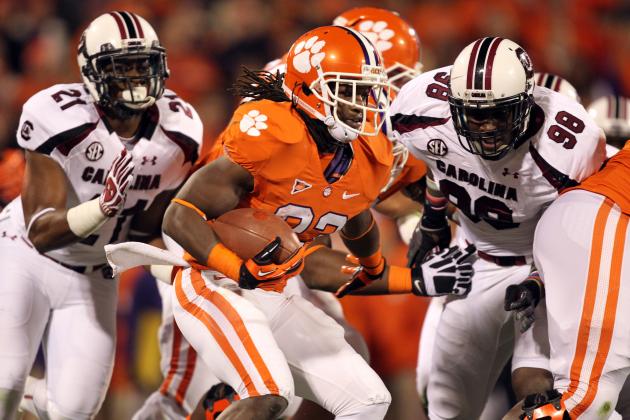 Streeter Lecka/Getty Images

Andre Ellington won't check in as the most physically imposing running back in the 2013 NFL draft class, but he certainly is the most explosive.
And speed can make up for almost any shortcoming.
At 5'9" and 199 pounds, Ellington is already being pegged as a part-time runner and player who will be a change-of-pace back in the NFL.
I beg to differ. In fact, Andre Ellington is my top-rated running back for this year's draft and has a chance to be the next in a line of small, speedy backs like Chris Johnson, Jamaal Charles and C.J. Spiller.
Speed. Speed. And yes, speed.
Ellington pulled up lame at the scouting combine, so his 40-yard dash time is still a mystery. But if you scout his game film, you already know he's fast.
In fact, he is so fast that he makes his level of competition look slow.
Ellington isn't the perfect prospect, however. He has a tendency to be tackled easier than you'd like, a scouting note that will give his "change-of-pace" evaluators a leg to stand on.
To his credit, he ran harder in 2012 than he did in 2011, and I am confident that he can be as effective with his speed and two-step ability (reaches top speed in two steps) as a player who runs "harder" than he does.
At the start of the 2012 college football season, Andre Ellington was atop my running back board.
As we approach the 2013 NFL Draft, he still is.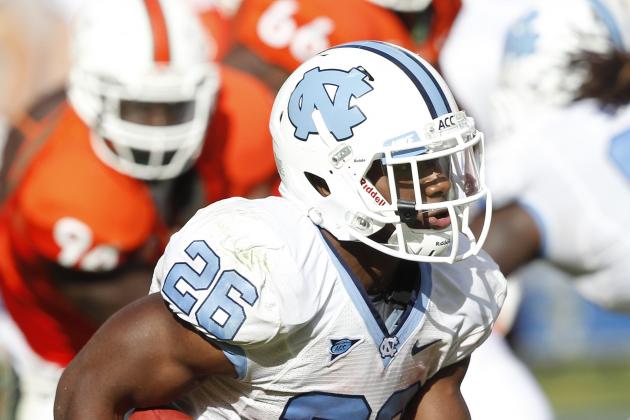 Joel Auerbach/Getty Images

In a year where there is no clear first-round talent at the running back position, Giovani Bernard has a chance to be one of the first players taken at the position.
In fact, Bernard is a player that could sneak into the late-first round and will battle the physically bigger Eddie Lacy for the title of first running back selected.
Bernard is short, but he is not small by any means. At 202 pounds, Bernard carries enough weight to be a factor as an every-down running back in the NFL. He is a patient, shifty runner with great vision and balance and can change directions quickly without sacrificing much speed.
Gio has enough quickness to run outside and turn the corner, but he won't be a home-run threat in the NFL. His 4.53 40-yard dash at the scouting combine was indicative of his game speed; he is plenty fast, but not elite in that category.
Bernard's height (or lack thereof) works to his advantage when running inside and for short-yardage or goal-line conversions. He gets lost behind his offensive line, and with his adequate overall strength and leg drive, he can be a successful player on any down and distance in the NFL.
He has also displayed adequate pass-catching ability as a receiver out of the backfield, but as is the case with any rookie running back transitioning to the NFL, he will have to prove early on that he can be a competent pass protector as well.
Standing at only 5'9", Bernard is likely to be the "next" short guy off the board after Tavon Austin. And much like Austin, Bernard could end up being one of the most productive rookies to come out of the 2013 NFL Draft class.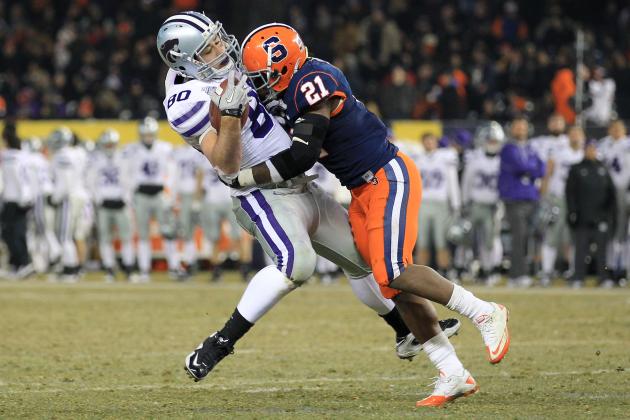 Chris McGrath/Getty Images

If you think Shamarko Thomas is small, well, you're wrong. He's short—not small.
If an NFL general manager passes on this 5'9" torpedo of a strong safety because of his height, he too would be making a mistake. Simply put, there are very few prospects available in the 2013 NFL Draft who can measure up with the athleticism that this "short" player has.
Thomas put on a show at the Scouting Combine. Take a look at these numbers:
40-yd Dash: 4.42
225 Bench Press: 28 reps
Vertical Jump: 40.5"
Broad Jump: 11'1"
While I'm not a scout that is easily wowed by test results, it is just natural to take a step back and do a double-take at those numbers.
But what about his film?
Thomas is a violent player. He attacks the ball carrier and puts every ounce of his 213-pound body into a hit.
This brings to mind what I learned a long time ago from a very reputable NFL scout: Beware of the Bob Sanders-syndrome.
Translation? A shorter safety has a tendency to compensate by recklessly throwing his body around, thereby increasing his chance of injury and decreasing his longevity. There is a lot of that in Thomas' game, and he will have to learn when it is time to deliver the knockout punch.
Shamarko Thomas will likely be selected sometime during day two of the 2013 NFL Draft, and he will absolutely knock some helmets off on special teams during his rookie season.
He has a chance to eventually evolve into a good starting strong safety, assuming he can improve his coverage skills a bit.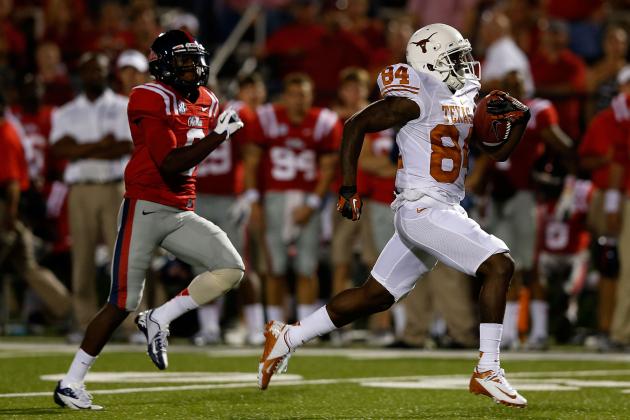 Scott Halleran/Getty Images

Run Marquise, Run!
Get used to hearing that from fans of the NFL team that selects the Longhorn sprinter. Marquise Goodwin was the one player who many thought could threaten Chris Johnson's scouting combine record of a 4.24 40-yard dash.
Goodwin came close, finishing in 4.27 seconds.
Marquise Goodwin is the example of a player whose lack of position-specific skills and overall measureables will be ignored due to his pure speed and athleticism. Goodwin has Olympic speed—literally.
Even if it is just as a return man in the NFL, he will bring fans to their feet when he has the ball in his hands.
The one thing to keep in mind with Goodwin is that he is a linear speed guy. He doesn't have the loosest hips, and he is not an elite change-of-direction talent. He has to gear down, or take multiple steps, in order to cut back across the grain. It tends to neutralize his speed a bit.
But if there is an open lane or a seam to explode through: goodnight.
Marquise Goodwin has a chance to be a lot like Chris Givens last year. Givens made a great contribution to St. Louis in the vertical passing game during his rookie season.
Goodwin might just be able to do the same.
While I wouldn't expect to hear Goodwin's name until day three of the NFL Draft, his speed will get him on the field sooner rather than later in his rookie campaign.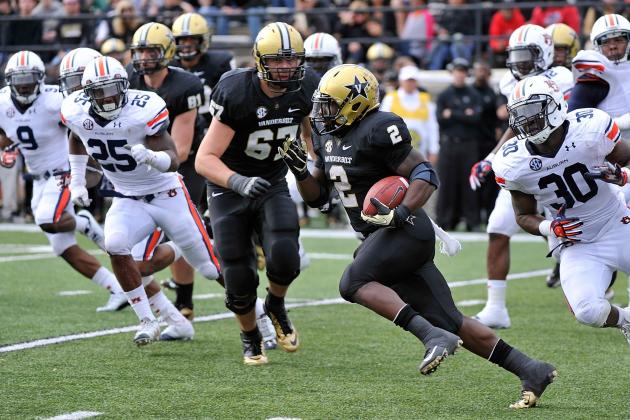 Frederick Breedon/Getty Images

Even though he is not the running-back prospect that Giovani Bernard and Andre Ellington are, Zac Stacy is going to make an NFL team very happy on day three of the NFL Draft.
He has a chance to be that late-round bargain runner who contributes sooner, and with a bigger role, than expected.
Standing only 5'8" tall, Stacy is a compact and stout 216 pounds. He is light on his feet and runs with good pad level on contact. He can deliver an unexpected blow to the defender, allowing him to break more tackles than you'd expect from a "short" running back.
Stacy is a patient runner, too, who sets up his blocks and makes nice, compact cuts into open space. He is going to be a tough, chain-moving player in the NFL.
Stacy's performance at the scouting combine was pretty much in line with what we have come to expect from him: solid. He hit all the numbers you'd like to see from a running back and excelled at the bench press. His 28 reps were about eight more than the minimum you'd like to see from a player at his position.
The bottom line with Zac Stacy is this: Once he gets his shot, he won't come up "short." He will be a player on Sundays.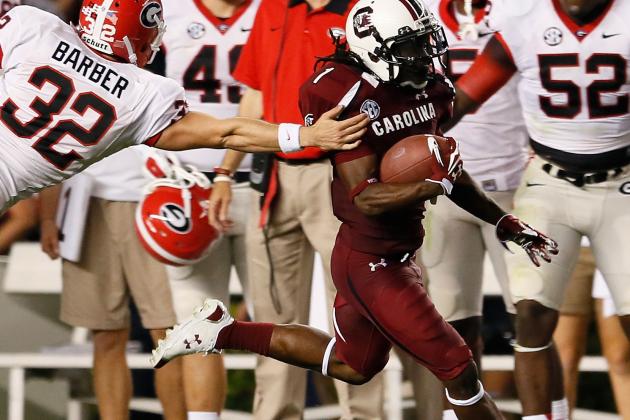 Kevin C. Cox/Getty Images

While not in the same class of talent as Tavon Austin, the diminutive Sanders will certainly be drafted at some point during day three of the NFL Draft.
His performance at the scouting combine left a bit to be desired, but there is no questioning that Sanders has the talent to play on Sundays.
More quick than fast, Sanders projects as a player who will make his initial impact in the NFL on special teams. He was a dynamic punt returner in 2012 and, as a result, was named the co-SEC's Special Teams Player of the Year.
As a wide receiver, Sanders will have some work to do to crack an NFL team's top three spots. Likely a fourth or fifth wideout on a game-day roster, Sanders will have to make plays in the return game before earning a relevant role in a passing attack.
Sanders' height shouldn't scare too many teams away. He isn't going to be a vertical threat that is required to win a jump-ball contest. He is not going to be a physical possession receiver who needs to win battles with body positioning.
Instead, Sanders will line up in the slot, wiggle his way to the soft spots in coverage and try to make a play after the catch.
Somebody is going to get good value with Ace Sanders around the fifth round. If Sanders was 6'0" tall, his natural talent and skill set would likely be valued somewhere on day two of the draft.
It is safe to say that Sanders' ceiling measures higher than his height.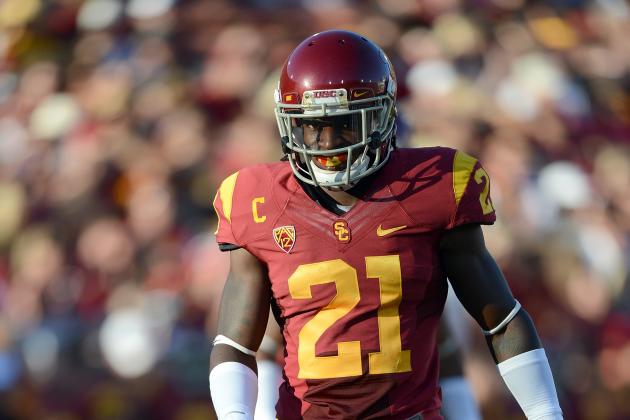 Harry How/Getty Images

Likely limited to nickel back in the NFL, Nickell Robey is an interesting player to keep an eye on for the 2013 NFL Draft.
He is small and defined. And when you play the position responsible for covering guys like Calvin Johnson, standing only 5'7" tall doesn't help your cause.
Robey didn't burn up the track at the scouting combine, but keep in mind that unless you are a speed freak like Tavon Austin, it is going to be hard to clock a super fast time with legs as short as Robey's.
There is no doubting Robey's natural feel for the position and his ability to be a good cover man at the college level. He has as much experience as any corner available in the draft, but covering NFL wide receivers is an entirely different animal.
With his extremely short/light makeup, Robey's talent will be pushed into late-day three discussion.
Don't be surprised, though, to see Robey emerge as a scrappy, athletic nickel corner three or four years down the road.