WWE SmackDown: 5 Things to Watch for During This Week's Show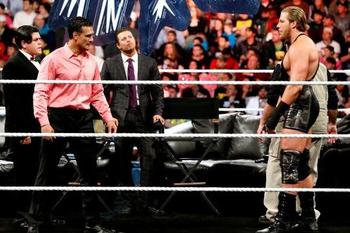 Photo courtesy of WWE.com
With The Rock and John Cena now serving as the main focus on Raw, SmackDown becomes increasingly important. WrestleMania XXIX is five weeks away, and there is still plenty of room on the card. Aside from a small handful of matches, things are pretty unsettled, so perhaps some questions will be answered this week.
There is no doubt that the World Heavyweight Championship feud between Alberto Del Rio and Jack Swagger will take up much of the airtime on the blue brand, though. Del Rio vs. Swagger is one of the few matches that is already set in stone for WrestleMania, and the rivalry was truly set in motion on Raw when the two of them, along with Zeb Colter and Ricardo Rodriguez, engaged in a spirited war of words on Miz TV.
As entertaining as that program promises to be, there are a lot of other talented guys on the roster with little direction at the moment. The Shield, Mark Henry, Randy Orton, Sheamus, Ryback, Team Hell No and many others are without a WrestleMania match at the moment.
There is obviously still plenty of time to get the ball rolling, but the WWE should try to strike as quickly as possible in order to build anticipation for 'Mania.
Here are the top five things that you should keep an eye on while watching this week's edition of SmackDown.
What Is Next in the Jack Swagger vs. Alberto Del Rio Feud?
The World Heavyweight Championship has played second fiddle to the WWE Championship for quite some time. And it will continue to do so as long as the likes of John Cena and The Rock are chasing the WWE title.
With that said, the WWE is clearly putting a ton of effort and resources into the rivalry between Alberto Del Rio and Jack Swagger right now, and there is no doubt that plenty of time will be dedicated to it on SmackDown this week and moving forward.
Swagger's rise over the past month has been truly amazing, especially when you consider the fact that he was off television for five months prior to his return and was mired in a three-month losing streak before that.
Nobody has ever questioned Swagger's in-ring ability, as he was an accomplished wrestler at the University of Oklahoma. His Achilles' heel was always his mic skills, however. And while he hasn't really improved noticeably in that area, the presence of Zeb Colter has made it a moot point.
The "Real American" persona has been compelling, and it obviously was tailor made for Swagger to go up against Del Rio. Colter has added a totally different dimension to Swagger's character as well, and he has gotten the duo some mainstream attention thanks to his anti-immigration promos.
Most wrestling fans seem to be captivated by Colter, but a lot of people outside the business are offended. That includes political commentators like Glenn Beck, who believes that Colter and Swagger have racist gimmicks that reflect badly on the Tea Party.
Whatever the case, people are talking about Swagger and Colter, and that is a good thing, no matter how you slice it. Del Rio got the better of them on Raw as they walked away when confronted by the world champion, so I expect the heels to get their licks in on SmackDown. My guess is that Ricardo Rodriguez will play a big role in this feud and could serve as Swagger's punching bag this week.
Will The Shield Strike Again?
The Shield has arguably been the most dominant force in the entire WWE since debuting at Survivor Series. But the time has come for the group to receive some type of direction.
I thoroughly enjoy watching Dean Ambrose, Seth Rollins and Roman Reigns attack some of the WWE's top faces and I have loved each of their three matches thus far, but it is difficult to say what the WWE plans on doing with them as WrestleMania approaches.
On Monday, The Shield delivered a very strong promo in which they called out some of the stars they have beaten recently, including Sheamus, Ryback, John Cena, Chris Jericho and Randy Orton. Sheamus and Orton answered the challenge, as Sheamus came to the ring the conventional way, while Orton slipped in through the back door and delivered an RKO to Rollins. Sheamus and Orton then stared at each other as The Shield tried to regroup.
That would seem to suggest that Sheamus and Orton will face The Shield at WrestleMania, but that is far from a lock.
Orton is definitely a strong candidate since he doesn't seem to have anything else going on. Sheamus, on the other hand, is engaged in a feud with Intercontinental Champion Wade Barrett as well, so he's juggling a lot at the moment.
Even if you assume that Orton and Sheamus will face The Shield, it's tough to come up with a third man. Ryback is obviously an option, but it seems like he has moved away from The Shield. Things are simply a mess right now.
With that said, maybe we'll get some clues regarding The Shield's direction this week. Some of their attacks are random, but others are calculated, so it's always difficult to tell what their motivation is. I'm sure that I'll be entertained by The Shield regardless of who they face, but hopefully the WWE gets moving on that front soon.
Who Will Mark Henry Set His Sights On?
Since returning to action over a month ago, Mark Henry has wreaked havoc on the WWE roster, and nobody has been able or willing to stop him.
Henry missed nine months due to injury prior to coming back, but he hasn't missed a step. He really hit his stride during his last WWE run, as he won the World Heavyweight Championship in late 2011 and held it for a couple months. Perhaps another title run is in his future.
Before that can happen, though, the WWE needs to decide what to do with The World's Strongest Man heading into WrestleMania.
Henry has crashed several matches and left destruction in his wake, but he hasn't engaged in an actual feud yet. I suppose his recent tension with The Great Khali could be viewed as a feud, but it has been a one-sided one at that, with Henry dominating the Indian giant. Henry is too compelling of a character to not be placed in a high-profile storyline, so the creative team needs to get moving.
My preference would be a feud with Ryback. While Ryback has been tied up with The Shield for the past few months, he didn't confront them on Monday, and that tells me that he is going to do something else at 'Mania. Ryback is one of the few guys on the roster who can match up with Henry from a physical standpoint, so it would make sense for him to be the guy who tries to stop Henry's reign of terror.
I'm not sure if we'll see them confront each other on SmackDown this week, but I imagine that it will happen in the near future.
Henry would be the perfect guy for Ryback to beat in order to get him back on track, as he has lost five consecutive pay-per-view matches. On the flip side, if there are designs on turning Ryback heel, as has been speculated, Henry is a guy who could believably beat him at WrestleMania and send him into an even bigger tailspin.
Whatever the case, Henry and Ryback are perfect for each other, and I'm fairly confident that the WWE will come to the same realization.
Is Team Hell No on the Path to Breaking Up?
It is no secret that Team Hell No has been on shaky ground since the very start, but Kane and Daniel Bryan have persevered through their issues and they have held the Tag Team Championships since Night of Champions. They continue to get on each other's nerves, though, and it seems like it's only a matter of time before they explode.
Things really heated up at the Royal Rumble when Bryan eliminated Kane, and they carried over to Elimination Chamber when Bryan tried to double cross Kane once again. Eventually, things are going to come to a head.
Kane and Bryan faced The Prime Time Players in a match on Monday in which Bryan was blindfolded and Kane had one arm tied behind his back. Team Hell No managed to emerge victorious, but it was an argument that led to those stipulations in the first place.
With WrestleMania just five weeks away, I have to believe that their dissolution as a team will either happen at the event itself or at some point before it.
It almost seems as though Kane and Bryan are rovers at the moment, as there is no telling what role they'll play at 'Mania. They could defend the titles, they could be part of a team that faces The Shield or they could even fight each other.
What happens over the next few weeks will determine that, but I don't have a good feel for what is going with them at all aside from the notion that they probably won't last past WrestleMania as a unit.
My preference would be for Team Hell No to tag with Randy Orton against The Shield at WrestleMania. Kane and Bryan had a great match with The Shield at TLC and could do so again. Their squabbles could ultimately cost them the match, which could potentially lead to Orton turning heel out of frustration.
Also, if the WWE wants to move the Tag Team Championships to The Shield, the straps could be put on the line in that match. There are a lot of possibilities when it comes to Team Hell No, and it would be nice to get some answers this week.
What's Going on with the Mid-Card Titles?
For a while, it seemed as though the WWE was building up the prestige of the Intercontinental and United States Championships. But that has ceased in recent weeks and months.
Wade Barrett has been booked terribly since winning the IC title from Kofi Kingston, and he acts as a jobber to the stars more than anything. United States Champion Antonio Cesaro hasn't been treated quite as badly, but he regularly loses to the likes of Ryback and Randy Orton as well.
It's time for the WWE to treat the mid-card titles with some respect rather than passing them off as meaningless props.
Barrett hasn't had a real feud since winning the belt, aside from a short program with Bo Dallas. I thought that the WWE would build that into something after Dallas eliminated Barrett from the Royal Rumble and beat him the next night on Raw, but it was dropped quickly. Right now, Barrett is doing something with Sheamus, as Sheamus has criticized Barrett's movie, but I'm not sure how far that's going to go.
Cesaro has had more success as U.S. Champion, but he's in flux as well. He is feuding with The Miz to some degree, but he also faces a lot of main-event-level guys and puts them over.
I realize that heels are bound to lose once in a while, but a mid-card champion should rarely lose. It seems like the WWE is setting Cesaro up to lose the title to The Miz at WrestleMania, but their feud has dragged on for a while and it hasn't exactly been compelling.
Even if the plan is for them to drop their titles, hopefully Barrett and Cesaro make the WrestleMania card against Sheamus and Miz, respectively. There isn't another logical opponent for either of them unless the writers develop something quickly over the next week or two. Whatever the case, neither Barrett nor Cesaro will be featured heavily at 'Mania, and that is a shame in my book.
Follow @MikeChiari on Twitter and listen to him on Ring Rust Radio.
Keep Reading