Realistic Best and Worst Case Scenarios for Alex Smith and the Chiefs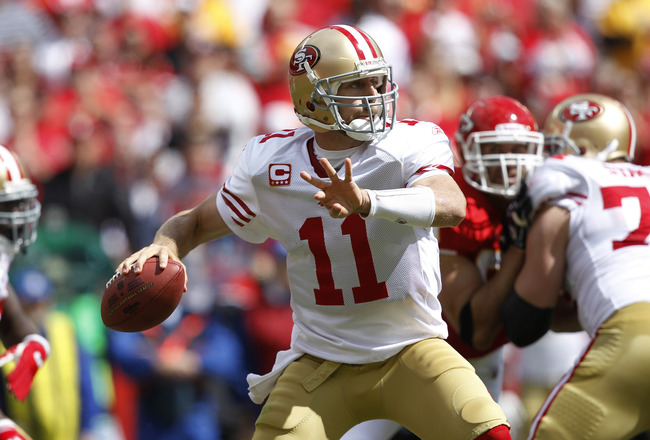 Joe Robbins/Getty Images
Now that the San Francisco 49ers and Kansas City Chiefs have finally completed a deal (via Jay Glazer of Fox Sports) for quarterback Alex Smith that seemed in the works for weeks, it's time to look forward to what the swap could mean for the Chiefs in the short- and long-term.
49ers have completed a trade with the Chiefs for Alex Smith, tho can't be official til March 12. Chiefs really made a commitment to Smith

— Jay Glazer (@JayGlazer) February 27, 2013
The 49ers have obviously added to their almost unfair allotment of draft picks in the 2013 NFL draft, but the future is cloudier for the other side of the deal.
In the following slides, we'll address the best- and worst-case scenarios for Smith and the Chiefs.
Best Case: Chiefs Rebound and Make Playoffs in 2013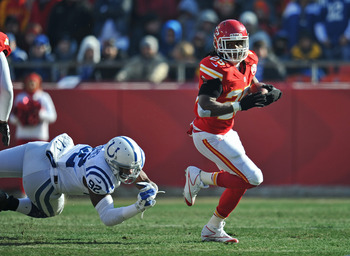 Peter Aiken/Getty Images
Despite only winning two games in 2012, the Chiefs are actually built to win now. With Smith on board, this team has the pieces to make a run to the postseason in 2013.
Six Chiefs players (Jamaal Charles, Eric Berry, Derrick Johnson, Tamba Hali, Dustin Colquitt and Justin Houston) went to the Pro Bowl last season, and Kansas City can claim to have difference-makers on both sides of the football.
Charles is a dynamic back, and he's complemented by a strong offensive line and a bona fide No. 1 receiver in Dwayne Bowe (while currently a free agent, he should be back). Nabbing an offensive tackle such as Luke Joeckel or Eric Fisher with the top pick will only add to that unit.
On the other side, the defense has two top edge pass-rushers (Hali, Houston), plus Pro Bowl-caliber players at cornerback (Brandon Flowers), middle linebacker (Johnson) and safety (Berry). Adding a player here or there and getting more from 2012 first-round pick Dontari Poe can give the Chiefs defense a real opportunity to be a strong point next season.
If everything went to plan, Smith wouldn't need to be anything more than the quarterback he was in San Francisco the past two seasons—mostly a game manager who completes a high percentage of his attempts, takes care of the football and makes the most out of his favorable opportunities.
Add all those components up, and there's no reason why Smith and the Chiefs can't compete for a playoff spot in 2013.
Worst Case: Smith Is No Better Than Matt Cassel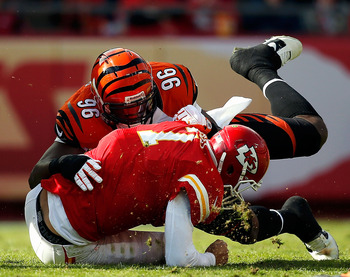 Jamie Squire/Getty Images
The inherent concern in Kansas City's addition is that Smith was a product of his environment, and that his first five seasons in San Francisco were a more true indication of his overall skill set than the two years in which everything was set up perfectly for the 49ers to romp through the NFC West.
In this scenario, Smith is probably not a significant upgrade over Matt Cassel.
It's worth noting that Smith won 19 of his 38 total games over the last two seasons. During his first five, Smith led the 49ers to a 19-31 mark. Both are realities, regardless of whether an optimist wants to throw out the first five years or a pessimist chooses to focus all his attention on those games.
Smith has also never thrown for 20 touchdowns or 3,500 yards, which speaks as much to his inability to stay on the field as it does to any kind of overall ineffectiveness. Only twice in seven years has Smith played in all 16 games.
By dealing a second-round pick in 2013 and potentially another in 2014, the Chiefs are banking on Smith being a sizable improvement over Cassel.
Maybe the worst-case scenario here would be Smith devolving into his first five years in the NFL, which look eerily similar to Cassel's last few. A version of Smith that resembles the last two will be more than enough to improve this football team.
Best Case: Chiefs Can Forget About QB Position for Foreseeable Future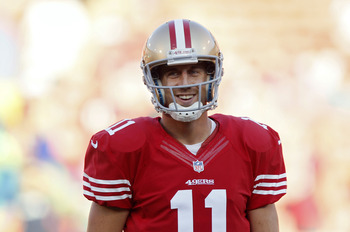 Brian Bahr/Getty Images
Maybe "forget about" is too strong a narrative here, but Smith excelling in Kansas City would take all the pressure off Andy Reid and general manager John Dorsey to find a quarterback through the draft.
Smith, despite seven years under his NFL belt, is still only 28 years old (he turns 29 in May), which gives him plenty of shelf life left.
If satisfied with Smith's performance in 2013, Dorsey could get to work immediately on a new deal that keeps the quarterback in Kansas City for the long term. As it stands currently, Smith would be a free agent following the 2014 season.
Knowing Reid, the Chiefs are likely to eventually covet a young quarterback to groom and potentially move via trade. But getting a starting-caliber quarterback like Smith can erase Dorsey's need to take a first-round quarterback in his first few drafts, which should allow for roster-building elsewhere.
Worst Case: Search for New QB Begins in 2014's First Round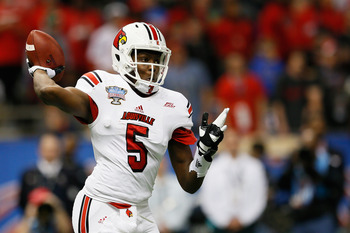 Kevin C. Cox/Getty Images
If Smith falls flat on his face in 2013 and the Chiefs limp to the finish line well under .500, Kansas City will almost have to look to the top of the 2014 NFL draft for help at quarterback.
Such a scenario would be a tough pill to swallow, but Dorsey will need to make a decision quickly on whether Smith is the future of the quarterback position in Kansas City. If he's not, the position leapfrogs all others to the top of the Chiefs' priorities next offseason.
The 2014 draft class should have some interesting names, including Virginia Tech's Logan Thomas, Louisville's Teddy Bridgewater (pictured) and Georgia's Aaron Murray. By this time next year, another one or two quarterbacks likely will have entered that discussion.
However, Kansas City would be looking at a clear setback if quarterback is a high selection next April.
Not only would the Chiefs be passing on a top quarterback to groom this April, but two draft picks would be all but wasted on Smith, and another would need to be used on a quarterback in 2014. This misuse of valuable selections would slow the Chiefs' rise from the AFC cellar.
Best Case: Chiefs Become Perennial Contenders in AFC West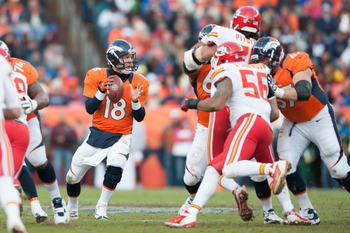 Dustin Bradford/Getty Images
While he won't be around forever, Peyton Manning's presence in Denver makes for a sizable roadblock to winning the division over the next few seasons.
However, with Smith and Reid on board, the Chiefs can now expect realistically to compete with the Broncos year-in and year-out. Anything less—especially with the rebuilding Oakland Raiders and unpredictable San Diego Chargers representing the other two division teams—would have to be seen as a failure on the part of Smith and this trade.
That said, can the Chiefs really ask for anything more than contending for the division each year? Smith, and the potential harmony he allows at quarterback, should give Kansas City that opportunity.
Manning may still be the unquestioned king of the division, but there's no longer a reason why the Broncos should win the division by a whopping six games. Smith and the Chiefs can and should be Denver's new competitive rival.
Worst Case: Chiefs Are...Just Good Enough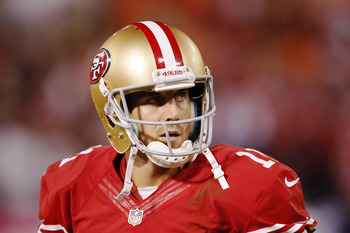 Brian Bahr/Getty Images
Isn't this the ultimate worry for the Chiefs—that Smith is just good enough to stick around, but not talented enough to get Kansas City over the hump?
There are few scenarios in the NFL worse than chasing mediocrity. An 8-8 season in 2013 might feel good on the surface for Chiefs fans, but what happens when 8-8 next season turns into 9-7 in 2014, and 7-9 the year after?
Mediocre seasons lead to complacency, but they also rob an organization of top picks needed to truly contend.
Would there be anything worse than the Chiefs middling away around .500 the next few seasons, all while missing out on the top quarterbacks and prospects who can actually get the franchise trending up? Smith needs to be better than a one-win, one-loss quarterback for this trade not to backfire.
Keep Reading