Unless you've been living under a rock for the last few hours, you'll know about the sensational rant from Rafael Benitez's post-match press conference after Chelsea beat Middlesbrough 2-1 in the FA Cup last night.
In a startlingly frank, open and honest interview, it came across as though Benitez had reached breaking point.
Benitez heavily criticized the Chelsea board and fans for the way he's been treated since he replaced the sacked Roberto Di Matteo last November.
This is just my opinion, but some of the abuse—yes, "abuse"—that has been aimed at Benitez since he took over at Stamford Bridge has been completely disrespectful.
A section of the Chelsea support have had it in for Benitez since day one because of some of the things he said when he went up against Chelsea as Liverpool boss, including his praise of the Liverpool fans.
What was he supposed to do? He was employed by Liverpool and was a tremendous success there.
It's not as if any former Chelsea managers have said controversial things before is it?
Jose Mourinho has made a career of being controversial and is hero worshipped, yet Rafael Benitez has been almost turned into the devil.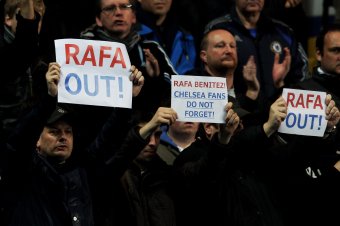 Clive Rose/Getty Images
The section of Chelsea fans that aren't happy with Benitez are in the minority—it's as simple as that.
It's understandable that some of the Chelsea fans weren't happy with his appointment, but the fact is that he's there to do a job.
Rafael Benitez's record speaks for itself.
He's won nine trophies as a manager, including La Liga, the Champions League, the UEFA Cup, the FA Cup and the UEFA Super Cup.
Yet because of some comments he made when he was Liverpool manager, a minority of the Chelsea support don't like him.
Well boo-hoo.
You can keep crying about it, or you can do what you're supposed to do as a football fan—support your club.
If the Chelsea fans are unhappy with Benitez's appointment, then they should vent their frustrations at the chairman who's gone through more managers than most people have had hot dinners—Roman Abramovich.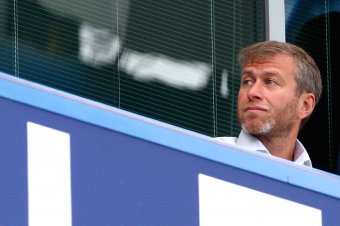 Phil Cole/Getty Images
Yes it's Roman's club, and he's entitled to do what he wants with it, but he is to blame for the situation that Chelsea find themselves in—not Benitez.
It was Abramovich who sacked Di Matteo six months after he'd won the Champions League—not Benitez.
Chelsea fans don't have to like or even support Rafael Benitez, but they have to respect him.
Instead of a section of the Chelsea support directing vitriolic abuse at Benitez, maybe they should think long and hard about who's really to blame for the situation they're in.
A combination of Roman Abramovich and, but for a few exceptions, a bunch of overhyped, underperforming, overpaid mercenaries who look more interested in lining their own pockets than winning trophies.
If you look at how the Chelsea board have treated previous managers and how sections of their support have treated this manager, they'll be lucky if any manager worth his salt wants the Chelsea job.
He'd have to be one of two things: crazy, or driven by money.
There's been so much uproar about what Rafael Benitez said during his post-match press conference on Wednesday night that it just makes you wonder.
Maybe so many fans are upset because the truth hurts.
Everything that Rafael Benitez said on Wednesday was true.
For his sake, the sooner that the end of the season comes the better.
Rafael Benitez is a terrific manager, and he should remember that he doesn't need Chelsea.
Right now, though, Chelsea need him.
Fact.