6 Key Premier League Battles to Watch This Weekend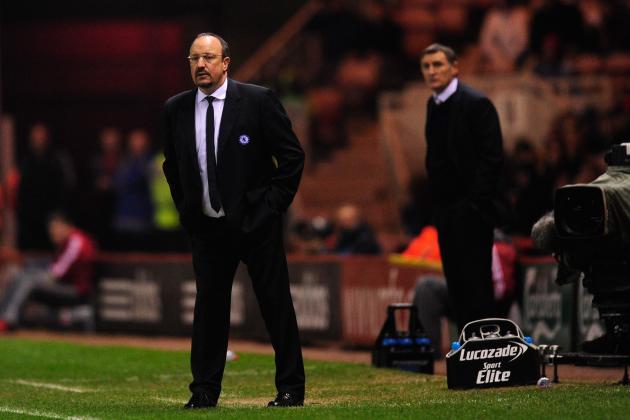 Stu Forster/Getty Images
Rafael Benitez has reached breaking point - will this weekend get any better for the Spaniard?
The Premier League takes over once again this weekend as the battle for European places and survival gathers pace.
Last weekend, Chelsea went to Manchester City and lost 2-0 to all but end their faint hopes of winning the Premier League title and pile even more pressure on their manager.
Since then, Chelsea boss Rafael Benitez has heavily criticized the Chelsea board and sections of his own support, but we'll get to that in just a bit.
City's win over Chelsea narrowed the gap at the top of the table to just 12 points, but they still have a mountain to climb if they are to retain their championship.
At the other end of the table, Wigan's 3-0 win at Reading was perhaps the surprise result of last weekend, especially when you consider that Reading have been in decent form of late.
And then of course, we come to Tottenham's man of the moment, Gareth Bale.
Bale further enhanced his growing reputation with another couple of cracking goals as Spurs beat West Ham 3-2 on Monday night.
Is Bale world-class?
You'll have to read on to get my thoughts on that!
Join me as I give my reaction to the latest club news and preview six of this weekend's key Premier League fixtures.
As usual, my predictions will be at the bottom of each slide.
Begin Slideshow

»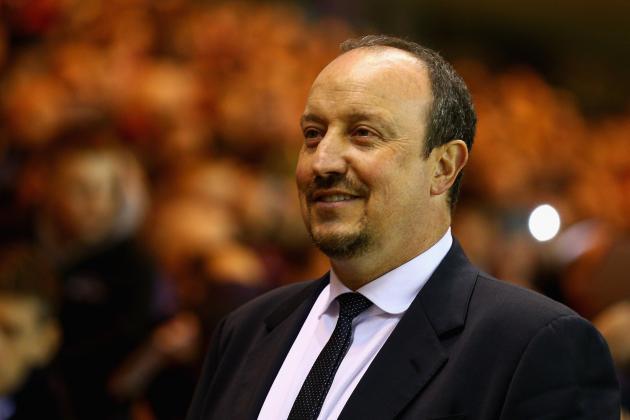 Clive Mason/Getty Images
Rafael Benitez smiling at the Riverside last night before his press conference
Most of the build-up to this match will probably center around the sensational comments from Rafael Benitez during his post-match press conference after Chelsea's 2-1 win at Middlesbrough in the FA Cup last night.
(For my reaction to Rafa's outburst, click here)
Without repeating myself, some of the abuse aimed at Benitez has been completely out of order and he's been treated shamefully by a moronic element of the Chelsea fans.
After all he's achieved in the game, he deserves their respect and as a proven manager, he's done enough to earn it.
You'd have to be a fool to think otherwise.
Back to matters on the pitch and yes, Chelsea may have lost 2-0 to Manchester City last Sunday, but who knows what would have happened if Frank Lampard had scored his penalty?
Chelsea could have gone on to win the game, but we'll never know.
Lampard has been nothing short of outstanding for Chelsea recently and along with Juan Mata, he's Chelsea's most likely goal threat.
West Brom will need to keep those two quiet to have a chance on Saturday.
It's a shame that Romelu Lukaku isn't available for the Baggies this weekend under the terms of his loan agreement from Chelsea.
The big Belgian has been in great form of late and has scored 11 goals for West Brom already.
Chelsea fans might be wondering why they didn't keep him and loan out the misfiring Fernando Torres instead!
In all seriousness, Lukaku will be a huge loss, but West Brom have players who are more than capable of causing Chelsea problems, like Shane Long and James Morrison.
The poisonous atmosphere that some Chelsea fans have created will only get worse on Saturday.
That's why West Brom will travel back north with a point on Steve Clarke's first foray to Stamford Bridge as a manager.
Prediction: Score draw
Ian Walton/Getty Images
Ryan Giggs celebrates his winning goal against QPR last weekend
On Saturday, Manchester United have the chance to increase their lead at the top of the table to 15 points when Norwich are the visitors to Old Trafford.
United overcame a plucky QPR side last Saturday when goals from Rafael and Ryan Giggs secured a 2-0 win for the Reds.
Even at the grand old age of 39, Giggs is still performing at the highest level and how he manages to do it is beyond me.
His experience is crucial to United and I doubt there's anyone else that Sir Alex Ferguson trusts more than Ryan Giggs.
United may be without Robin Van Persie for Saturday's game, after he suffered a hip injury last weekend.
Even without the Dutchman, United should still have more than enough quality to see off the Canaries.
It's worth remembering though that Norwich were the last English team to beat United on league duty.
Back on November 17th, Norwich beat United 1-0 and went on an unbeaten run that pulled them out of danger.
Last weekend, Chris Hughton's side beat Everton 2-1 thanks to a late goal from Grant Holt.
The big striker will be a key figure this weekend and he'll work his socks off for the team.
If Norwich are to have any chance of getting a result, they need to be disciplined and take any chances that come their way.
When it comes to my prediction, United are on such a roll right now that it will take a mammoth effort to beat them.
If this game wasn't at Old Trafford, Norwich might have had a chance, but it isn't.
Prediction: Manchester United win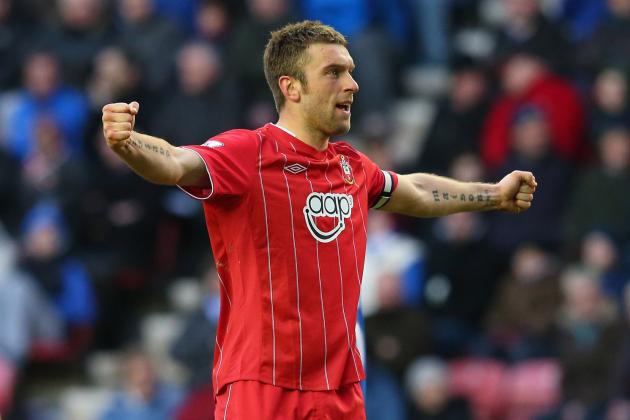 Alex Livesey/Getty Images
Rickie Lambert is now a member of Saints' 100 Club
Another week and another massive game at the bottom end of the table as Southampton host QPR at St Mary's.
Even although Saints lost 4-2 at Newcastle last weekend, they have been excellent to watch of late and there's every chance that they can stay up.
Rickie Lambert scored again last weekend to become a member of Southampton's '100 Club'.
Lambert has now scored 100 goals since signing for the club in 2009.
That's an astonishing record when you consider that he's played in three different leagues for Saints!
Southampton's chances of scoring, and surviving, in the Premier League are better when Lambert plays.
He isn't blessed with pace, but he's clever, creative and he knows where the goal is.
QPR will have to stop Lambert if they have any hope of getting a positive result at the weekend.
Time is running out for the Londoners.
They're getting more and more isolated at the bottom of the league and it looks like even Harry Redknapp can't get them out of the mess that they're in.
Rangers looked better when Loic Remy came on as a substitute against Manchester United last week, so Harry will hope that the Frenchman can get fully fit as quickly as possible.
Expect Harry to get a somewhat hostile reception from the Southampton fans on Saturday after his tumultuous reign in charge of the Saints ended in relegation almost a decade ago.
Given how well Southampton are playing and how badly QPR are struggling, a home win is the most likely result here.
Prediction: Southampton win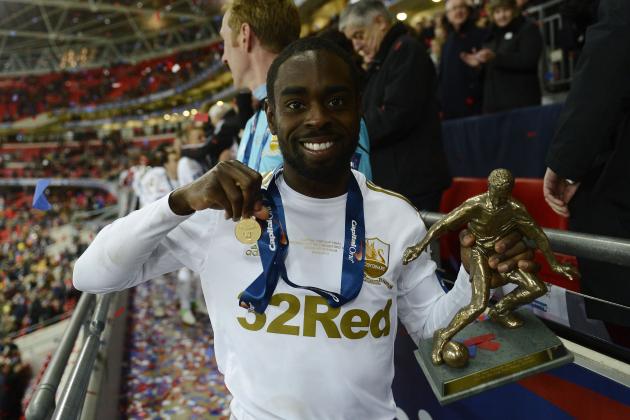 Pool/Getty Images
Nathan Dyer was man-of-the-match as Swansea won the Capital One Cup last Sunday
The party is probably still carrying on in Swansea after their Capital One Cup success at Wembley last Sunday, and it will continue on Saturday at the Liberty Stadium when Newcastle come calling.
Everyone connected with Swansea deserves a tremendous amount of credit for the success they've had in the last 10 years.
Swansea were close to being relegated out of the English leagues altogether a decade ago, so for them to be in the Premier League, let alone winning the Capital One Cup and qualifying for Europe, is a remarkable feat.
The Swans make the right decisions for the long-term future of the club and hanging on to Michael Laudrup will be a must for the board.
You had to feel for Nathan Dyer last Sunday.
The little man was on a hat-trick when Swansea were awarded a penalty, but he wasn't allowed to take it.
If he'd taken it, and scored, he would have become the first person to score a hat-trick in a cup final at the new Wembley.
What an achievement that would have been!
In terms of league business, Swansea are safe already and should be looking to finish as high up the league as they can.
With the home side still buzzing after last weekend, it's up to Newcastle to spoil the party on Saturday.
Newcastle's French revolution is gathering pace and they should begin to move up the table now.
Papiss Cisse added to his repertoire of stunning goals with another eye-catching strike against Southampton last weekend.
He just doesn't seem to score a bad goal does he?
The big fella can blow hot and cold sometimes, but with the likes of Moussa Sissoko and Yohan Cabaye creating chances for him, he'll want to kick on and finish the season on a high.
This match is really hard to call.
Newcastle are more than capable of winning the match, but the feel good factor around Swansea should see them cap off a remarkable week by taking all three points.
Prediction: Swansea win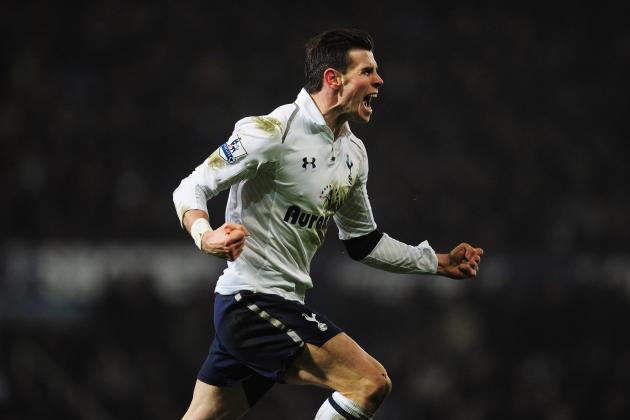 Jamie McDonald/Getty Images
Can Gareth Bale rip Arsenal to shreds in Sunday's London derby?
Sunday's match has huge implications for the clubs involved in the race for Champions League football.
If Tottenham win, then you'd have to think that they'd be in touching distance of clinching a Champions League place, as well as catching Manchester City in second.
If Arsenal win, then they would be right back in the mix for Champions League football as well.
When you consider the fact that it's also a huge London derby, it's going to be a terrific spectacle!
Tottenham's man of the moment is the flying Welshman Gareth Bale.
Bale scored another two stunning long-range goals against West Ham on Monday to further enhance his reputation.
His recent performances have led to his manager Andre Villas Boas telling Sky Sports (via ESPN.co.uk) that:
He is unbelievable, he's such a super talent. I think we have been able to see him this season in another level and he is making the difference every single game. Gareth has been world class for some time now.
While some of Bale's recent performances have been nothing short of exceptional, he's not world-class. Not yet.
To be considered world-class, he has to play against the best players in the world on a regular basis and show that he can compete with them.
That's what the likes of Ronaldo, Messi, Iniesta and Xavi have done, but Bale hasn't.
There's no doubt he has all the ability in the world and he's an exceptional player, but until he can do it on the big stage against the biggest teams on a regular basis, he can't be considered world-class - at least not in my opinion.
Having said that, it's highly likely that he'll rip Arsenal's defence to shreds on Sunday.
The Gunners defence isn't exactly strong at the best of times and with Bale's pace, power and eye for goal - as well as his confidence at an all time high - Arsenal's defenders will be in for a torrid time on Sunday.
Some of the Arsenal players owe Arsene Wenger a big performance in a big game.
It's ridiculous for Wenger to be under pressure, but that's the nature of the modern game.
Trophies are what matter to fans, not performances or financial profits, and the Arsenal fans deserve more for their money than they've had of late.
Santi Cazorla and Theo Walcott have to play well for Arsenal to be in with a chance on Sunday.
They might have walloped Spurs 5-2 at the Emirates in November, but Emmanuel Adebayor's ludicrous red card played a huge part in Spurs downfall that day.
Spurs have the chance to send out a huge statement of intent this weekend, and I think they'll do it at Arsenal's expense.
Prediction: Tottenham win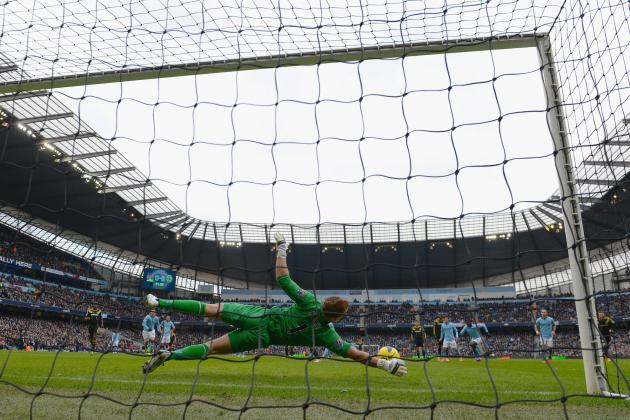 Shaun Botterill/Getty Images
Joe Hart turned the game in City's favour last Sunday
The final game to watch at the weekend sees Manchester City travel to struggling Aston Villa.
Villa were unlucky at the Emirates last weekend.
They played well in patches, but their defensive frailties were there for all to see.
Paul Lambert's almost unrelenting belief in his younger players is admirable, but there comes a time and a place where you need experienced pro's as well.
Andreas Weimann scored Villa's goal against Arsenal and he's been one of the few bright spots in what has been a miserable season for the Villa fans.
Simply put, Aston Villa have to be strong at the back against Manchester City otherwise there's a very real chance that they'll be put to the sword by the reigning Premier League champions.
For the second week in a row, Manchester City find themselves in the position where by the time they kick off in the Midlands, they could be 15 points behind United again.
Last Sunday, they were able to respond and beat Chelsea 2-0.
It's a result that probably wouldn't have come if it wasn't for Joe Hart.
He's been arguably the most consistent 'keeper in the league for the last 18 months or so, and while he's not been at his best in City's last couple of games, some of the criticism he's had has been really unfair.
OK, he might have given away the penalty last Sunday, but he still had to save it.
Frank Lampard is one of the most deadly penalty takers around, so for Hart to save his penalty was huge, especially in terms of momentum.
It turned the game in City's favour, and they went on to clinch a 2-0 victory.
When it comes down to Monday night, I just don't see Manchester City losing.
They'll close the gap on Manchester United once again, which will pile even more pressure on Paul Lambert and Aston Villa at the same time.
Prediction: Manchester City win