Nate Marquardt vs. Jake Ellenberger Head-to-Toe Breakdown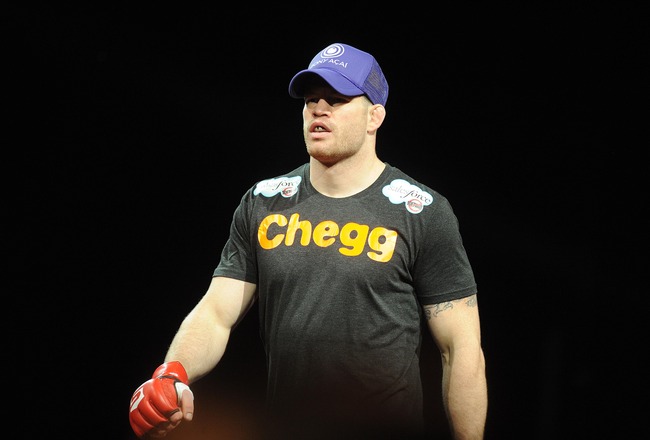 USA TODAY Sports
The UFC 158 reshuffle, caused by an injury to Rory MacDonald, has resulted in Nate Marquardt stepping in against Jake Ellenberger.
Ellenberger was initially scheduled to face Johny Hendricks in a title-eliminator, but Hendricks has been moved up to the co-main event to face Carlos Conduit as a replacement for MacDonald.
Marquardt is the former Strikeforce welterweight champion who's returning to the organization after a two-year exile. He was released from the UFC after his testosterone levels tested too high before his fight agaisnt Rick Story in 2011. Now he's back. After a successful transition to welterweight, Marquardt is looking to prove he's still a force to be reckoned with.
But in front of him is Ellenberger–a man who last year was only one fight away from getting a shot at champion Georges St-Pierre. Here's how the two fighters break down.
Striking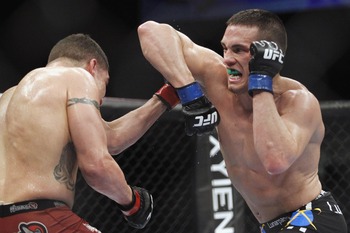 Matt Ryerson-USA TODAY Sports
Both men have only ever been knocked out once in their careers. Marquardt at the hands of Anderson Silva, and Ellenberger at the hands of Martin Kampmann.
Ellenberger also has 15 KO/TKO wins in far fewer fights than Marquardt, who has nine since he turned pro.
That alone doesn't tell you much. KO's and TKO's have as much to do with the opponent as the fighter. These two men are both well-rouded and their MMA striking is on par.
Wrestling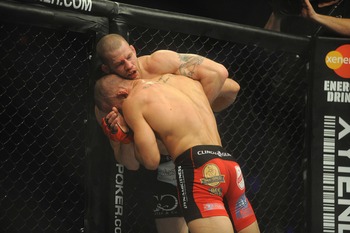 USA TODAY Sports
Ellenberger has a solid wrestling background as an NCAA Division II competitor. This is something Marquardt lacks.
In his fight against Chael Sonnen, Marquardt was woefully inadequate in the wrestling department, and spent most of the fight scrambling on his back getting pounded.
His skills have improved somewhat since then. He was more than capable of handling NCAA Division I two-time All American Tyrone Woodley in the bout which won him the Strikeforce welterweight crown, so Ellenberger shouldn't be too much of a surprise. But don't expect him to dominate Ellenberger in the wrestling category.
Submissions
USA TODAY Sports
Even though Ellenberger has had his share of submissions in his career, a wide gulf separates the two in this department.
While Marquardt hasn't submitted anyone in five years, he's a second degree black belt in BJJ compared to Ellenberger's purple. Based on that, he gets a slight advantage.
Advantage: Marquardt
Strength & Conditioning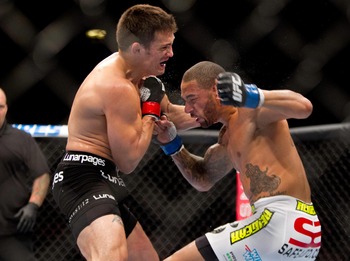 Bruce Kluckhohn-USA TODAY Sports
Both men have have gone the distance many times in their careers, but these decisions haven't always gone in their favor. Marquardt looked distinctly exhausted when he lost a five-rounder to Tarec Saffedeine in January. But Ellenberger has also been on the wrong end of a decision against the likes of Rick Story and Carlos Condit, and he barely sustained the pace against a lackluster Jay Hieron.
Realistically, you wouldn't expect either of them not to be prepared to go to war for three rounds.
Intangible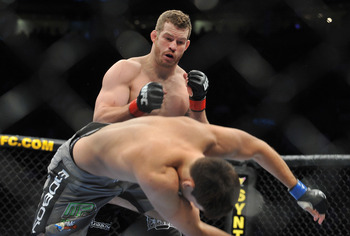 Jon Kopaloff/Getty Images
For his entire training camp, Ellenberger had been preparing for Hendricks until he got news of the switch last week.
That surely must have thrown his entire camp and game plan off. Marquardt is a completely different fighter to Kampmann, but then again, Marquardt took the fight on short notice too.
What's more, both have everything on the line. With the UFC's current cut-frenzy, Marquardt, who is returning to the promotion off a loss, must be looking over his shoulder. Ellenberger, afrer getting knocked out by Kampann, is still fighting for relevancy.
Prediction: Even contest which can go either way at any time.
Keep Reading