English Premier League: A Guide to Getting Relegated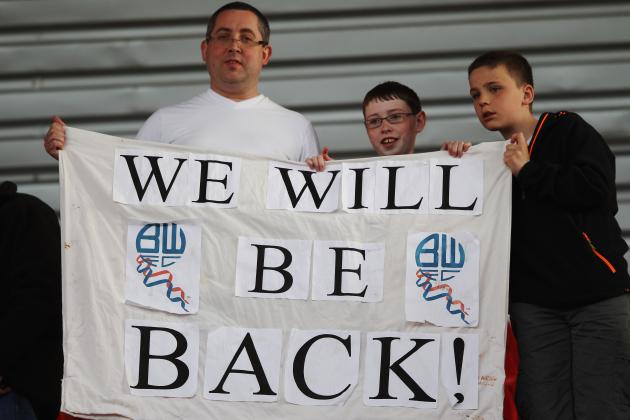 Michael Steele/Getty Images

As sure as day follows night and night follows day, every year three teams must get relegated from the Premier League.
But don't ever think that just because you support a team, they're safe. One day it could happen to you.
When Blackburn Rovers won the league in 1995, do you think they thought four years later they'd be getting relegated?
When Newcastle United were one of the best teams in the country in the 90s, could their fans predict they'd drop to the Championship in 2009?
No.
So sit up, take heed and make notes, as this guide of what to do and what not to do may come in handy when your beloved side is circling the drain into English football's second tier.
Begin Slideshow

»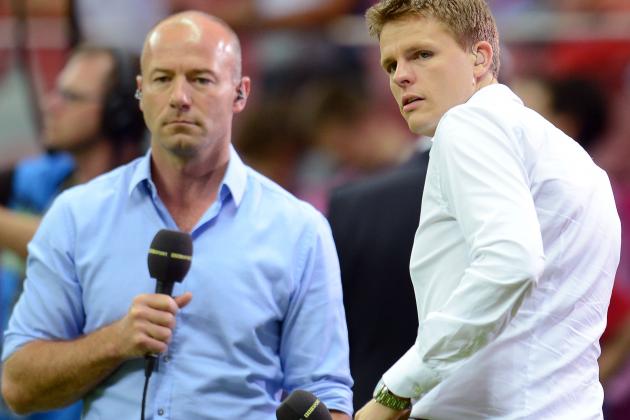 Shaun Botterill/Getty Images

When your team enters a relegation battle, you have to learn a parallel language. It's called "pundjabi" and is spoken mainly by football pundits. So here is a quick translation guide:
"Mathematically impossible" – Your team will not give up until it is mathematically impossible for them to stay up.
"Grinding out results" — After February, teams in the bottom half of the table don't win games, they grind out results. Or in the case of QPR, they just don't win games.
"Survival Sunday" — The last day of the season where who goes down is decided, like Easter Monday but more footbally.
"We have x cup finals" — Replace x with the number of games your team has before the end of the season and, probably, the end of your team's time in that league.
"In their own hands" — When a team's results can decide whether or not they survive, it is said to be in their own hands.
"Hope results go their way" — The opposite to the above, when only other teams' results can decide whether or not they survive they hope results go their way.
"A dog fight" — If your team is nine points or less off of 17th place, they are classed as in a dog fight. Don't worry, it doesn't actually involve dogs fighting.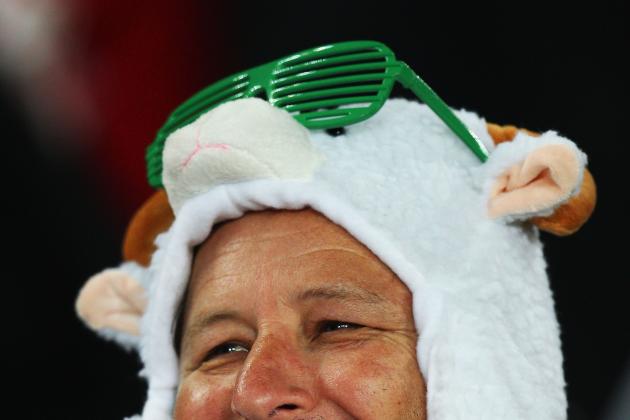 Cameron Spencer/Getty Images

It's important not to get too worried when facing at least a year in the division below of what you have become accustomed to.
Embrace how terrible your boys have been this year. You're in a unique position, there's been, at most, two teams in the league that have had a worse season than yours.
Take a leaf out of Wolverhampton Wanders' fans book, who chanted at Manchester United as they put five past them at The Molineux last season (which would ultimately end in them getting relegated)
"How **** must you be? You only scored five".
Or as QPR fans sang, while being soundly beaten by Liverpool over Christmas.
"You're nothing special, we lose every week."
It's not required that all chants are done to the tune of "Sloop John B" by The Beach Boys, but it is encouraged.
In summary: cheer up, you'll probably get promoted next season anyway.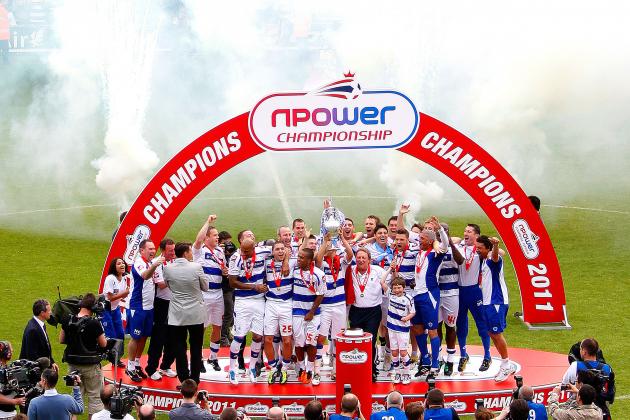 Dan Istitene/Getty Images

Just because you're in the Premier League this season, it doesn't mean you'll automatically walk the Championship next season.
Just ask Barnsley.
Or Burnley.
Or Charlton Athletic.
Or Bradford City.
Or any of the teams that didn't bounce back after top-flight relegation.
The theme tune to the 1963 film about Allied prisoners of war, The Great Escape, is the soundtrack to every team's relegation battle. Even if your team are actually not in the drop zone and favorites to stay up, you are still expected to sing this.
The song is meant to be uplifting and optimistic about your team's chances of survival, even though in the film (SPOILER ALERT), the characters all end up getting shot in a field anyway. Which is probably more relevant to your team's chances of survival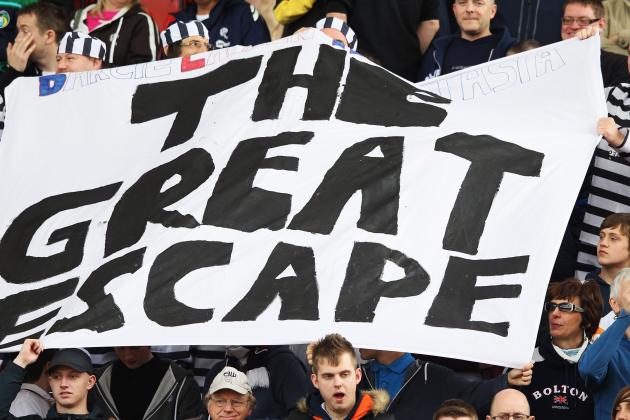 Michael Steele/Getty Images

These Bolton Wanderers fans unveiled a "The Great Escape" banner when they were beating Stoke City on the last day of the 2011/12 season, because as things stood at that moment, Bolton would have survived the drop and QPR would have gone down. But, in hindsight, it may not have been the wisest move.
A Jon Walters penalty soon relegated them—effectively, shooting them all in a field.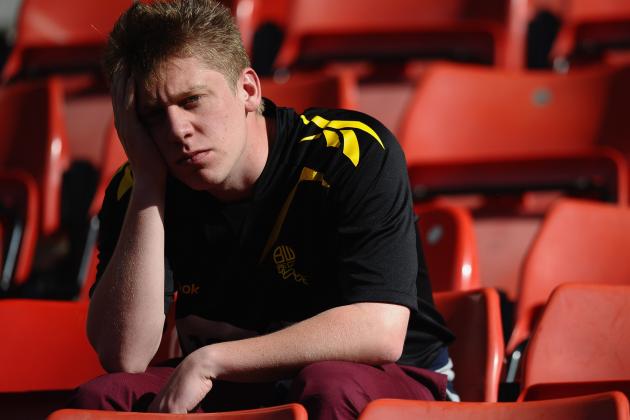 Laurence Griffiths/Getty Images

It is expected of a representative fan from every relegated club to stay behind and sit in an empty section of seats, crying as the realization of playing in a league with slightly less prestige kicks in on live TV.
Make sure you do this as it's only polite to give the cameras what they want.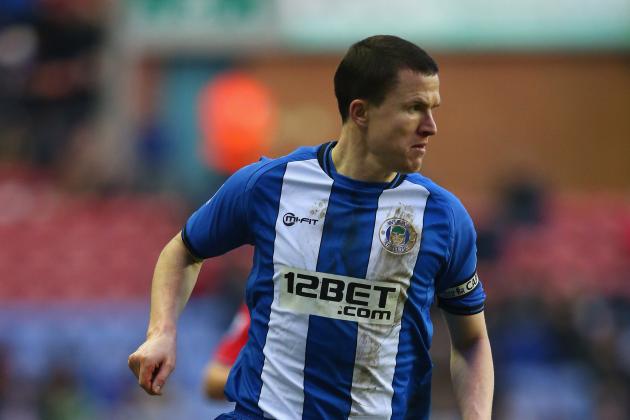 Alex Livesey/Getty Images

Despite consistently selling their best players every summer transfer window and gradually becoming a worse and worse team, Wigan Athletic are apparently immune from relegation.
Wigan seem to be well among the relegation battlers every year, even sometimes cut adrift at the bottom, but they haven't been relegated since they were promoted to the top flight in 2005.
Come the nuclear holocaust only two things will survive: cockroaches and Wigan Athletic.
This cracking Jamie Pollock header ended up relegating Manchester City to what was then Division Two.
The only problem is Jamie Pollock was playing for Manchester City.
His hilarious, but wonderfully finished, own goal condemned Man City to relegation to English football's third tier in 1998, but saved their opponents, Queens Park Rangers, from the drop.
For his efforts, QPR fans later voted Pollock the most influential man of the past 2,000 years, with Jesus Christ coming in a distant second.