NY Knicks Game-by-Game Predictions for the Month of March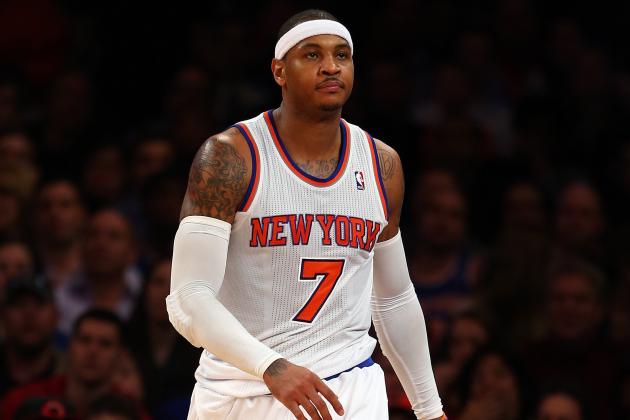 Elsa/Getty Images
Melo and the rest of the New York Knicks look to march ahead in March.
Spring is in the air, and that means playoff basketball is just around the corner. Every game at this point means more, especially if you have title aspirations like Carmelo Anthony and his New York Knicks.
Melo and the Knickerbockers need to disprove the notion that their impressive 18-5 run earlier this season was a fluke. Fans hate frauds, and if the Knicks intend to prove to the people they are indeed a genuine ball club, they need some momentum going into the postseason.
So how will each game play out for the Knicks in the month of March?
Begin Slideshow

»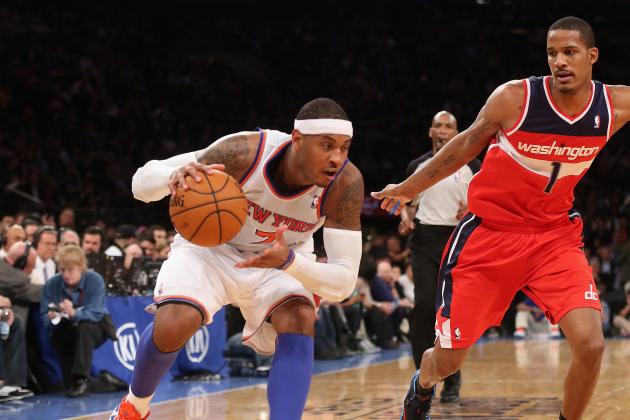 Bruce Bennett/Getty Images

Looks easy, huh?
Well, for the Knicks it should be. Washington has been playing better ball since John Wall returned, and immediately, he and rookie Bradley Beal started clicking as a tandem. Despite the upsurge, the Knicks will probably be fine in this matchup. Both teams match up well with one another, but there is still a vast talent disparity.
So far this season, the New York Knicks have split the season series with Washington, but they will likely edge them in this upcoming bout. A day of rest will keep them fresh, and a team in tank mode may not try too hard to beat them this go around.
Despite their youthful duo, Carmelo will have a healthy 25-point, seven-rebound game, and J.R. Smith and the rest of their perimeter gunners will go off. The Wizards will keep it close most of the game, but they collapse in the fourth.
Final Score: Knicks win, 93-80
Updated Record: 35-20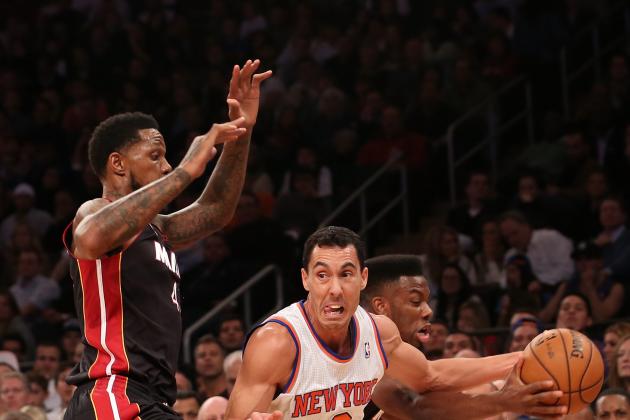 Nick Laham/Getty Images

So far this season, the Knicks have made easy work of the Miami Heat. Leading the series 2-0, the Knicks will look to go 3-0 in the season series this upcoming Sunday. If you know basketball, you don't need anybody to tell you what to look for this game.
Rebounds are going to be important—both squads love to shoot the long ball, so extra possessions will be key. Tyson Chandler will have a field day against the likes of Chris Bosh or any undersized big Miami throws his way, but the Heat are no slouch this time of year.
LeBron James and Dwyane Wade are riding a 12-game win streak, but on the road they are prone to slow starts. If Carmelo and company don't shoot the lights out and share the ball, they will not win. Controlling turnovers will also be key, and if they can spread the floor against Miami they will have a puncher's chance. If this becomes Carmelo one-on-five against Miami, it will get ugly.
Miami's vicious transition attack can be equalized against opponents who get hot from behind the arc, and having the home-court advantage certainly helps.
The Knicks will shoot the ball well, but Miami is playing with a heightened sense of intensity that will be too much for New York.
Final score: Knicks lose, 105-100
Updated record: 35-21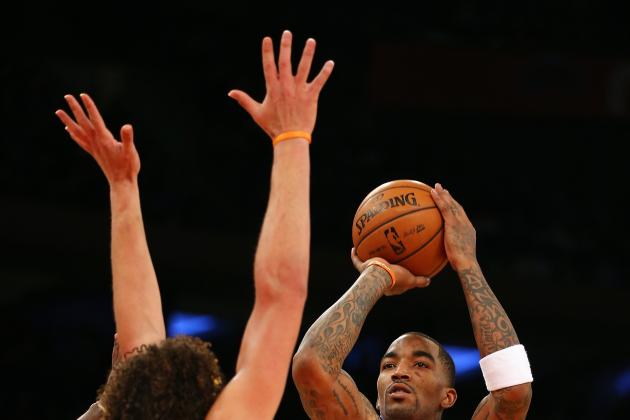 Elsa/Getty Images

The Cavaliers seem like easy pickings, but they have been playing better than their record indicates as of late. A pair of recent wins against Chicago and Toronto with guard Dion Waiters leading the way reminds opposing squads that Kyrie Irving isn't the only Cavs guard they have to worry about.
This could be a big letdown spot for New York on the road after playing Miami the previous day. The Knicks will come to play for a bit, but the energetic, youthful Cavaliers want the win more than they do. Kyrie has missed two recent games due to a knee injury, but if he's good to go Monday, the Cavs might keep it close or win straight up.
The Knicks take it easy after the previous day's big game while the Cavs roll with intensity.
Final score: Knicks lose, 97-89
Updated record: 35-22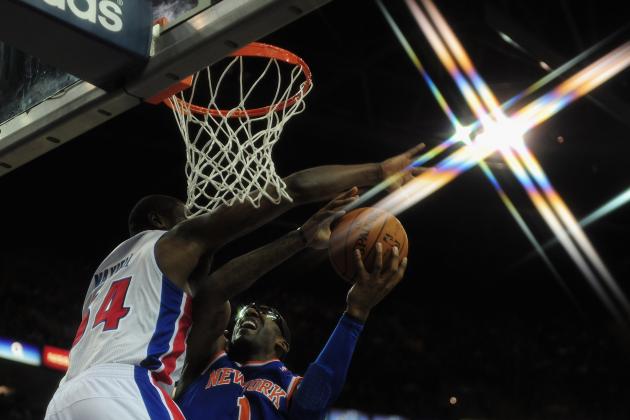 Jamie McDonald/Getty Images

A day's rest will do the Knicks good, and they will come out with a renewed sense of intensity. Carmelo and company will take advantage of a squad that lacks the personnel to light it up from deep. If the Detroit Pistons come out and play like they want to win, we will have a game on our hands, but if it's full-on tank mode Pistons, they will lay down.
Steve Novak, J.R. Smith and Carmelo will all light it up. Detroit keeps it close but lays down once the momentum really starts to get out of hand.
Final score: Knicks win, 115-90
Updated record: 36-22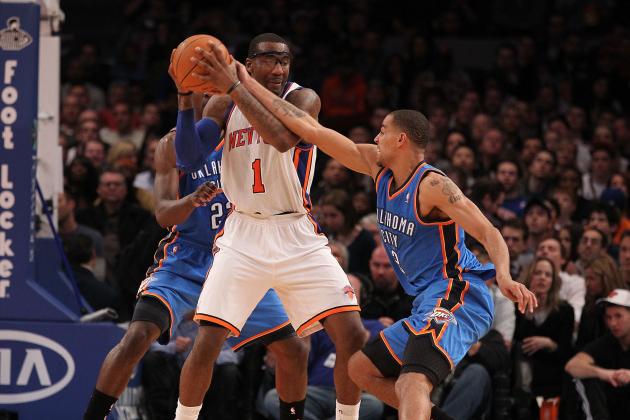 Al Bello/Getty Images

This matchup will force two of the game's best scoring forwards into a one-on-one showdown. Oklahoma CIty has been blowing teams out of the water as of late, but I think this affair will be closer than expected. The Knicks will likely come into the game as 6.5-point home dogs, likely opening at 7.5, but the margin of victory for either side will be no greater than six points.
If the Knicks want to play defensive basketball, they are capable of doing so when they put effort into it. Kevin Durant and Melo go off for a combined score of 61 points—Melo gets 29, Durant gets 32.
The Thunder edge the battle of the scoring forwards, but the Knicks put forth a valiant effort.
Final score: Knicks lose, 97-91
Updated record: 36-23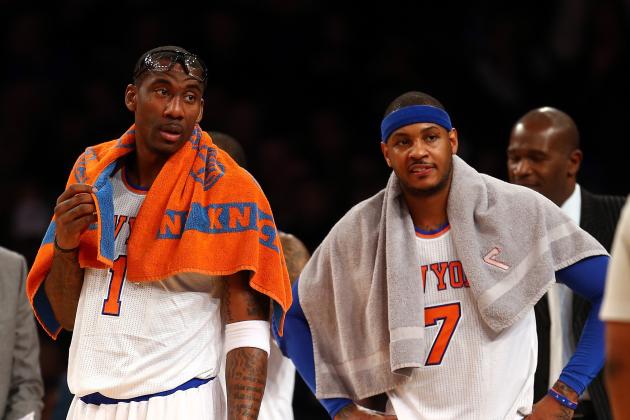 Elsa/Getty Images

The Jazz aren't a great perimeter team, but they have a couple of shooters on their squad that can light it up. Randy Foye is streaky and could possibly have a big night in MSG, but the Knicks collectively love shooting the ball in the Garden.
The Utah Jazz's offense is mostly predicated off in-the-paint scoring from either Paul Millsap or Al Jefferson, so if the Knicks keep a lid on their inside game, it will be a wrap for Utah. Carmelo takes advantage of a squad lacking someone who can really match up well with him, and the Knicks roll at home.
Final score: Knicks win, 110-90
Updated record: 37-23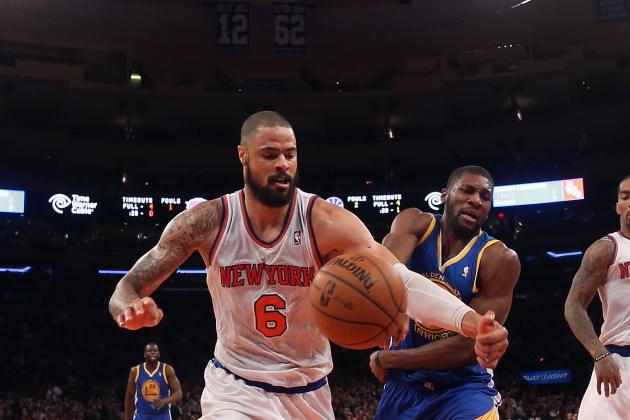 Bruce Bennett/Getty Images

The Knicks allowed Stephen Curry to go off for an epic 54-point shooting clinic in their most recent outing, but will they manage to edge a win as the road team this go-around?
Oracle Arena isn't an easy place to play, and with a team with revenge on its mind, it's even tougher. The Warriors got a bad game out of Jarrett Jack and Klay Thompson recently, and not to mention they were without David Lee following his little blow up against the Pacers.
The Warriors will get their revenge behind a better shooting performance from their perimeter players, and David Lee will give them more activity on the boards. Carmelo will still have his way, however; no matter who checked him in their recent matchup, the Warriors couldn't stop him.
Melo goes off, but it won't be enough to stop the Warriors from getting vengeance.
Final score: Knicks lose, 113-108
Updated record: 37-24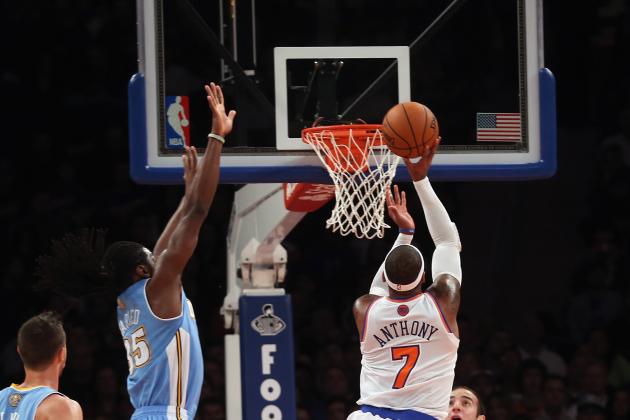 Bruce Bennett/Getty Images

Well, this will be a little awkward.
Carmelo Anthony will visit his old team come March 13th, and that means he's going to have an extra incentive to put on a show. Melo comes out intensified, and his squad mates are going to make sure he earns the win convincingly.
Denver is a team that loves to run, and an affair featuring two teams in love with the perimeter shot will ensure it occurs. Both Raymond Felton and Ty Lawson do a lot of damage in the paint off the pick-and-roll, and we will see plenty of that this game.
If the Knicks can stay hot from beyond the arc and keep Denver out of transition, look for a close, intense game that favors the tougher team. Despite two potent offenses, the score goes a little under the expected triple-digit margin range.
Melo and his boys will get the best of this reunion to the tune of six points.
Final score: Knicks win, 96-90
Updated record: 38-24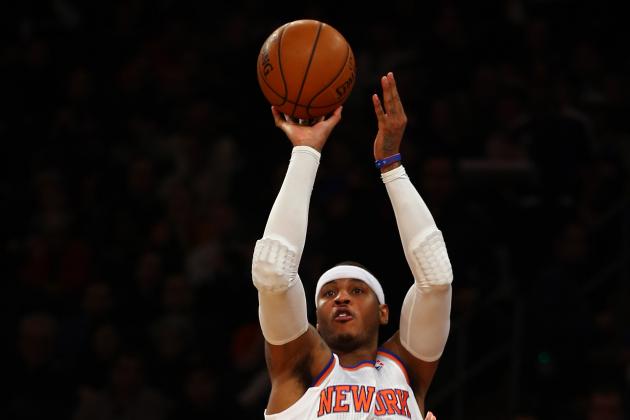 Elsa/Getty Images

The Trail Blazers are a tough, tough team to face in the Rose Garden. The energetic squad is 18-10 at home, and behind a raucous crowd and electrifying point guard in Damian Lillard, it won't be an easy game for the Knicks.
Raymond Felton is going to be out with a chip on his shoulder, however, as he aims to show his former squad that he means business. Carmelo might struggle against a lengthy wing like Nicolas Batum, but either way, he will get to the line and contribute some offense.
Portland is a team that often starts out slow but picks it up later in the second half, so expect this game to come down to the wire. Despite the road back-to-back, the Knicks, behind a motivated Felton, will scrape by with an extremely close win.
Final Score: Knicks win, 103-101
Updated record: 39-24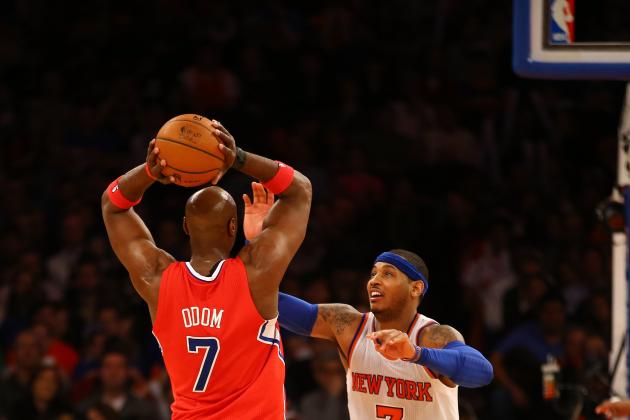 Al Bello/Getty Images

The Clippers at home means the Knicks have a really tough opponent ahead of them. They will have a few days' rest, but either way, it won't mean much against an opponent they don't really match up well with.
DeAndre Jordan equalizes the physicality of Tyson Chandler and their bevy of shooters equalizes the Knicks' three-point threat. Not to mention they have arguably the best point man on the planet running their offense in the opposing backcourt.
Chris Paul will play hard and make sure the Clippers stomp on the Knicks' necks and don't let up. The Clippers are a cocky squad that love to run up the score, so this one could surely get out of hand if the Knicks lose momentum.
The Clippers will roll at home behind an off afternoon from Melo and company.
Final score: Knicks lose, 103-82
Updated Record: 39-25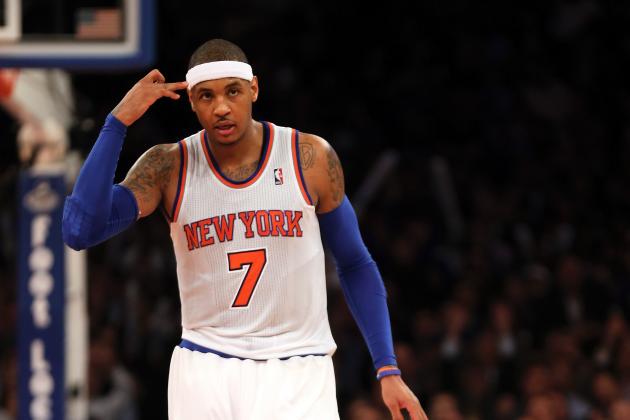 Elsa/Getty Images

Assuming the Knicks took the previous day's game "off" so-to-speak, tonight will be a different story. Similar to their earlier matchup, the key will be chasing the Jazz shooters off their spots and making sure they contain the interior attack of the Jazz.
The Jazz come out flat, and Carmelo and the collective group bounce back after an uncharacteristically bad shooting performance. Melo scores big—40 points big—and the Knicks roll to a convincing victory following a blowout the day before.
Final score: Knicks win, 110-89
Updated record: 40-25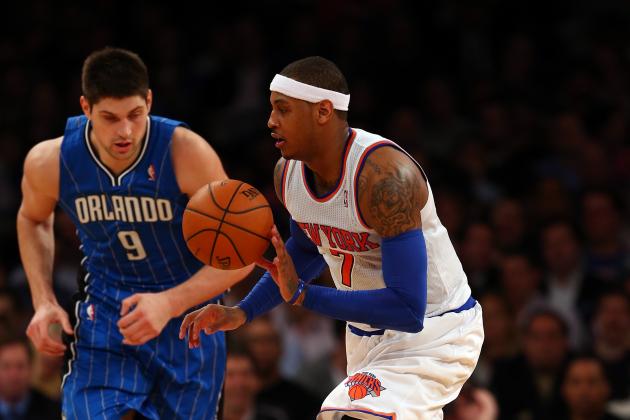 Elsa/Getty Images

Not really much of a tossup here.
Sure, Orlando has played some good ball here and there, but this is a terrible spot for them. The Knicks, coming off a huge shooting performance, will return home rested and will likely sustain their hot shooting.
The Magic will come to play, but so do the Knicks, and they will also come to shoot. J.R. Smith, Steve Novak and Melo will eviscerate a porous Magic unit with an impressive offensive display.
The Knicks crush the woeful Magic in a one-sided blowout.
Final score: Knicks win, 123-90
Updated record: 41-25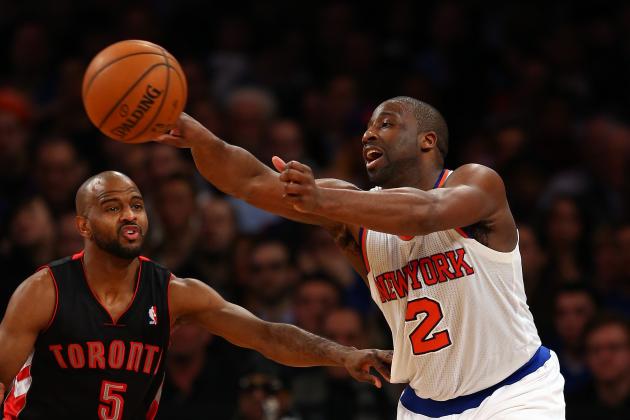 Elsa/Getty Images

The Knicks tip off an intriguing two-game mini-series against the Raptors on the road come March 22nd.
Since acquiring Rudy Gay, the Raptors have played more inspired and are capable of excelling in transition if given the chance. Gay matches up well with Carmelo, but Melo is skilled enough to get shots off on a superior athlete such as Gay.
This will be a grinder of a game, and considering the Knicks are on the road, it will be an uphill battle all night. The Raptors will capitalize off the Knicks' mistakes, but the Knicks manage to scrape by thanks to a big night off the bench from Smith.
Clutch shooting edges the superathletic tandem of Rudy Gay and DeMar DeRozan.
Final score: Knicks win, 87-83
Updated record: 42-25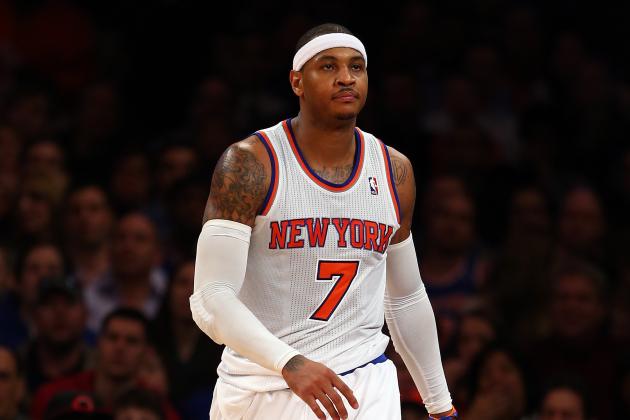 Elsa/Getty Images

Part two of the epic Knicks-Raptors mini-series comes to a close the following day.
After a previous night's defensive struggle, tonight's game will feature two winded teams looking to close out the awkward back-to-back series. The Knicks are very tough at home in the Garden, and Saturday night's game will demonstrate why in case you've forgotten.
The Raptors, who managed to keep it close the night before, won't be so fortunate yet again. They will have an off shooting night against a team that shoots the ball well under the bright lights of the MSG.
The Knicks conclude the mini-series with a lot of shooting, and a beleaguered Raptors squad throws in the towel toward the end of the game.
Final score: Knicks win, 110-93
Updated Record: 43-25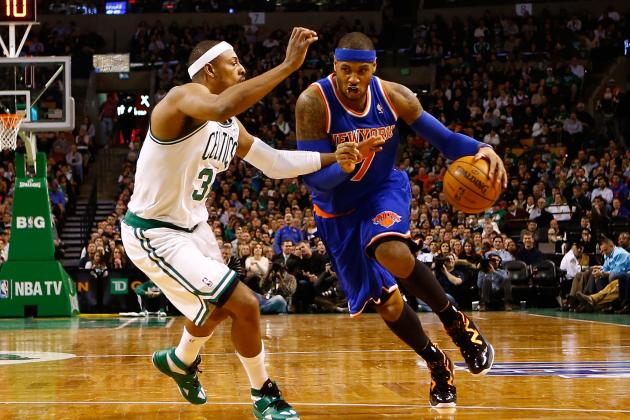 Jared Wickerham/Getty Images

In their most recent battle with the Celtics, the Knicks won by a margin of three points. It was a defensive struggle in which Boston really struggled to score consistently, and eventually, the Knicks' superior offense won the day.
Boston loves these games, and they will be in for yet another exciting showdown between to cunning scorers in Melo and Paul Pierce. Pierce had somewhat of an off shooting night the last time these teams met, but he still got a solid 22 points on 6-of-15 shooting.
Without Rajon Rondo this go-around, the game's pace will be a bit different. The game's pace will likely be a bit faster, and we could most certainly see a triple-digit total from each respective squad.
Boston isn't a bad team, but they just don't have the offense to keep up with a Knicks squad who shoots lights out at times.
The Knicks will their way to victory thanks to some solid shooting and collective grit against a tough Eastern Conference rival.
Knicks win: Knicks win, 103-100
Updated record: 44-25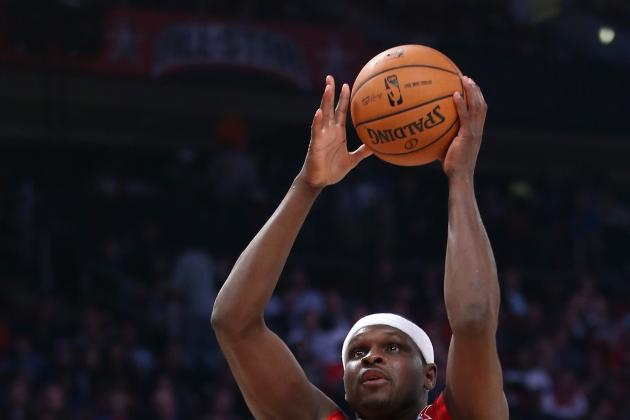 Ronald Martinez/Getty Images

If you recall from earlier this season, the Memphis Grizzlies were the squad to deal New York its first loss of the season. The Grizzlies defended effectively that game, and they also had a nice outing collectively as far as sharing the basketball.
Zach Randolph is a guy who will not be intimidated by the interior presence of Tyson Chandler, and despite Rudy Gay being absent from the squad this go-around, Memphis has no trouble shutting big-time scorers down.
Despite being at home, this won't be a cakewalk for the Knicks. The Griz play hard, physical basketball, and the score of his game will reflect it. Despite the home-court advantage, the Grizzlies prove they have New York's number and pull off the road upset.
Final score: Knicks lose, 87-83
Updated record: 44-26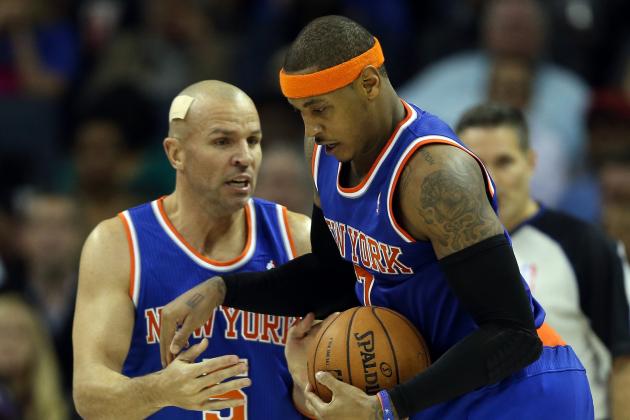 Streeter Lecka/Getty Images

There isn't much expert analysis required here. It's the abysmal likes of the Charlotte Bobcats, and they're coming into the Garden to face the Knicks.
The Knicks are going to absolutely go off on a struggle-status team that is plagued by offensive stagnancy and an incapability of defending anybody.
The Knicks obliterated the Bobcats, who will be in full tank mode at this point.
Final score: Knicks win, 120-84
Updated record: 45-26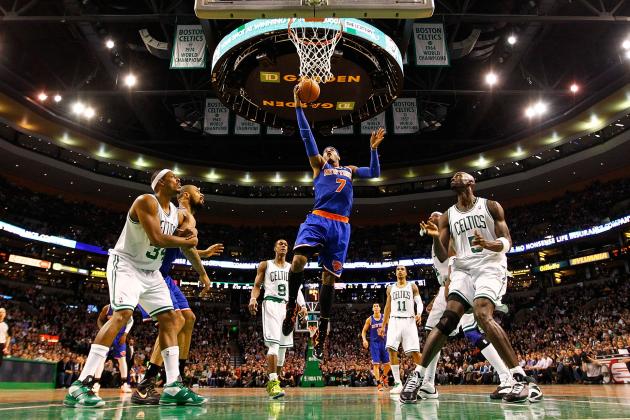 Jared Wickerham/Getty Images

We've seen the recent matchup already, so we know how this one will likely play out. The Knicks at home will be set to close off the month of March with a big-time win to demonstrate that they are a worthy power in the Eastern Conference despite the existence of the Miami Heat.
Their final game of March will portend a month of April that will include 10 games that could potentially prove meaningless, will ultimately figure into how they come into the playoffs.
Their final game against a squad like Boston will let them show their grit, flex their offense and prove they are indeed a genuine team that is to be feared.
The final game against Boston will undoubtedly have a playoff-like atmosphere to it. Despite the previously close margins of victory, it will be a one-sidedl night in MSG. The Knicks will put on their best performance possible, and it will certainly reflect their intensity and focus.
Final score: Knicks win, 113-90
Updated record: 46-26