San Diego Chargers Who Need to Improve in 2013
Donald Miralle/Getty Images
It's never a good thing when your QB is on his back.
The San Diego Chargers finished 2012 second in the AFC West with a 7-9 record and three games short of a playoff spot.
The reasons for the shortcoming are varied—draft, free agency, coaching, etc.—but ultimately the blame always lies on the shoulders of the players.
If San Diego expects to improve on the 7-9 record, some key players need improve on their 2012 season. Whatever the reason, these players either had down years compared to seasons past or simply need to take the next step in terms of development.
The list is arranged from players who did not live up to expectations to players who need to play well for San Diego to have a winning season in 2013.
Begin Slideshow

»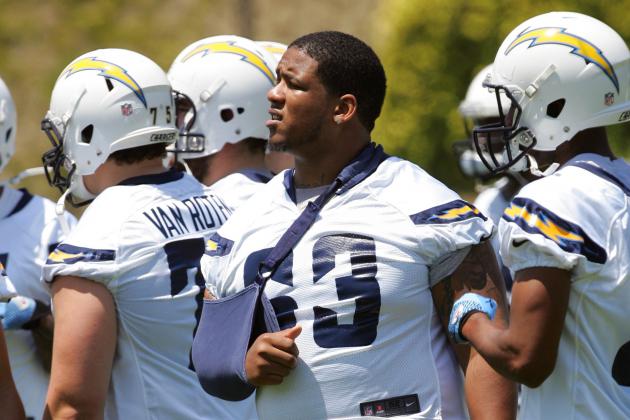 Kent Horner/Getty Images
The Chargers drafted Troutman (63) even though he had a pectoral tear.
It is not fair to say a player needs to improve upon a season if that player was out due to injury, but these players definitely need to rebound and contribute in 2013.
Wide receiver Vincent Brown was predicted to have a breakout season in 2012, but he broke his ankle in the first preseason game and was sidelined the entire year. As a rookie in 2011, Brown showed promise. He caught five passes for 97 yards and one touchdown in Week 10 against Oakland, but Brown only totaled 19 receptions for 329 yards that year.
It would be beneficial if the San Diego State product can recover fully from the ankle injury and be a go-to target for quarterback Philip Rivers.
Former general manager AJ Smith used a fifth-round draft pick on Johnnie Troutman knowing full well the former Penn State guard had a torn pectoral muscle that required surgery and would sideline him for an entire season.
The disarray along the Chargers offensive line is well documented. Both starting guards (Louis Vasquez and Tyronne Green) are about to become unrestricted free agents. Even if Troutman does not emerge as a starting guard, it would help if he could at least be an option as a backup.
Brandon Taylor was supposed to team with Eric Weddle to form a dominating backfield to the secondary. Instead, the third-round pick tore his knee in his first career start. If Taylor can rehab and return as the strong safety of the future, the San Diego defense has one less hole to fill.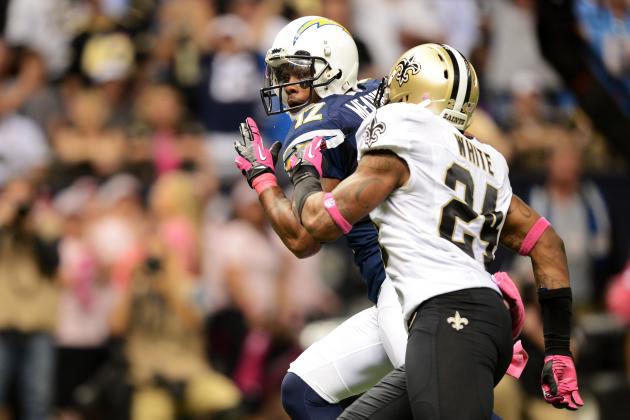 Harry How/Getty Images
Meachem (12) had two TDs against his former Saints team and ZERO the rest of the year.
To say Robert Meachem needs to contribute more in 2013 is to suggest he contributed something in 2012.
Meachem is one of the many free-agent acquisitions that doomed former GM A.J. Smith. The former New Orleans receiver signed a four-year, $25.9 million contract last offseason.
That money would have been a little much even if Meachem performed at a level similar to his previous three seasons with the Saints when he averaged 43 receptions, 660 yards and more than six TDs. Unfortunately, his 14 grabs for 207 yards and two scores were eerily similar to his rookie season (12 REC, 289 yds, 3 TDs).
No one expected Meachem to replace Vincent Jackson. Meachem and Eddie Royal were supposed to combine to fill the void left by Jackson's departure to Tampa Bay. Royal and Meachem combined for 37 receptions, 441 yards and three TDs. Jackson had 72 catches, 1,384 yards and eight TDs for the Buccaneers.
Meachem needs to do much, much more in 2013.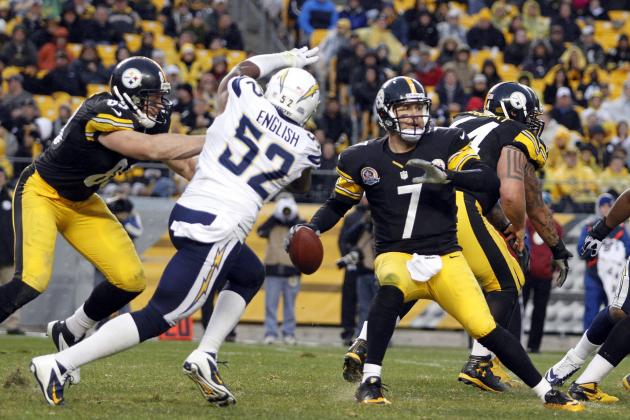 Justin K. Aller/Getty Images
English (52) has failed to live up to his first-round status.
Will Larry English ever live up to his first-round draft status?
English was picked with the No. 16 overall selection in 2009 and was expected to take over with Shawne Merriman coming off a foot injury. In three seasons, English has 73 tackles and 8.5 sacks.
English's time is slipping. If he wants to not just remain a Charger, but also in the NFL, he needs to step up his game. Melvin Ingram, last year's first-round pick, had 41 tackles and one sack as a rookie.
Outside linebacker Shaun Phillips is about to become an unrestricted free agent who San Diego is not expected to re-sign, meaning there is an opportunity for English to show Charger brass he is worth keeping around.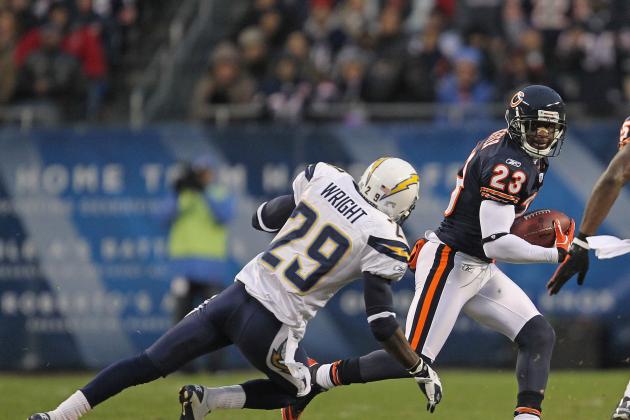 Jonathan Daniel/Getty Images
Wright (29) may be forced into the starting cornerback job.
The Chargers cornerbacks were not good last year. Not just Shareece Wright and Marcus Gilchrist, but starters Quentin Jammer and Antoine Cason.
Opposing teams averaged 230.1 yards passing against the Chargers in 2012, which was 15th out of the league's 32 teams. But San Diego allowed 28 passing touchdowns, tied for the eighth most. According to Pro Football Focus, Cason and Jammer allowed more touchdowns (13) than they had passes defended (12).
Pro Football Focus thinks Wright could be the starting corner next season but points out Gilchrist allowed the highest quarterback rating than any other NFL corner.
No matter if both Jammer and Cason leave (both are unrestricted free agents) or both return, Wright and Gilchrist need to contribute in 2013. Even if the Chargers re-sign Cason and either sign a corner in free agency or draft a starter, Wright and Gilchrist will see major playing time due to the proliferation of three-wide receiver sets and the need to have a three-corner back formation on defense.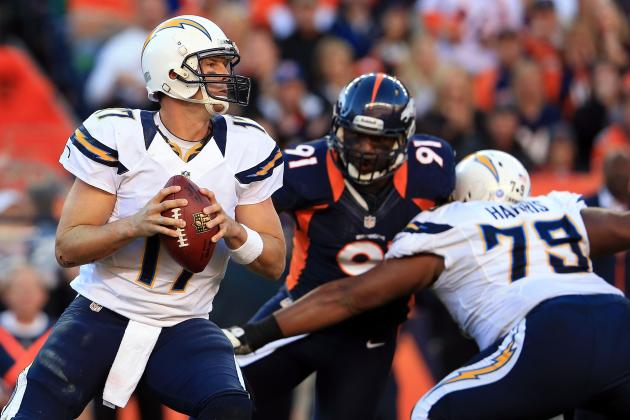 Doug Pensinger/Getty Images
Michael Harris (79) was an undrafted free agent who started at left tackle.
It may seem like a cop-out to just say the offensive line instead of pointing out individual players, but the truth is every single person who took a snap at some point along the offensive line needs to do a better job than he did in 2012.
San Diego was second-to-last in yards-per-rush attempt (3.6) last year and allowed the second-most sacks in the AFC.
It was patch-work collection of players, with only center Nick Hardwick and right guard Louis Vasquez starting all 16 games. It didn't matter if the line was manned with veterans or rookies, regular starters or backups, as none—including Hardwick and Vasquez—played well.
Whoever is assigned to block in 2013—whether it is a returning player, a veteran signed via free agency or a newly-drafted rookie—they absolutely need to do a better job than the group in 2012.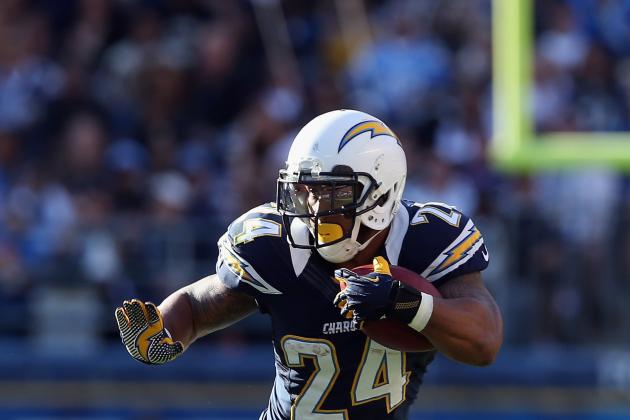 Jeff Gross/Getty Images
Ryan Mathews had one more rushing touchdown than you did in 2012.
Ryan Mathews could be thrown in with the "Honorable Mention" group because he started and ended the season with broken clavicles.
The problem is even when he was healthy, Mathews did not play well. It would be easy to point the blame at the offensive line, and the big boys up front obviously need to do a better job, but Mathews had one touchdown in 2012.
One.
Last year was also his worst in terms of yards per carry (3.8). The positive is he only fumbled the ball twice last year. Mathews fumbled five times each of his first two seasons in the NFL.
It will be interesting to see if the former first-round pick from Fresno State can adjust to the zone-blocking scheme San Diego is believed to be installing.
If Mathews can not run the zone schemes, it will be a very long 2013 season for San Diego.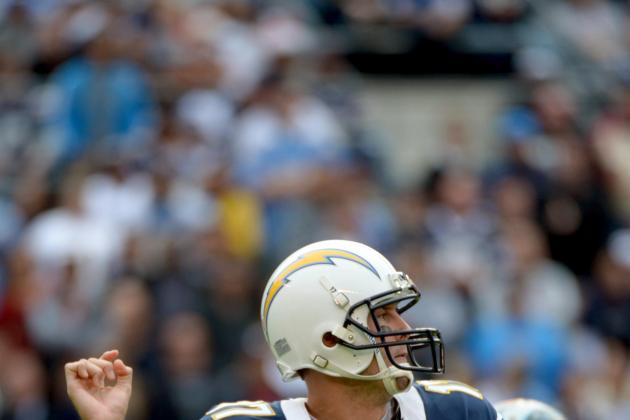 Donald Miralle/Getty Images
You can't blame all of Rivers' fumbles on bad protection.
You can make any excuse you want—the offensive line was garbage, the wide receivers were not very good, the running attack was mediocre—but the painful truth is Philip Rivers has not played well.
Granted, probably 10 teams would like to have Rivers even when he isn't playing well, but he has regressed the past two years.
Rivers averaged 27 touchdowns and a little more than 11 interceptions his first five years as the starter in San Diego.
Last year, he had 26 TD, but 15 INTs. In 2011, he had 27 TDs with 20 INTs.
His fumbles are the most alarming thing. Rivers fumbled 24 times the past two seasons. He averaged eight fumbles from 2006 through 2010.
His quarterback ratings in 2008, 2009 and 2010 were 105.5, 104.4 and 101.8, respectively.
In 2011 and 2012 they were 88.7 and 88.6.
Yes, his O-line was garbage.
Yes, his top skill targets were gone.
Yes, he had little run game to keep the defense honest.
You can make excuses and give reasons, and most of those are absolute truths, but Rivers has not looked the same. His interceptions were bad decisions and bad throws.
The Chargers will only be better in 2013 if Rivers plays better in 2013.