Ranking the NBA's Best Rookie at Each Position Among Their Veteran Peers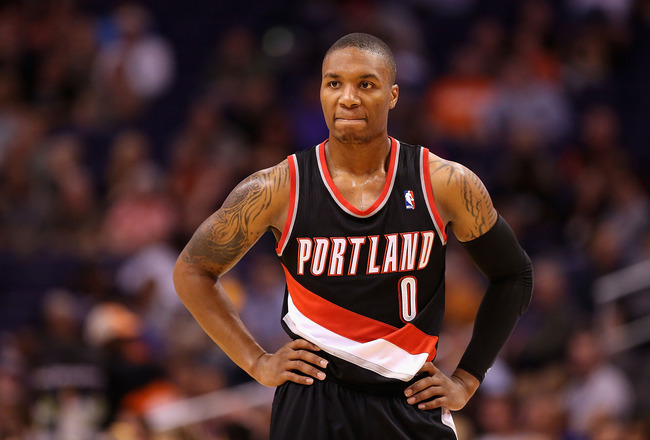 Christian Petersen/Getty Images
Well into the season, NBA rookies are starting to figure out their games and make statements as to where they stand. This rookie class is all over the grid in terms of where they stand within position-specific rankings among all NBA players.
The reigning sixth pick in the draft, Damian Lillard has been a star-in-the-making for the Portland Trail Blazers. Players picked ahead of him like Anthony Davis, Bradley Beal and Michael Kidd-Gilchrist have been impressive, but they haven't been on the same level as Lillard. With around seven weeks before the NBA playoffs begin, the rookie of the year award has almost certainly been decided.
With the season entering the homestretch, it's time to start comparing these rookies among their veteran peers. The rankings given are based on how they players are currently playing. Stats and direct impact on games are most highly favored.
Damian Lillard, PG, Portland Trail Blazers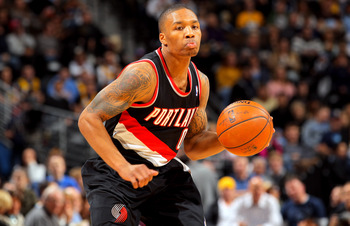 Doug Pensinger/Getty Images
Positional Ranking: Ninth
In terms of point guards, Damian Lillard has ascended up the positional rankings throughout the season.
That climb has been a little more drastic with top point guards Rajon Rondo and Derrick Rose out of basketball.
At this point, despite his great play, Lillard is still behind players like Chris Paul, Russell Westbrook, Tony Parker, Kyrie Irving, Stephen Curry, Deron Williams, Ty Lawson and Jrue Holliday. Lillard has already passed up players such as Brandon Jennings, Kemba Walker and Jeff Teague with his silky play.
Lillard's fantastic play this season has all but locked up the rookie of the year award. He's sped up the rebuilding process for the Portland Trail Blazers and has the team fighting for a playoff spot. Lillard's ability to control the Trail Blazers offense has been equally impressive as his ability to shoot the basketball and get to the basket.
His 18.3 points and 6.5 assists per game have him nearing superstar status.
While Lillard has impressed this season, his game still has room for improvement. The biggest flaw has been his consistency. At times he's tried to do too much on offense, either forcing passes or taking bad shots. That said, Lillard's positional ranking will rise with more time in the league.
Bradley Beal, SG, Washington Wizards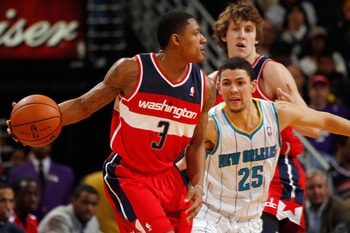 Chris Graythen/Getty Images
Positional Ranking: 17th
Bradley Beal is down on the list of shooting guards, but if he keeps playing like he has over the last six games, that will change quickly. At 17th, Beal is just behind Kevin Martin, Vince Carter and Kyle Korver. Those guys don't all have the scoring ability that Beal does, but they more consistently contribute to their team's success.
Beal is slightly edging out rookies Dion Waiters and Kyle Singler as well as Ray Allen and Lance Stephenson. Recently, He's been a bigger piece of Wizards offense those players have been for their respective teams.
During the last six outings, he's averaged 20.2 points, 2.7 assists and 5.2 rebounds a game while helping the Wizards to a 4-2 record over the span.
John Wall's return has been a huge blessing for Beal. The rookie shooting guard has turned the corner while many rookies have hit the highly debated 'rookie wall.' The smooth shooting guard has improved his scoring, working off of Wall's ball-handling skills.
In a way, Beal has simplified his game by just doing rather than out-thinking himself.
His play during the beginning of the season left plenty to be desired. He was shaky and suffered from the lack of support from teammates. Beal will need to prove he's taken his game to the next level rather than just had a good spell.
Michael Kidd-Gilchrist, SG, Charlotte Bobcats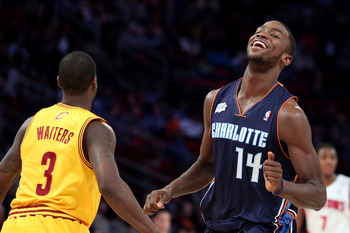 Ronald Martinez/Getty Images
Positional Ranking: 30th
The league is remarkably rich at the small forward position. With players like LeBron James and Kevin Durant setting the bar so high, Michael Kidd-Gilchrist is far from the top. Kidd-Gilchrist falls directly behind Al-Farouq Aminu, John Salmons, Mike Dunleavy and Corey Brewer. Those players may not be the biggest contributors, but they can be counted on by their teams. Simply, the same cannot be said for Kidd-Gilchrist.
Kidd-Gilchrist slightly outranks fellow-rookie Harrison Barnes, Jimmy Butler and Dante Cunningham. Barnes has been a nice fit with the Warriors, but he's gotten overshadowed by the other talent on that roster. Kidd-Gilchrist's defensive play is really what sets him apart and lands him higher than these players.
Michael Kidd-Gilchrist's season has followed a bell-curve. He struggled to start the season, had a stretch of good games and now is struggling to find a way to impact games.
In his last game, against the Los Angeles Clippers, Kidd-Gilchrist added nothing as he finished with no points, one rebound, one block and two assists.
Kidd-Gilchrist has played great defense at times this season, but his poor offensive arsenal often takes him out of games. He needs to manufacture some offensive firepower. He's athletic enough that he should be able to take the ball to the basket and at least get to the free-throw line.
There is talent, but it's yet to be honed.
Anthony Davis, PF, New Orleans Hornets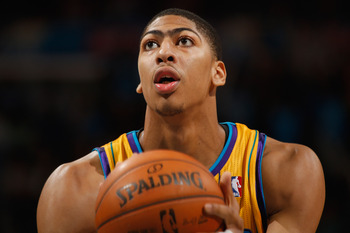 Chris Graythen/Getty Images
Positional Ranking: 14th
With regard to top power forwards, Davis is a couple of players outside the top ten. He is still trying to adjust to the size and strength of the NBA, but he's been fairly productive. Carlos Boozer, Tristan Thompson and Luis Scola are just ahead of the rookie Davis. These players have been able to consistently contribute more than Davis on both ends of the court.
Jason Thompson, Carl Landry and Jeff Green slighly trail Davis. They have all been efficient, but Davis' offensive and shot-blocking make him a more valuable player at this point.
His offensive game has been surprising and developed faster than most expected. His true shooting percentage of 54.8 is good for 13th among power forwards that have played more than 20 minutes per game.
His rebounding has a been a disappointing aspect of his game so far and he simply needs to be more consistent in that area.
On a positive note, Davis' incredible wing-span has helped him control the paint and come up with 1.8 blocks per game.
Part of Davis' slower development has been the lack of minutes he's played. He's only averaging 27.7 minutes per night as Ryan Anderson and Robin Lopez have also had success down low for the Hornets. In the next few years, Davis will have the opportunity to sky-rocket up the list of power forwards.
Andre Drummond, C, Detroit Pistons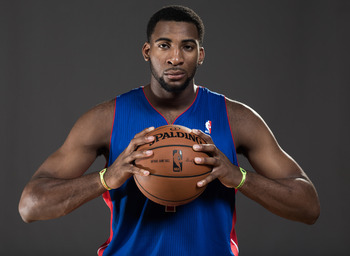 Nick Laham/Getty Images
Positional Ranking: 27th
The NBA currently has plenty of talented centers. Drummond isn't close to the top with great players such as Tyson Chandler, Dwight Howard, Joakim Noah and Al Horford. The players that rank just above Drummond are Kosta Koufos, Nene and Perkins. These players are simply more refined than Drummond. They simply understand the speed of the NBA game better than Drummond.
Chris Kaman, Zaza Pachulia and Bryon Mullens are just behind Drummond in the ranking. These players have facets of their game that they perfected, but need to be more-rounded. Drummond has been fairly well-rounded during his rookie season.
The potential is definitely there for Andre Drummond to join the big name centers in the next few seasons.
Drummond has been out of action since the beginning of February with a stress fracture in his back. Before the injury, Drummond was living up the potential of the talented 6'10", 270-pound center. He was extremely efficient with the basketball, shooting 59.2 percent from the field.
While his scoring has been solid, Drummond's best asset has been his activity on both ends of the floor. He's shown great rebounding prowess and shot blocking ability. When on the floor, Drummond controls the paint and demands attention offensively and defensively.
Keep Reading