Ranking Stephen Curry's NBA Season High with Best Visiting Performances at MSG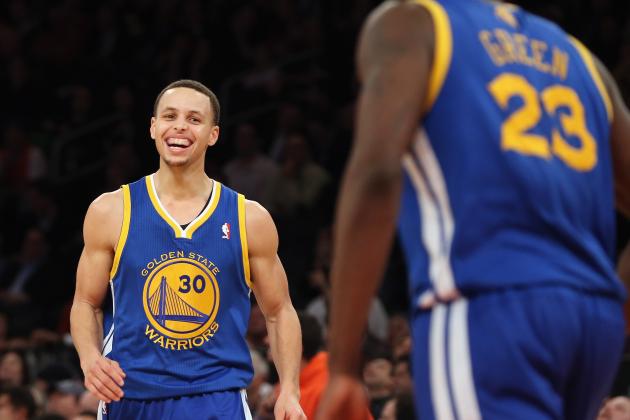 Bruce Bennett/Getty Images

Stephen Curry dropped 54 points on the New York Knicks in an amazing performance as the Golden State Warriors fell 109-105.
Curry's losing effort seems meaningless in the aftermath, but we all know well that there's something special about players having a big game at Madison Square Garden, especially as a guest.
As it's said in As You Like It, "All the world's a stage, and all the men and women merely players."
That holds true in thousands of instances, but especially so when it comes to basketball in the league's proclaimed mecca.
As a player is elevated on that raised court, the stands are blacked out and the lights are bright, shining straight down on the floor, some sort of magic happens that makes people take notice. Throw it on national television and we've got a historic performance on our hands.
Plus, there's something about being added to the list of guys with 50-point games at MSG that is incredibly special. That's just the way Madison Square Garden is.
Begin Slideshow

»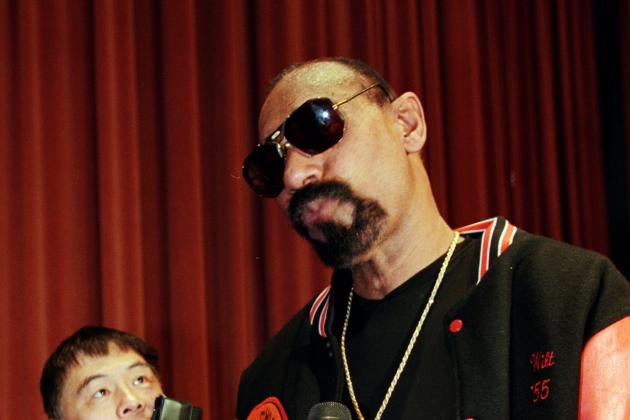 Brian Bahr/Getty Images

Wilt Chamberlain had a ton of huge games at Madison Square Garden, but that was just the nature of his playing style.
Six times he scored at least 50 points under the bright lights of MSG, and five of these six can easily be lumped together. Chamberlain averaged 58.4 points in these five.
Two of these games were losses for his team, although one was a magical performance on Christmas Day, just one of two 50-point performances to happen at MSG on Christmas.
We'll get to the sixth time—by far his highest total—a little bit later on.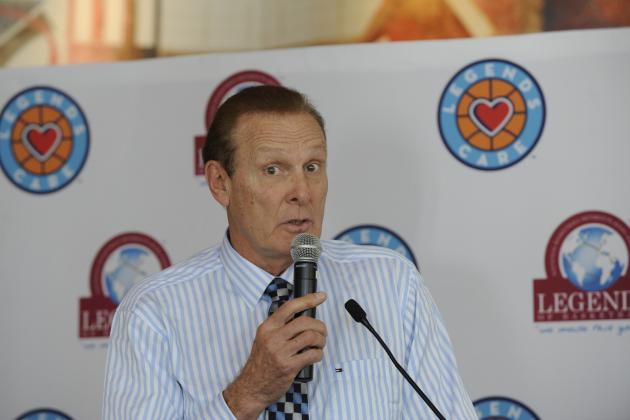 David Banks/Getty Images

Rick Barry was a wily rookie coming from across the country to play in Madison Square Garden for the first time in his young career.
All he did from there was drop 57 points on the Knicks.
Barry's Warriors rode his 57-point, 15-rebound night to a huge offensive game, but the Knicks would prevail 141-137.
The surly dude scored on 18 of his 29 shots and missed just one of his 22 free throws.
When there was a debate between who the Golden State Warriors should keep, the argument for Monta Ellis was always that he was an exciting, explosive scorer who could go off at any point.
There's something about having a coiled snake on your side, ready to strike at any moment, that's alluring to people.
On Feb. 27, Stephen Curry similarly proved capable of coiling up and striking when he sees fit.
Curry came within one three-pointer of the all-time record, sinking an incredible 11 of his 13 three-pointers. Just one more and he would have joined Kobe Bryant and Donyell Marshall for the most three-pointers in a single game. (Though it was the most any NBA player has made in an away game.)
To top it all off, Curry added six rebounds, seven assists and three steals in Golden State's 109-105 loss.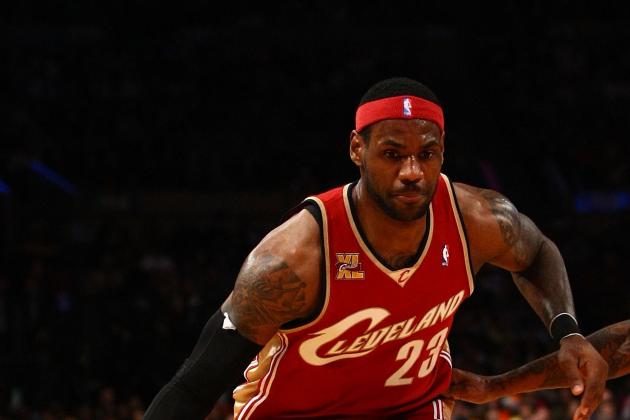 Chris McGrath/Getty Images

There's something about a storyline that makes games all the more intriguing, and one of the few regular-season achievements LeBron James didn't have under his belt yet was an eye-popping game at Madison Square Garden.
This dominant game in 2008 changed that.
James dropped 50 points on the Knicks in a 119-105 win for the Cleveland Cavaliers that was a performance rivaled by only three players in the history of the league.
His 50, along with double-digit assists, would mark just the third time since the NBA-ABA merger that a player scored 50 points while accounting for at least 10 assists, putting him right there with Stephon Marbury and Michael Jordan.
Oh, and he also had eight measly rebounds.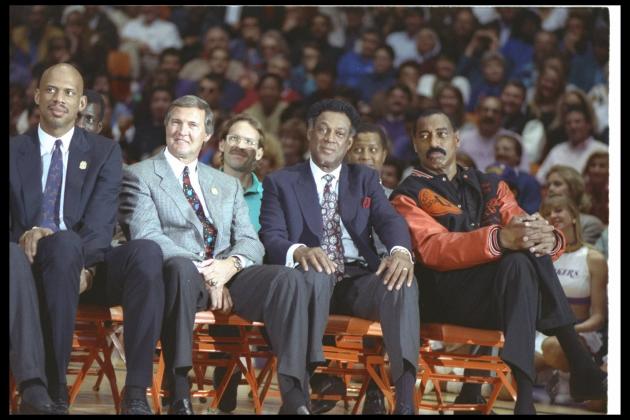 Ken Levine/Getty Images

Scoring 50 is an achievement, scoring 60 is astonishing, but scoring 70? That's borderline superhuman.
There are a few factors to take into account, mostly that Baylor played in the shot-happy, fast-paced, pre-merger days in which scores typically topped out over 100 points on average, but it's still hard to take away from a 70-point performance.
Baylor dropped in 28 of his 48 shots and added 25 rebounds to boot, while the Knicks watched as the Lakers power forward powered his team to a 123-108 win.
It wasn't just an amazing scoring outburst, as 71 points gave Baylor the then-NBA record for points in a single game.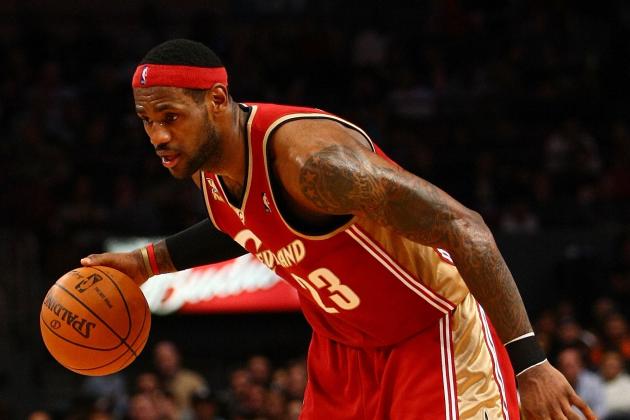 Chris McGrath/Getty Images

By February of 2009, talk had already started of LeBron James' free-agency decision he had to make the coming offseason.
There was talk surrounding LeBron potentially moving to the Knicks and becoming the most well-known basketball name there ever was. After all, bringing the Knicks a championship is an achievement that nobody has achieved since 1973.
The only problem at that point was that LeBron was still clad in wine and gold, and the Knicks were a long way away from having any shot at wooing him.
When the game ended, it seemed LeBron had pulled off a triple-double while scoring 52 points. Nobody in full searchable box score history (1985-86) has had a triple-double while scoring 50 points. It would have been the first since Kareem Abdul-Jabbar did it in 1975.
Unfortunately, one of the final plays of the game gave LeBron his 10th rebound when it should have been attributed to Ben Wallace. A rebound was stripped, and LeBron's final box score read 52 points, nine rebounds and 11 assists.
Cleveland ended up winning 107-102.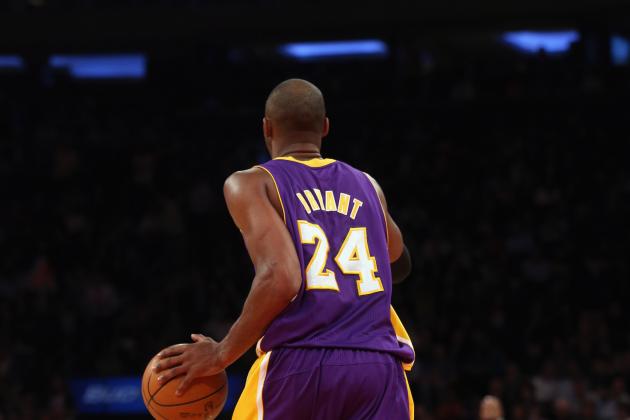 Bruce Bennett/Getty Images

Just two days before LeBron's near triple-double, Kobe Bryant surpassed the 60-point mark for just the fifth time in his career.
What a stretch of days to have Knicks season tickets.
Kobe scored on 19 of his 31 shots and sank all 20 of his free throws as he led the Lakers to a 126-117 win over the Knicks.
As he walked from the court late in the game, Kobe took with him the highest scoring total in the history of the fourth and newest incarnation of Madison Square Garden, which opened up all the way back in 1968.
If that's not an accomplishment, then I'm not sure what is.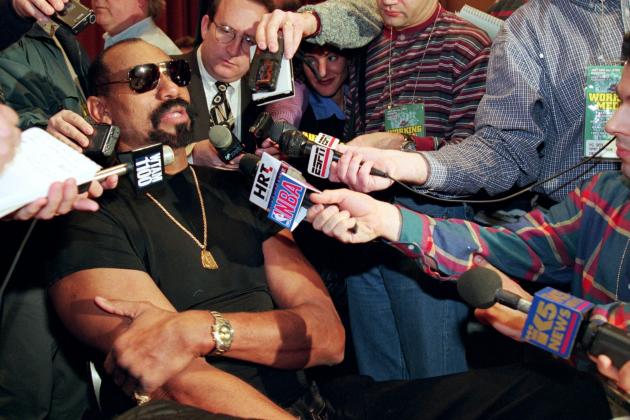 Brian Bahr/Getty Images

After Baylor set the single-game scoring record in 1960, Wilt Chamberlain swooped in and wiped that out a year later, scoring 78 points against the Los Angeles Lakers in 1961.
At least Baylor still had the Madison Square Garden record, right? Well, not quite.
In November of 1962, Chamberlain was coming off a season in which he averaged 50 points per game, and he was in the middle of one in which he averaged a measly 44.
On this night in Madison Square Garden, he went a bit over 44 points.
Chamberlain scored on 29 of his 43 shots and scored 73 points in an MSG record-breaking night, one which seems to be pretty safe for the time being.
Oh, and the Warriors won this bad boy 127-111.
I know what you're thinking: "How can a 39-point, six-assist night beat out Wilt Chamberlain's 73 points?"
Well, sometimes there's more to basketball than scoring points. This was the game that sparked a historic swing of back-and-forth one-upsmanship between Miller and the Knicks.
Or, more specifically, between Miller and Spike Lee.
In Game 5 of the Eastern Conference Finals, Reggie Miller dragged the Indiana Pacers to a win over the New York Knicks, scoring 25 of his 39 points in the fourth quarter.
Miller sank six three-pointers, with his late-game kabooms coming from increasingly longer distances as Spike Lee sat courtside and shouted.
New York would win the next two games and the series, but it was just the beginning of a rivalry that would span the decade.
It wasn't 73 points, it wasn't a triple-double, and it wasn't in the playoffs, but Michael Jordan's double-nickel game at the Garden is one of the most iconic games in the history of the NBA.
Jordan had returned from dipping his toes in the baseball waters on March 19th. He played four games and found himself back at Madison Square Garden for a game against the high-powered Knicks.
Awkwardly clad with No. 45 draped across his back, Jordan came to score, and score he did.
Twenty-one of his 37 shots fell, and he added four rebounds, two assists and a steal, but nothing was more satisfying that throwing up 55 points in just his fifth game since returning to the NBA.
Not only that, he had a hand in the game-winning shot, dropping it to Bill Wennington (who else) to win the game 113-111.