NFL Prospects Shooting Up Draft Boards After the Scouting Combine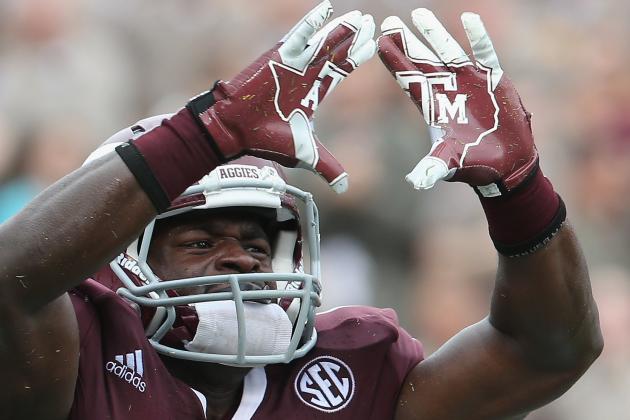 Ronald Martinez/Getty Images

The true measure of a pro prospect is in his tape, but historically we've seen "workout warriors" get tremendous boosts in their NFL draft stock, especially if it matches up with what we see on tape.
Combine numbers typically serve as quantifiable confirmation of a player's physical attributes, from height and weight to speed and explosiveness. These attributes can often make or break a kid's draft stock. With this in mind, it's fair to say a ton of money is either earned or lost during these critical days in late February.
With a few blazing times or amazing jumps, yesterday's nobody can quickly become a prospect on everybody's radar, as he likely will be soaring up draft boards in the weeks that follow. This slideshow takes us on a journey to uncover which prospects are doing just that now that combine results are officially in the books.
Note: Throughout the article, I frequently reference a DMR grade, or measurable grade; you can read a full description of how that grading system works as I described it in a previous article. You can also see the complete DMR results from last year in my Google doc. The 2013 DMR results will be made public and kept up to date within a week or so.
All combine results courtesy of NFL.com.
Begin Slideshow

»
Alex Trautwig/Getty Images

Pre-Combine Value: Fourth round
Projected Value: Late second round
Though extremely lacking in the production department over the last couple of seasons, Mark Harrison has undoubtedly caught the attention of scouts and coaches alike. His performance at the NFL Scouting Combine exemplified the term "miraculous" and could be strong enough to offset his lackluster statistics.
Harrison turned in the most impressive measureables at the combine for receivers, displaying a rare combination of all-around explosion (38.5" vertical and 129" in the broad jump) and size (6'3", 231 pounds).
Few people were speaking much about Harrison following the 2012 season, as he caught just 44 balls for 583 yards and six touchdowns. Misuse of his natural abilities in the Rutgers offense should factor heavily in the minds of executives.
Furthermore, the NFL's history of coveting freakishly rare athletes has always been a dependable predictor.
If Harrison struggles to wow as a natural wideout, he still possesses the size and versatility for teams to experiment with him at H-back or tight end.
Randy Sartin-USA TODAY Sports

Pre-Combine Value: Sixth round
Projected Value: Fourth round
Da'Rick Rogers' biggest red flag heading into the draft this April is character. There's little doubt many teams have left him off their draft boards completely after he failed three drug tests for marijuana while at Tennessee. It's these off-field issues that have soured his name throughout the draft process, similar to Tyrann Mathieu.
However, few who watch Rogers on a football field doubt his prototypical size and athleticism at wide receiver. At 6'2", 217 pounds, this kid ran a 6.71 in the three-cone drill, which was the fourth-best among all receivers. His ability to move quickly in a tight space while weighing well over 200 pounds is right on par with starting-caliber NFL receivers.
Though he did distinguish himself athletically at the combine, his biggest test of the weekend came during team interviews. If Rogers has managed to quell concerns about his character, he will certainly be a talented prospect quickly on the rise.
Pre-Combine Value: Late second round to third round
Projected Value: Late first or early second round
One word describes what Margus Hunt was able to accomplish at the combine—unbelievable. His DMR grade (8.5), which measures every physical tool a prospect is tested on, was the highest recorded grade of any non-RB in the two years of using the system. These rare physical gifts are hard to ignore.
According to an NFL scouting service's spring report, which is not available to the public, Hunt was considered a middle-of-the-road prospect with barely a draftable grade on its charts, largely in part because his game tape often portrayed a kid who was still trying to figure the game out.
However, when a player comes along with the size, strength and speed combination of Margus Hunt, you really have to dislike his tape to pass up on his level of raw athletic potential.
Updated expert mock drafts via NFL.com now have Hunt making appearances in the first round.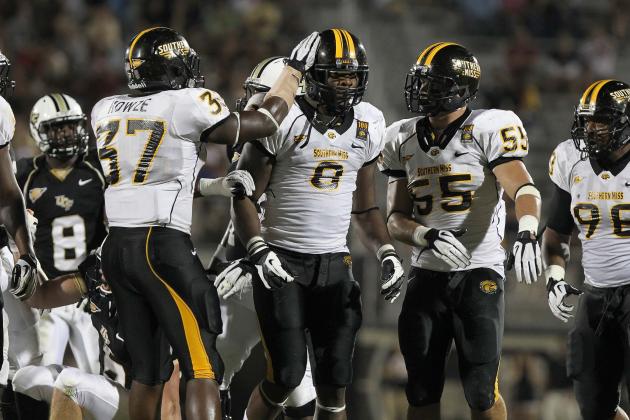 Kim Klement-USA TODAY Sports

Pre-Combine Value: Third round
Projected Value: Early second round
Jamie Collins left Indianapolis a happy man after making a strong case to NFL teams that he could be the most explosive linebacker in the draft. His 41.5" vertical and 139" broad jump were both the highest numbers among linebackers at the combine. This is even more impressive when you factor in Collins weighed in at a whopping 250 pounds of solid muscle.
When going back to watch Collins on tape a bit more, his explosiveness routinely shows up. Collins was a highly disruptive outside linebacker while at Southern Miss, using his rare talents to finish ninth in the nation with 20 tackles for a loss.
Given his high level of production and confirmed athleticism, Collins should no longer be around by the time the third round comes along.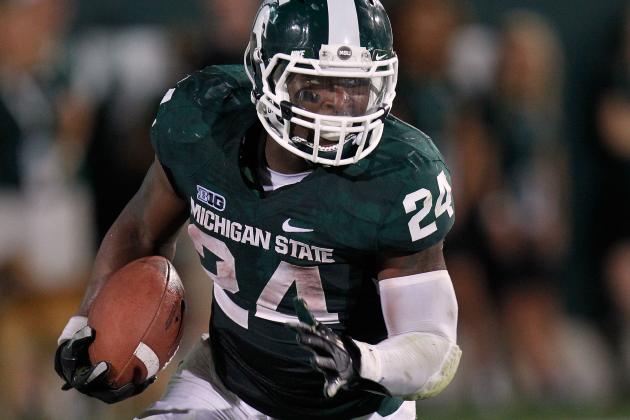 Gregory Shamus/Getty Images

Pre-Combine Value: Fourth round
Projected Value: Late second round
According to a formula used to compare a player's weight to his total speed (40-yard dash, three-cone, short shuttle), Le'Veon Bell graded out fantastically while at the combine. His speed/weight grade of 8.4 ranks him second among all running backs over the last two seasons. That's an extremely attractive combination for NFL talent evaluators.
In regards to a running back's measureables, nothing is more valuable than being able to add as much weight to your frame without sacrificing speed in the process. This is easier said than done, which is why any prospect who manages to hold on to his speed while having the mass to withstand punishment will be highly sought out and taken early; that is especially true if the guy has been productive.
Bell perhaps is best known for his ability to hurdle completely over defenders. This athleticism and courage are exactly what a successful running back needs.
Pre-Combine Value: Fourth round
Projected Value: Late second round
Christine Michael set the combine on fire over the weekend, demonstrating unparalleled explosive ability. According to his measurables grade, Michaels had the highest grade (9.1) of any running back prospect over the last two drafts.
Michael may have elite athletic ability, but it's his me-first attitude and lack of production that have many teams concerned about his draftability. After the demonstration he put on in Indy, though, the potential for this kid is through the roof. With top-10 talent, Michael would be a steal anywhere in the second round, even with concerns about his character.
NFL execs have to realize the rare ability to be had in Christine Michael; it would be hard to imagine he slips into the third round at this point.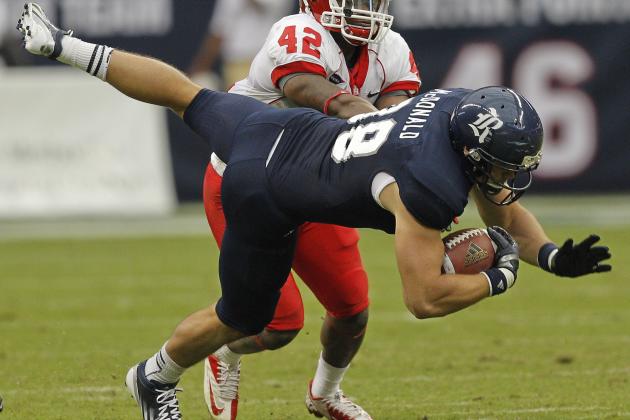 Bob Levey/Getty Images

Pre-Combine Value: Third round
Projected Value: Second round
In a league in which talented tight ends are trending like frozen yogurt shops, Vance McDonald is climbing the ranks. In fact, no TE lit up the drills and tests like McDonald did. Not only did he prove his strength with a position-best 31 reps on the bench press, but he also has one of the best combinations of size and speed in the draft. Weighing 267 pounds, McDonald ran a 4.69 in the 40-yard dash.
Another key factor in McDonald's stock rising is the disappointing performances by some of the other elite TEs in the group. Guys like Zach Ertz and Gavin Escobar failed to impress in several categories, leaving the door open for McDonald's stock to rise an entire round.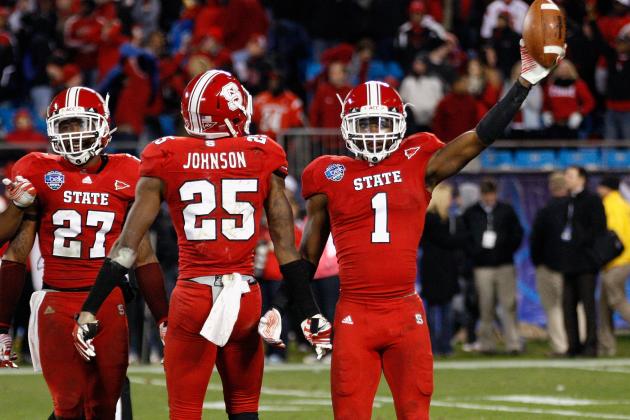 Streeter Lecka/Getty Images

Pre-Combine Value: Late second to early third round
Projected Value: Late first to early second round
David Amerson answered several questions with his performance at the NFL combine. His impressive 4.44 in the 40-yard dash could be enough to nudge Amerson into the latter part of the first round. Aside from his solid set of physical tools, Amerson managed to accumulate 18 interceptions over the last two years.
Though there are some concerns about his concentration, professionalism and physicality, Amerson is looking more and more like a guy who could end up playing safety in the NFL, where he would be asked to roam the field as the ultimate ball hawk.
If Amerson somehow slips into the later part of the second round, look for several teams to make a push to move up in the draft in hopes of snagging this big-time playmaker.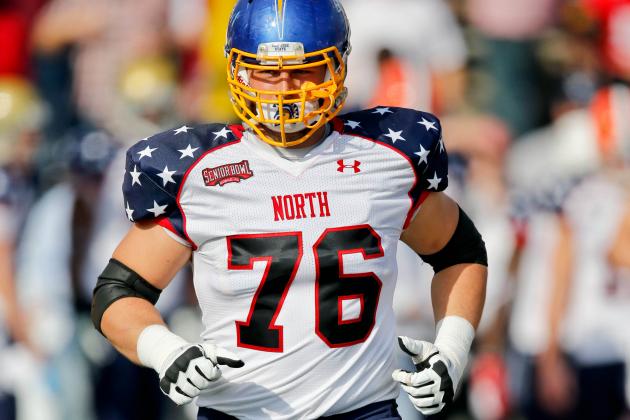 Derick E. Hingle-USA TODAY Sports

Pre-Combine Value: Fourth round
Projected Value: Late second round
Few people know about David Quessenberry. After all, it's easy for a guy in his position to take a back seat to big-name tackles like Luke Joeckel, Eric Fisher and Lane Johnson.
However, in a class loaded with athletically gifted tackles, Quessenberry found a way to distinguish himself. His combine performance solidified him as a guy who has the physical tools to become a starting tackle in the NFL.
If Quessenberry had been in last year's draft, he would have graded out as the second-most athletic tackle in his class with an overall DMR score of 6.18. Terron Armstead may have shined in the highly publicized 40-yard dash, but Quessenberry scored significantly better times in his three-cone and short-shuttle by comparison, timing in respectively at 7.49 and 4.45 in those categories, while Armstead's times were 7.62 and 4.72.
Quessenberry's long arms and impressive quickness should land him a much earlier selection than the fourth round, which is where NFLDraftScout projected him to fall.
Though he did help himself significantly at the combine, his stock really has been rising ever since his strong outing at the Senior Bowl.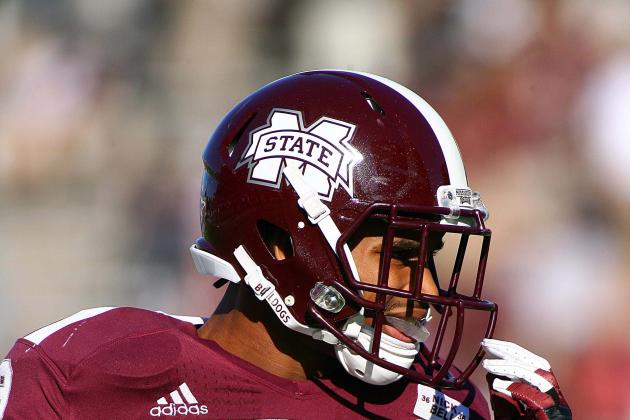 Spruce Derden-USA TODAY Sports

Pre-Combine Value: Late second round
Projected Value: Late first round
Darius Slay might be one of the most fluid corners in the draft in his transitions. He solidified this during his position drills while also displaying great feet, smooth hips and natural ball skills.
However, one of the biggest moneymakers for any CB prospect is the 40-yard dash. Every team wants speed on the outside and loves it even more when it's attached to a true football player. This is the growing perception of Slay, as he seemingly overtook his teammate Johnthan Banks' claim to being the top CB from Mississippi State.
Slay received national recognition and well-deserved air time after he became the fastest defensive back in the 2013 NFL draft by running a 4.36 40-yard dash. When you pair his blazing 40 time with his impressive game tape, Slay should have no business falling out of the top 50 players chosen.