Fantasy Baseball Sleepers: Potential Breakout Star by Position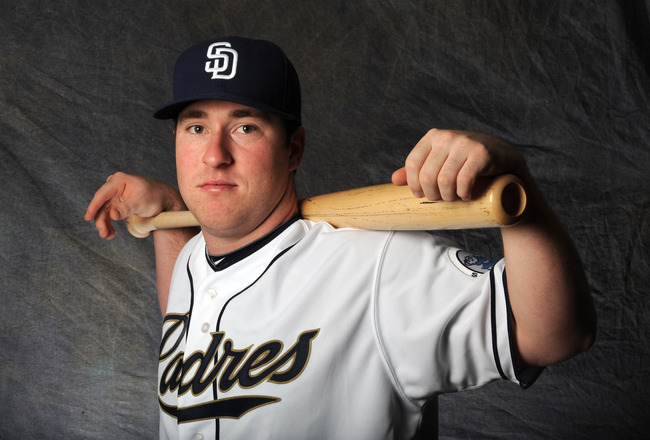 Rich Pilling/Getty Images
With baseball season getting closer and closer, fantasy owners are looking for that late-round pick that becomes a top-of-the-line fantasy starter.
From AL Rookie of the Year Mike Trout to longtime MLB journeyman-turned-NL Cy Young winner R.A. Dickey, every year late-round draft picks end up being major contributors to fantasy baseball champions.
This slideshow will give fantasy owners eight players that sooner or later will break out in the 2013 MLB season.
Catcher: Travis d'Arnaud, NYM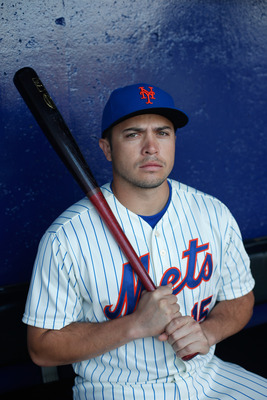 Chris Trotman/Getty Images
After being in the Baseball America Top 100 prospects for four years in a row, the top young catcher is looking to get in his first MLB action in 2013.
An offseason trade from the Toronto Blue Jays to the New York Mets clears the way for Travis d'Arnaud to get his chance in the bigs.
Two seasons ago while in Double-A New Hampshire, he showed off his power potential by hitting 21 homers (ranking third in the EL) to go with a .311 average in 114 games.
Expectations were very high coming into last season, and he did not disappoint. At Triple-A Las Vegas, d'Arnaud followed his breakout season with a .333 average and 16 bombs. Unfortunately, his season was cut short with a knee injury, and he did not get a chance to make it to the show.
After six long seasons in the minors, d'Arnaud should get playing time in the first half of the 2013 season. If he can stay healthy, a .280 season with 15 to 20 home runs is not out of the realm of possibility as a rookie.
1st Base: Brandon Belt, SF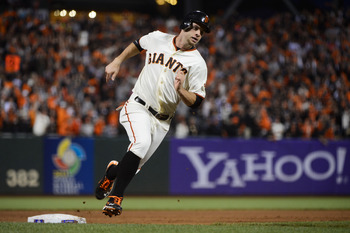 Thearon W. Henderson/Getty Images
Brandon Belt has so far failed to live up to high expectations in his first two seasons with the San Francisco Giants, hitting only .259 in his first 598 big league at-bats and only knocking seven balls out of the park.
Belt needs to find his swing again that made him so successful in his last two minor league seasons.
Over three levels in 2010, Brandon showed off his tremendous potential by batting .352/.455/.620, blasting 23 home runs and adding 22 stolen bases. He followed that up by hitting .309/.448/.527 in 49 minor league games in 2011.
He was then called up and has not been able to put it all together at the major league level.
A few signs that Belt can be successful is his patience at that plate, walking in 11.4 percent of his at-bats, and that he tends to hit the ball hard as he finished last season with a 23 percent line-drive percentage.
At only 24 years old, Belt is still worth keeping an eye on in this upcoming fantasy baseball season. He consistently hits the ball hard, and if he can tap into some of the power potential he showed in the minor leagues, he could become a quality fantasy first baseman.
2nd Base: Jedd Gyorko, SD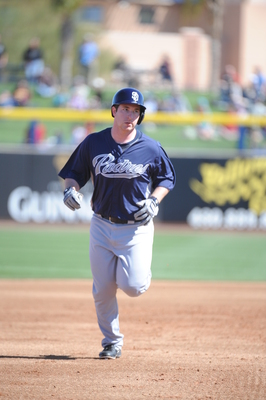 Rich Pilling/Getty Images
Since being drafted in the second round of the 2010 draft, Jedd Gyorko has simply shredded minor league pitching.
Playing third for most of his minor league career, Jedd and the Padres are hoping that he can play some second base because of Chase Headley's current handle of the third base position.
In 2010 and '11, the West Virginia alum proved to be one of the best hitters in the minor leagues. Posting averages of .333 and .311 and home run totals of 25 and 30.
Though he is not starting now, Gyorko shows tremendous potential at the plate and should get his chance in the big leagues soon. He would be even more of a plus if he could play second base, as he could be one of the best power hitters at that position.
3rd Base: Mike Olt, TEX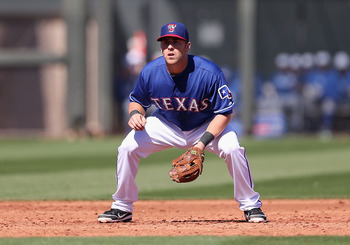 Christian Petersen/Getty Images
Getting his first taste of big league action late last year, Mike Olt had a terrible showing. He hit .52 with 13 strikeouts in 40 plate appearances.
Fantasy owners can expect Olt to be much better prepared in his next call-up early this season.
The 6'2" third basemen showed off his plus power potential last year by blasting 28 bombs in 95 Double-A games. With a triple slash line of .288/.398/.579, Olt showed that he is also someone that can consistently get on base.
Despite being locked down behind Adrian Beltre, if Olt can start out hot in Triple-A this year he should not be too far away from a big league call-up and is worthy of keeping an eye on.
Shortstop: Jurickson Profar, TEX
Jake Roth-USA TODAY Sports
Jurickson Profar made his debut last season at only 19 years of age, and he will look to be back in the show early in the 2013 season.
Despite the shortstop position being manned by Elvis Andrus, which may cause Profar to momentarily move to second base, the young prospect is expected to continue to fly up the Rangers' farm system.
At age 18 in Single-A ball, he hit .286/.390/.493 with 57 extra-base hits and 23 stolen bases.
He then moved up to Double-A last season and still produced at a high level despite being only 19 years old. He hit .281/.368/.452 with 14 homers, seven triples and 16 stolen bases in 20 attempts.
His fielding ability may be what ultimately gets him onto the field consistently, but Profar's power and speed potential should be very intriguing for fantasy owners. As well as the fact that he will be playing with a high-scoring Texas Rangers squad.
Outfield: Adam Eaton, ARI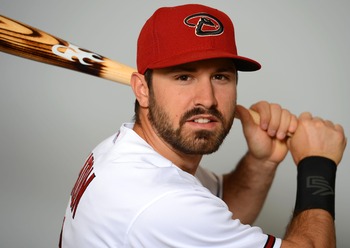 Jake Roth-USA TODAY Sports
Having never posted a batting average under .300, Adam Eaton has proved to be one of the best contact hitters in the minor leagues in the past three seasons.
Last year Eaton crushed Triple-A pitching to the tune of a .381 average in 488 at-bats. Add in his 38 stolen bases and the fact that the center field position is wide open in Arizona makes Eaton one of the top breakout prospects in baseball.
The only downfall to Adam is his lack of power. With only 24 minor league home runs in 1210 at-bats, Eaton would be lucky to reach double digits this season.
He will more than make up for that by just getting on base, as he has also never compiled an on-base percentage of less than .434 in his minor league career.
Starting Pitcher: Matt Harvey, NYM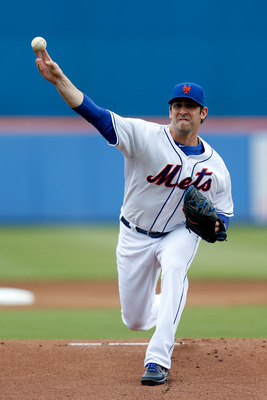 Chris Trotman/Getty Images
After only 46 minor league starts over two seasons, Matt Harvey was called up to the struggling New York Mets last season.
The 2012 top prospect started his MLB career off with a bang against the Arizona Diamondbacks. He pitched 5.1 scoreless innings, only giving up three hits while striking out 11 for his first major league win.
He continued to pitch well for the remainder of the season finishing with a 2.73 ERA and 70 strikeouts in only 59.1 innings pitched.
Harvey has some control issues, with a career 3.5 BB/9 minor league mark, but he more than makes up for it with his strikeouts, 9.8 K/9 in his two minor league seasons.
Relief Pitcher: Bruce Rondon, DET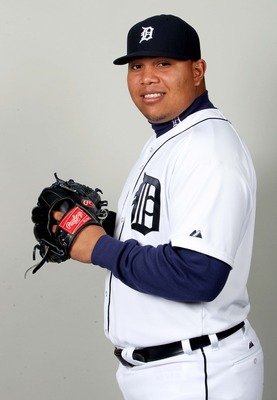 Kim Klement-USA TODAY Sports
By letting go of Jose Valverde, the Detroit Tigers have handed over the closer position to rookie Bruce Rondon.
Having a fastball that can reach triple digits, Rondon has been a strikeout machine throughout his minor league career.
Last season was the coming-out party for the 22-year-old as he moved up three levels in the Tigers' farm system and dominated at each stop.
He compiled 29 saves and 66 strikeouts in 53 innings pitched, and he only gave up nine runs on the season for a 1.53 ERA.
Anybody closing for the AL champion Detroit Tigers has a chance to get their fair share of save opportunities. Rondon will add a few strikeouts to any fantasy lineup as well.
Keep Reading