Georgetown Basketball: Why Red-Hot Hoyas Are Nation's Best Team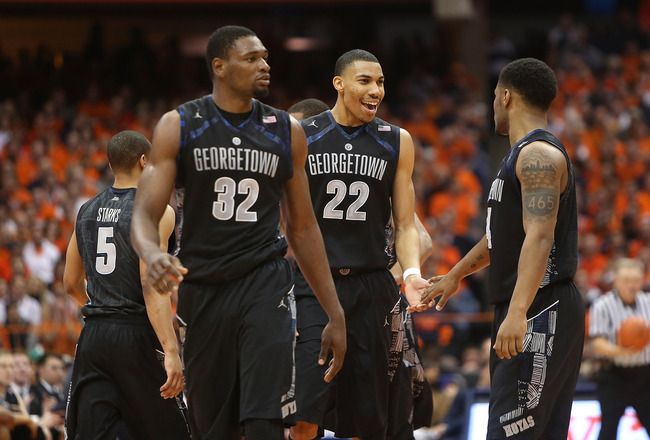 Nate Shron/Getty Images
There were moments Wednesday evening when it appeared Georgetown would be the latest Big East front-runner to have its momentum halted by the UConn Huskies. Even after surrendering a late lead in regulation, Otto Porter and company refused to fall victim.
The Hoyas (22-4, 12-3 in Big East) overcame a seven-point deficit in the final two minutes of a wild second overtime session, escaping Storrs with a 79-78 victory. Porter, a National Player of the Year candidate, propelled Georgetown, converting a go-ahead layup with 9.5 seconds remaining.
This classic Big East rivalry is filled with dramatic moments and pivotal matchups. The latest clash had the makings of another Huskies spoiler, but a relentless Georgetown rally stole the headlines and sent a message to national title contenders across the country.
The Hoyas have won 10 straight contests, a season-defining span that has repeatedly tested the mettle of this team. The streak has sent Georgetown surging to the top of Big East standings and into any discussion about NCAA tournament favorites.
Based on the Hoyas' latest achievements, John Thompson's team should be in line for a top seed in the tourney and must be considered a serious candidate to take home a national championship.
Top-ranked teams have suffered surprising defeats on a seemingly weekly basis throughout the season, so the discussion over who deserves the "nation's best team" title is an evolving debate. After Wednesday's win, it's time to lay out Georgetown's case as top squad in the country.
The Hoyas Are Road Warriors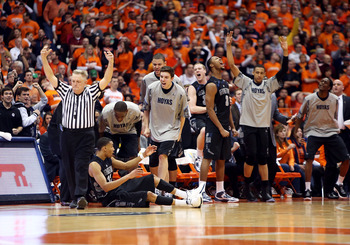 Georgetown snapped Syracuse's nation-best home win streak.
Nate Shron/Getty Images
The Hoyas have sent so many opposing student sections shuffling home with heads hanging the team could be credited with decreasing morale at campuses across the country. But don't expect an apology from Georgetown, which is thriving on the road while separating itself from a crowded conference pack.
Thompson's team has won five straight road matchups, including a pair against ranked Big East opponents. The Hoyas prevailed 57-46 at Syracuse last Saturday, snapping a nation-best 38-game home win streak.
In front of a capacity crowd at UConn, Georgetown didn't blink when faced with adverse circumstances. The Hoyas trailed 78-71 with 2:03 left to play in the second overtime before stringing together a pair of three-point buckets (courtesy of Porter and D'Vauntes Smith-Rivera).
Those timely long distance connections set the stage for Porter's layup, which capped off a ferocious 8-0 flurry that left a once-frenzied crowd of Huskies faithful in a state of shock. Syracuse supporters can empathize, as can hoops fans at Notre Dame, Cincinnati, Rutgers and Providence.
All teams bid farewell to home-court advantage when the regular season ends. Georgetown should be in good shape after earning its most impressive victories behind enemy lines.
Otto Porter Is a Superstar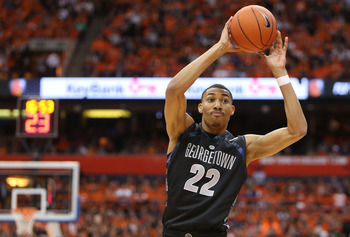 The sophomore forward is filling the stat sheet on a nightly basis.
Nate Shron/Getty Images
The evolution of Georgetown forward Otto Porter ranks among the country's most compelling storylines. The 6'8" sophomore is averaging 20 points per game in the last six and shows up when the spotlight is shining brightest.
Porter ranks third in the Big East in rebounds (nearly eight per game) and leads Georgetown in steals, free-throw percentage and three-point percentage. He is hitting 51 percent of his shots from the floor and plays more than 34 minutes per game.
But statistics to do not make a superstar. Porter is producing in pressure-packed situations and carrying the Hoyas to victory on days they may not necessarily deserve a W.
Porter scored 21 of his 22 points against UConn after intermission. He drilled a three-pointer to pull Georgetown within striking distance late in the second overtime before finishing off the Huskies with his game-winning layup.
The dynamic playmaker was even more impressive last Saturday at Syracuse. Porter poured in 33 points on 12-of-19 shooting, rising up on an afternoon his teammates struggled offensively.
He drove Georgetown to an emotional victory despite 20 percent shooting from his teammates. Thompson told reporters after the game (via ESPN.com):
You all saw the show I just saw. To play that way against that opponent, that's what special players do. He's a special player.
Porter—and the Hoyas—are peaking in prime time.
The Defense Is Dominant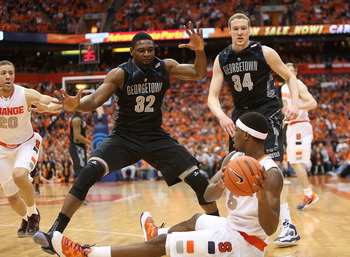 A tenacious defensive effort fuels the Hoyas.
Nate Shron/Getty Images
Georgetown would be a quality team if it was forced to rely on offense. The Hoyas have three players averaging at least 12 points per game (Porter, Markel Starks and Greg Whittington) and rank fourth in field-goal percentage among teams in the Big East, an offensively charged conference this season.
It's the defensive effort of this group that gives Georgetown a legitimate shot at reaching the Final Four next month. The Hoyas surrender just 56 points per game, putting the team in position to close out contests with a well-rounded offensive attack and clutch leading scorer.
Georgetown has limited eight opponents to 56 points or fewer since January and suffocated Syracuse on the road last Saturday. The Orange, who average 74 points per game, were held to 46 points on 34 percent shooting.
The Hoyas limited Louisville, the Big East's leader in points per game, throughout a narrow victory in late January. The Cardinals, ranked fifth nationally at the time, tallied a season-low 51 points and hit just 35 percent of their shots from the floor.
On nights when the rim seems shrunken, the ability to depend on defense is paramount. Georgetown has passed those tests several times this season. Per Ben Standig of CSNWashington.com:
"They're probably as good of a defensive team as there is in the country," (Seton Hall coach) Kevin Willard said after his team shot 33 percent and committed 25 turnovers against the Hoyas pressure and assorted defensive looks.
It's Hard to Argue with a 10-Game Win Streak
John Thompson has his team headed for the top seed in Big East tourney.
Rob Carr/Getty Images
Georgetown's journey from fringe conference contender (the team was picked fifth in the preseason Big East Coaches' Poll) to national title favorite has been fueled by the Hoyas' hot second half. It's been 40 days since these players last endured a loss.
That fact is hard to trump when talking about the nation's best teams. Just take a look at the six squads currently sitting ahead of the Hoyas in latest AP Poll.
Sixth-ranked Kansas suffered three straight defeats in February. No. 5 Miami has been mighty in ACC action but went down hard to a struggling Wake Forest squad Saturday, and No. 3 Duke lost to an unranked Maryland team in mid-February.
No. 4 Michigan has dropped three of five games and No. 1 Indiana lost a pair of February road games to unranked conference opponents (Illinois and Minnesota). Second-ranked Gonzaga is the only two-loss team in the mix but fell to the only ranked foe it's faced in 2013 (Butler).
The "hottest" team may not always be the "best" team, but in this instance Georgetown fits the bill for both titles.
Keep Reading

Georgetown Basketball: Like this team?