In one of the greatest shooting performances in NBA history, Stephen Curry dismantled the New York Knicks defense. Curry finished with 54 points on 18-of-28 shooting from the floor and 11-of-13 from beyond the arc in loss at Madison Square Garden.
As a result, Curry officially made the leap to elite with his legendary game.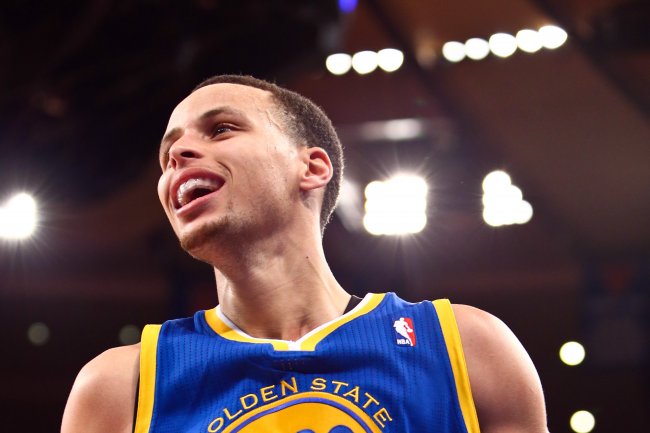 According to Basketball-Reference.com, Curry is the first player in NBA history to score at least 50 points on at least 10 three-point field goals. This was confirmed on Twitter, as countless handles attempted to be the first people to relay the information.
Regardless of who reported it, it's a phenomenal feat.
Stephen Curry with 52 points on 11 made threes, becoming the first player in NBA history with 50-plus on 10-plus made threes

— #GSWStats (@gswstats) February 28, 2013
Unbelievable.
Furthermore, Curry is the first opponent to score at least 50 points at Madison Square Garden since Carmelo Anthony on Nov. 27, 2009. More than three years later, Curry scored the third-most points of any opponent to visit MSG since 1985.
Once again, unbelievable.
Only 1 active player has more pts in a game at MSG than Stephen Curry (54 and counting)-- Kobe Bryant (61 in 2009)

— ESPN Stats & Info (@ESPNStatsInfo) February 28, 2013
It doesn't end there.
Curry now has the highest scoring mark of any player during the 2012-13 season. That includes Kobe Bryant, Kevin Durant, Carmelo Anthony, LeBron James and any other superstar you can think of.
Not only that, but Curry did it on national television on the grandest stage in basketball.
Stephen Curry's 54 points is a new NBA season-high.

— Chris Tomasson (@christomasson) February 28, 2013
How many times must we say the word unbelievable?
The question is, how did Curry manage to perform at such an unthinkable level? What is it that motivated him to make history?
Perhaps everyone on the floor reminded Curry of the man who shoved him to the ground less than 24 hours ago.
I wonder if the Knicks all look like Roy Hibbert to @stephencurry30

— Marcus Thompson (@gswscribe) February 28, 2013
Napoleon mentality?
Curry may not be the biggest guy on the court, but tonight he was huge. Every time the Knicks crowded the perimeter, he still managed to make a play.
Every time.
The scariest aspect of Curry's game is that it appears as if he saw this game coming. If you don't believe it, just check his shoes.
Seriously, check his shoes.
Steph Curry's kicks with "I can do all things…" written on them twitter.com/BleacherReport…

— Bleacher Report (@BleacherReport) February 28, 2013
You've made history, Stephen Curry. For that reason, we believe that you can do all things.
If you're still unconvinced, take a look at Curry's shot chart from tonight's action. Not only will it blow your mind, but it'll show you how efficiently Curry made it to 54 points.
Yes, efficiently.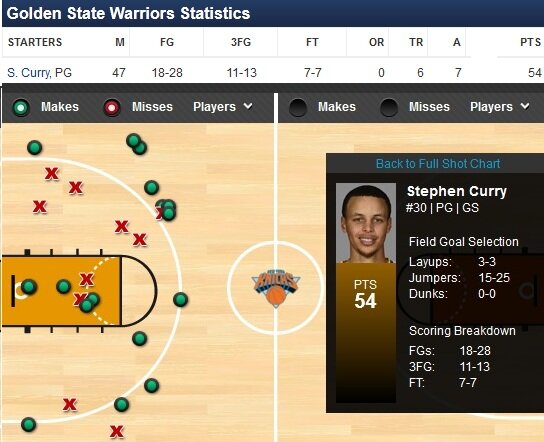 In the words of Shaun T, that's Insanity.
Believe it or not, this isn't the first time that Curry has gone unconscious from the field. In fact, Curry posted 38 points on 14-of-20 shooting from the floor and 7-of-10 from distance recently.
By recently, we mean yesterday.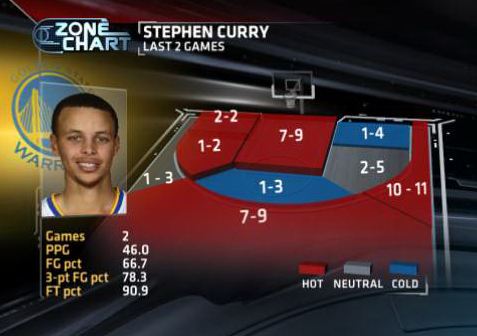 Ice cold blood in his veins.
With all of this being said, the Knicks actually won this game. As a result, Curry made another bit of history by becoming the highest-scoring player in a loss since 2006.
A record is a record, though, right?
Steph Curry's 54 were the most by an NBA player in a loss since Kobe had 58 in a loss to Charlotte, 12/29/06.

— Tim Reynolds (@ByTimReynolds) February 28, 2013
For what it's worth, Tyson Chandler of the New York Knicks had a huge game, as well. He finished with 16 points and 28 rebounds.
Just don't think you'll get a headline on this evening.
As for the the Warriors players that aren't named Stephen Curry, they shot 18-of-44 from the field. That's a field goal percentage of 40.9 percent.
Even scarier, Curry assists seven of those 18 made field goals.
The question is, will this performance create a reputation that leads Curry to his first career All-Star Game appearance in 2014? If you ask the Twittersphere, that's a definite yes.
Do you agree?
Look at the bright side: Stephen Curry has made next year's All-Star Game, no matter what kind of season he has

— Ray Ratto (@RattoCSN) February 28, 2013
Only time will tell.
What we do know, however, is that Curry remains one of the most humble players in the league. If you don't believe that to be true, simply ask him who it is that was responsible for his success.
Then ask him to describe the feeling his teammates gave him.
"My teammates were treating me like a pitcher throwing a no-hitter." - @stephencurry30

— Golden St. Warriors (@warriors) February 28, 2013
Curry embodies everything that an NBA player should be.
In the face of adversity, Curry has proven the skeptics wrong and become a legitimate NBA star. It's all a product of hard work, commitment and humility.
Remember this day as the moment Curry made the leap from star to elite.