6 College Basketball Coaches Who Are Overdue for Retirement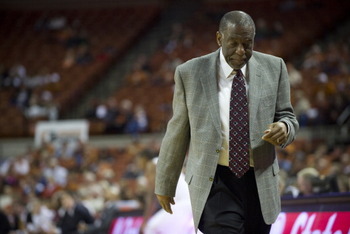 Cooper Neill/Getty Images
Some college basketball coaches can keep winning right up to the end of their careers. These are not their stories.
Fang Mitchell led Coppin State to a historic NCAA tournament upset in 1997, but the former MEAC power has struggled to keep up with the league in recent seasons. After 30 years on the Division I bench, it's time for Mitchell to hand over the reins to someone who can rekindle the program he helped put on the map.
Herein, a closer look at Mitchell and five more longtime head coaches who need to step aside before their programs stagger to any more sub-.500 finishes.
6. Fran O'Hanlon, Lafayette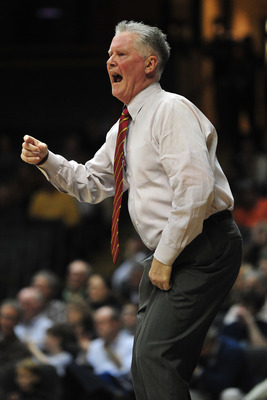 Don McPeak-USA TODAY Sports
While arch-rival Lehigh has enjoyed the national spotlight thanks to a Big Dance upset and the presence of super-scorer C.J. McCollum, the Lafayette Leopards have been stuck in the shadows.
For 64-year-old coach Fran O'Hanlon, it's been an awfully long stay in the dark.
O'Hanlon is the only coach in the Leopards' Division I history, and he got them off to a hot start with three Patriot League titles in their first five seasons.
Since 2000-01, though, Lafayette has zero titles, zero NCAA tournament bids and nine seasons at .500 or worse.
5. Oliver Purnell, DePaul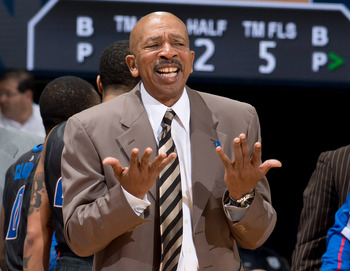 USA TODAY Sports
Now on the fifth school of his well-traveled career, Oliver Purnell is no stranger to rebuilding projects.
The problem facing the 59-year-old Purnell, though, is that joining the ranks of the power conferences raises the bar for how good his refurbished teams need to become.
In his first such job at Clemson, Purnell made three straight NCAA tournament appearances before leaving for DePaul.
Even assuming that he could get the Blue Demons to the tourney given a few more years (he's on his third season with the team), Purnell has a bigger problem facing him.
In six career trips to the Big Dance—including three in a row as a higher seed with the Tigers—Purnell has never actually won a game. That's not a track record that bodes well for his value as a Big East coach.
4. Fang Mitchell, Coppin State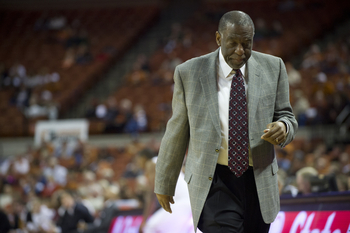 Cooper Neill/Getty Images
Ron "Fang" Mitchell, besides winning the coaching nickname sweepstakes, has won more than 400 games with the Coppin State Eagles.
However, his prime (and his team's) ended in 1998-99, the finale of a brilliant run of nine regular-season MEAC titles in 10 years.
In the decade-plus since, Mitchell's teams have two winning records, one NCAA tournament bid (in a sub-.500 season) and a minimum of 14 losses every year.
Yes, the 67-year-old guided his team to a March Madness win as a No. 15 seed, but that was 16 years ago and he's not getting anything like the same performances out of his players now.
3. Don Maestri, Troy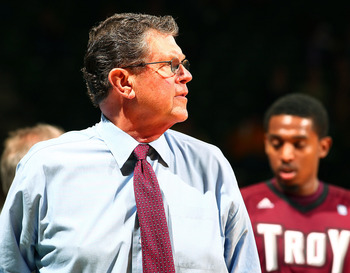 Marvin Gentry-USA TODAY Sports
If 66-year-old Don Maestri had retired three seasons ago, he could've taken a winning Division I record into the sunset with him. Instead, he's added three more to an overly large supply of sub-.500 seasons behind the Troy bench.
Maestri's Trojans dominated the Atlantic Sun conference a decade ago, winning four league crowns in five seasons and prompting a jump to the more competitive Sun Belt.
Since joining its new league, though, Troy has two winning seasons (and no NCAA tournament bids) in nine tries.
2. Bill Carmody, Northwestern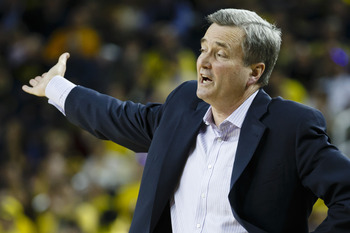 USA TODAY Sports
Bill Carmody started his head coaching career with the daunting task of replacing Princeton icon Pete Carril. He responded with back-to-back NCAA tournament appearances, including a win as a No. 5 seed…in 1998.
Three seasons later, Carmody moved to Northwestern, and he's never managed to make the Wildcats a factor on the Big Ten stage in the years since.
His NU teams have never finished higher than fifth in the conference, and he's been unable to end the school's legendary NCAA tournament drought (dating back to the tournament's inception in 1939).
After he couldn't make it to the Big Dance with star John Shurna leading the way, it's hard to see much hope in the 61-year-old Carmody's future.
1. Dave Bike, Sacred Heart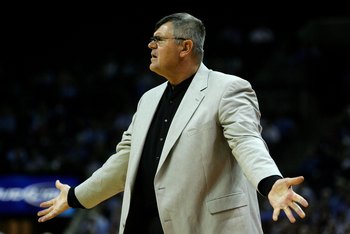 Streeter Lecka/Getty Images
Dave Bike has coached the Sacred Heart Pioneers for 35 seasons, a stretch that's included overseeing the team's move to Division I in 1999-00. However, adapting to the new level of competition has been beyond Bike or his teams.
In 14 years at the top level of college hoops, the 65-year-old coach has posted only three winning seasons.
He's never won the Northeast Conference title in either the regular season or the conference tourney (finishing in second place in the standings just once).
It's tough for any school to depose such a long-standing coach, but if Bike doesn't step aside soon, Sacred Heart may have to decide that tradition takes a back seat to giving its players the best chance for success.
Keep Reading