Ranking the Top 5 Oklahoma City Thunder Games to Watch in March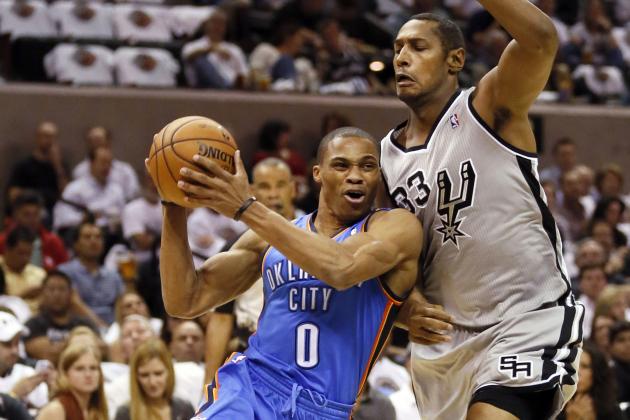 Soobum Im-USA TODAY Sports

The Oklahoma City Thunder's season is getting down to the wire as February winds down and the playoffs are looming in the near distance.
With March being the last full month of regular-season NBA basketball, each game counts more than the last for Oklahoma City. The Thunder are battling atop the Western Conference for playoff positioning and have some work to do to catch the quietly dominant San Antonio Spurs.
Though there are a fair amount of expected blowout wins in the Thunder's future for March, there are also plenty of tough opponents looking to gain some momentum of their own. Even though Oklahoma City sits behind the Spurs in the standings right now, there is certainly still a target on its back as the defending Western Conference champion that is favored to repeat that title this postseason.
With that being said, let's dig in and analyze some of the most enticing games coming in the next month for the Thunder.
Begin Slideshow

»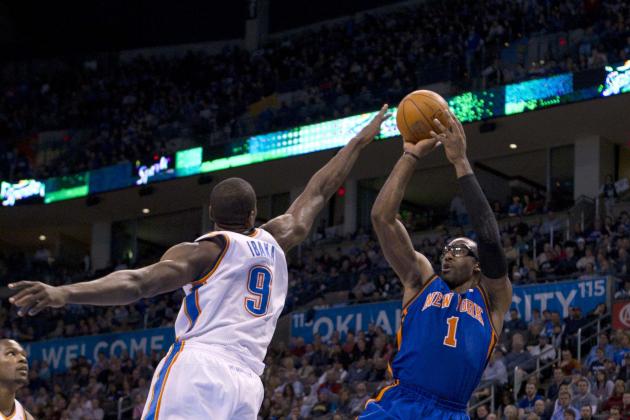 Richard Rowe-USA TODAY Sports

The Thunder will be traveling to the world's most famous arena to take on a Knicks team that has a lot of offensive and defensive firepower.
OKC is ranked first in scoring in the league, while New York is 10th in points allowed thanks to the defensive prowess of guys like Tyson Chandler and Jason Kidd. On offense, the Knicks are also scary with Carmelo Anthony being one of the top scorers in the league.
With a game like this airing in a primetime slot on TNT, there's going to be a lot of buzz with the nation watching and this means that both teams will be sure to step up their game to make a statement.
Watching a possible shootout between Kevin Durant and Anthony could make for some great basketball to watch. Additionally, this matchup will give Oklahoma City a little feel for the Eastern Conference competition, in the event of a shocking dethroning of Miami in the playoffs.
While I believe it will be a close game for most of the way, I see the Thunder pulling through in crunch time, most likely on the shoulders of KD.
Final Score: Oklahoma City 109, New York 100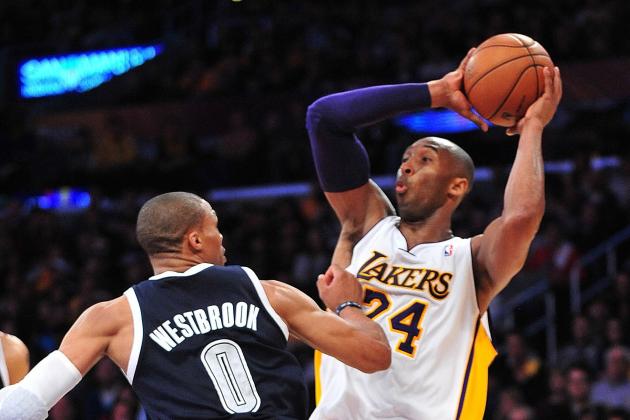 Gary A. Vasquez-USA TODAY Sports

When the schedule came out before the season, I'm sure a lot of people pegged these Lakers/Thunder matchups as possible Western Conference Finals scenarios.
Well, things sure have changed since then with the Lakers fighting to just make the postseason at all. In the games Oklahoma City has played Los Angeles this season, OKC has come out victorious two out of three times.
This game could be a little different, though, since the Lakers have been on a bit of a hot streak since Kobe Bryant confidently and publicly stated in an interview with Sports Illustrated that the Lakers would make the playoffs.
Though the Lakers have a lot of momentum to gain with a chance at upending the Thunder on the road, I believe OKC will be able to show up and slow their roll, especially after losing the last meeting.
Final Score: Oklahoma City 98, Los Angeles 92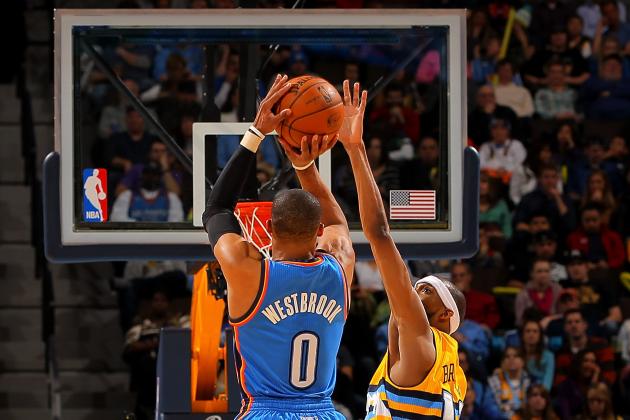 Doug Pensinger/Getty Images

Winning in Denver has been nearly impossible for opposing teams this season, as the Nuggets boast a ridiculous 24-3 record at home.
The Thunder have already fallen victim to the Nuggets' tough home court once this season, but this grudge match against a possible second-round opponent will surely be an exciting one.
Denver has a lot of quality young talent, but still lacks a true star to rely upon, an issue that has plagued them in recent seasons. Nevertheless, the Nuggets are a tough match for the Thunder and will definitely be looking to step up for this game which will also be airing on national TV.
Though I like OKC's chances at downing Denver in a second try on the road, I see the Nuggets coming out victorious in a nail-biter.
Final Score (OT): Denver 116, Oklahoma City 113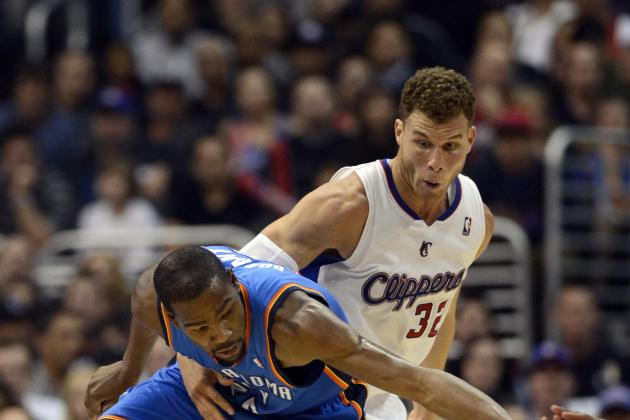 Richard Mackson-USA TODAY Sports

The Thunder and Clippers seem to have a little bit of a rivalry brewing as both teams are competing for the title of most exciting team to watch.
With players like Chris Paul and Blake Griffin, the Clippers have plenty to offer in not just excitement, but also quality basketball. Los Angeles has stepped it up this season and are looking to cause a bit of chaos in the Western Conference by making a possible run at a Finals trip.
OKC downed L.A. on two separate occasions this season, but they were anything but easy wins. Now that the roster is healing up a bit for the Clippers, this meeting in March could become even more interesting.
The player matchups are also something to consider with Russell Westbrook vs Chris Paul, Serge Ibaka vs Blake Griffin, and even the sixth-men scoring talents of Kevin Martin vs Jamal Crawford.
This is a must win for the Thunder to maintain their dominant role in the West, and it would make a big statement to the rest of the teams thinking they can just stroll in and take them down in a seven-game series.
Final Score: Oklahoma City 101, Los Angeles 94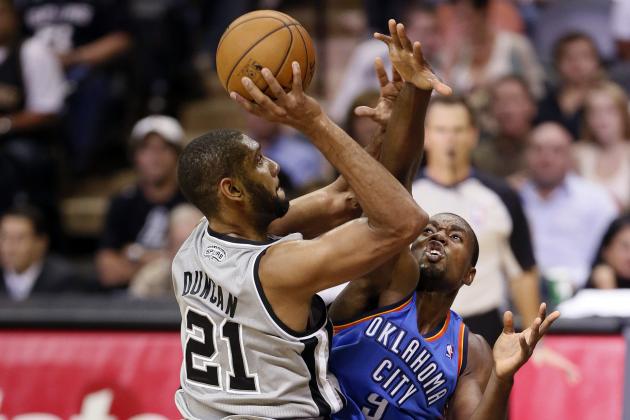 Soobum Im-USA TODAY Sports

In what could be a preview of a rematch in the Western Conference Finals, Oklahoma City has its tallest task for the month in facing the very tough San Antonio Spurs.
As if the Spurs weren't good enough in general this season, their home record has but just two blemishes compared to the 22 wins. San Antonio is intimately familiar with Oklahoma City having played the Thunder twice this season with one win and one loss apiece.
The Western Conference Finals last year had the Thunder coming back in the series to beat the Spurs in what seemed like a passing of the torch for conference dominance. However, the Spurs and their aged core don't seem too content with hanging it up on another chance at a championship just yet and still stand atop the entire NBA in the standings (as of Feb. 27).
I like the Thunder's chances here to start nipping away at the Spurs and the lead they hold in the conference standings, but I'm also a realist who knows that this game favors the Spurs a lot more than OKC. The way I see it, Oklahoma City will probably have to wait till playoff time to grab a win in San Antonio.
Final Score: San Antonio 90, Oklahoma City 85