UConn Basketball: 5 Biggest Unknowns for Huskies in Big East Realignment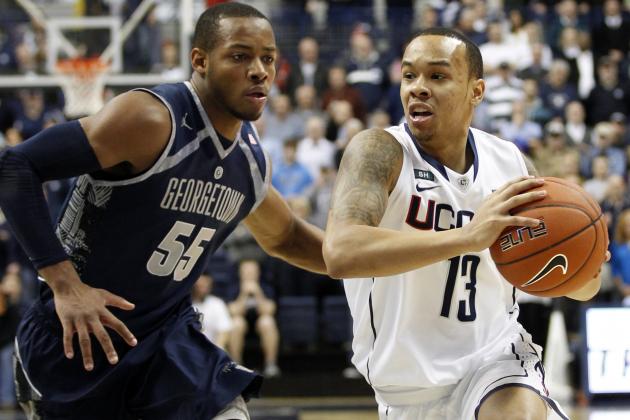 USA TODAY Sports
UConn won't be seeing much of Georgetown as a result of conference realignment.
Conference realignment reeked havoc on the once dominant basketball powerhouse that is the Big East Conference.
Team after team decided to split—Syracuse, Pitt, Notre Dame and Louisville—others joined and quit before getting there, and the Catholic seven led by Georgetown and St. John's decided to take their ball and start their own conference.
That leaves UConn as by far the biggest program remaining committed, at least for now, to the remnants of the Big East.
But even their loyalty is up for debate, as they have vocally campaigned for inclusion in the ACC in the recent past and could presumably do so again in the future.
Regardless of how this ultimately plays out, there is no doubt that there are many questions surrounding the Huskies and what impact the realignment whirlwind will have on the program.
Here, we will explore five of them.
Begin Slideshow

»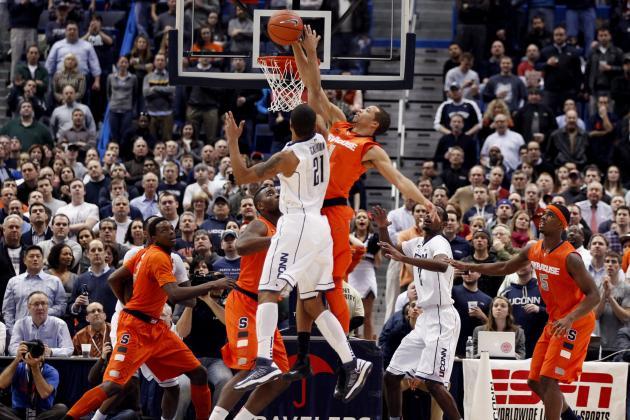 USA TODAY Sports
The Huskies sent the Orange out of the Big East with a loss in their final matchup.
One of the most unfortunate consequences of the Big East splintering is the loss of several high-profile rivalries.
For the Huskies, those include bitter feuds with Syracuse, Georgetown and St. John's. It was these games that year after year defined Big East basketball and now they will be no more with the Orange jumping to the ACC and the Hoyas and Johnnies forming their own league.
The remaining schools are not exactly a murderers' row, and none seem to stack up as a natural rival for UConn going forward.
The only team with any semblance of hostility toward the Huskies are the Cincinnati Bearcats, and even that's a stretch.
With the Big East set to add Houston, SMU, Central Florida, Memphis and Tulane, nothing screams rival. Of this group, only Memphis has been a consistently successful basketball program in recent years.
UConn-Memphis games could be potentially huge down the road when the Tigers join the conference next season. But a rivalry?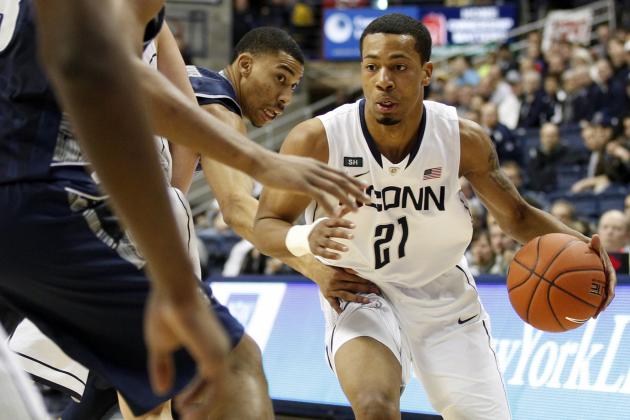 USA TODAY Sports
Calhoun is another tri-state area player to join the Huskies.
UConn has been a traditional Big East power for decades, and its proximity to talent-rich areas of the country has always helped recruiting.
Many prime-time players from the tri-state area, and New York City in particular, have chosen the Huskies because of their closeness to home and national profile.
Another benefit was the obvious challenge of getting to match up with a perennial title contenders such as Syracuse, Pitt and Louisville on a yearly basis. These high-profile games are attractive for recruits looking to build their national profile.
With all of those teams departing, plus the Catholic seven, it's possible that the allure of UConn could be diminished.
It's hard to imagine that players will be enticed by the ability to play Southern Methodist or Tulane on a yearly basis.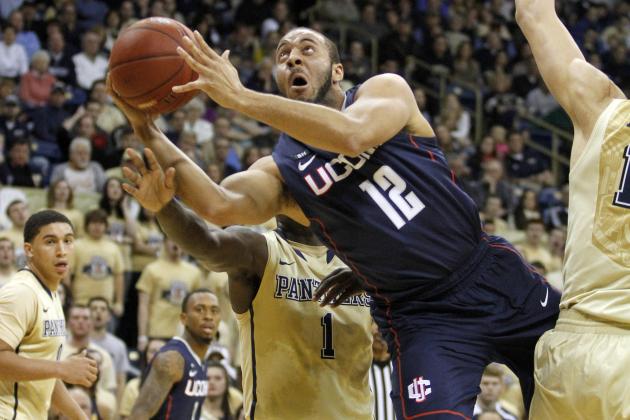 Justin K. Aller/Getty Images
Could the Huskies follow Pitt to the ACC?
UConn has been snubbed by the ACC on more than one occasion, but it could find itself in contention for a spot should teams continue jumping ship.
In recent years, the ACC has added Syracuse, Pitt and Louisville from the Big East and will also add Notre Dame for basketball. UConn's attempts to also join have been rebuffed, as Louisville was selected to replace Maryland when they leave for the Big 10 in 2014.
It could make sense for both the Huskies and the league to add to what will already be a basketball super-conference.
This would be especially true if any of the ACC's other programs, particularly the lower mid-tier, decide to jump ship.
Imagine a league with UConn, Pitt, Syracuse, Louisville, North Carolina and Duke? Those are six teams that could legitimately compete for a championship on a year-in and year-out basis.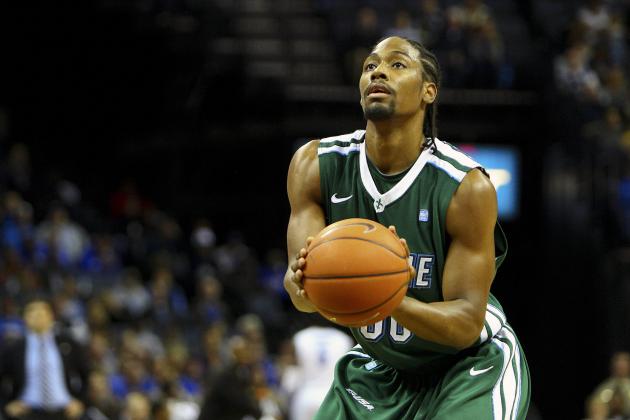 Spruce Derden-USA TODAY Sports
No offense, but Tulane isn't going to prepare you for the NCAA tournament.
When you're playing teams like Syracuse, Pitt, Louisville, Georgetown, etc. on a day-to-day basis, it's a good measuring stick of where your team is at any given moment.
There are not a ton of easy games in the current Big East Conference, and even lower-tier teams can be dangerous on the right night.
If you survive the rough schedule, it means you must be a pretty decent team because you had to navigate your share of minefields.
Even without a conference title, it's not hard for an elite team in the current Big East to assemble an at-large profile that guarantees inclusion in the tournament.
But it's much harder to build that resume when you're opponents are basketball non-factors such as Tulane and SMU.
And when you get to the tournament, you'll quickly see the difference between those teams and the Dukes and Kansases of the world. It'll be quite the shell shock.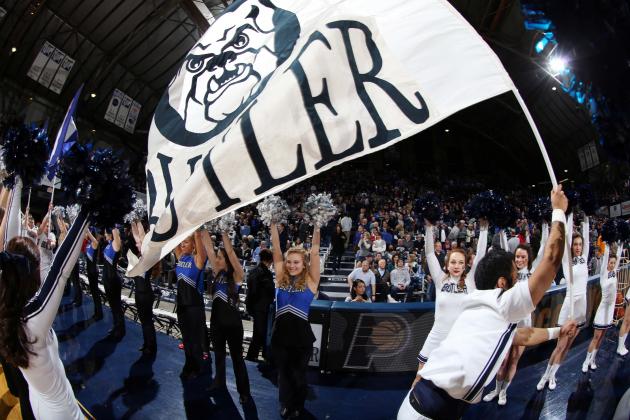 Brian Spurlock-USA TODAY Sports
Butler is no longer a small program.
The Catholic seven schools reportedly will seek to expand to a larger league that they hope will include several of the more successful regional mid-major programs.
Teams rumored for consideration include Butler, Xavier, Dayton, St. Louis and even George Mason. All of these programs have had considerable success—with the Bulldogs and Patriots both recently making Final Four runs—and could be huge additions to a new conference.
Could UConn help lead a push within the Big East to compete for those schools? It would certainly be an intriguing idea and could help to make the conference reboot both more enticing and much stronger going forward.
Even if a few of the aforementioned teams did decide to join the Catholic seven, picking the bones, or even thinking outside the box and nabbing a Creighton or VCU, could be a great idea.