2013 Boston Red Sox: Latest Predictions for Winner of Each Key Position Battle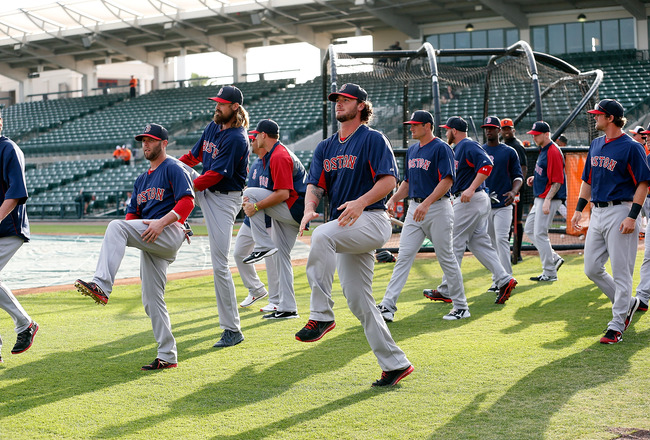 There are a number of players in Red Sox camp fighting for a roster spot.
J. Meric/Getty Images
Just because the Boston Red Sox are heavily comprised of veteran players and have a substantial payroll doesn't mean that every position is already locked up.
There are a number of players fighting for spots this spring training, and with a month left until the regular season, it's time to start predicting the winners of these key position battles.
Unless there is an unforeseen injury, there seems to already be a player assigned to all of the starting positions in Boston. However, a season can often come down to the role players, and that's where the Red Sox have the most competition as they seek to finalize their roster.
Click through to see the latest predictions for the winners of each key Boston position battle.
Backup Outfielders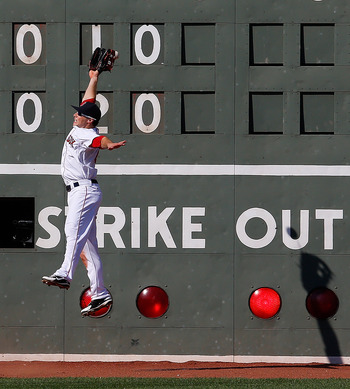 Daniel Nava hopes to be back in Boston in 2013.
Jim Rogash/Getty Images
Earlier this offseason, the Red Sox backup outfielder options were a lot more substantial than what they are now.
Their depth took a major blow when it was announced that Ryan Kalish was expected to miss at least six months because of shoulder surgery.
The young outfielder, who had shown a wide variety of offensive skills in the minors, and the ability to play all three outfield positions, was expected to play a major role in 2013 for the Red Sox.
Jonny Gomes, Jacoby Ellsbury and Shane Victorino appear set as Boston' starting outfielders. However, with Ellsbury missing 236 games over the past three seasons because of injuries, and Gomes' documented struggles against right-handed pitching, having good backups will be a must.
Switch hitter Daniel Nava filled in admirably throughout last season and has a very respectable .352 OBP in his 148 career major league games.
Left-hander Ryan Sweeney's first season with the Red Sox came to a premature end last year when he broke his hand punching a door after being robbed of a hit. Despite that mistake, Boston brought him back again, this time on a minor league contract.
Prospect Jackie Bradley Jr. is considered the outfielder of the future for the team, especially if Ellsbury leaves next offseason as some are anticipating.
Bradley hit .315 in his first professional season last year, and if comments manager John Farrell made to The Boston Globe's Nick Cafardo are any indication, the youngster could stick with the team as a backup out of spring training.
Although Bradley is already turning heads, barring him having a huge spring training, the best guess is that the veterans, Sweeney and Nava, will earn the two backup spots to start the year.
Backup First Baseman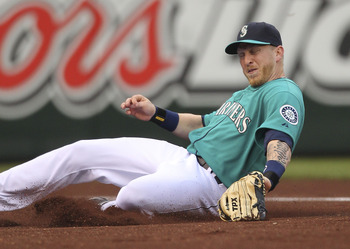 Carp is no magician with the glove, but will most likely be the backup first baseman for Boston.
Otto Greule Jr/Getty Images
After prolonged negotiations, the Red Sox agreed to a one-year, $5 million contract with free agent Mike Napoli to be their starting first baseman entering 2013.
Primarily a catcher throughout his professional career, Napoli has only 133 major league games at first under his belt. That inexperience combined with concern over a recently diagnosed hip condition, means the Red Sox will need a good backup plan.
Currently, there are several players in the running.
12-year major league veteran Lyle Overbay was signed to a minor league deal this past offseason. The 36-year-old left-handed hitter has been in decline in recent seasons and offers no positional value beyond pinch hitting and playing first.
Mike Carp was recently acquired from the Seattle Mariners for cash or a player to be named later. Although he is a subpar defensive player, the 26-year-old left-handed hitter at least has experience playing both first and in the outfield. While he struggled to a .213 batting average with the Mariners last season, his .791 OPS in 2011 shows his potential upside.
Prior to this spring training, Daniel Nava had never played a professional defensive inning at any position other than the outfield.
Although he is currently learning to play first base, it's unlikely the Red Sox would want the backup to be even more inexperienced than Napoli.
There's still a month of spring training left, but as things stand, Carp should be the front runner for this roster spot. Not only does he offer a little positional versatility, but he probably has the most offensive potential of the group.
Last Spots in the Bullpen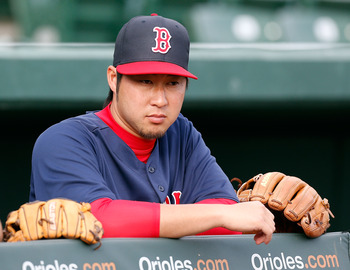 The Red Sox have a lot of quality arms competing for the their bullpen, especially the impressive Tazawa.
J. Meric/Getty Images
Barring trade or injury, Joel Hanrahan, Andrew Bailey, Craig Breslow, Andrew Miller and Koji Uehara appear to have spots locked up in the Boston bullpen.
That means that there only two, or at most, three openings left, with a number of pitchers in the competition.
Veteran right-hander Alfredo Aceves has the ability to pitch in any role. However, his proclivity for clashing with managers, both past and present, is a major negative.
Although right-hander Clayton Mortensen is a former first-round draft pick, he may have the most mundane repertoire of all the pitchers he is competing against. However, he had an impressive 3.21 ERA last year with Boston in 26 games, is consistent and can pitch multiple innings.
Right-hander Daniel Bard was one of the best setup men in baseball before failing spectacularly after being converted to a starter last season. He's trying to reestablish himself as a reliever and is already earning praise this spring.
Despite bouncing up and down between Boston and Triple-A Pawtucket last season, young Japanese right-hander Junichi Tazawa was the Red Sox's best pitcher in 2012, posting a 1.43 ERA and 0.96 WHIP in 37 games. Once considered a moderate starting pitching prospect, he now has the team excited by his potential to be a star reliever.
A reliever for most of his major league career, southpaw Franklin Morales impressed with a 4.41 ERA and more than a strikeout per inning in the nine spot starts among his 37 games with the Red Sox last year. Having proven his versatility, he is another Boston pitcher who could be slotted into nearly any spot on the pitching staff.
Two young right-handed prospects acquired in last year's huge trade with the Los Angeles Dodgers are already making strong impressions in spring training.
Allen Webster and Rubby De La Rosa are lighting up radar guns and appear to be nearly ready for the majors.
Tazawa should earn a spot, with Aceves and Morales being the next two most likely because of their experience and versatility. Regardless of who makes it, the Red Sox bullpen should be one of the deepest in baseball.
Statistics via BaseballReference
Keep Reading

Boston Red Sox: Like this team?