3 Reasons Shelby Miller Will Make Rotation Impact by Year's End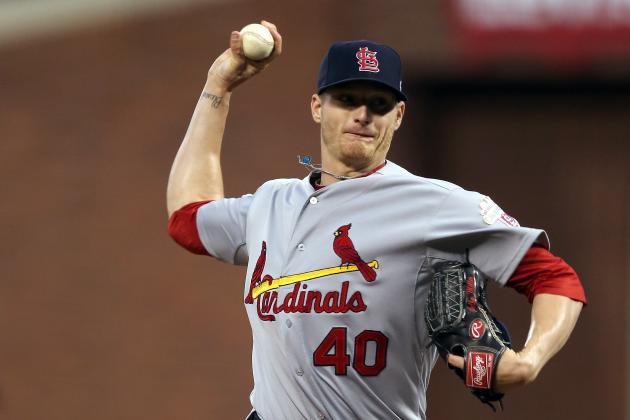 Ezra Shaw/Getty Images

As the battle for the fifth spot in the Cardinals rotation begins to ramp up, no one has more pressure to perform than Shelby Miller.
The Cardinals' first-round draft choice in 2009 has had high expectations as he has progressed through the minor leagues. Miller has been tabbed as the No. 6 best prospect by Baseball America coming into the 2013 season.
Miller dazzled in his only start of 2012, a one-hit, no-run, six-inning performance against the Reds in early October.
With Chris Carpenter going down before spring training, two spots became immediately available in the starting rotation. With 2012 All-Star Lance Lynn also vying for a spot, it is almost certain he will take Carpenter's turn in the rotation.
That leaves the fifth spot open for Miller, Trevor Rosenthal and Joe Kelly to compete. I expect fully for Miller to come out this spring and not let go of the fifth starter slot. He makes his spring debut on Saturday against the Nationals.
Here are three reasons why Shelby Miller will have made an impact on the starting rotation by the year's end.
Begin Slideshow

»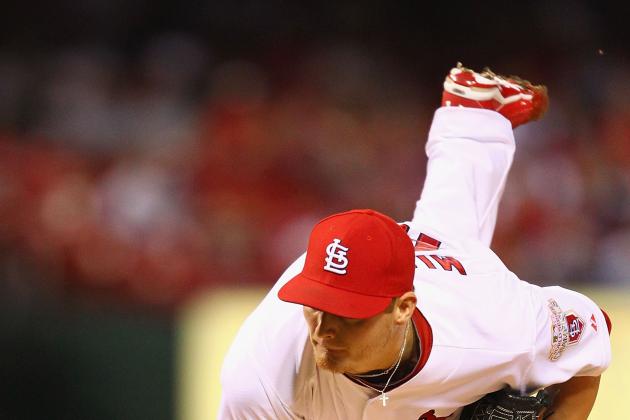 Dilip Vishwanat/Getty Images

Shelby Miller has to have known he would be given a shot to grab a spot in the Cardinals rotation after his high draft status and prepping in the minor leagues.
No team that takes such a high draft pick wants to see it wasted. Many first-round pitchers never touch the rosin bag at the big league level. Miller has proven worthy of this opportunity.
In his minor league career, Miller has shown the ability to throw strikes and keep the ball in the yard, minus his 2012 AAA Memphis stop.
Miller dominated the lower levels of minor league ball but struggled a bit at the AAA level in 2012. That did not stop him from getting a call-up to show off his stuff in September. As mentioned, in his one start, he dazzled.
Miller also pitched well in his other outings, posting a 1.32 ERA in his six appearances with 16 strikeouts in 13.2 innings pitched.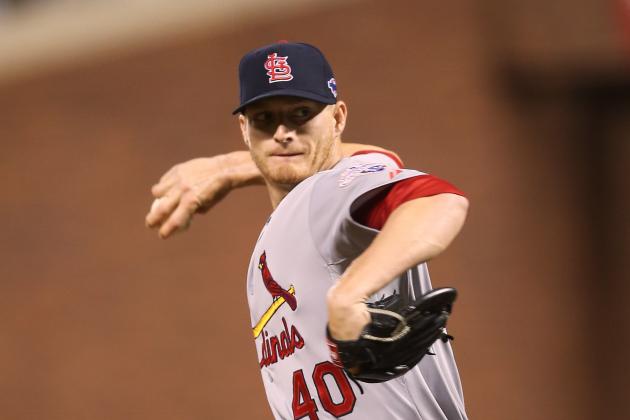 Christian Petersen/Getty Images

As previously mentioned, Shelby Miller showed he can pitch at the big league level with his September 2012 call-up.
More than that, his skipper, Mike Matheny, has confidence in his abilities. Miller did shine in his limited, late-season role last year. But his ability took him to the point where he was added to the postseason roster and pitching in the NLCS.
My thought is that Matheny was prepping him for the opportunity this spring by adding him to the postseason roster. There is not a more pressure-packed situation than pitching in the postseason as a rookie, even if it was mop-up duty.
To continue his success in 2012 and build for the future, Miller will need to get through six solid innings on a regular basis. With the offense the Cardinals have and the repairs to the bullpen, a quality start from Miller should be enough more times than not to get a win.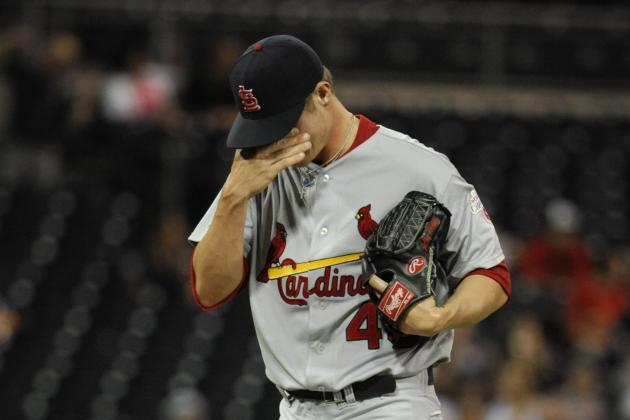 Denis Poroy/Getty Images

Shelby Miller has a great arm. He has shown that at each level of the minor leagues and during his brief stint in the big leagues.
Miller has a plus-fastball and an above-average curveball. Miller touched the high 90s with his heater at all levels. His curveball is a classic 12-6 and offsets his fastball nicely. His off-speed stuff needs some fine tuning. Hopefully that is what he will be able to accomplish this spring training.
Miller showed in most of his minor league days that he could strike out hitters and keep the ball in the park. Shelby averaged 11.1 strikeouts per nine innings during his minor league stay. Outside of an abnormal 2012 where he allowed 24 home runs, Miller never allowed more than seven in a season.
On a short-term basis, Miller will be a key to a Cardinals postseason berth in 2012.
He is very capable of winning 13-15 games this season. He is also capable of pitching 150-180 innings this season.
That may wear on him a bit since he hasn't pitched more than 139.2 innings at any level in his career. However, if he can stay healthy, Miller will be a great asset to the Cardinals organization for years to come.