Auburn Football: Pre-Spring Practice Game-by-Game Schedule Prediction for 2013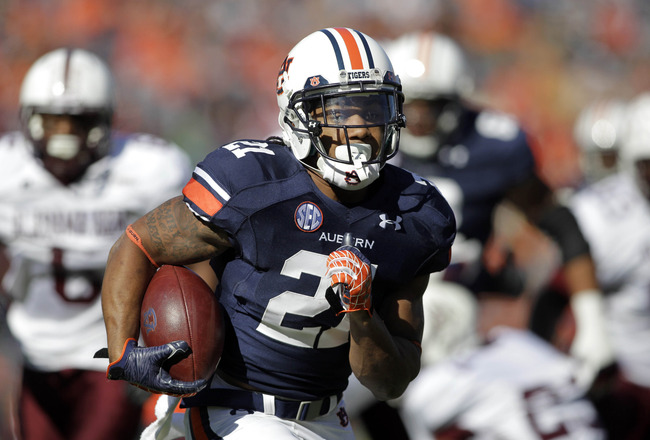 John Reed-USA TODAY Sports
When toe meets leather on August 31 inside Jordan-Hare Stadium, the Auburn Tigers will hold claim to the SEC's longest conference losing streak, at 10 games.
The 2010 BCS National Champions have plummeted from college football's mountain top in historical fashion.
After a 3-9 campaign in 2012, Gene Chizik was fired as Auburn's head coach and replaced by the offensive architect of the championship season, Gus Malzahn.
Since Malzahn was hired in early December, he has stopped the bleeding of the Auburn football program by putting together a staff of proven developers and top-notch recruiters. He also landed a borderline top-10 recruiting class after being on the job for only two months.
With the doldrums of winter finally behind us and spring on the horizon, the Tigers are going through offseason workouts in preparation for spring practice, which beings on March 27.
In true hurry-up fashion, Auburn's 15 spring practices will conclude at Auburn's annual A-day game just three weeks later on April 20 inside Jordan-Hare Stadium.
Auburn begins its season on August 31 against Washington State and the Tigers will be home for eight games. They travel to LSU, Texas A&M, Arkansas and Tennessee.
Before spring practice gets started, let's do a way-too-early game-by-game prediction for the 2013 season.
Will it really be a "new day" on the Plains in 2013?
Week 1: Washington State Cougars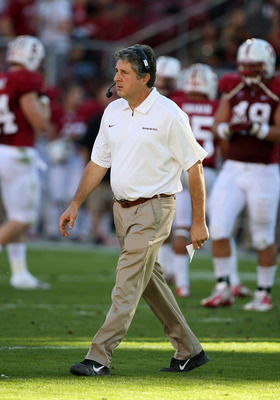 Tony Medina/Getty Images
When: Aug. 31
Who: Washington State (3-9 in 2012)
Where: Auburn, Ala.
Auburn starts the season off at home in 2013.
The Washington State Cougars will make the same 2,483 mile trek across the country to Auburn in Week 1 as they did in September of 2006. Auburn won that matchup, 40-14.
Mike Leach's team struggled as much as Auburn did in 2012, going 3-9.
Opponents averaged 33.7 points per game and racked up an average of 425 yards per game against Washington State last fall.
Junior quarterback Connor Halliday will likely be the starting QB for the Cougars. He split time as a sophomore in 2012 with senior Jeff Tuel, as it seemed that neither QB wanted to hang on to the starting job.
Halliday threw for 1,878 yards in his nine games. He threw nearly as many interceptions (13) as he did touchdowns (15).
Auburn's secondary will get put to the test early against Leach's air-raid offense, which should be fully installed with Leach being in his second year.
The Cougars will score some points on an Auburn defense that will still be getting its feet wet in defensive coordinator Ellis Johnson's 4-2-5 scheme.
Auburn will score more points in Week 1 than it did in its first two SEC games last year.
Auburn 42, Washington State 24
Week 2: Arkansas State Red Wolves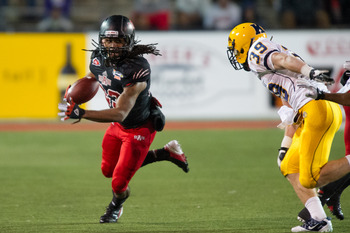 Michael Chang/Getty Images
When: Sept. 7
Who: Arkansas State Red Wolves (10-3 in 2012)
Where: Auburn, Ala.
Auburn stays at home in Week 2 when the team that Malzahn led to a Sun Belt Championship in 2012 will make its first visit to the Plains since 2010.
The Red Wolves ended last season on an eight-game winning streak, including a bowl victory over Kent State in the GoDaddy.com Bowl.
Along with replacing their head coach, the Red Wolves will also be breaking in a new quarterback. Ryan Aplin, who had success against the Tigers in 2010, has moved on.
Red Wolves head coach Bryan Harsin will take over for Malzahn, who will be on the Auburn sideline. Harsin spent 2012 as the co-offensive coordinator for Mack Brown at Texas.
Malzahn will be familiar with the deficiencies of the Red Wolves and Auburn will improve to 2-0 before starting SEC play in Week 3.
Auburn 35, Arkansas State 17
Week 3: Mississippi State Bulldogs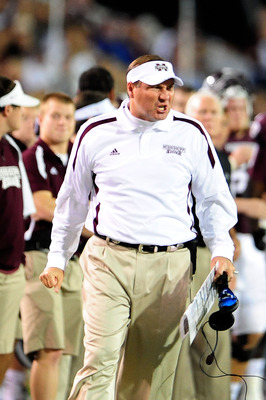 Stacy Revere/Getty Images
When: Sept. 14
Who: Mississippi State Bulldogs (8-5 in 2012)
Where: Auburn, Ala.
For the third straight week, Auburn will don the blue jerseys and play in the friendly confines of Jordan-Hare Stadium when it opens SEC play against Mississippi State.
After getting off to an undefeated start in its first seven games of 2012—which included a 28-10 win against Auburn—Mississippi State met reality when it lost five of its last six games.
Another eight-win season in 2013 may put Bulldogs' head coach Dan Mullen on the hot seat.
Senior QB Tyler Russell will run the show on offense again for Mullen. In 2012, the 6'4" QB threw for 2,897 yards and 24 TDs.
The Bulldogs lose explosive playmakers like Chad Bumphis on offense but return a veteran offensive line. On defense, Mullen and the Bulldogs will have to replace virtually the entire secondary, including 2012 Thorpe Award winner Johnthan Banks.
The battles have been tight between these two teams in recent years, with Auburn winning four of the last five.
Mullen got his first career win over Auburn (including his time as an assistant at Florida) in 2012. He won't develop a winning streak over the Tigers.
Auburn ends its 10-game SEC losing streak against Mississippi State in a tight one at home.
Auburn 24, Mississippi State 20
Week 4: Louisiana State University Tigers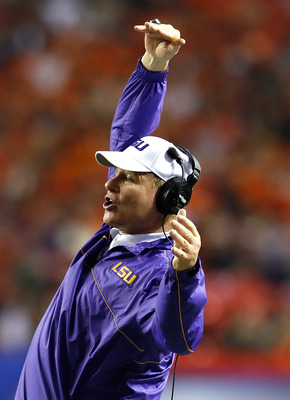 Kevin C. Cox/Getty Images
When: Sept. 21
Who: Louisiana State University Tigers (10-3 in 2012)
Where: Baton Rouge, La.
The first road trip of the year could be the most difficult for Auburn. The Tigers travel down to cajun country to take on the "Mad Hatter" and his Bengal Tigers.
Ten players from LSU declared early for the draft, including Defensive linemen Barkevious Mingo, Sam Montgomery and Bennie Logan.
Despite losing those key players, LSU is not short on talent.
In Malzahn's time as offensive coordinator, LSU probably handled the Auburn offense the best of anyone. In the years 2009 through 2011, LSU held the Auburn offense to 10, 24 and 10 points, respectively.
LSU QB Zach Mettenberger gave the Tigers a semblance of a downfield passing game in 2012 after not having one at all with former QB Jordan Jefferson.
Auburn's hot start comes to a screeching halt when the Death Valley crowd and the talented LSU offense makes plays at the right time.
LSU 27, Auburn 13
Week 6: Ole Miss Rebels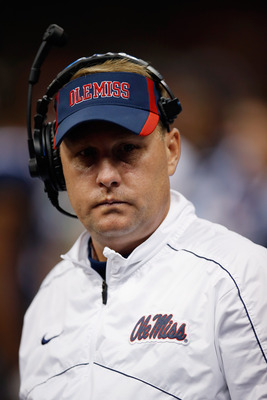 Chris Graythen/Getty Images
When: Oct. 5
Who: University of Mississippi Rebels (7-6 in 2012)
Where: Auburn, Ala.
After the first of two bye weeks in the 2013 season, Auburn returns home to welcome Hugh Freeze and the Ole Miss Rebels to Jordan-Hare Stadium.
The Rebels did not achieve bowl eligibility until they defeated Mississippi State in the Egg Bowl in the final week of the season last fall. Despite that, Ole Miss was unquestionably the most improved team in the SEC in 2012.
To go along with a top 10 2013 recruiting class, including the top prospect in the nation (Robert Nkemdiche), Ole Miss returns nearly every offensive starter and a large bulk of the defensive starters.
The second year has proven to be a good year for coaches in building a program. Mark Richt, Nick Saban, Gene Chizik and Will Muschamp all found a lot of success in their second years in charge.
Although the Tigers will have an extra week to prepare, Ole Miss will bring too much firepower to the Plains and Auburn will lose its second straight.
Ole Miss 31, Auburn 20
Week 7: Western Carolina Catamounts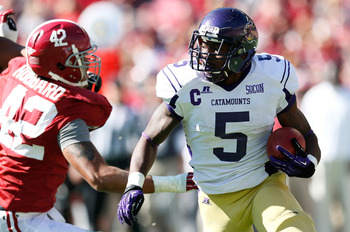 Kevin C. Cox/Getty Images
When: Oct. 12
Who: Western Carolina University Catamounts (1-10 in 2012)
Where: Auburn, Ala.
The Tigers get a slight reprieve from the rigors of SEC play in Week 7.
After a tough two-game stretch and before a big road trip to College Station, Auburn welcomes FCS opponent Western Carolina to Jordan-Hare Stadium.
The Catamounts ended 2012 on a 10-game losing streak.
Auburn will take out its frustrations from the previous two games and give the starters a much needed rest before heading west to College Station to take on "Johnny Football" and the Aggies.
Auburn 49, Western Carolina 13
Week 8: Texas A&M Aggies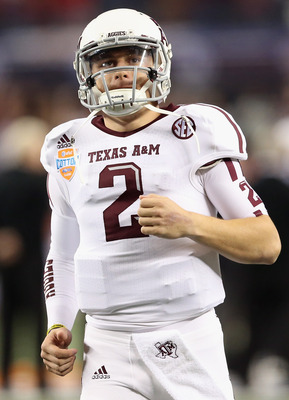 Ronald Martinez/Getty Images
When: Oct. 19
Who: Texas A&M University Aggies (11-2 in 2012)
Where: College Station, Texas
Following an easy win over Western Carolina, the Tigers make their longest road trip of the season and travel to College Station, Texas, to go up against 2012 Heisman Trophy winner Johnny Manziel.
Manziel's Heisman campaign was just getting heated up last October when he and A&M delivered a historic defeat in front of the Jordan-Hare Stadium crowd. The Aggies beat Auburn, 63-21. It likely could have been worse.
Head coach Kevin Sumlin called off the dogs right after halftime, when the Aggies were up 42-7.
Unfortunately for Auburn, Manziel was only a redshirt freshman last year and will be in the SEC for at least one more year.
The Aggies lose elite athletes like WR Ryan Swope and DE Damontre Moore, but return a good portion of the team that was playing as good as anyone in the country at season's end.
The SEC newcomers will continue to be a thorn in the side of Auburn in 2013 and will give Auburn a rude welcome to Kyle Field.
Texas A&M 42, Auburn 28
Week 9: Florida Atlantic Owls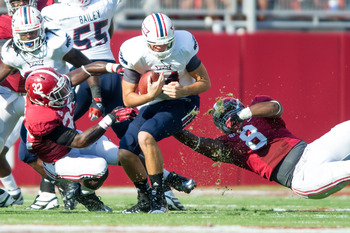 Michael Chang/Getty Images
When: Oct. 26
Who: Florida Atlantic University Owls (3-9 in 2012)
Where: Auburn, Ala.
The Owls will be the second member of the Sun Belt to visit the Plains in 2013 when they visit in late October.
Florida Atlantic went up against both UGA and Alabama last fall, losing by a combined score of 96-27.
The Owls last visited Auburn in 2011 and Auburn came out on top, 30-14.
Things won't be much different against Auburn in 2013. The Tigers will use this as a tune-up before a two-game road trip to Knoxville, Tenn. and Fayetteville, Ark.
Auburn 31, FAU 13
Week 10: Arkansas Razorbacks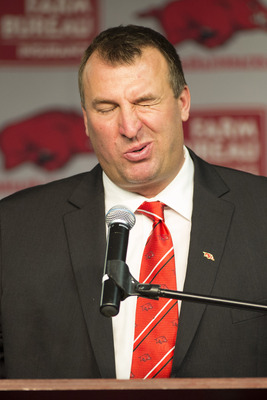 Wesley Hitt/Getty Images
When: Nov. 2
Who: University of Arkansas Razorbacks (4-8 in 2012)
Where: Fayetteville or Little Rock, Ark.
The first leg of a two-game road trip takes Auburn to Arkansas to take on the Razorbacks.
The Hogs' coaching position is now stable with former Wisconsin coach Bret Bielema taking over for John L. Smith, who served as interim head coach after Bobby Petrino was fired the summer before the 2012 season.
Arkansas loses QB Tyler Wilson, WR Cobi Hamilton and RBs Dennis Johnson and Knile Davis.
Bielema will likely look to Brandon Mitchell to take over under center for Arkansas, who will shift from a heavy passing game to a power running attack.
Arkansas landed 5-star RB Alex Collins on signing day, who will likely get a large share of the carries from day one.
The Razorbacks return a good portion of their defense from 2012 that allowed 30.4 points per game. Bielema will bring more of a defensive focus than Petrino, but like Auburn, it may be a couple of years to get it turned around.
Auburn wins a wild one in Malzahn's homecoming as an SEC head coach.
Auburn 28, Arkansas 20
Week 11: Tennessee Volunteers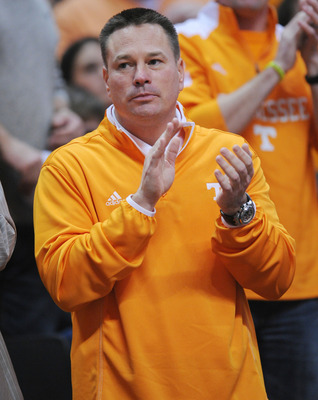 USA TODAY Sports
When: Nov. 9
Who: University of Tennessee Volunteers (5-7 in 2012)
Where: Knoxville, Tenn.
Auburn and Tennessee will clash on the gridiron in November for the first time since 2009.
In Auburn's last visit to Rocky Top, Lane Kiffin was the head coach and the Vols were doing the best they could to get a Heisman campaign started for safety Eric Berry.
There was a pre-game rap video and everything.
Now, after Kiffin's messy exit and an unsuccessful reign by Derek Dooley, the Volunteers have turned to Butch Jones to bring Tennessee back to SEC prominence.
Tennessee must replace QB Tyler Bray—who left a year early for the draft—and dynamic WRs Cordarrelle Patterson and Justin Hunter.
Jones will likely turn to junior Justin Worley to take over for the departed Bray. Worley will have a veteran offensive line to protect him but playmakers must also step up at the skill positions.
Tennessee struggled mightily on defense in 2012, but will have a lot of veterans returning in 2013. Talented middle linebacker A.J. Johnson will be a force to be reckoned with next fall.
Other than Mark Stoops at Kentucky, Jones has a bigger rebuilding job than Malzahn at Auburn and Bielema at Arkansas.
Before you know it, Auburn has a nice little three-game winning streak going on.
Auburn 21, Tennessee 17
Week 12: Georgia Bulldogs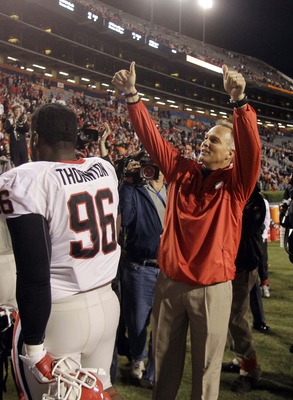 John Reed-USA TODAY Sports
When: Nov. 16
Who: University of Georgia Bulldogs (12-2 in 2012)
Where: Auburn, Ala.
Welcome to what Auburn fans know as "Amen Corner."
It is in a more natural position in 2013 after squeezing an FCS opponent in between Alabama and Georgia in recent years.
The Bulldogs will come to Jordan-Hare Stadium for the second straight year.
Georgia has owned Auburn in recent years. The Tigers' lone win since 2005 was in the 2010 national championship season.
The Bulldogs came up a few yards short of playing for a national championship in 2012, when they lost to eventual national champion Alabama in the SEC championship game.
Most of that offense is coming back for Mark Richt, who will enter his 13th season as head coach of the Bulldogs. Included in that is one of the nation's top QBs, Aaron Murray.
Offense won't be a problem for Georgia in 2012.
Defense, on the other hand, will be. Despite having talent that rivaled Alabama and LSU, Georgia's defense did not live up to expectations in 2012 under defensive coordinator Todd Grantham. It especially struggled in defending the run.
Alabama ran the ball at will against the Bulldogs in the second half of the SEC championship game.
Georgia must replace eight starters on the defensive side of the ball.
Malzahn's offense had success against UGA when he was allowed to run his offense unbridled. In 2009, Auburn was driving to tie the ballgame late in the fourth quarter. Georgia safety Baccari Rambo's pass break-up sealed Auburn's fate.
Still, Auburn racked up 350-plus yards and 18 first downs.
In 2010, behind QB Cam Newton, Auburn racked up 463 yards of offense and 28 first downs. Auburn won, 49-31, on its way to a national championship.
After slowing his offense down in 2011, Georgia held Auburn to a single touchdown.
This is my upset special for 2013. Defense will likely be optional in this one, but Auburn comes away winners in the Deep South's Oldest Rivalry.
Auburn wins its fourth straight on a Cody Parkey field goal at the end of regulation.
Auburn 38, Georgia 35
Week 14: Alabama Crimson Tide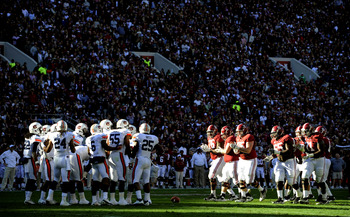 John David Mercer-USA TODAY Sports
When: Nov. 30
Who: University of Alabama Crimson Tide (13-1 in 2012)
Where: Auburn, Ala.
After a week off, the Iron Bowl is back in Auburn on the weekend after Thanksgiving.
Nick Saban has built a dynasty across the state of Alabama, and it doesn't appear that things are slowing down anytime soon.
Crimson Tide QB AJ McCarron will return for his senior season and the Tide will likely come into Jordan-Hare Stadium squarely in the hunt for their fourth national title in five years.
Alabama will have to replace some key faces on the offensive line, but by the end of the year, the replacements will no longer be unfamiliar with playing in big games.
RB T.J. Yeldon and WR Amari Cooper will likely be big contributors in the 2013 season.
On defense, Alabama will be stacked at linebacker once again, with C.J. Mosley and Adrian Hubbard returning to lead defensive coordinator Kirby Smart's unit.
Big-time nose tackle Jesse Williams will need to be replaced. Those shoes will likely be filled by Brandon Ivory.
Malzahn found a little success against the Tide in 2009 and 2010, but the Tigers have not scored an offensive TD on Alabama since Newton found TE Phillip Lutzenkirchen in the end zone at Bryant-Denny Stadium in 2010.
Auburn will put up more of a fight against Alabama than it has in the past two years, but the state of Alabama will be Crimson-covered for 365 more days.
Alabama 31, Auburn 17
Pre-Spring Practice Record Prediction: 8-4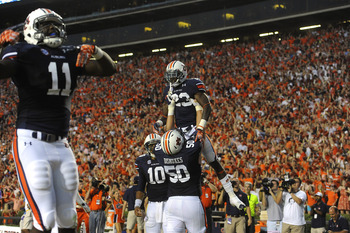 Photo credit: Todd Van Emst / Auburn media relations
Malzahn's offense has had success everywhere that he has been, and there's no reason to believe he won't find it at Auburn as a head coach as well.
The QB battle is a big one to watch when fall camp begins, but all of Malzahn's QBs have been successful, regardless of talent level.
The biggest question mark is whether or not defensive coordinator Ellis Johnson can turn this Auburn defense back into a proud unit.
The Tigers will improve by five wins in 2013 and go 8-4 overall and 4-4 in the SEC*. That will be good enough for fourth place in the SEC West and a New Year's Day bowl in warm, sunny Florida.
There won't be many surprises in 2013. Auburn will beat who it should beat, given the talent level. It will lose to the teams it should lose to.
Let's face it, things are rolling at Alabama, Texas A&M, Ole Miss and LSU.
Most years, Auburn does get one win it shouldn't. This year, that game is Georgia.
Malzahn has put some sunshine back into the Auburn football program after it went through some dark days following the 2010 national championship. An 8-4 season after a three-win 2012 campaign is tremendous improvement and will set the foundation for what should be a banner year in 2014.
*picks subject to change. It is only March, after all.
Keep Reading

Auburn Football: Like this team?